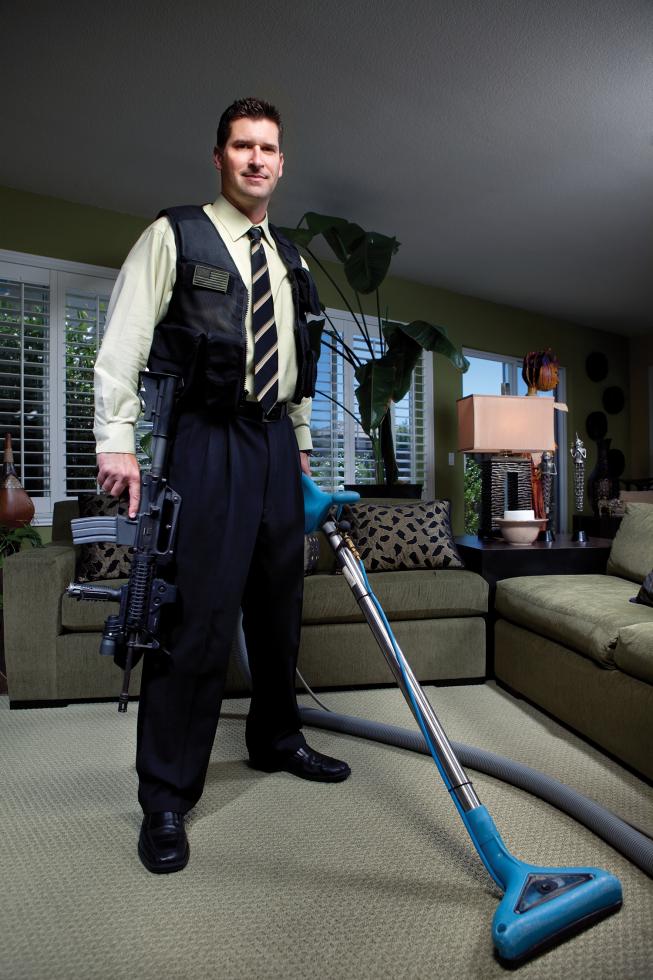 Kevin Manzer gave up being a cop to clean carpets.
He had "a dream job" with the Roseville Police Department, as a SWAT officer and member of the crime-suppression unit, specializing in gang issues.
But last summer, after seven years in law enforcement, Manzer launched Always Green Clean, a carpet- and floor-cleaning business that uses nontoxic, biodegradable products and a sleuth-like black light to detect pet stains hiding in carpet fibers.
"I had the best assignment a cop could ask for," he says. "But for the past three years I thought constantly about leaving. As an officer, you start out working graveyard (shifts), then you're promoted to sergeant and work weekend graveyards, and then you get promoted to lieutenant and are back on weekend nights. I thought about how someday I wanted to be there for my kids that I don't have yet," says Manzer, who is single.
"I didn't grow up thinking I wanted to have a carpet-cleaning company," he says. "Of course not. I wanted to create something. It didn't really matter what it was. I wanted to take over an industry and dominate. What I realized about the carpet-cleaning business in this area is that it could use a level of professionalism."
One of his largest clients is Paramount Equity Mortgage, which has a 35,000-square-foot corporate headquarters in Roseville.
"Carpet cleaning is carpet cleaning," says facilities manager Diane "Dede" Barnard, whose son is Paramount's founder and CEO, Hayes Barnard. "It's a no-brainer job, and all the carpet cleaners in town use the same trucks and are within pennies of each other, but Kevin's company is a step above. I liked him immediately. His demeanor is lovely, and his people are lovely. I thought he was more professional than our (previous) cleaners."
Since opening for business in Gold River last summer, Always Green Clean has grown to three vans and four neatly uniformed employees servicing approximately 200 homes and businesses each month. Roseville Press-Tribune readers voted Always Green Clean the top carpet cleaning business in this year's Best of the Best competition.
Manzer's company got an additional boost last December when he made a bargain-basement offer through Groupon to clean three rooms for $49.
"It was a deal I knew I wasn't going to make any money on," he says, "but it's part of the branding and introducing a great company.
"People say, 'You're not a cop any more, so your stress level must have gone way down.' No, not for a second," he says. "I did this in the worst economy, but if I can establish a respectable and solid company and build that foundation now, once things turn around and get better, I see even more growth and opportunity."
His business partner and investor, Dan Donelli, a Sacramento County Sheriff's deputy, sees Always Green Clean franchises in the future. "When Kevin thought about starting a business, he didn't think 'carpet cleaning,' but he found a little opening in the industry and went for it," Donelli says. "The foundation is set for the long term."
"We had conversations about how he didn't have the passion for what he was doing and wanted to start a business. I asked how I could get involved, and he approached me for capital," says Donelli, age 36. "I won't throw caution to the wind, but Kevin is dedicated. He doesn't give up easily, and he's great at networking."
Manzer grew up in Vacaville, the son of a police captain and an elementary schoolteacher. His father died unexpectedly when he was 18. Heartbroken, the teen went off to college, studying public relations at Sacramento State. After graduation, he worked in the corporate world, where he was a successful deal-maker — until he listened at a family gathering as his sister, a nurse; his brother, a police sergeant; and his schoolteacher mom talked about their work.
"I heard their stories of doing good things for people. Really? All I was doing was things to make money, no real job satisfaction," Manzer says.
So, he applied to three police departments, graduated at the top of his class from the Contra Costa County Sheriff's Department's police academy and landed a job with the Roseville Police Department.
"I wouldn't take anything for the life experience I had in law enforcement. I just knew I couldn't do it for the rest of my life," he says. "That's one thing I want people to think about: You shouldn't be stuck where you pick a career and do it for the rest of your life. There is no reason not to explore other aspects."
Imagine you're a successful businessman, but what you really want to be is a professional baseball player. You're so sure of yourself that you begin spending nights and weekends studying and training as if Major League Baseball will soon be calling. And then they actually do, and at your first at-bat, you clear the bases.
That's pretty much how things happened when Granite Bay pharmacist Dr. Grover Lee decided to become an award-winning winemaker.
Salon owner Carol Milani had never invented anything before, but she needed a way to keep her strong and fearless Bengal cat from escaping the yard.