Corner Drug Co.
Owner:
Lisa Shelley
Where:
602 Main St.
Woodland, Yolo County
(530) 662-2813
Website:
cornerdrugco.com
Founded:
1897
Business:
Pharmacy
Corner Drug Co.
Owner:
Lisa Shelley
Where:
602 Main St.
Woodland, Yolo County
(530) 662-2813
Website:
cornerdrugco.com
Founded:
1897
Business:
Pharmacy
Why a pharmacy?
When Lisa Shelley, owner of Corner Drug Co. in downtown Woodland, left Woodland to attend the University of the Pacific in Stockton, she wanted to become a medical technologist. "(But) during my third year, one of my friends had gone to the college counseling center and told me that we had taken all the courses we needed to get into pharmacy school," she says of what led her to reconsider. "My dad always said I could be a pharmacist, but he never pushed me." After checking with her counselor at UOP, she told her father she was going to take a year off from college before going to pharmacy school. "During my year off, I worked at a cannery in Woodland," she says. "When it wasn't tomato season, I worked at the drugstore filling out insurance forms. Working in the pharmacy before going to (pharmacy) school helped because I knew the drug names and was up on the latest paperwork. A lot of my classmates struggled with that." After graduation from UOP's pharmacy school, she landed a job at Woodland Memorial Hospital before joining Corner Drug when a pharmacist position opened in 1979.
How did the business begin?
The Corner Drug building was constructed in the 1890s and originally housed a dry goods business run by brothers Joseph and George Jacobs, according to the store's website. In 1897, the business became Corner Drug Store, and changed hands and name again in 1934 to Corner Drug Company. Lisa's father, Karl Hanke, was hired as a delivery boy at the store in 1940, and, after graduating from pharmacy school, returned to the store as a pharmacist in 1951. Eight years later, Hanke became a co-owner and then sole owner in 1980. In 1999, he sold the business to Lisa, and she took over daily operations. Her husband, Ed Shelley, took on the role of manager and handled the retail side of the operations. Their daughter, Sara Shelley, says her fondest memories were working the Saturday shift in the pharmacy with her grandfather. She followed in her mother and grandfather's footsteps, joining the family business as a pharmacist after graduating from UOP in 2008 (Lisa and Sara are two of the store's four pharmacists). Four years ago, Sara and her husband, Erik Daniells, took over day-to-day operations of the store. "Sara started working for us when she was 12," Lisa says. "I made her fill out a job application, which I still have on file." Lisa and Ed's younger daughter, Kristina Shelley, also works at the store as a pharmacy tech. "Now I have a granddaughter (Iris, 11 months old, is Sara and Erik's daughter) who lives two minutes away from me," Lisa says, "and we have the fourth generation at Corner Drug."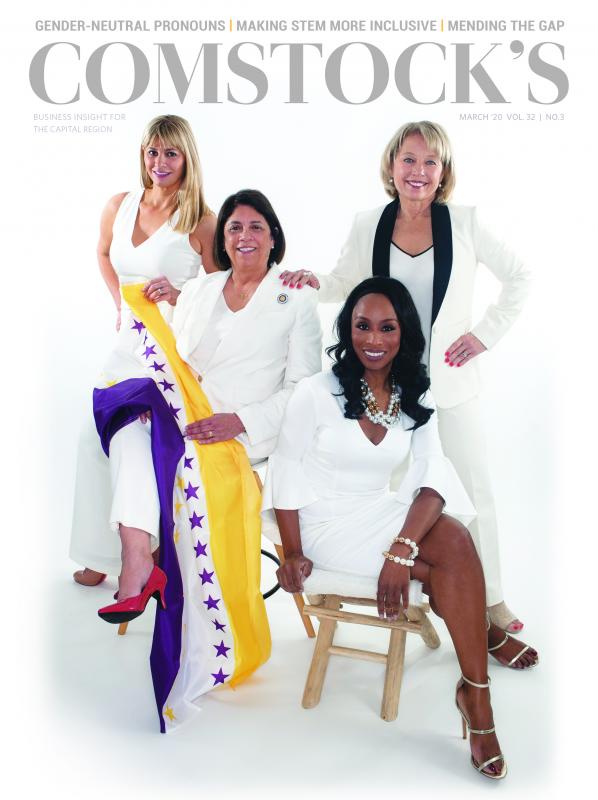 This story is part of our 2020 Women in Leadership issue. To explore the issue, click here.
What about that building?
The Corner Drug building, at Main and First streets, can't be missed, mostly because of the architecture and signage. Lisa says the original Victorian style was changed in 1910, when the wood was covered with stucco and the bracketed tile hoods were added above the windows, making it one of Woodland's first Mission Revival buildings. The iconic neon sign was installed in 1948 by the Federal Heath Sign Company, she says. "(It) was rented … until my dad bought out his partner," Lisa says. "He called the company and asked how much it would be to buy out the contract. They said $500, so he then owned the sign." The building once also housed a bar in the basement. "It shut down during Prohibition," Lisa says. "At that time, the pharmacy sold alcohol and wine by prescription." During Prohibition, the U.S. Treasury Department allowed physicians to write prescriptions for medicinal alcohol to treat a range of illnesses, including anemia, tuberculosis and high blood pressure, according to a History channel story. Lisa says the store sold its liquor license long ago, and the shelves that used to hold alcohol now are filled with toys.
Why Woodland?
Like many small downtowns in the Capital Region, Woodland's Main Street is bustling, with a plethora of restaurants and shops and, just a few blocks from Corner Drug, the historic State Theatre and Multiplex, which was renovated and reopened in 2017 after being shuttered for seven years. "Being in downtown Woodland has been exciting since we've seen years when Main Street was a ghost town," Sara says. "We now have a slew of new restaurants, and downtown has come alive." She points out events such as the California Honey Festival in May and weekly First Sundays Food Truck Mania that draw people to the historic district.
What's your biggest achievement?
Lisa says when she began working at Corner Drug, it had two phone lines and two manual typewriters. "Everything was done by hand," she says, "including filling out insurance forms." In 1983, she was asked to select a computer system. "I bought one, and it sat on the counter in the back for about six months. Eventually, I got tired of waiting and started using it myself." Change has been fairly rapid, Lisa says. "It was a big day for us when my husband told me that we were busy enough to buy a robot that would count pills." She says the store now has two robots, one that counts pills and one that "puts together customized packaging for patients that need help tracking their daily medication."
—
Main Street profiles businesses in our 10-county Capital Region. If you know of an interesting one, please email tcouzens@comstocksmag.com.
Sparrow 5 owner Marsha Taylor, who has a background in interior design and art, has operated her 2,100-square-foot shop in Roseville for seven years. Besides selling furniture and home accessories, Sparrow 5 carries the work of more than 70 local artists.
After taking over the historic Steady Eddy's in 2013, owners Jamell and Carla Wroten are focused on expanding the wholesale business.
Kevin Schimke Jewelers is one of 171 businesses in Stockton's Miracle Mile Improvement District.