Editor's Note
Crawford's Books reopened for browsing on May 30. For more information on safety measures, click here.
Why a bookstore?
Crawford's Books, opened by Jim and Joyce Crawford in 1983, was purchased by Sue and Greg Richards in January 2018. "Greg and I talked for years about someday opening a bookstore," Sue says, "but it was more of a pipe dream than a planned reality." Greg is a structural engineer, and Sue was an office manager for a nonprofit, and neither had worked in retail. "But our love of bookstores was strong," Sue says. "Anytime we headed out of town, we always sought out the local bookstores to get the vibe of the community."
Crawford's Books
Owner:
Sue and Greg Richards
Where:
5301 Freeport Blvd. Suite 200
Sacramento, Sacramento County
(916) 731-8001
Website:
crawfordbooks.net
Email:
jcrawfordbks@comcast.net
Purchased:
2018 (founded in 1983)
Business:
Bookstore
The Richards live near the store and had made many trips there over the years, so in October 2017, Sue says she mentioned to the Crawfords that if they were ever ready to retire and sell the store, Sue and Greg were interested. "We wanted them to know that there was a local family in the neighborhood that would love to buy it," Sue says. "Within a couple of weeks, we had an agreement. … I spent the rest of the year working part time in the store for free, just to learn the ropes." Greg continues to work full time for Degenkolb, an engineering company based in San Francisco, with Sue primarily managing the store. Their children are involved in the store too. "David (17) started a weekly game club hosting Dungeons & Dragons and Magic: The Gathering, and Jennie (14) started a tween book club," Sue says. "They also help out in other ways, from running the front desk to pricing and shelving books."
Are bookstores booming?
Independent bookstores were already struggling when the 2008 recession hit, mainly because of competition from big-box stores such as Borders and Barnes & Noble and the rise of Amazon as a major retailer. But after Borders closed its 400 stores in 2011, there was a resurgence in independent bookstores; a study this year by Harvard University found the number of independent stores in the United States increased 49 percent between 2009 and 2018 to 2,470. "We bought a bookstore because we believe in the value small independent bookstores bring to a community," Sue says. Customers come to local family-owned stores "because they value the input, the suggestions, that we can provide. It's personal, not a book list generated by a computer algorithm."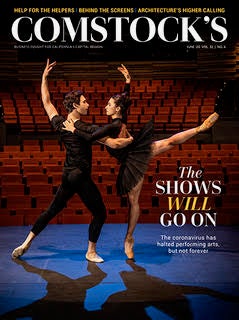 This story is part of our June 2020 print issue. To subscribe, click here.
What about the coronavirus?
Now, independent bookstores face another challenge: the coronavirus pandemic. Shortly after the state's order that forced all nonessential businesses to close due to the outbreak, the Richards received emails asking about curbside pickup, and they solicited feedback through Instagram and Facebook. "As it turned out," Sue says, "there was quite a strong interest from the community in obtaining books to satisfy folks' stay-at-home reading desires." Crawford's Books takes orders via email and phone and offers curbside pickups Tuesdays, Thursdays and Saturdays and porch deliveries Saturdays to homes within 5 miles of the store. It also will ship for customers out of the area. "We also offer to pick out books for people if they have a specific author or genre of interest," Sue says. "Or surprise them altogether, if that is their desire." The store also is now hosting its monthly Mysteries and More Adult Book Club gatherings via Zoom.
What about the future?
The Richards were working on a plan to fully reopen after Sacramento County announced that bookstores could do so, though as of press time in mid-May Sue was unsure when that would happen. But she said they will continue to offer curbside pickup and deliveries. "The majority of our stock is used books," Sue says, "so we depend on customers bringing in books for trade as our primary means of maintaining inventory." Because of the restrictions of the state's order, the store temporarily suspended accepting used books. Crawford's Books also started offering bundles of books with family, children, mystery, science-fiction and other themes. They include five ($16), eight ($24) or 10 ($32) used books. "Every pack gets hand packaged in wrapping paper," Sue says. "We like to write the person's name and little messages on the packages as well, just for a personal touch." The store plans to continue offering these used-book bundles on a regular basis, Sue says. "(They) will have continued appeal."
How's Freeport Boulevard?
Sue is excited about the future of the store, especially since a new Raley's opened just a half-mile north. "Many new stores are opening in the complex," she says. "So it all seems very positive for the future of business in this neighborhood." Sue says her family feels very connected to the Hollywood Park neighborhood, whose residents she says show strong support and a sense of loyalty to local small businesses. "(Our customers) leave with an experience worth always coming back for. And in the end, it is about our experience as well. I get to help people find enjoyment and fulfillment through books, and I love what I do."
—
Main Street profiles businesses in our 10-county Capital Region. If you know of an interesting one, please email tcouzens@comstocksmag.com.