We have an opportunity. In 2015, women held less than 24 percent of jobs in science, technology, engineering and math in the United States, despite making up more than 47 percent of our workforce, according to a report from the U.S. Department of Commerce. But nearly a decade ago, Microsoft projected 1.2 million job openings in STEM occupations by 2018. Additionally, the U.S. Bureau of Labor Statistics forecasts overall employment to grow 5.2 percent between 2018 to 2028, while STEM occupations are projected to increase by 8.8 percent.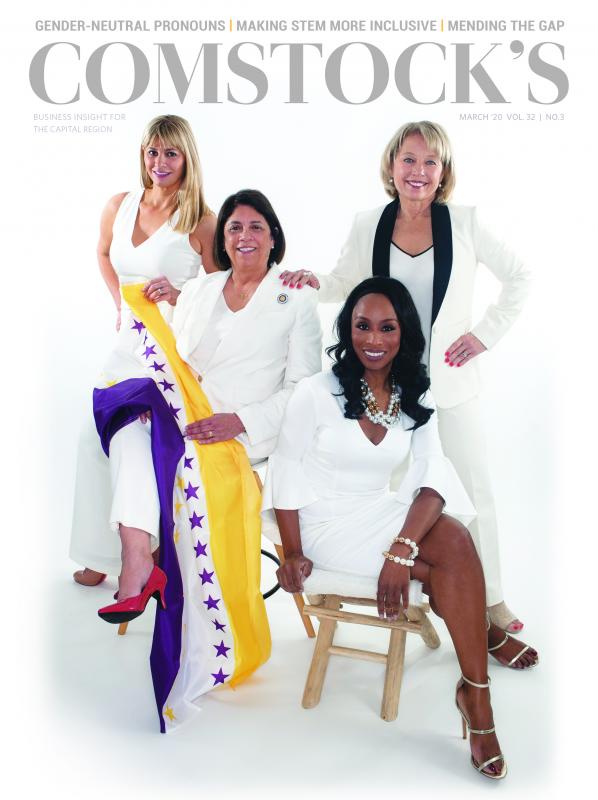 This story is part of our 2020 Women in Leadership issue. To explore the issue, click here.
This job growth means more opportunities for women to work in STEM. It means more girls can aspire to work as scientists, doctors, engineers, computer programmers and statisticians. These types of jobs also pay well. According to the Department of Commerce report, "women with STEM jobs earned 35 percent more than comparable women in non-STEM jobs — even higher than the 30 percent STEM premium for men. As a result, the gender wage gap is smaller in STEM jobs than in non-STEM jobs."
A 2018 report published by Microsoft called "Closing the STEM Gap" sought to understand the attitudes of girls toward STEM subjects and ways girls can be supported. The report found "31 percent of girls believe that jobs requiring coding and programming are 'not for them.'" In high school, that percentage jumps to 40 percent. By the time they're in college, 58 percent of girls count themselves out of these jobs.
The good news is that recent research, such as the "Closing the STEM Gap" report, is paving the way for educators and those of us in youth development to reverse this decline, by following these specific actions.
Girls need positive role models in the STEM fields. If you are a woman in a STEM field, think about volunteering at your neighborhood school or an organization that serves girls. If you would like to identify a mentor for your daughter, contact the human resources department of any STEM-related company. It may have a program that connects its female employees with girls. Additionally, UC Davis participates in the Million Women Mentors, a national program for those interested in being a mentor or those who want a mentor.
Provide extracurricular, hands-on and practical activities for girls to explore STEM. Of girls who participate in STEM activities, 75 percent understand what types of STEM jobs are available, according to the report. That is 22 percent more than girls who do not take part in STEM activities. In the Sacramento region, there are a few options for after-school programs that are exclusively for girls. Girls Who Code, Code Ninjas and Girl Scouts are some, and there are also coed opportunities available.
Encourage girls to participate in STEM. The report says, "girls who are encouraged by their parents and teachers are much more likely to take STEM and computer science classes than girls who aren't." And because STEM fields are still mostly occupied by men, it is important for the girls' male relatives — fathers, uncles, brothers, cousins — to say, "This is for you too." According to the report, girls who have been encouraged "are more than twice as likely to consider studying computer science in high school, and they're (three) times as likely to say they'll study computer science in college than those who have no encouragement."
Pay attention to what girls say about STEM. The researchers found this to be the most important action we can take. We need to develop a better understanding of why some girls and young women thrive in STEM studies and careers and why others don't.
What is your experience with STEM? Tweet us @comstocksmag!
There is change on the horizon as more research and programmatic dollars are committed to understanding and supporting girls in STEM. Last year, three professors from Sacramento State — Aaminah Norris, an assistant professor of teaching credentials; Anna Baynes, an assistant professor of computer science; and Deidre Sessoms, a professor of education — launched Girl Power by Design, funded by a National Science Foundation grant, aimed at increasing by 75 percent girls' participation in the Information and Communication Technologies academies and pathway programs offered at several high schools in the Elk Grove Unified School District.
And Beth Broome, UC Davis' senior adviser to the provost for STEM strategies, is leading a grant-funded initiative called Snap the Gap, serving nearly 15,000 girls across the state. The initiative uses hands-on learning and mentorship to narrow the STEM opportunity gap.
The good news is that recent research, such as the "Closing the STEM Gap" report, is paving the way for educators and those of us in youth development to reverse this decline.
Girl Scouts now has more than 80 badges directly related to STEM, including cybersecurity, robotics, engineering and citizen science. Girl Scouts Heart of Central California has STEM centers in Sacramento and Modesto and recently launched a mobile STEM center to better reach girls in underserved communities within the 18-county region the organization serves.
It doesn't take much to make a difference in girls' attitudes and beliefs about STEM. Acting now will help develop girls who are not only comfortable engaging with STEM, but will be primed to lead the future of it.
–
Get great stories like this delivered to your inbox: Subscribe to the Comstock's newsletter today!
More than half of U.S. business women, 80 percent of all female tech leaders, the majority of female legislators and nearly every female astronaut got their start in Girl Scouts.
Entrepreneur Stephane Come feels that "fun" products and games currently on the market are short-changing children. That's because they don't often show kids that it's OK to fail. Instead, Come wishes that children would be challenged and taught that getting things wrong is an acceptable part of the process. It isn't necessary to come to the solution instantly.
Effective leaders don't come from one mold. The women featured below have excelled in nontraditional industries due to their talent, vision, perseverance and the (sometimes unlikely) mentors who guided their trajectory. They shared their stories with us — where they started, their rise to leadership and their thoughts on mentoring the next generation of powerful women.