Effective leaders don't come from one mold. The women featured below have excelled in nontraditional industries due to their talent, vision, perseverance and the (sometimes unlikely) mentors who guided their trajectory. They shared their stories with us — where they started, their rise to leadership and their thoughts on mentoring the next generation of powerful women.
The Athlete
Assistant Coach, Sacramento Kings
Growing up, Sacramento Kings assistant coach Nancy Lieberman didn't have traditional sports interests or traditional role models. She played male-dominated sports like tackle football, baseball and basketball — and girls were not invited.
"People would ask me, 'Are you dumb? Are you stupid? Girls don't play sports," Lieberman says. But that didn't deter her. She couldn't find top talent on the basketball courts in her neighborhood of Queens, but she'd heard the kids shooting hoops in Rucker Park in Harlem were some of the best. "They asked me if I was lost," she says of when she first arrived, a tiny Jewish girl in a predominantly black neighborhood. "I told them I wasn't lost and I wasn't afraid. I just wanted to be good like them." The players let her join their game and gave her the confidence she needed to continue pursuing her love of basketball. "They became my teachers and my protectors," she says. "They taught me to respect everybody, but fear nobody."
Professional boxer Muhammed Ali also had a huge impact on the young, aspiring athlete. "When I saw him on TV declaring he was the greatest of all time, he touched my life and my mind," Lieberman says. "I wanted to be just like him." Eight years later, Lieberman had the chance to meet her icon during a presentation at the New York Stock Exchange. While backstage, Lieberman says Ali called her over and asked, "Are you good?" "I was terrified," she says, "but I told him I was the greatest of all time. He looked up and then gave me a big hug and said, 'I didn't know there was two of us!'" The pair have been friends ever since. "What an inspiration he was and is for me to this day," she says.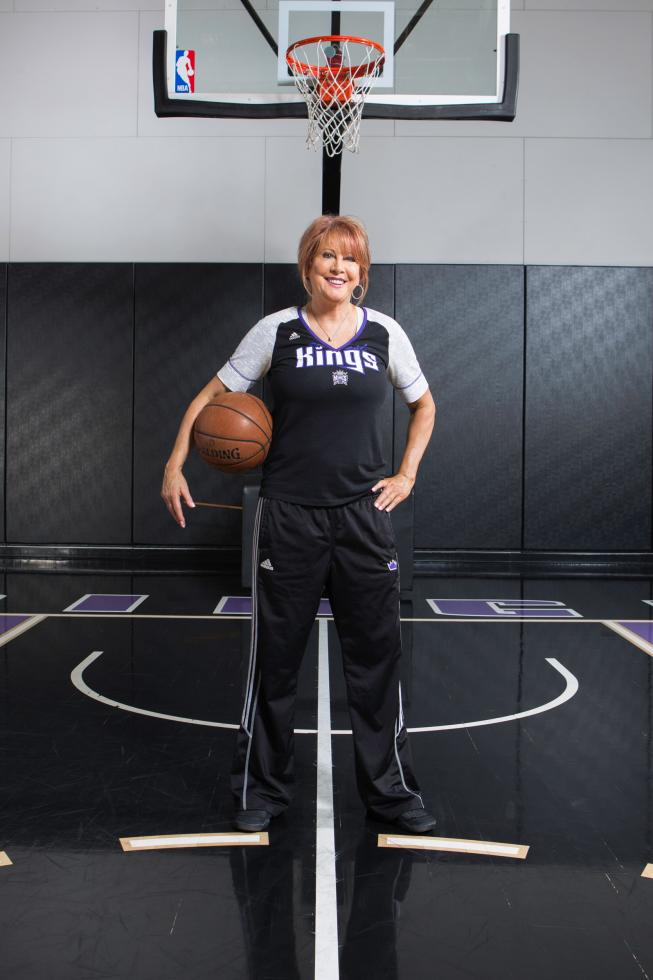 Nicknamed "Lady Magic" for her skills on the basketball court, Lieberman has a storied career spanning 40-plus years that includes a list of firsts in almost every category. At age 18, she was the youngest basketball player in Olympic history to medal when she and her teammates brought home silver in the 1976 Montreal Olympics. She led her college team at Old Dominion in Virginia to consecutive National Championships and played professionally for the Women's Basketball League as the first draft pick for the Dallas Diamonds. In 1986, Lieberman became the first and only woman to play in a men's professional sports league when she joined the Springfield Fame of the U.S. Basketball League.
After her playing career, Lieberman turned to television commentating and coaching, and was hired as the first female head coach in the NBA with the Dallas Mavericks' development team, the Texas Legends. She led the team to the playoffs in her first season. Last July, Lieberman's groundbreaking contributions to the sport culminated in a coveted NBA assistant coaching position with the Sacramento Kings. Many believed it was long overdue.
In addition to her coaching duties, she offers positive inspiration to the team through daily morning tweets. "I'm so honored," Lieberman says. "I deeply care about our players, our organization and our community and it's breathtaking to know that I can help be the light in someone else's day."
The Scientist
Director, UC Davis Stem Cell Program and Institute for Regenerative Cures
When Dr. Jan Nolta was recruited to start a stem cell program at UC Davis in 2007, she could not have anticipated how revolutionary the program would become. Housed in the UC Davis Institute for Regenerative Cures, the program now includes 18 different teams comprised of 150 different professionals all working to develop stem cell-related cures for diseases in the human body.
Born and raised by a single mom in the small town of Willows, Calif., Nolta was the first in her family to attend college. She was able to secure scholarships to study pre-med at Sacramento State and, while there, found herself drawn to laboratory and research work.
"When one of my professors told me I should consider a career as a scientist, I couldn't believe that someone would pay me to do that," Nolta says. She switched her major to biology and completed her degree. Following Sac State, she began working on a master's degree at UC Davis. During that time, she was able to work with Dr. Donald Kohn, widely regarded as a leader of stem cell gene therapy. Nolta helped develop gene therapies and was inspired to pursue translational medicine, which is the conversion of scientific discovery into health improvement. She later earned a Ph.D. in molecular microbiology from the University of Southern California.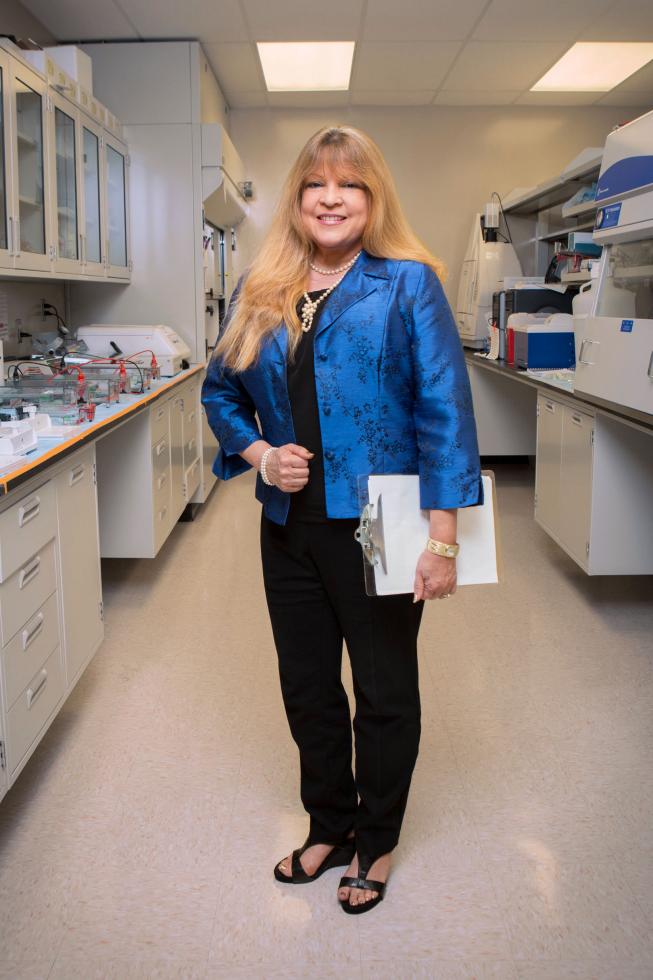 After five years teaching at Washington University in St. Louis, Nolta was recruited for the UC Davis Stem Cell Program. Now, in addition to directing the stem cell program, she is also the scientific director of the six-suite UC Davis Good Manufacturing Practice Laboratory, one of only two facilities of its size and complexity in the state. The completely sterile environment is used to generate cellular production for clinical trials and regulatory agency approvals.
Armed with $135 million in state-funded grants over the past 10 years, the team is pioneering landmark research — including engineering stem cells, using humanized mice to test the acceptance of human stem cells in different parts of the body, and using stem cell gene therapy to treat and potentially cure Huntington's disease. The HIV team is also preparing to begin clinical trials on HIV-positive lymphoma patients using stem cell gene therapy. In all, the team is conducting 11 stem cell clinical trials with 20 more in the pipeline.
While women in Nolta's position are still rare, she is finding that today many more females are pursuing a career in science. Each year, Nolta offers 10 high school students a summer internship in the program. "At least half are usually young women," she says. "It's OK, even cool, for girls to be science nerds now."
With a balanced mix of men and women working on the UC Davis Stem Cell Program disease teams, Nolta says she has never felt like a minority. UC Davis also has a female chancellor, dean of the School of Medicine and chair of surgery. "I am very fortunate to be surrounded by so many strong female leaders here," she says, "and I am amazingly blessed to work with so many talented people."
The Builder
Executive Director, Sacramento Housing and Redevelopment Agency
Gov. Jerry Brown's decision to dissolve California's 400-plus redevelopment agencies in 2012 hit hard for LaShelle Dozier, executive director of the Sacramento Housing and Redevelopment Agency. Her community development and revitalization work in the City of Sacramento and Sacramento County relied on redevelopment funds.
"That was a very difficult time and one of the hardest things I've had to manage during my tenure at SHRA," Dozier says. "Internally we had to right-size the organization, and externally we had to look at creative ways to continue our community development efforts." To start, Dozier minimized layoffs by moving staff to other lines of business. She and her team also aggressively pursued federal funds. "We were methodical in our approach," she says, and it paid off. Now, four years later, the agency has garnered $32 million in federal funding opportunities.
A Sacramento native, Dozier grew up in North Highlands before attending UC Berkeley. She completed her undergraduate degree in industrial psychology and pursued an MBA at the University of San Francisco while working full time. "I found I had a passion for work that provided a service as opposed to an industry driven by a product, so I made a conscious decision to pursue government-sector work that would make a difference in the community," Dozier says. "With an MBA, I knew I could also bring a business perspective to my role."
In 2002, she joined the SHRA as a management analyst and quickly moved up the ranks. She was promoted to program manager and then head of the Housing Choice Voucher program. "Because I was new to this kind of work, I was able to look at things differently and people took notice," she says. Next she accepted a promotion to director of public housing. When her predecessor, Anne Moore, announced her retirement in 2008, she personally asked Dozier to serve as interim executive director. Within a year, Dozier was appointed as the acting executive director overseeing a $180 million budget and more than 200 employees.
To make an impact in underserved communities, the SHRA looks for blighted areas and gaps in basic services. The revitalization of Franklin Villa in south Sacramento is an agency success story: The SHRA targeted a series of privately owned fourplexes with absentee landlords — havens for gangs, drugs and violence — as a central part of the problem. The agency purchased the units, put them under new ownership and rebuilt them as attractive, affordable housing. The $84 million revitalization, known as Phoenix Park, is now a thriving community and resource-rich environment for residents. "This is the kind of work I envisioned myself doing when I chose my career path," she says.
Along the way, Dozier has had mentors that encouraged her, including Moore and former SHRA deputy director Cassandra Jennings. "These women were very strong role models for me," she says. Dozier is doing her part to pass on that guidance to the next generation of women in the workforce through the Women in Leadership program, which matches seasoned, experienced leaders with younger mentees in the same field.
The Banker
President and CEO, Golden 1 Credit Union
As president and CEO of Golden 1 Credit Union, Donna Bland manages 1,500 employees that serve more than 750,000 members. She takes her position on with great responsibility. "I want to make sure our employees thrive at work and in life," Bland says. "We work hard to create a 'family first' culture where we value respect and integrity."
For Bland, the message of a balanced life is significant. "I tell people, you can have a wonderful life and be successful in your career with the right kind of support and resources, but it's not easy," she says.
Raised in San Francisco to a family of modest means, Bland learned the value of a dollar early on. "If I wanted something, I had to work and pay for it," she recalls. "I realized I needed a solid financial plan to be able to do what I wanted to do." Inspired by the monetary giants gracing the San Francisco skyline, Bland could see a clear career path in finance. "I loved math," she says. "It just made sense to me." She opted to pursue an accounting degree at San Francisco State and worked as a bank teller to help cover the costs.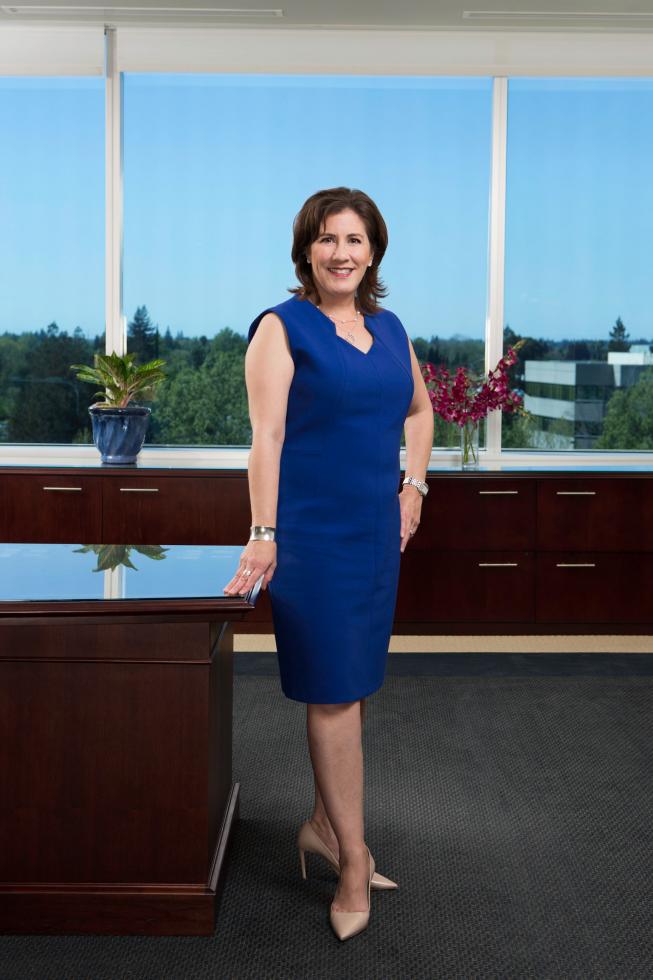 Following graduation, Bland worked at the San Francisco office of KPMG, an international audit, tax and advisory firm where she specialized in financial institution clients and earned her CPA. In the early 1990s, she transferred to the company's Sacramento office. After starting a family, Bland left KPMG to limit her business-related travel and accepted a traditional banking role with a regional bank. After the bank was purchased, she reassessed her options. She took a position as vice president/controller with Golden 1 Credit Union in 1994 and was soon promoted to senior vice president/CFO, a position she held for 15 years. In 2010, Bland was tapped to fill the role of president and chief executive officer. "I wasn't looking to be CEO of any institution" she says. "I enjoyed my role as CFO of Golden 1. But when the position became available, it seemed like the perfect fit and the board was very supportive."
This year, Golden 1 will reach $10 billion in assets, an important milestone for the 80-year-old company. And 2016 will mark another momentous occasion — the grand opening of Golden 1 Center, Sacramento's new world-class sports and entertainment center and home to the Sacramento Kings. Golden 1's long-standing partnership with the Kings led to the naming rights opportunity.
With so much support from the board, community and members, Bland feels empowered in her role and believes it's important to return the favor. "We are fortunate to have so many strong women in leadership roles here in Sacramento," she says. "It's important for young people to have role models who can motivate them to grow to their full potential and I am proud that we can serve in that capacity for not just women, but for men as well."