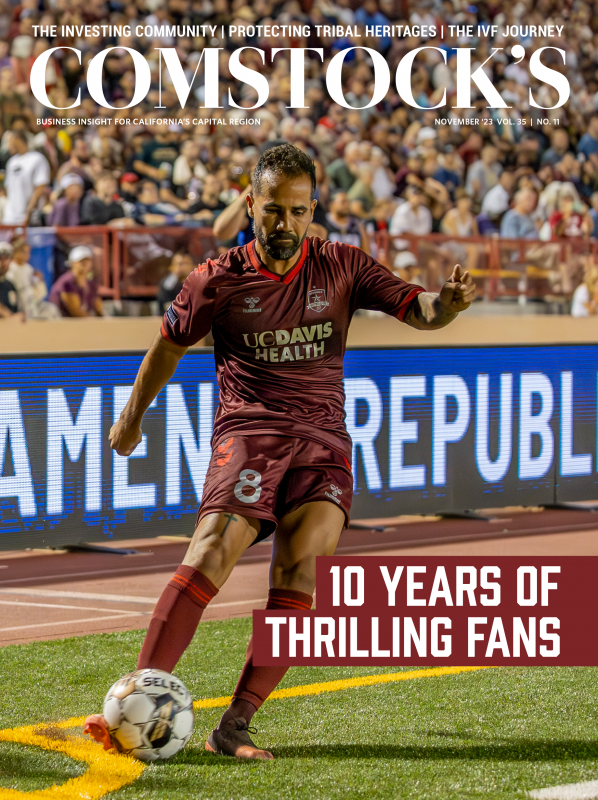 This story is part of our November 2023 print issue. To subscribe, click here.
Bud Milo enters the 90-year-old restaurant and bar on Main Street in Rio Vista for the first time, and his expression immediately changes after seeing 300 mounted hunting trophies and photos lining the walls.
"There's a whole lot of animals here," says the incredulous Milo, of West Sacramento, looking up at the massive collection of taxidermy wild animals, birds and fish that overlook the horn-shaped, 65-foot bar and dining room at Foster's Bighorn. Milo was brought to the restaurant for lunch on a recent October weekday by his wife Janet, who had visited before.
"I've never seen this many in one place before," Milo says.
Welcome to Foster's Bighorn, which has anchored Main Street in the Solano County delta city since the early 1930s, an establishment which incites both awe and unease from visitors at seeing so many taxidermy animals in various poses. The collection was amassed by original owner Bill Freida, a bootlegger, after he moved from Alameda in 1931, changing his last name to Foster as a way to evade the law. Naturally, he opened a bar once Prohibition was lifted.
The animals depicted on the walls offer a glimpse of big game hunting in the 1930s — although the latest mount is about 15 years old, owner Chris Wakeman says — and are from trips Foster and others made all over the world, including Africa, Canada, India, Greenland and Mexico. Reportedly 95 percent were shot by Foster until he retired from hunting in 1953 to operate the bar full time. The collection includes more than a dozen different varieties of deer and antelope, and other species such as giraffe, hippopotamus, rhinoceros, lion, buffalo and an elephant head claimed to be one of the largest mammal trophies in existence, mounted in 1952 with a trunk measuring 13 feet from base to tip.
"This community has always loved and supported Foster's," says Wakeman, who took over the 3,126 square-foot business located two blocks from the Sacramento River from former owner Howard Lamothe about a year ago. "I'm just carrying on, trying to preserve Bill Foster's legacy."
Wakeman, born and raised in San Mateo but a longtime Delta Region resident, says he's trying to bring "a San Francisco quality" to Foster's, while also maintaining its popular traditional food and drink menu. Wakeman worked for a large apartment complex in San Mateo before moving to San Francisco in the early 1990s to become operations manager at the then Prescott Hotel, where Wolfgang Puck's restaurant was located.
"That was a five-star property, so we had very high standards," he says. "I had some great mentors. I gained all my HR background and experience managing employees through them."
Wakeman became a successful contractor in the Bay Area and moved to the Delta, buying a small resort in 2017 where he ended up putting in a "snack shack" restaurant, while still commuting to the Bay for his contracting business.
He had visited Foster's several times but had never met the owner until he stopped in one night on his way home and was introduced to Lamothe. They almost immediately started discussing business.
"Within 10 minutes we were talking about him selling me the place," Wakeman says. Delta businesses often lack strong management, he says, "and that's kind of my strong point — attention to detail and just consistency — so I thought 'I'm going to give it a shot.'"
Wakeman took over in September 2022, inheriting about 15 employees, including longtime bartenders Paul Rogers (40 years) and Heather Gardiner (13), who was recently named manager. Wakeman implemented several changes — professionally cleaning the animal mounts, increasing lighting, rearranging the TVs and adding beer taps at the 23-stool bar, while making the entrance from the bar to the dining room more open. He kept its traditional menu featuring elk, bison, beef, pasta, ribs and fish intact, though daily specials are added regularly.
Patrons are usually a combination of locals and first-time visitors like the Milos. During a recent afternoon lunch, the 20 or so customers included a couple from Tennessee, a granddaughter and her grandmother from Sacramento visiting for the first time, and a regular from the nearby Trilogy at Rio Vista retirement community.
"It's amazing how many people know about Foster's Bighorn," Wakeman says. "It seems like we get probably a hundred people every couple of weeks that just walk in here and then look up at the ceiling, and you can tell it's their first time."
Linda Anderson, a Rio Vista native who's having lunch at the bar with a group of regulars from a nearby office, has been coming in since she was a little girl.
"The big treat was sitting under the elephant on your birthday," she says. "I really like what Chris has done. It is home."
Stay up to date on business in the Capital Region: Subscribe to the Comstock's newsletter today.