Upon walking in the door, guests at the high-end Oak Café at American River College are greeted by a floor manager, asked about their reservation status and led to their table. The hushed sounds of silverware against plates mix with animated conversations. Servers pop in and out of the kitchen, bringing dishes out to waiting patrons. Behind the swinging door to the back of the house is the scene of a standard, bustling restaurant during the lunch rush.
The restaurant can seat a total of 80 guests at one time. The kitchen staff — from the chef of the day to the expeditors, who act as the kitchen equivalent of air traffic controllers — work together in coordinated chaos to meet the demands of more than 100 lunch diners per day, three days a week.
But this is no ordinary restaurant. Students enrolled in the college's Culinary Arts and Hospitality Management program run both the front and back of the house (with guidance from instructors) as part of their course requirements.
Culinary program faculty, students and the dining public have a massive 13,600-square-foot renovation and expansion project to thank for the on-campus dining experience. The $8.6 million rehab was paid for with a bond measure and a seven-year capital campaign. Completed in January 2015, the project includes public-facing elements, like the Oak Café and its adjacent retail bakery, along with several large kitchen labs, an amphitheater-style demonstration lab, two lecture classrooms, and dedicated bakery and candy labs — all of which converge into a state-of-the-art opportunity for students to absorb information, test their skills and hone their craft.
It's fitting for Sacramento — a city dedicated to a dynamic food scene — to have an innovative community college culinary arts program; American River College has the most robust program within the Los Rios Community College District. Yet, the innovation found on this campus is less about state-of-the-art tools and large amounts of space. Instead, the magic is found in how the faculty and students have leveraged those assets to serve the community at large. "We are one of the models for the community colleges," says ARC's Culinary Arts and Hospitality Management Program Director Brian Knirk. "These programs are very expensive to run and we bring in enough outside income to cover a lot of costs that other programs don't. We've also been very blessed to build an amazing faculty," he adds.
Knirk started working at ARC in 1999 and was the only full-time faculty in the program back when it served around 50 students. Now, the program has five full-time faculty and over 400 full-time students. "We have restaurant chefs, we have people that have been in the business who have run their own businesses and we have people who have been very successful in their businesses," he says. "At the same time, they are all teaching chefs. They are patient people with really great knowledge."
Even after nearly two years, Knirk speaks of the expansion project with excitement. As he walks through the facility, he points out new classroom features and lab equipment, and compares these features to what students were offered prior to the project's completion. They've also faced challenges moving into their new and improved home. "We worked very well together as a faculty and as a group of students in working in confined quarters, and we did amazing things with nothing for years and years," he says. "To then transition into a larger facility while still trying to retain that small sense of community becomes a little more difficult. There are the growing pains that go along with that."
The retail bakery and dedicated baking and candy labs didn't exist prior to the expansion, which means faculty members have been tasked with retooling the curriculum to serve more students. Chef Judy Parks, who leads the baking program, says the students now get more time with the equipment, have access to equipment they never did before and are more likely to participate thanks to the possibility of breaking into smaller teams.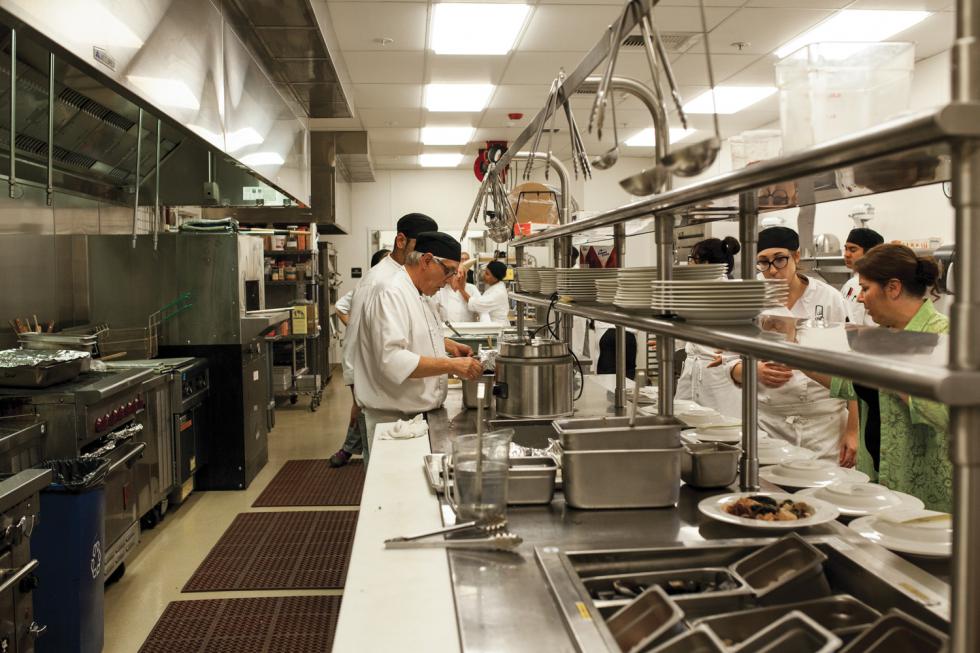 However, she also notes one recurring challenge, "This [space] provides the students a false sense of what it's like if you're really working in a bakery," she says, adding that bakeries are generally much more cramped. "You would never have the luxury of having a large table where you can put your pan of cookies to cool. So I try to get them to think about having a smaller space to work in."
That sense of real-world application spreads throughout the program. Student Justin Covarrubias has plans to graduate in December with two certificates (Introductory Baking, and Culinary Arts/Restaurant Management) and an associate's degree in Culinary Arts and Restaurant Management. He has big goals of someday opening his own restaurant in Sacramento, but wants to work for someone else to gain more experience first.
"I'm thinking about going [to San Francisco] or I might go to Napa for more education at the Culinary Institute of America," Covarrubias says. The honesty with which the ARC faculty approaches the subject of life after culinary school is refreshing, he says. "They don't sugarcoat things. They told us that it's going to be rough, we'll be working long hours and that family time might be hard too. Them being honest and upfront with me — I appreciated it."
Knirk and the other faculty in the program take pride in that honesty. Knirk has even used the logistical issues involved in scaling up the restaurant post-expansion as examples for students in the management classes. And when it comes to balancing a passion for the craft with the knowledge that culinary and restaurant ownership careers are not often financially lucrative, he takes his cues from community feedback. "When we go to [catering] events in the community and we send student volunteers, the continual feedback we get from restaurateurs is that our students are the most well-prepared," he says.
Student Emily Poage is taking classes to earn two certificates, along with the associate's degree, which is quite a balance considering she also works at Freeport Bakery in Sacramento as a cake decorator. But the program is flexible.
Poage has been at ARC long enough to experience the program both before and after the expansion. "This building has opened up so many new possibilities," she says. "Before, all of the lab classes were coming from this tiny building. There was still a lot of great work coming out of that classroom, but it's been wonderful to see how it's expanded. I feel so fortunate to have witnessed the before and after, and it makes me all the more grateful to be here."