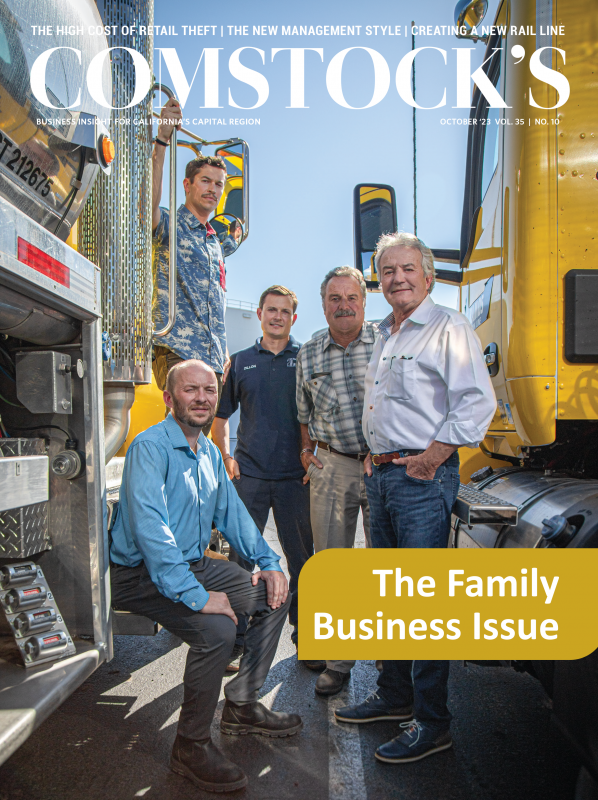 This story is part of our October 2023 print issue. To subscribe, click here.
Over the course of summer and the first weeks of fall, over 60 varieties of peaches and nectarines pass through The Fruit Bowl, a 76-year-old produce stand on the rural outskirts of Stockton. At the peak of the season in August, when afternoon temperatures reach the triple digits, their aroma is enough to inebriate. Vine-ripe and flesh-warm, these peaches are true to their role as a symbol of love and sensuality, from Renaissance paintings to modern emoji.
So there's no wonder a love story underpins The Fruit Bowl. Second-generation co-owner Ralph Lucchetti, 70, says it began in 1945, when his parents, Frank and Ina Lucchetti, achieved their dream of purchasing a ranch dating back to the 1860s. They renovated the aging farmhouse and moved in with their three young sons. Just a week after their housewarming party, a fire started in the chimney that engulfed all buildings on the ranch. Unhurt but bereft, the family moved to a rented house across the street so they could be near their scorched property.
As it turned out, the rented house was surrounded by nine acres of peach, plum and walnut trees. Their friends, looking to lend a hand after the fire, helped them pick and package the fruit and nuts. "They didn't know what to do with them, and someone suggested the market in San Francisco wasn't very good, so they sold them on the street to people driving by, and basically, that's how the business started," Ralph says.
Later the Lucchettis planted their own orchards on the home ranch and built a makeshift stand from tarps strung between three eucalyptus trees, which remained in place until a freeze killed two of the trees in the 1990s. The fruit stand is now a permanent structure with an attached deli and bakery, but it maintains the open-air, ephemeral atmosphere of the produce markets in Ina Lucchetti's native Italy.
"Because of the amount of time we've been doing this, we have some customers that are second, third and even fourth generation themselves."Ralph Lucchetti, co-owner, The Fruit Bowl
The elder two Lucchetti sons moved on to different careers, but Ralph decided to carry on the business with his wife Denene. They expanded the farm stand's bakery and deli offerings and added a gelato counter, which Ralph says was a longtime dream of his mother. The stand also sells a variety of imported Italian ingredients and local food products, including olive oil from Sciabica's in Modesto, eggs from TurnerKelley Farm in Stockton and pork from "a fellow in Ripon," Ralph says. The peach pies, baked daily with the stand's own fruit, are especially popular.
"My father didn't encourage me to get involved in the business, and I didn't encourage Andrew either," Ralph says of his son, Andrew Lucchetti, 38, who took on a full-time role at The Fruit Bowl earlier this year. "It was his decision."
Andrew helped update the business's e-commerce website and point-of-sale system so it could finally accept card payments. He's also doing more social media marketing with the goal of bringing in younger customers. "They can experience fresh quality products here that they can't really find in the grocery store," he says. "We're not selling something we wouldn't eat or enjoy ourselves."
Of course, the Fruit Bowl is already part of many young people's lives. "Because of the amount of time we've been doing this, we have some customers that are second, third and even fourth generation themselves," Ralph says. "They remember their grandmothers and great-grandmothers coming through here to do their canning or whatever. They remain loyal too."
Stay up to date on business in the Capital Region: Subscribe to the Comstock's newsletter today.