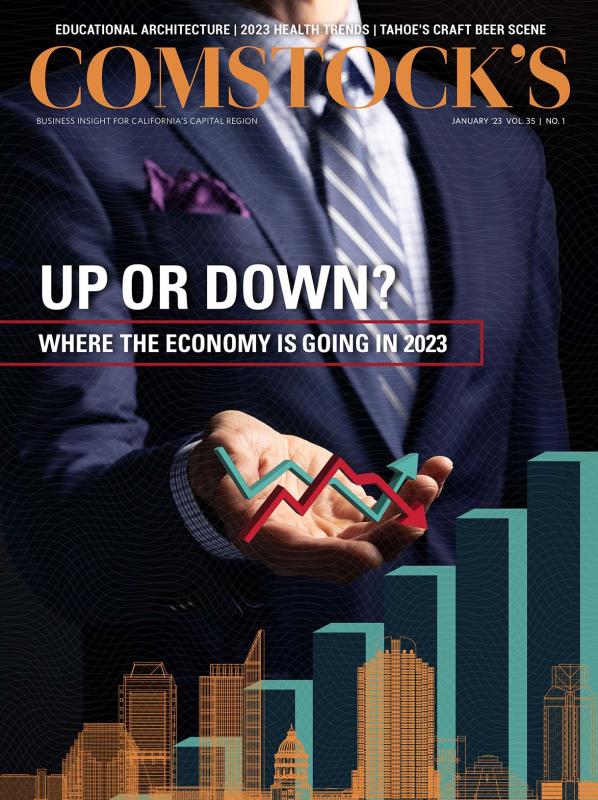 This story is part of our January 2023 print issue. To subscribe, click here.
Marcy Friedman was just back from a month-long trip to, among other ports of call, Dubai, Israel, Paris and Normandy. Then she went to her Lake Tahoe home for several days. The morning of this interview, a day or so after she returned from the mountains, she's nursing a slight cold but has just come in from her weekly Pilates workout. After greeting her visitor, she leads him down a long hallway to her home office; she walks so fast he needs to break into a semi-trot to keep up.
Did we mention she's 87 years old?
As her friend Linda Merksamer said after joining her on a trip to New York City a few years ago, "No one in our group could keep up with her. She defies age."
Friedman is one of the greater Sacramento region's best-known and most personally beloved philanthropists, as well as a genuine influencer. She's a tireless supporter of the arts. With her late husband Mort — a successful attorney and entrepreneur who died a decade ago at 80 after a three-year battle with progressive supranuclear palsy — she headed up the exhaustive and expensive reimagining, remodeling and resurrection of the once near-moribund and now spectacular Crocker Art Museum, helping to raise $125 million. The Friedmans started the ball rolling with a personal donation of several million dollars.
She is also, not incidentally, a fine artist. She took what she calls "a 40-year break" from a promising career as a painter to raise her three children and work beside Mort as a designer and advisor on major commercial building projects, including Arden Fair Mall and Town & Country Village. But now she's back at the easel.
A brisk tour of her magnificent, light-filled home on a bluff overlooking the American River includes a welcome stop in her studio, where — when she's not circling the globe, volunteering her time and considerable expertise as a fundraiser and passionate advocate for education, or spending time with her grown children and grandchildren — she's been busily creating paintings for a solo show this year at b. sakata garo gallery in Midtown Sacramento.
Friedman gives the credit for her rather awesome agility to her Pilates coach, Heidi Wagner. "I think I've been working with her for 10 years," she says. "She keeps me mobile. Because of her I can still touch my toes and the floor."
She can also touch continents and cultures.
Her recent trip to the United Arab Emirates, Israel and France was in part what she calls "a semi-diplomatic mission" sponsored by the American Israel Public Affairs Committee, an advocacy group that promotes pro-Israel policies to America's legislative and executive branches. Friedman traveled with her son Phil, her husband of three years Paul Kaufmann (who was her high school boyfriend), and more than 200 other travelers.
"We were there to honor the Abraham Accords," she says — a peace effort between Israel, Bahrain and the United Arab Emirates — "which isn't a treaty, but it's a good start." The trip brought together representatives "from the United States, the United Arab Emirates and Bahrain," she says. In addition to 10 days in Dubai (and stops in other emirates), Friedman and Kaufmann spent another 10 days in Israel, then some time in Paris, where they rented a car and drove to Normandy. Because Friedman and Kaufmann were children in Hawaii when Pearl Harbor was hit on December 7, 1941, "seeing Normandy, where the war started to turn in our country's favor, was very important to us," she says.
Friedman and her brother Ron, who she says is "a very energetic 96," were born in Hawaii to Martin and Sadelle Lichter. She was 7 years old when Pearl Harbor was attacked by the Japanese, and her father, a physician, disappeared for several weeks to tend to wounded soldiers. As a precaution, Marcy and her brother were evacuated to the continental U.S. "We were gone for less than a year," she recalls — but upon returning, they re-embarked on a childhood that now included toting gas masks to school and heading to underground shelters "whenever an airplane was spotted coming toward us that wasn't immediately identified as one of our own."
"It seems awkward to be talking about myself. None of us are ever finished until we are really finished!"

Marcy Friedman, artist, entrepreneur and philanthropist
She acknowledges that it was her father who encouraged her to pursue a career, first as a medical illustrator "because I loved science and was already drawing all the time. He said, 'There's nothing a woman can't do. And besides, what if you get married, feel taken care of but then get a divorce?' He meant I had to know how to take care of myself."
She met her first husband Mort at Stanford University in 1955, where he was gearing up for his subsequent law career and she majored in history.
The Crocker expansion
Lial Jones first met Friedman when she was hired to be the Crocker Art Museum's executive director in 1999. Friedman was president of the institution's volunteer board of directors (she's currently on the board again and says with a humorous sigh that she's served on it "almost interminably").
"Marcy is one of those people who, whatever she decides to do, does it exceedingly well," says Jones, whose title, befitting the Friedmans' largesse, is the Mort and Marcy Friedman Director & CEO. "What struck me about her as I got to know her over the years is that while she's a generous supporter of the arts, and cumulatively one of the museum's all-time top donors, she ultimately cares about Sacramento as a community."
While neither Friedman nor the Crocker board make decisions on exhibits — that's the job of the CEO and her staff — Jones says that "having serious art collectors on the board" and someone to chat with like Friedman is "a wonderful plus. She has standards and is opinionated about things, and it all comprises a very complex package. We have been very lucky to have her. And by 'we' I mean the Crocker, the city, the region and anyone who chooses to live, work and play in Sacramento, as they say." (The "they" to whom she's referring are booster groups such as Visit Sacramento, the Sacramento Metropolitan Chamber of Commerce and Greater Sacramento Economic Council.)
"Family has always meant everything to Marcy, and in my opinion, she and Mort raised their three sons correctly and lovingly," says Michael Dunlavey, a prolific watercolorist and photographer who's had 12 one-man shows of his paintings since he and his wife Lindy closed their namesake graphic design studio 11 years ago. For more than a decade, he served alongside Friedman as a member of the Crocker's board of directors as it raised the funds to expand the museum's footprint.
He says that getting people to give money "was pretty easy with Marcy paving the way. People respect her — but they happen to like her and know that if she's involved in a cause, she's done her homework. They also know that once she's on the case, the projects will come to fruition."
Dunlavey also admires Friedman for her public speaking. "She really prepares every word she's going to say," he says, "but by the time she delivers the talk it feels spontaneous." He makes note of Friedman's "amazing amount of energy," calling her "fearless" as a traveler. "Unlike a lot of wealthy people, she goes to places that aren't remotely comfortable because she has an almost childlike curiosity about everything."
Curiosity may in fact be Friedman's personal fountain of youth. She is currently immersed in Capital Public Radio's efforts to preserve and grow its independent journalism outreach among young people. Wondering aloud where the country is going "if it doesn't embrace the truth about things," she pauses and reflects on being interviewed at all and what she sees as her unfinished work.
"It seems awkward to be talking about myself," she says. "None of us are ever finished until we are really finished!"
"In the meantime," she continues, "we can work on building leadership for the future of our democracy, teaching critical thinking to the young, accepting nothing less than truth in journalism, pursuing knowledge for its own sake — and finding time to love our families."
Quotes and Observations From Marcy Friedman
Marcy and the late Mort Friedman's three adult children are Mark, a developer; Phil, an attorney who works full time for the American Israel Public Affairs Committee; and Jeff, "an MD and Ph.D.," his mom says. There are also eight grandchildren, ages 21-34 years old. She persuaded Mark to co-chair a Crocker committee hoping to develop an expansive outdoor campus for the museum, which would include exhibits in a park-like setting just across the street from the institution. "I think bringing him on is actually the best gift I ever gave to the Crocker," she says in her best proud-mama voice. When she steps down from the board this time, she's hoping Mark will replace her. "They certainly don't need two of us on the board at the same time," she says.
In that same vein, the Crocker's Lial Jones tells a story to illustrate how Friedman expects the best from people whom she cares about. "I was elected to the Board of American Art Museum Directors," she says, "which was a great honor in and of itself. When I told Marcy, she immediately said, 'And when are you going to land a leadership position there?'" Jones laughs. "It gave me insight into what kind of mom she's been and why her kids have all done so well."
About Sacramento, Friedman says, "If I were an outside business wanting to get a foothold here, I'd think twice when I saw the boarded-up businesses downtown, the tents, the homelessness, the detritus. We can be tidy and humane at the same time. Why can't we figure that out?"
About her golden years romance: "Paul always liked older women," jokes Friedman. He's 86, a retired corporate executive and venture capitalist. These days — and most endearingly, at this interview — he's his artist wife's greatest fan: It's Kaufmann who insisted on guiding a visitor to Friedman's basement studio to survey her works in progress.
–Ed Goldman
–
Stay up to date on business in the Capital Region: Subscribe to the Comstock's newsletter today.