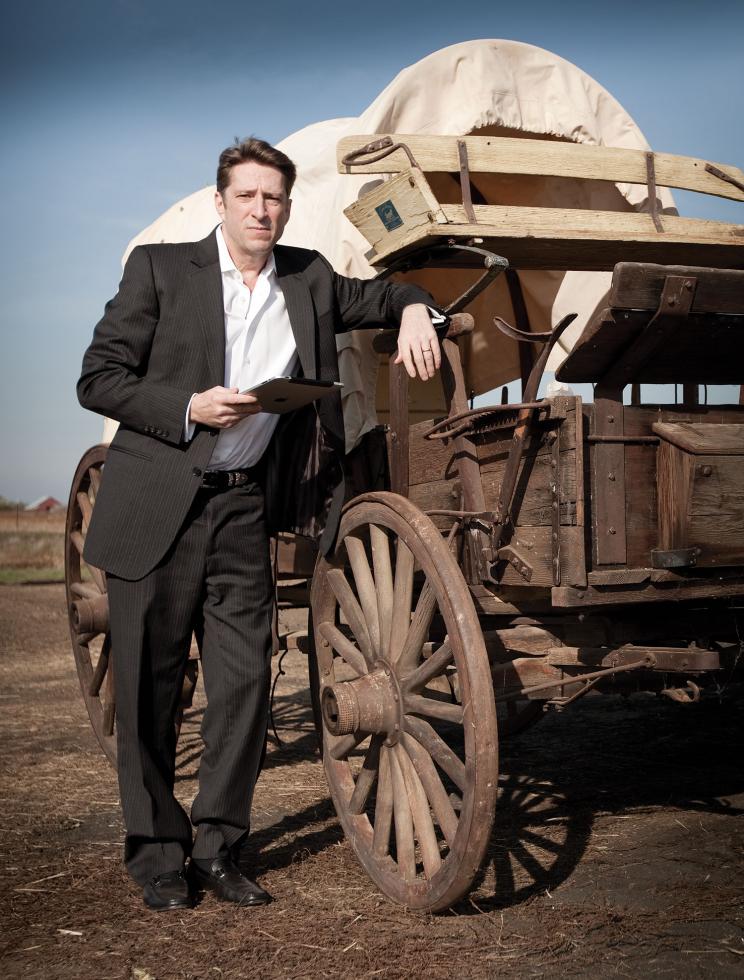 Raising cattle on the Van Vleck farm near Rancho Murieta is a legacy that has passed from father to son for more than 150 years. Now struggling to keep the family ranch, Stan Van Vleck came up with an electrifying idea: Install solar panels to boost income.
The 15-megawatt project, if built today, would be among the 10 largest in the United States. Van Vleck is in talks with the Sacramento Municipal Utility District to purchase the solar energy that would power about 3,000 area homes. He says the project is a means to regain lost revenue from increasing agricultural regulations and rising business costs in California.
Strict water and air laws have skyrocketed costs for ranchers, including statewide truck and bus regulations and Senate Bill 700, which amended air pollution control requirements in the California Health and Safety Code to include agricultural sources of air pollution. Add in a lagging economy, climbing health care and gas costs, and ranchers are scrambling.
Hoping to pass the family ranching business to his 9-year-old son and 12-year-old daughter, Van Vleck has already diversified his land, adding cell towers, horseback riding and paintball games. For his children to celebrate the family ranch's 200th anniversary, though, he had to launch a more aggressive business plan.
"What we want to do is maximize our potential on generating income from beef, on one side, but then diversify our portfolio or we won't be able to continue doing business in this region," Van Vleck says. "It's hard to push your kids to want to stay in the family business if it doesn't make sense."
Installing solar panels on 100 acres of the 10,000-acre property was a good fit for Van Vleck. He could keep the ranch and its 2,000 head of cattle and find a new use for a plot of rocky ground. Currently, he's using the land to mine sand and gravel.
Swapping solar energy for a mining operation will also benefit the environment. The project is awaiting approval from the Sacramento County Planning and Community Development Department. So far, officials have been positive because the project is green and could curb some negative impacts related to the mine.
"It's a good use of the land," says Rob Leonard, director of Sacramento County's Office of Economic Development and Intergovernmental Affairs. "From the standpoint of air quality and wear and tear on the roadways, it's a good project in that it decreases traffic along [Highway 16]."
The solar facility could bring 100 to 200 new jobs to the area and raise sales tax revenue from $3 million to $5 million, says Bob Hopper, senior vice president of Enfinity, America Corp., Van Vleck's partner in the project. According to Hopper, about 80 percent of the jobs — mostly electrical and engineering — would be available during the initial construction phase. The remaining 20 percent would be long-term design and engineering positions to operate the facility after completion in fall 2012.
Enfinity America, a company that finances and develops renewable energy projects, would finance and oversee construction of the solar facility. The Van Vleck family would lease land to Enfinity over the next 25 years with the option of buying the solar plant at the contract's end. SMUD is the No. 1 choice to buy the energy, but Hopper is in negotiations with two other companies if the Sacramento utility doesn't bite.
No matter the hurdles, Hopper and Van Vleck say they'll keep the solar project local to help jolt the area's economy. Their plan is to buy building materials locally and hire members from the International Brotherhood of Electrical Workers Local 340 as well as construction workers, engineers and designers from the region.
Engineering students from Sacramento State also have a stake in the project. Partnering with the power engineering program at the College of Engineering and Computer Science, Van Vleck has invited students to shadow the design and construction phase and monitor the facility once it's built. Students will also video the construction and visit the project as part of class labs.
Opportunities to study solar energy up close might draw more students to the power engineering program, which is the largest in the state. J.D. Stack, administrator of the California Smart Grid Center at the university, is working with Van Vleck to coordinate students' participation in what he calls a "living laboratory."
"We see this as a great learning tool for students who are interested in renewable energy," Stack says. "They'll be able to go out and kick the tires and see firsthand how it's done and what different factors affect solar production."
The different factors to which Stack is referring are topography of the land and weather conditions. On sunny days, the project would produce its optimum 15 megawatts of solar power and in varied weather, about 28 million kilowatt-hours per year.
Interest in solar and other renewable energies is blossoming in California and the Capital Region. And Sacramento County is eager to draw more green tech businesses.
"There have been a number of policies implemented by the (Sacramento County) Board of Supervisors under our recommendation over the past several years to give incentive for investment into renewable manufacturing uses," Leonard says. "These involve everything from tax rebates if a company is located in a redevelopment area to participation in improvements on the site."
Because of this green movement, producing renewable energies such as solar and wind power are attractive ways for California farmers and ranchers to boost income. They often seek ventures that allow them to increase income, keep the family business and preserve the state's open land. Even so, encroaching urban development makes it harder to stand ground.
"There aren't a lot of ways to get this tradition back if you lose it," says Matt Byrne, executive vice president of California Cattlemen's Association. "Once the parking lot goes in, it's hard to get the ranch back. So you do what you need to do to keep it going."
To keep his ranch and way of life, Van Vleck has not only diversified the land use but also works full time as an attorney. After leaving his Sacramento-based law office — Stern, Van Vleck & McCarron LLP — he can head to the ranch and work just as his father and grandfather once did. He won't give it up.
"The love for ranching is hard to describe," Van Vleck says. "It's a way of life. And it's my way of being able to embrace my history and all those people who worked so hard before me."
Solano County is taking steps to develop a new agricultural hub that farmers and economists hope will someday house facilities to process raw ag products into purchasable commodities.
"Good morning, Sacramento! It's a perfect day for a pig roast. Come out and join us," hog farmer Perrin Clark tweeted on a long-awaited day in May.