Kyle Wakamiya
Director of strategic planning and analysis, Origin Materials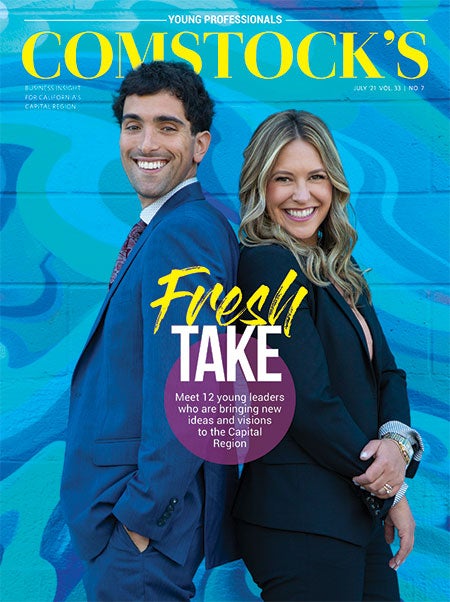 This story is part of our July 2021 Young Professionals issue. To subscribe, click here.
More than five years into his career with Origin Materials, Kyle Wakamiya decided to make a change. He had been one of the first nonengineering or science hires in 2010 for West Sacramento-based Origin Materials, which makes environmentally friendly bioplastics. Coming from an accounting background, Wakamiya served informally as the startup's chief financial officer. He wanted to stick with the company, but he wanted a change of pace.
So after a brief stint around 2017 of living with his wife in Southern California and working remotely for Origin, the couple decided to pack up and move to Bishop, a small city 270 miles away from West Sacramento on the eastern side of the Sierra Nevada near the Nevada border. This is where Wakamiya, 36, has served as the company's director of strategic planning and analysis since 2018. In his role, he helps his company by providing long-term projections. "The way I like to describe it is making the argument for, 'Why does what we do today get us to the future that we want to get to?'" Wakamiya says.
"The way I like to describe (my job) is making the argument for, 'Why does what we do today get us to the future that we want to get to?'"
Wakamiya has also never been one to stick to linear paths too long in his career. After graduating from UC Irvine with a bachelor's degree in economics and accounting in 2006, he went to work for business consulting giant Deloitte before departing in 2009. "I decided that public accounting wasn't the right place for me to have the rest of my career, and so, after a few years of that, I decided that I wanted to leave that space," Wakamiya says.
Having known Origin cofounder and co-CEO John Bissell since they attended Rio Americano High School outside Sacramento, Wakamiya went to work for Origin only two years after its launch in 2008. Wakamiya helped the company develop its competitive analysis, capital projects forecast, market analysis and pricing. (In 2013, he was also a Nehemiah Emerging Leaders Fellow.) He has been an integral part of a company that's grown to roughly 60-70 employees in his decade-plus there and is nearing going public through a special purpose acquisition company transaction process.
The relatively young company has made plenty of mistakes along the way, Wakamiya says, but that's just part of the growing process, and none of the mistakes were fatal. And he sees far too many young employees worried about saying the wrong thing instead of being willing to take risks and be innovative. "The reality is that we're going to be wrong," Wakamiya says. "We're almost always going to be wrong. But we can't let the fear of being wrong like that be paralyzing."
–
Get all the profiles in our Young Professionals issue delivered to your inbox: Subscribe to the Comstock's newsletter today!