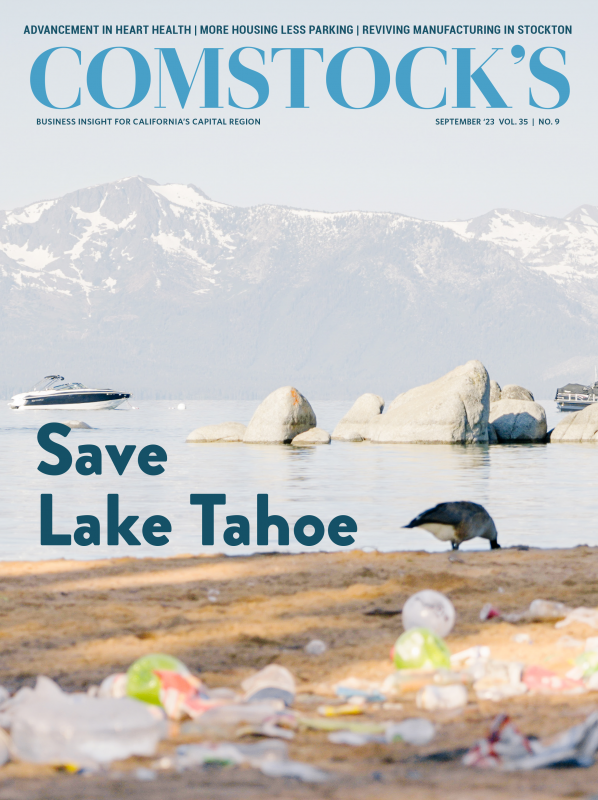 This story is part of our September 2023 print issue. To subscribe, click here.
Tweet
"A noble sheet of blue water lifted 6,300 feet above the level of the sea and walled in by a rim of snow-clad mountain peaks that towered aloft a full 3,000 feet higher still!"
– Mark Twain
Mark Twain's love affair with Lake Tahoe is akin to that of John Muir's love for Yosemite; both places present expansive, breathtaking natural destinations for vacations and day trips for those lucky enough to live within driving distance.
Drivers along State Route 28, Highway 89 and U.S. Highway 50 can peek through the natural pinecone curtains to see the 72 miles of shoreline surrounding the crystal clear waters. Hikers can explore 165 miles of wilderness looping around the "Lake of the Sky" via the Tahoe Rim Trail. Swimmers can explore the largest alpine lake in North America, 22 miles long and 12 miles wide, at its deepest point of 1,645 feet.
But some of the 15 million tourists that visit Lake Tahoe each year are threatening that natural beauty, along with some unruly residents. Tahoe lovers were shocked when they saw images of the aftermath of July 4th celebrations at Zephyr Cove that went viral on social media. Covering the entire beach were piles of beer cans, soda and water bottles, food boxes and wrappers, beverage containers, coolers and other trash. More than 400 volunteers cleaned up 8,598 pounds of trash on July 5th.
"Stop hosting fireworks until people are better behaved. They don't deserve it," reads one Twitter post. "This is not okay. What ever happened to pack out what you bring in?" says another. "They are destroying our beloved Sierra. It's disgusting," yet another.
"What happened at Zephyr Shoals was absolutely unacceptable," says Forest Supervisor Erick Walker from the U.S. Forest Service Lake Tahoe Basin Management Unit. "Lake Tahoe is a national treasure, with 155,000 acres of public land that are open for everyone to enjoy. You wouldn't empty a trash-filled cooler on your living room floor; it's just as unthinkable to do it on a Tahoe Beach."
Responsibility for the lake rests within a patchwork of two states, five counties, and multiple government and private agencies whose joint focus is to sustain the Tahoe Basin as a place to live, work and play.
Lovingly known to locals as Tahome, "We have the benefit of 200,000 acres of public lands in our backyards. We don't have the fiscal responsibility of managing those lands, but it also means they are open to everyone," says Amy Berry, CEO of the Tahoe Fund.
The expanse of Tahoe's beauty knows no bounds, but its infrastructure does. During the lockdown of 2020, people rushed to get outside, in turn challenging the infrastructure of the mountain towns around the Tahoe Basin that became strained under the pressure of mass visitation.
"Lake Tahoe is a national treasure, with 155,000 acres of public land that are open for everyone to enjoy. You wouldn't empty a trash-filled cooler on your living room floor; it's just as unthinkable to do it on a Tahoe beach." Erick Walker, Forest Supervisor, U.S. Forest Service Lake Tahoe Basin Management Unit
"You really couldn't go anywhere in California or Nevada. You couldn't go to your local playground, it was closed. You couldn't go to the mall, Disneyland or Six Flags, but you could go to Tahoe. There wasn't really a way to close it," says Berry.
Now, a new plan is being launched to protect this gem. In February of 2021, a workshop of more than 30 agencies — including tourism marketers, land management leaders and nonprofits — came together to lay out a joint vision to do things differently. The Destination Stewardship Plan was created, which encourages tourists to care for the area they are visiting.
The four pillars of the plan were unveiled at a June 20 news conference with the shimmering lake as a backdrop. They include fostering a thriving tourism economy that supports environmental stewardship; establishing a formal structure that includes a commitment to action; advancing a culture of caring for Tahoe by taking responsibility for it; and reducing impact during peak demand times through management while continuing to create ways for all to enjoy and connect with the region.
At the heart of the plan is the land acknowledgment, paying homage to the Washoe Indians, who have inhabited the land for 6,000 years. The Washoe Tribe of Nevada and California has maintained their role as environmental stewards of Lake Tahoe, known as Da-ow-a-ga in their native language, by continuing to advocate for their homeland and to protect, respect and take care of it.
"The private sector plays a huge role in creating a more sustainable recreation tourism system here in Tahoe," said Tony Karwowski, CEO and president of the North Tahoe Community Alliance, during the news conference. "Since the pandemic, we shifted from purely attracting visitation to promoting visitors and residents, to contributing to Tahoe's environmental and community help."
To implement the plan, the partners agreed to actively engage with stakeholders, residents and visitors to foster a collective sense of responsibility towards the destination's sustainability. This summer, visitors and residents at Tahoe saw stewardship programs already working. Take Care ambassadors, made up of local high school students, were posted at recreation sites and trailheads, offering educational information. Litter cleanups were expanded, solar trash cans that can compact trash were put in use, and "Clean Up the Lake" scuba divers were deployed. The divers collected 25,000 pounds of trash from the lake in 2022.
The effort to "Keep Tahoe Blue" is nothing new. Widely recognized by their slogan on bumper stickers and other merchandise, the League to Save Lake Tahoe has been advocating for the region since 1957. Its annual "Keep Tahoe Red, White and Blue" event has members and volunteers remove litter from Tahoe's shores after July 4th celebrations.
"We're excited to take part in the Destination Stewardship Council, to get more people and groups involved in caring for the lake on a personal level. For the last 10 years, the league has focused on doing just that through programs like Eyes on the Lake and Tahoe Blue Crew," says Chris Joseph, communications director for the League to Save Lake Tahoe.
Andy Chapman, president and CEO of Travel North Tahoe Nevada, says his organization has been working around the idea of sustainable recreation for a number of years, and the pandemic crowds were a catalyst for bringing together all of the stakeholders. He says the goal of getting more people to visit Tahoe all the time shifted to urging them to visit during non-peak or mid-week times. "We do want people to come but not all at once, and when they do come, to enjoy the environment and care for it at the same time."
But even before the crushing wave of holiday tourists, traffic and the waste they left behind, Tahoe was dealing with another problem — a housing crisis. Local workers perpetually priced out of the housing market have been forced into less expensive housing in the valley below. Labor shortages, traffic congestion and long lines for restaurants made even more uncomfortable by some unruly visitors are pushing locals to a tipping point.
Lake Tahoe is not a national park, and therefore it cannot "close the gates," the stewardship council says. The Tahoe Basin is located within National Forest lands that are open to the public, so telling people not to come is not an option.
Chapman of Travel North Lake Tahoe says residents and visitors are welcome to recreate in Tahoe and enjoy all the region has to offer. But the paradigm shift that's needed is for everyone — whether they live here part time, full time or are visiting — is to help take care of the area's natural resources. That means practicing leave-no-trace principles and keeping wildlife wild by changing the simplest of behaviors, like placing refuse inside bear boxes, not next to them, says Chapman.
"It's more an opportunity than a challenge as most visitors to Lake Tahoe love and appreciate the area and are all-in on protecting and preserving it. With their participation, we can all work to educate others about combining responsible visitation with memorable times at one of the country's most spectacular destinations," says Carol Chaplin, president and CEO of Visit Lake Tahoe.
For Walker of the U.S. Forest Service, the educational elements of the stewardship plan resonate the most, particularly when it comes to promoting "The Tahoe Way." "As I like to describe it: If you come here, you play, but you play with respect. If you come here, you work here, you do so with respect," he says.
Ashleigh Goodwin was born and raised in Reno, Nevada, and is a journalist based out of South Lake Tahoe. Her stories have been featured in the Sierra Sun, Tahoe Daily Tribune, Tahoe Magazine, Carson City Current, The Record-Courier, Mountain Democrat, NewsBreak and The Sacramento Bee.
Editor Judy Farah contributed to this story.
Stay up to date on business in the Capital Region: Subscribe to the Comstock's newsletter today.
Nasal and sinus problems can be tricky and costly to diagnose. Based on a hardware prototype developed at Stanford University, Scopi Medical aims to solve both problems with the first AI-enabled portable nasal endoscope for diagnosis at the point of care.
The roar of auto engines and the smell of gasoline, hot dogs, barbecue and beer have marked summer Saturday nights at the Stockton 99 Speedway since 1947 at the oldest running racetrack west of the Mississippi.

I have a weird problem. We have some jobs that can be done remotely, and some must be done on-site. Several employees who can work remotely moved during the pandemic, so they couldn't come in without moving back. But the problem is that both the WFH (work from home) and the WIO (work in office) think they deserve salary increases because of their working conditions.