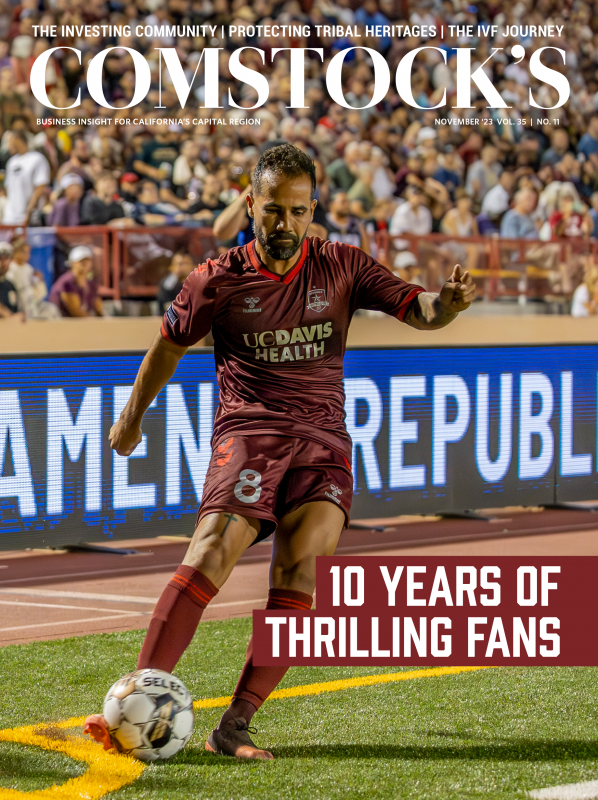 This story is part of our November 2023 print issue. To subscribe, click here.
Chris Barnum-Dann was standing on a stage at Petersen Automotive Museum in Los Angeles, receiving a Michelin star for his Midtown restaurant Localis, when his phone started to blow up.
"My phone was in my back pocket, and it never stopped buzzing," recalls Barnum-Dann of that night in December 2022. "It rang nonstop for two hours. There were over 1,000 messages, emails, texts. It was absolutely bonkers."
Winning a Michelin star is something ambitious chefs spend a lifetime dreaming of and working toward. A star from the world-famous Michelin Guide promises life-changing benefits: Money. Customers. Fame. There's even a term for it: the Michelin effect.
The Michelin travel guide series got its start in France in the late 1880s, when the founders of the Michelin tire company printed a free booklet filled with helpful information for travelers — things like maps, where to get gas, and places to eat and drink on the road. Eventually, they started awarding stars to fine-dining establishments and expanded their reach beyond France. Today, Michelin publishes guides for more than 3 dozen countries, from Abu Dhabi to the United States.
Until recently, only four U.S. cities — New York, Washington, D.C., San Francisco and Chicago — had a Michelin Guide. But in 2019, following a big push from the Sacramento tourism organization Visit Sacramento, California got its own annual statewide guide, featuring Sacramento along with Los Angeles, San Francisco, San Diego and a handful of other food-centric cities and regions. That year, The Kitchen — Randall Selland's demonstration-style restaurant — got a coveted Michelin star, the only local restaurant to do so. Since then, only Localis has managed the same feat.
In addition to stars, Michelin doles out Bib Gourmand awards for restaurants that offer great value for the money. There used to be a third category — the Plate award, given to restaurants serving "quality food" — but Michelin recently dropped that terminology and now merely "recommends" restaurants worthy of a visit. In the 2023 guide, four local restaurants — Frank Fat's, Canon, Nixtaco and Yue Huang — received Bib Gourmands, and nine were singled out for recommendation: Grange, Mulvaney's B&L, Beast + Bounty, Hawks Public House, Bacon & Butter, Allora, Ella, Camden Spit & Larder and ZÓcalo.
Getting a Michelin star is a mysterious, even opaque process. Michelin employs thousands of highly trained "inspectors" who dine anonymously at restaurants around the world. Chefs and restaurant owners never know if or when an inspector will visit their dining room. Stars fall into three categories: one star for "high-quality cooking," two for "excellent cooking," three for "exceptional cuisine." For a restaurant, getting one or more stars is like winning an Oscar or a Tony, establishing it as among the very best in the world.
Over the years, people have tried to quantify the so-called Michelin effect on a restaurant's bottom line. In 2017, French chef and restaurateur Joël Robuchon, with 32 Michelin stars to his name, gave Food & Wine magazine his two cents. "With one Michelin star, you get about 20 percent more business," he said. "With two stars, you do about 40 percent more business, and with three stars, you'll do about 100 percent more business."
According to a 2021 study of Michelin-starred restaurants in Spain, a star can raise profits by up to 50 percent. But another study, published in 2022 in the International Journal of Contemporary Hospitality Management, found "no significant effects" on a restaurant's financial performance associated with getting a star.
Clearly, local tourism officials believe in the Michelin effect. State and city marketing groups pay the Michelin organization $600,000 a year to support the California guide. (Sacramento's contribution is about $18,000, according to Visit Sacramento CEO Mike Testa.) The payoff can be huge: A 2019 Ernst & Young study regarding the guide's economic impact on destinations found that 71 percent of frequent visitors would increase their spending and 56 percent would extend their stay if a Michelin selection existed.
Even so, Sacramento restaurateurs are split on how much inclusion in the Michelin Guide really benefits them individually. At one end of the spectrum is Brad Cecchi, whose hip East Sac bistro, Canon, received a Bib Gourmand in 2019 for its inventive small plates. "It was an immediate boost in business," Cecchi says. "It was pretty substantial — an overnight bump of about 20 percent."
Barnum-Dann, who opened Localis in 2015, declines to talk numbers but says that "without a doubt, getting a star increased business — by a lot, not a little." Now, diners eager to spend $197 for Localis' 12-course tasting menu snap up reservations as soon as the books open every month.
Then there are those who say they haven't seen a post-Michelin bump in business. Take The Kitchen, for instance. According to Josh Nelson, CEO of Selland Family Restaurants, the popular reservations-only restaurant — with one nightly seating and a six-course prix-fixe menu at $185 a head — wasn't exactly hurting for business before it received its star. "We've been fortunate enough to be booked solid since 1991," says Nelson. "We still are booked solid."
But there are other Michelin effects associated with winning a star, a Bib Gourmand or a recommendation — some good, others not so good. When the 2019 guide came out, says Canon's Cecchi, reservations for holiday parties sold out six months in advance. That unexpected infusion of cash enabled him to enclose Canon's 2,000-square-foot, 70-seat patio, providing year-round extra seating, rain or shine.
Barnum-Dann appreciates the Michelin cred that came with winning a star. He just has to mention his star, and he can network with top chefs around the world. During recent travels to Thailand and Portugal, he called on chefs to compare notes on sourcing, ingredients and techniques. "It broadens your community," he explains, "which is important for a chef."
But there are downsides to Michelin recognition as well. For diners, reservations can be harder to get. Restaurateurs may have to manage outsize crowds — and outsize expectations. After Michelin gave Roseville's Nixtaco a Bib Gourmand nod in 2021, the taqueria was flooded with diners from the Bay Area eager to sample its house-made blue tortillas and cheffy taco fillings. Owners Patricio Wise and Cinthia Martinez were unprepared for the deluge. Their phone rang off the hook unanswered, and regulars fumed when they couldn't get a table.
Restaurateurs also talk about the stress of maintaining their star status. That Spanish study showing a 50 percent increase in profits associated with getting a star also showed a 50 percent drop when you lose a star.
The Kitchen's Nelson says the stress can keep a restaurant owner up at night. "Like Major League Baseball, the real pressure isn't getting into the MLB but staying there," he notes. "It was cool the first year we had our star, but then, oh my God, you have to keep at it."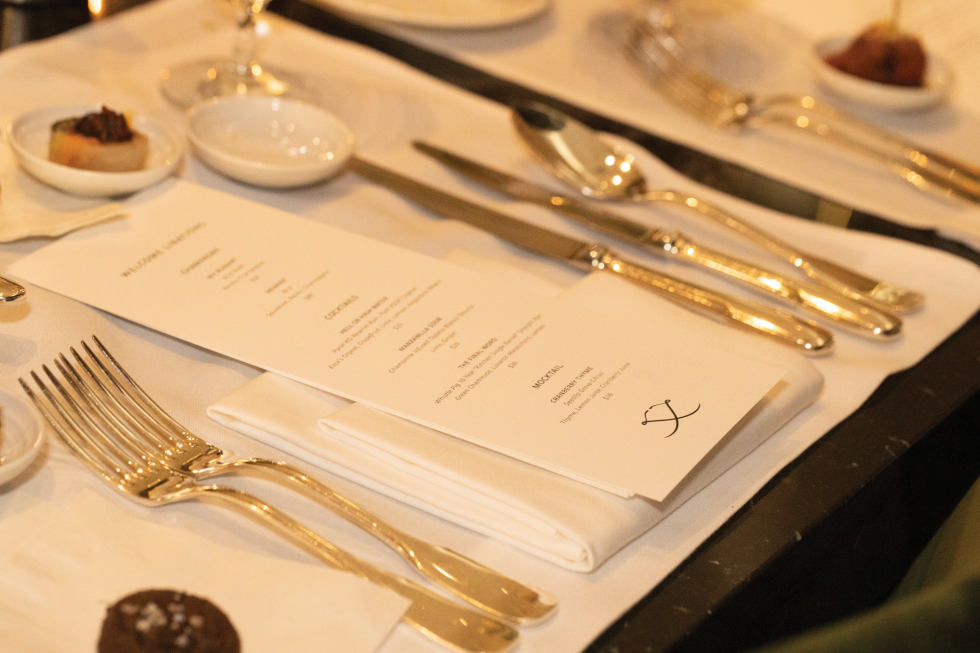 This past summer, The Kitchen moved into beautifully designed new digs on Broadway, and service — always attentive — has become even more focused and choreographed. The restaurant now employs close to 48 people for the 70-seat dining room, up from about 25 when Randall Selland himself ran things. "There's pressure to keep pushing," says Nelson, "which isn't necessarily a bad thing."
Still, most everyone agrees that Michelin's presence in Sacramento has been overwhelmingly positive. For Oliver Ridgeway, the chef and owner of Michelin-recommended Camden Spit & Larder, a chic London-style brasserie in downtown, the guide has solidified Sacramento as a "foodie city."
"It's something we tout when we talk about conventions," Visit Sacramento's Testa notes. "There is a culinary spotlight on Sacramento that wasn't there in the same way before the Michelin Guide."
Barnum-Dann uses that spotlight to promote the larger Sacramento food community. When talking with out-of-towners at Localis, he steers them to his favorite non-Michelin eateries: Binchoyaki for Japanese yakitori, Adamo's for red-sauce-joint staples, Kasbah for Middle Eastern mezze, Duc Huong for banh mi and Marie's for doughnuts.
Allora, an upscale, "modern Italian" restaurant in East Sacramento, got a Michelin Plate award in 2019. Chef Deneb Williams, who co-owns the restaurant with his wife, sommelier Elizabeth-Rose Mandalou, thinks Sacramento's inclusion in Michelin Guide raises the bar for everyone, star or no star. "When you have a community of good restaurants striving to be better, everyone feeds on that, and everyone gets better," he says.
Stay up to date on business in the Capital Region: Subscribe to the Comstock's newsletter today.