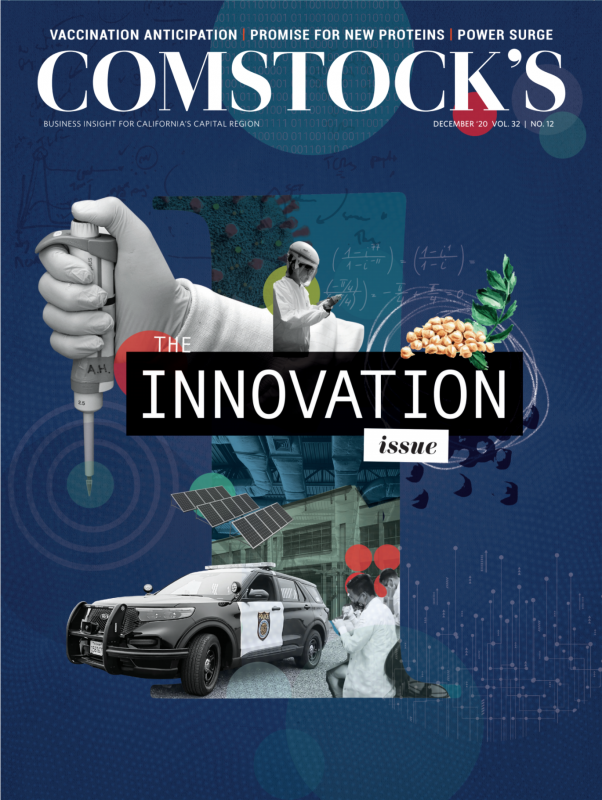 This story is part of our December 2020 innovation-themed issue. To subscribe, click here.
Doing business virtually is now the norm. Online commerce, digitally signed contracts, and virtual meetings and events are all standard operating procedures for many businesses and have become more so for many others since the start of the coronavirus pandemic. But if you are a small business that once relied on human interaction, how do you manage this digital shift when you may be already operating in survival mode — and feeling technically insufficient too?
Before taking action, evaluate your business mindset and the reason you are in business.
Karen Holmes of Karen's Bakery in Folsom has always had a firm understanding of why: to offer a cafe experience with fresh gourmet food. When the pandemic hit, she had to reinvent her business while staying faithful to that mindset.
Using home deliveries, meal kits and expanded outdoor seating, Holmes and her team were able to adopt a new working footprint. On the tech side, the investments weren't much more than website modifications and some extra hours on Instagram. But they were enough to keep the company afloat without taking dramatic action, like switching to a discount supplier — a violation of the business's mindset.
Being a small business means you can be lean, scrappy and agile: You can change faster. Embrace those advantages. Many effective, low-cost tools are available to help you do that. Delivered directly on the web, software as a service is an important innovation slingshot for small businesses, helping move the needle from where you are to where you need to be at a negligible cost. Basic SaaS features like email hosting and cloud backups are often free, ending the old days of expensive IT infrastructure.
For Granite City, a coworking space also based in Folsom, COVID-19 presented an existential threat. A business model based on providing shared office space had to be completely reorganized. Using the popular work collaboration tool Slack, Granite City was able to keep its customers updated on all of the company's changes, such as new check-in policies and other procedures being put in place to keep people safe.
As a customer of Granite City, it's given me an alternative from having to work all day in a noisy home with a toddler, barking dog and two teenagers engaged in distance learning.
To implement the innovations you need, while still focusing on your core business, you need the right people in the right places. This begins with keeping your internal staff involved and engaged with your strategy. It also means partnering with a trustworthy service provider that thoroughly understands the new legal guidelines for cybersecurity and privacy. Find a small business IT provider that embraces innovation within these guidelines, and consult with an expert to help you address minimum reasonable cyber-risk mitigation.
Since SaaS is delivered online, security is critical. Find a company that specializes in offering a suite of resources, including training, insurance and policy assistance, to help businesses meet the mounting obligations of cybersecurity.
Here are seven things small businesses can do right now to help with their technology challenges.
1. To get a clearer vision of your larger operational mindset and technology needs, consider hiring a business coach. I suggest the coach finder from the International Coaching Federation.
2. Join a networking or peer group for executives so you can find out what is working well for other companies. A good place to start is to join one of the many chambers of commerce in the Capital Region or a CEO peer group like Vistage or Sacramento Professional Advisors Network.
3. Smaller or family-run businesses looking for SaaS solutions should sign up for Gmail or Microsoft Office 365 business accounts. The cost is nominal, and it opens the door to other services, like Google's huge suite of advertising and analytical tools.
4. Try a free SaaS app. For sales and marketing, I suggest HubSpot and the use of a HubSpot consultant. Wave provides financial service and software, and Trello is a project management application.
5. Insurance is essential for cybersecurity. Look for a bundled plan that includes insurance, scanning, security training and more.
6. Get a password manager immediately. If you're starting from scratch, try LastPass. For something more advanced, with multiple employee accounts, check out 1Password.
7. If you have a team of 20 or more using a shared network, a reputable managed service provider can help guide your strategy in a more impactful, cost-effective way over the long term.
As the year winds down, you may be feeling anxiety over the future. Instead, consider the opportunities offered by the new digital marketplace. You have the potential to thrive in the years to come with the right mindset, resources and a little outside expertise to get the job done.
—
George Usi is CEO of Omnistruct, a company in Sacramento that sells cybersecurity compliance programs to businesses. Usi has been specializing in cybersecurity policy and open standards for more than 25 years.
Stay up to date on business in the Capital Region: Subscribe to the Comstock's newsletter today.