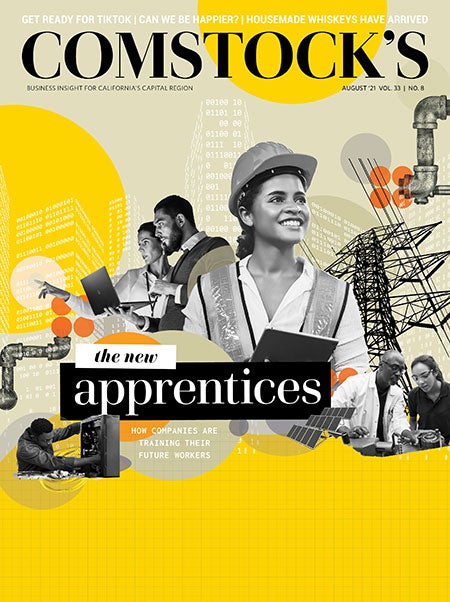 This story is part of our August 2021 issue. To subscribe, click here.
As in many distilled spirits, water plays a crucial role in the creation of whiskey. Ed Arnold, the owner and distiller at California Distilled Spirits in Auburn, believes that the "exceptional" water in Placer County gives area distilleries a unique advantage.
"A lot of people have to go to a reverse osmosis process to get their water cleaned up, and then you have to add minerals back in," he says. "Up here, it's just beautifully, lightly mineralized water that's come down through the granite of the Sierras. It's rather similar to what we see coming out of the Highlands in Scotland."
The whiskey portfolio at California Distilled Spirits includes The Young Prince, a rich and spicy bourbon made with the bare minimum of corn, and a smoky rye whiskey. "That's more polarizing," Arnold says of the smoky rye. "The grain was roasted kind of like coffee to create that smokiness. I only recommend it to people who like a nice scotch."
Arnold has another Scotland-influenced spirit in the barrel — a lightly peated, 100 percent barley single-malt whiskey that won't be ready for at least another two years. "This whole process is planting trees," Arnold says. "You're putting down your work, and you don't know what it's going to be like for years."
A handful of regions around the world and within the United States are synonymous with whiskey production. Irish monks introduced the elixir nearly a millennium ago, eventually spreading to Scotland, especially the Isle of Islay. The legacies of Canadian and Japanese whiskeys stretch back to the 19th century. Closer to home, there's Kentucky bourbon, charcoal-filtered Tennessee whiskey, and robust craft scenes in the Bay Area, Oregon, Colorado and beyond.
The Capital Region craft distillery scene is starting to catch up with the rest of the country, although only a handful of local spirits producers have brought housemade whiskeys to market. However, those whiskeys range from classic to innovative, representing a wide range of sub-styles, techniques and philosophies. Meanwhile, the local environment, agriculture and climate make the region ideal for whiskey production and maturation.
Malt of the Earth
The housemade whiskeys at the family-owned and -operated Patio29 Spirits Company in Winters gain inspiration and identity from the agricultural bounty of Northern California. Patio29's Yolo Brothers Bourbon uses only locally sourced grains, including corn, barley, rye and wheat. Craft malting company Admiral Maltings in Alameda provides the Merced rye for Patio29's Buckeye Rye.
"When you're talking about wine, you're always talking about where the grapes are grown," says Adam Boone, who co-owns Patio29 along with his brother Eric Boone and his parents Anita and Jeff Boone. "With whiskey, people barely ever talk about the species of grain that was used, where that grain was grown. But we believe it does impart a certain quality to the whiskey." The Boones see local grains as a way for craft distilleries to stand out from large producers who need to source their grain from multiple states.
"With whiskey, people barely ever talk about the species of grain that was used, where that grain was grown. But we believe it does impart a certain quality to the whiskey."

Adam Boone, co-owner, Patio29
Local grains also take center stage at Gold River Distillery in Rancho Cordova, especially in the Wheel House Malted Rice Whiskey. Gold River CEO and distiller Greg Baughman uses locally grown rice toasted at different levels to give the whiskey a bourbon-like flavor upfront and a scotch-like smokiness on the finish. It's such a unique product that it took the Alcohol and Tobacco Tax and Trade Bureau several months to approve the use of the word "whiskey" on the label.
"They didn't want me to call it whiskey because it was made of rice," Baughman says. The TTB offered up soju and rice wine as acceptable designations, but Baughman dug in his heels. "I said, 'No, it's a whiskey because it's made using malted grains.'" Besides the Malted Rice Whiskey, Gold River also offers a classic, grain-to-glass bourbon. Baughman believes that the Sacramento climate is perfect for aging spirits in small- to medium-sized barrels.
"When you plug up the barrel and make it airtight, the heat from the outside heats up the fluid on the inside, and it causes the fluid to press into the staves" (the wooden planks that make up the barrel), Baughman says. "As it cools down, it shrinks back from the staves, and it's that capillary action that gives you 100 percent of your spirit's color and up to 85 percent of its overall flavor profile." Those large temperature swings help the barrels work on the spirit a little bit faster, but also more thoroughly.
The low humidity found in the Capital Region also assists with whiskey maturation. Barreled whiskey inevitably evaporates over time, so a certain amount of the liquid gets lost during the aging process, a debit colloquially known as the "angel's share." In humid regions, distillers lose a larger percentage of alcohol, but in areas with low humidity a greater share of water evaporates.
"We're concentrating the spirit in terms of the ethanol content," says Chris Johnson, a distiller at J.J. Pfister Distilling Company in Rancho Cordova. "We typically barrel down around 120 proof, and we've been noticing when we check on the barrels that we're going slightly up in proof. We think it's concentrating flavors."
Last March, J.J. Pfister debuted American Single Malt, a cask-strength, certified organic whiskey created in-house with malted barley from Admiral Maltings. They only produced four barrels, so it's exclusive to the tasting room, but Single Malt is the first of many housemade whiskeys to come. "We have a ton of stuff in barrels," Johnson says. "When we first started, we didn't know what we wanted to make, so we went a little crazy with our mash bills" — the mix of grains used to make a spirit. Moving forward, J.J. Pfister will focus on making an organic high rye bourbon and a rye whiskey for mass production.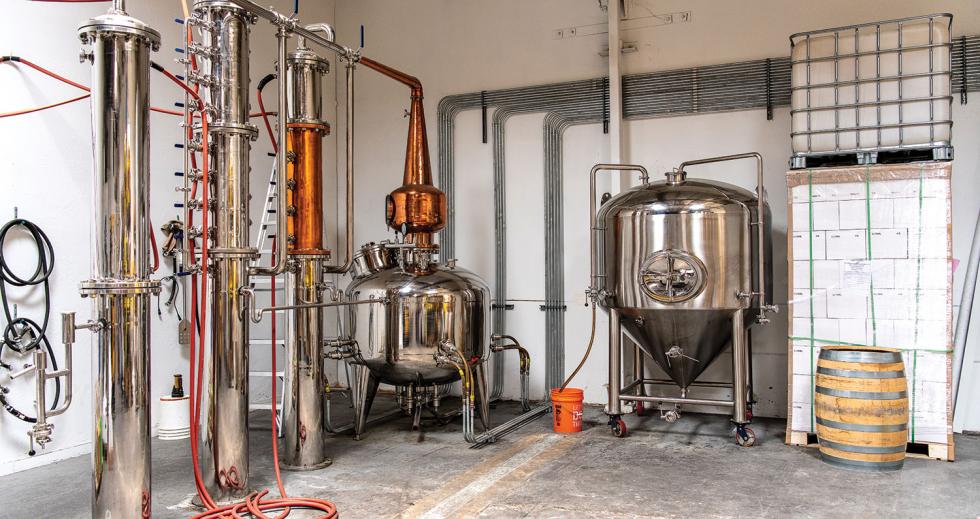 Dram the Torpedoes
Dry Diggings Distillery owner and distiller Cris Steller is steeped in the history of the California craft spirits scene, especially since he's one of the primary reasons the scene even exists. After opening in 2012 in El Dorado Hills, following years of licensing struggles, Steller helped form the California Artisanal Distillers Guild, the trade group representing distillers statewide. "We worked on getting legislation passed, getting some new licenses implemented, and just generally made it more conducive for somebody starting a distillery," Steller says.
Given its relative longevity, it's not surprising that Dry Diggings offers the most extensive portfolio of whiskeys of any Sacramento-area distillery. Offerings include bourbons and ryes under the Engine 49 brand, the double-barrel-aged Rubicon Rye, and Bodie 5 Dog single-malt whiskey. "We tend to focus on the floral aspects of single-malt," Steller says. "It's a California expression of what single-malt could be. The fact that the grain is from here, and then the way that Loomis Basin (Brewing) helped us do the wash, it brought out a lot of big flavor characteristics of the grain."
Steller rents part of Dry Diggings' building to New Alchemy Distilling, a small-batch business founded by Matt Sweeney and DJ Boyle. Sweeney and Boyle met in a biotech laboratory, and a spirit of experimentation is evident in New Alchemy's spirits. White Devil Whiskey is a rye-heavy clear spirit aged in barrels for only one hour, just long enough to qualify as a whiskey while imparting minimal flavor and color from the wood.
"I used to hate white whiskey," Sweeney says. "Most of the white whiskeys on the market want to be bourbon. When you're making a white whiskey, you should just be making a white whiskey on purpose." New Alchemy studied how rum and tequila distilleries would employ different distillation processes for dark and light spirits, and they let that guide their experiments. "I was surprised how well it sold. I did not think we would be making more than one batch of it, and we're on our seventh or eighth."
Upcoming New Alchemy whiskeys include Chimera, a cutting-edge spirit created with a proprietary method of drawing out grain aromas, and a whiskey made with unusual grains like red rice, heirloom corn and black rice from the Philippines. "I think it's important not to be too dogmatic in how you make things, and you should just make the products that you think taste good," he says.
–
Stay up to date on business in the Capital Region: Subscribe to the Comstock's newsletter today.