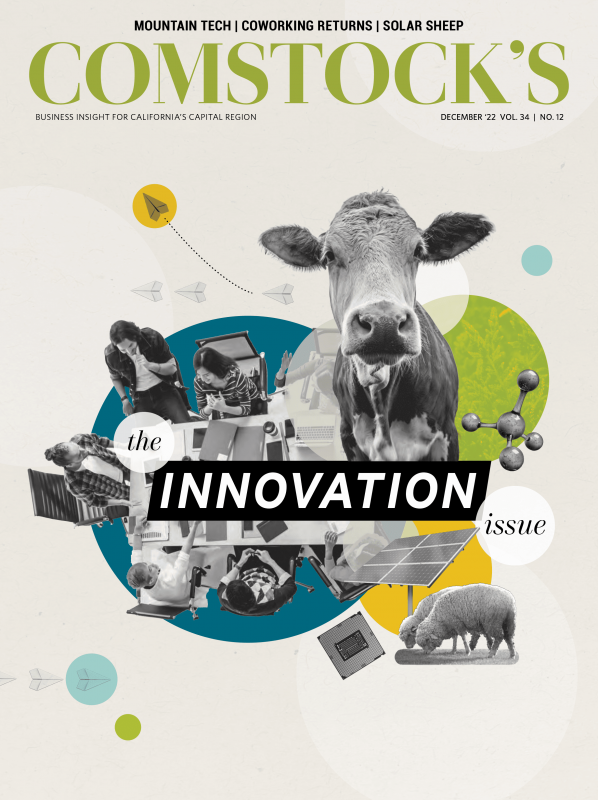 This story is part of our December 2022 Innovation print issue. To subscribe, click here.
Many business leaders say they're busy "putting out fires." For Cindy Nichol this is not a metaphor. As the director of airports for Sacramento County, Nichol is ultimately responsible for putting out any fires at Sacramento International Airport, Mather Airport, Franklin Field and Sacramento Executive Airport.
When there's an emergency, she receives calls on her office landline, work cell phone and personal cell. She gets texts on both cell phones. And she somehow juggles these alerts while running a sprawling organization. "I have a lot coming at me every day," Nichol says. One of her staffers, she says with a laugh, calls it a "target-rich environment."
This is how she makes it happen.
6AM – Wakes up to NPR. Checks her weight. Eats oatmeal while checking email on both phones. Adds items to her to-do list. Waters her bougainvillea and geraniums, empties the dishwasher, gets ready for the day.
8AM – Drives from her home in Midtown to SMF airport; along the way she notices new housing north of I-5 and west of 99 and worries those new residents aren't aware they'll be near flight paths, which could lead to noise complaints.
8:20AM - Stops to chat with curbside airport operation workers to get their on-the-ground perspective; she wants to see if it squares with stats showing that SMF is at 96 percent of pre-COVID-19 levels.
8:29AM – Breaks for an energy bar.
8:30AM – Meets with airport leadership team and consultants to review conceptual designs for new gates and facilities.
9:03AM – Alert! In the middle of her meeting, Nichol gets an alert — or really many alerts on many devices — that an Airbus A320, with 153 passengers, is experiencing oil pressure issues just eight minutes from landing on Runway 17L. Firefighters are immediately called. Runway 17L is closed.
9:13AM – Alert! The Airbus landed safely; the request for firefighters is canceled and the runway is reopened.
9:14AM – Resumes her meeting.
10AM – Zoom meeting with her boss, Deputy County Executive David Defanti, and other counterparts to coordinate future developments at Mather.
11AM – Meeting to discuss the reauthorization of Federal Aviation Administration funds; the FAA provides grants that help with capital projects such as runway rehabilitations. "This covers a small portion of the total costs," Nichol explains. "We'd like to get more federal support for green energy."
12PM – Meets with her executive secretary to review her schedule, agendas and needed prep work for the next two weeks.
12:30PM – Heats up a small bowl of soup for lunch. Catches up on email.
1PM – Meets with Congresswoman Doris Matsui's Deputy Chief of Staff Flynn Rico-Johnson to discuss the initiative to build a new air traffic control tower.
1:30PM – Syncs up with her deputy director.
2:30PM – Meets with the California Airports Council executive team to discuss priorities for state legislation.
3:30PM – Preps for upcoming board meeting. One item on the agenda, for example, is to ask the board to approve a revolving line of credit, which will help with cash flow.
4PM – Meeting to discuss a proposed new development south of I-5. "I can't really speak to what it is right now, but it's going to be super cool once we get it."
4:20PM - Swings by the Terminal B information desk to thank volunteers Mary and Bill Kuyper. She thanks Mary for "her tips for surviving cancer treatments with humor, optimism and realism." Nichol later shares this with her sister-in-law who is "fighting lung and brain cancer with those same inspiring qualities."
4:30PM – Syncs up with her boss, largely to discuss and resolve issues around the (mysterious) proposed new development at SMF.
5PM – Heads out and drives to dinner
5:30PM – Dinner with friends at Beast + Bounty.
7PM – Winds down. Maybe flips on the TV — like baseball, "Jeopardy!" or a historical drama. Maybe reads (currently Maggie O'Farrell's "Hamnet"). Calls her mom.
7:45PM – Catches up on emails; corresponds with Village Health Partnership, a nonprofit in Ethiopia promoting safer motherhood in rural Ethiopia; Nichol (who grew up in Ethiopia) serves on the board.
9PM - Reviews tomorrow's schedule, decides what to wear and sets it out.
9:30PM - Winds down and tries to hit the sack by 10 p.m.
Editor's Note: The Wall Street Journal in November named Sacramento International Airport the top midsize airport in the nation.
Favorite way to consume news:
Regular reading of The New York Times. She also subscribes to The Economist and reads it weekly, in print. "I'm old school, and if I'm on a plane flying somewhere I really like pulling out a magazine."
To-do list system:
It's a three-part method. The first is a small notepad she takes everywhere, the second is her schedule, and the third is a whiteboard in her office with key initiatives, milestones and values. "This allows me to literally lift my eyes from what's before me to think about, longer term, what are we trying to get done?"
–
Stay up to date on business in the Capital Region: Subscribe to the Comstock's newsletter today.