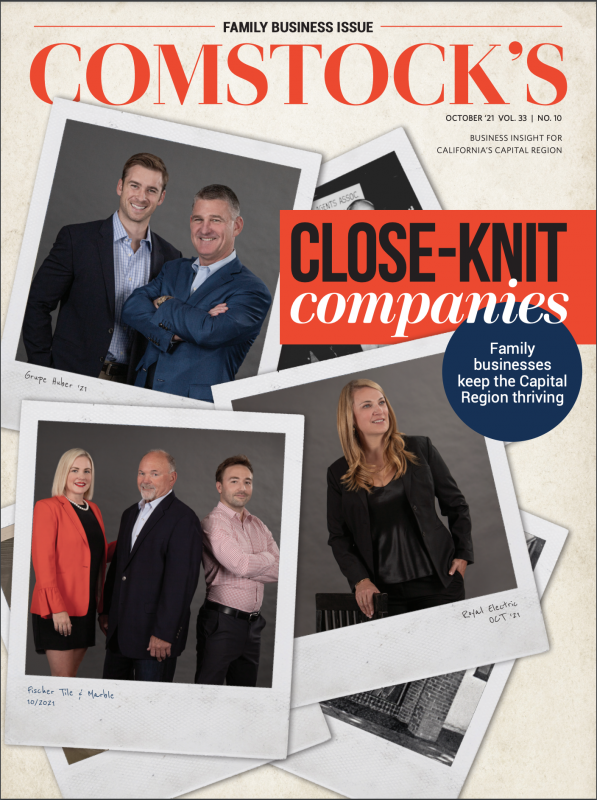 This story is part of our October 2021 Family Business issue. To subscribe, click here.
If there's been a theme to Cotton Rosser's life — he is now 93 years old — it's finding a way to keep a good show going.
Creating Western-themed businesses has given his family more than 60 years of prosperity and made him a revered figure in the rodeo world. But those decades have not been without their challenges, especially in more recent times.
On a quiet Saturday morning outside his business Cotton's Cowboy Corral, wildfires raging throughout Northern California have given the air a strong smell of smoke. Inside the Western-wear store, a Marysville fixture since 1956, it's empty except for employees. Upstairs, Cotton, the founder and president, and Karin Rosser, his wife of 43 years and co-owner, sit in their office. It's been a tough year or so for the family business.
The family's other business, Flying U Rodeo Company, hasn't been doing much better with the ongoing COVID-19 pandemic. In a normal year, the company produces about 60 rodeos. Last year, it produced two. If the family is lucky, they'll do 10 rodeos in 2021.
Born Horton Alexander Rosser in Southern California in 1928, Cotton had been an intercollegiate riding champion at Cal Poly San Luis Obispo and a professional rodeo cowboy thereafter, investing some of his winnings in 1954 to purchase a ranch near Marysville with his first wife, Linda (he has been married three times). He has credited Gene Autry, the "Singing Cowboy" who rose to fame starting in the 1930s, with being a major influence on his interest in being a showman.
"I would say (Cotton Rosser) is by far the greatest innovator that the Western sports industry has ever seen."

Reno Rosser, vice president, Flying U Rodeo Company
In 1956, Cotton broke both of his legs while using a power post hole auger at his ranch and was hospitalized. Doctors saved his legs from amputation but told him he'd never walk again. Cotton would go on to prove them wrong, though the accident ended his professional rodeo career. Friends from the rodeo world, including celebrated Western actor Ben Johnson, organized a benefit show that raised $8,000 to $10,000, according to estimates Karin has read. Cotton used the money to purchase his store, entering the rodeo production business shortly thereafter.
"I would say he's by far the greatest innovator that the Western sports industry has ever seen," says Reno Rosser, vice president of Flying U Rodeo Company and one of Cotton's five children, and whose mom was Cotton's second wife, Joan. "When you come to our rodeos, I mean, God, you're going to watch guys do backflips on motorcycles (and) kids on sheep."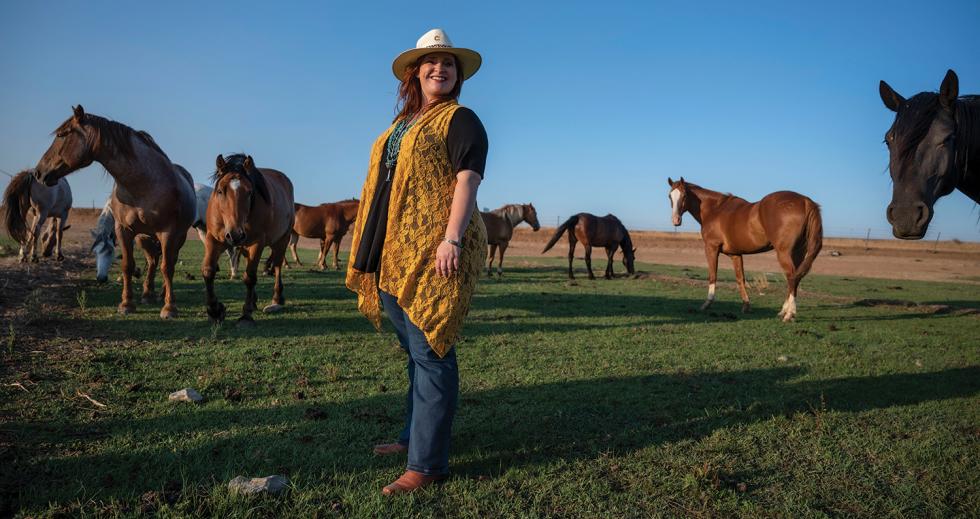 It's always been about putting on a show for Cotton and his family and not just being stock contractors that provide livestock to get ridden in rodeos. While they've just recently started to let their 1,000 head of livestock be used as rodeo stock, due to the challenges of the times, it's not anything that comes naturally.
"Stock contractors are kind of a dime a dozen," says Katharine Rosser, marketing director for the family business, and Karin and Cotton's only child. "Rodeo producers are producing the entire event, everything from the announcer to the specialty act, coordinating all of the talent there. Throughout my dad's career, he's always prided himself on being a rodeo producer."
This focus led Cotton to be enshrined in the ProRodeo Hall of Fame in 1995, with three streets named after him in Yuba County and a statue in Reno, Nevada. On Aug. 5, Cotton's birthday, the city of Marysville made it Cotton Rosser Day. As for Cotton, he has words of advice for anyone who'd like to start a family business: "The harder you work, the luckier you'll be."
—
Stay up to date on business in the Capital Region: Subscribe to the Comstock's newsletter today.