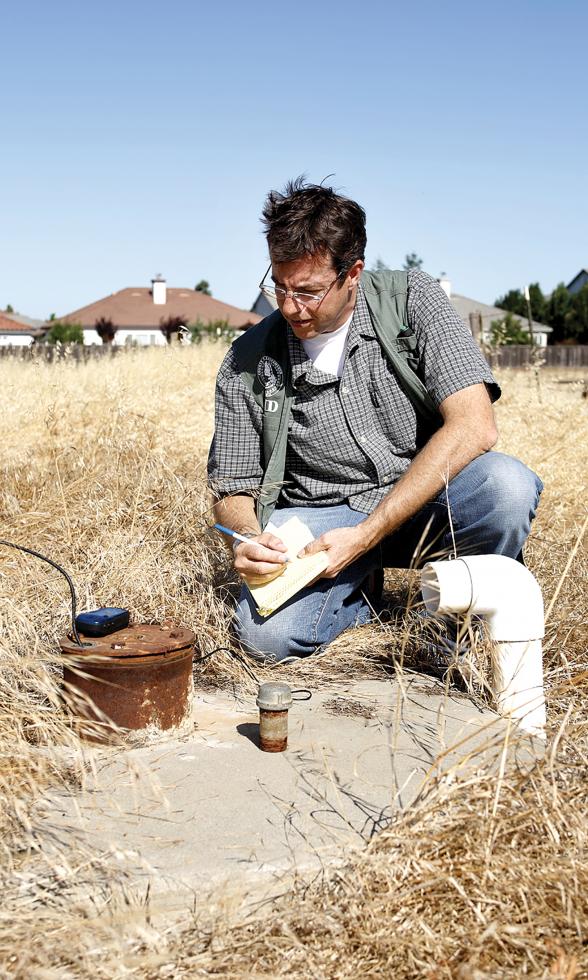 People, pets and drinking water could be better protected because of a new effort in Sacramento County to shutter abandoned wells.
Chemicals, debris and other toxins can drain into deserted wells, leech into the groundwater and cause severe environmental damage and health risks, according to Elise Rothschild, acting chief of the Sacramento County Environmental Compliance Division.
Sacramento County relies on groundwater to supply about a half of its water needs. "The groundwater has always been a concern in this area, and so far we have been able to manage the water table so nothing has yet damaged the drinking water, but as time has gone on, various new chemicals and constituents have been determined to be a public health threat," she says.
There are several layers of groundwater in the local water table, and in some areas of Sacramento County leaking wells and underground storage tanks have contaminated the top layer.
According to drilling records by the California Department of Water Resources, more than 16,000 wells have been installed over decades in Sacramento County. In addition, an unaccounted number of hand-dug and uncased wells were undoubtedly installed before the establishment of the DWR water well database in the early 1950s.
Until this point, the proper closure of abandoned wells — which can be costly — hasn't been a possibility or priority for budget-strapped counties like Sacramento.
But in a recent civil lawsuit against Shell Oil Co., the Superior Court of Alameda County found the company responsible for environmental crimes relating to violations of underground storage tank rules. The court called for Shell to cover penalties, costs and payments to the state environmental funds totaling $19.5 million. Of this amount, Sacramento County would receive $700,000, which would be funneled to the Environmental Management Division for the Abandoned Well Restoration Project.
Of the Shell payment, $500,000 would also be allocated to the California Climate Registry to improve environmental health in the state and specifically Sacramento County; and $4 million in environmental and consumer penalties paid to the district attorney's office.
The county has not yet been able to quantify the number of wells it can address with the funding, but Rothschild anticipates it will sustain the program for about two years.
"We have been going door-to-door since early June, and letters were also mailed to residents. Through that outreach, we have identified more than 250 wells in just about eight weeks," she says.
Abandoned wells that will not be reactivated require a $200 closure permit, but because of the settlement money, the county is able to waive that fee. But there are still contractors to pay — they charge $1,000 to $3,000 for the labor to close the well, which the property owner must pay. On top of the cost, cleaning up contaminated wells can take years.
"The cost will vary widely, but basically, the larger and deeper the well the more expensive," says Barry Marcus, the department's supervising environmental specialist. Wells are typically filled with non-aggregate cement, and depending on the construction, the well casing itself might need to be perforated so the sealing material can seep out, prohibiting surface water from percolating into the water table.
For property owners who want to get their wells back up and running, the department is also waiving the $398 well activation permit fee, which must be paid by active-well owners biannually.
Besides environmental concerns, open wells are a safety hazard, and stories of people and animals falling into them are somewhat frequent. In early July, Calistoga resident William Berg fell into a well estimated 40 feet deep. He was suffering from hypothermia by the time firefighters were able to pull him out. In January, two dogs had to be rescued after falling into a 20-foot well on Franklin Boulevard in Sacramento, and late last year a baby alpaca got stuck in a 400-foot well near Esparto.
"We found a well that a Hmong family had built a toilet over and built an outhouse around. That was about five years ago in the Fruitridge-Stockton Boulevard area," Marcus says. "There was another with a whole bunch of empty oil cans and debris. And yet another covered with rotted cedars near a senior center and a walking path."
Because of the cost of closing abandoned wells, Sacramento is the only county in the region that has been able to do something about it.
"Sacramento County has really tried to be a leader in establishing programs that set a path for others, and I really think that this program is one of those," says Derek Jacks, an environmental specialist with the county. "We don't want to wait for something to happen; we want to get these wells taken care of now."
Sometimes, a building's security needs can pop up unexpectedly during the design process.
There was a raucous debate on the political stage last year over whether California companies were giving up on the Golden State and moving to Texas.