It's no secret that there aren't many waterfront dining venues. Waterfront access is no easy task in this town. From the floodplain's exalted levies to the river-hugging freeway, Sacramentans have their work cut out. But as the city grows, efforts are afoot to increase opportunities for waterfront revelry in the form of dining and drinking establishments.
Waterfront Restaurants in Sacramento

Rock'n Dock5999 Garden Hwy.

Swabbies 5871 Garden Hwy.

Crawdads on the River1375 Garden Hwy.

Pearl on the River1379 Garden Hwy.

Chevy's 1369 Garden Hwy.

Delta King 1000 Front St.

Rio City Cafe 1110 Front St.

Joe's Crab Shack 1210 Front St.

Scott's Seafood on the River 4800 Riverside Blvd.

Virgin Sturgeon 1577 Garden Hwy.
On hot evenings this summer, riverside diners in Old Sacramento — enjoying a meal at the Rio City Cafe or aboard the iconic Delta King — will ooh and ahh at fireworks bursting beyond the golden Tower Bridge after a River Cats win.
Those same blasts will light up the Barn, an oval, open-faced structure near Raley Field that will allow patrons to enjoy a natural setting along the Sacramento River's western banks.
Few images define Sacramento better than the capital city's confluence of two rivers, and residents often take advantage of their flowing calm. But it's no secret that there aren't many waterfront dining venues. Waterfront access is no easy task in this town. From the floodplain's exalted levies to the river-hugging freeway, Sacramentans have their work cut out. But as the city grows, efforts are afoot to increase opportunities for waterfront revelry in the form of dining and drinking establishments.
To understand Sacramento's relationship with the Sacramento River today, it's important to understand the city's beginnings. According to historian William Burg, the waterfront dating back to the Gold Rush days was used almost exclusively for industrial and transportation purposes. There obviously weren't a lot of dining options in warehouses and factories.
"Early (waterfront) dining was for working people who needed something to eat on their lunch breaks, or some place to blow off steam afterwards," Burg says. Even then, folks enjoying their drinks or fare couldn't catch a glimpse of the water if they wanted; the east bank from what is now Richards Boulevard down to Broadway was blocked off by shipping industry structures.
Take Rio City Cafe on Front Street in Old Sacramento as an example of the waterfront restaurants of the past. Owners Stephanie and Mark Miller say their restaurant is a replica of an old steamship warehouse that used to sit at the very same spot.
"You had obviously the steamships pulling up, loading into this warehouse and then you had the train on the other side that's going to take the cargo," says Mark Miller, pointing toward the railroad tracks outside the restaurant's entrance.
The city, of course, has changed a lot since its Gold Rush days, and residents have a number of options for waterfront dining and drinking — from the popular river-rat venue, Swabbies, and its raucous new neighbor, Rock'n Dock (tucked underneath Interstate 5 past the airport), to venues along Garden Highway like the upscale Pearl on the River, Chevy's and the floating Crawdads restaurant. There are Old Sac staples like the Delta King, Rio City Cafe and Joe's Crab Shack. And then south of the central city is the popular Scott's Seafood on the River, resting just before Chicory Bend Park.
Sacramentans can find that waterfront view if they know where to look. But diners only have one of two options when dining on the river: Enjoy the view from a few stories up, or have your fun on a floating venue. "Another factor to consider, of course, is the levy," Burg says. "which is there to prevent the river from flooding the city." Naturally, this creates a certain distance.
In 1862, Gov. Leland Stanford had to take a rowboat to his inauguration due to floods. We'd rather Gov. Jerry Brown's successor not do the same. Current and prospective riverfront restaurants must temper their desire for aesthetic and access to water so officials can protect residents from future floods.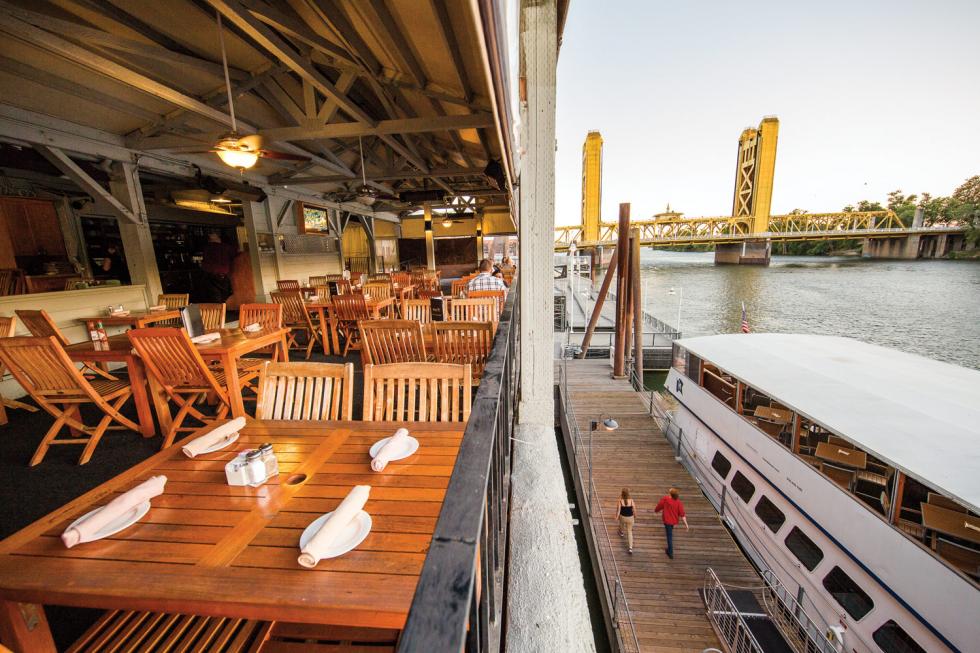 Over on the river's west bank, in West Sacramento, developer Mark Friedman has taken a naturalistic approach with the Barn, pulling the venue back a few dozen yards from the waterfront to let its open-air community space meld with the surrounding riparian flora.
"This is the place where the developed realm meets the natural realm," Friedman says. "Careful thought was given throughout the design process to figure out how to have nature reach into the landscape project."
The Barn is one of those buildings that defies categorization. Yes, it is a restaurant and outdoor music venue, but it's also a sculpture and shade structure. As a nod to the Sacramento region's agricultural roots, the Barn's shape takes inspiration from a sprouting vegetable seed.
Barn-goers will have to take a bit of a stroll to the waterfront, but Friedman says it's important not to endanger the native species living along the river's edge. "As long as we set back a reasonable distance, we've got unique views and experiences on that side that really don't exist anywhere else," he says.
Friedman is bullish on the future of West Sacramento's Bridge District waterfront, an open space where the biggest challenges to riverside enjoyment include respecting flood and environmental concerns.
Over on the Sacramento side, the future of riverfront development lies with the Railyards, a long-awaited, massive mixed-use development in the works with a good share of waterfront real estate.
Folks are also looking south to the Docks, a proposed mixed-use development below Broadway where the shipping industry used to store river vessels. This project ran dry after the 2008 recession hit, but the rise of the Sacramento economy in recent years has developers looking at this site with renewed interest.
Another deterrent to local waterfront development is the fact that I-5 cuts residents off from the river. Restaurants from Garden Highway on up don't have this problem, but central city spots like the Delta King and Joe's Crab Shack do. If and when work is underway for waterfront venues at the Railyards or the Docks, the freeway will be a factor, as will housing. "Restaurants tend to work best in inhabited neighborhoods," says Burg, so structures for housing and general services often need to be incorporated in tandem with a waterfront venue.
But despite these barriers, the waterfront has the potential to bring River City residents closer to the body of water that helps define their home. "I think the river will always be a draw," Rio City Cafe's Stephanie Miller says. "In the years to come, I think we're going to start to see this change a lot."
Old Sacramento's waterfront venues already enjoy a boost in clientele before and after River Cat games. They're hopeful of what the new Golden 1 Center will do for business, particularly as the district tries to rebrand from a taffy-and-T-shirt tourist spot to what Stephanie Miller calls a "historically hip" destination for residents and visitors alike.
"Water is an incredibly beautiful and desireable feature to live next to," Friedman says. "The funny thing about Sacramento is that we have very, very few opportunities to actually experience the water's edge."
Some in the region aim to fix that.
What's your favorite riverfront dining scene in Sacramento? Let us know in the comments.