Sacramento Chef Steve Toso knows liver can be a tough sell for modern diners. But Venetian-style sautéed calf's liver with sweet Vidalia onions and smoked bacon? That, he says with a laugh, "sells like hot cakes."
As it turns out, the menu you get at the onset of your dining experience is much more than a laundry list of food and prices; it's the opening volley in a courtship dance between your taste buds and the kitchen.
"The menu is basically a calling card for you, for your particular concept," says Pamela Chokan-Quetzal, a longtime restaurateur and culinary management instructor at the Art Institute of Sacramento.
Carefully written to present the daily fare in the most appetizing light, menus may be folksy, florid or fancy, depending on price levels and restaurant aesthetic, but the end goal is the same: Woo the diner.
And what goes for the country club doesn't necessarily fly at the country diner.
Homey restaurants use down-home prose and place an emphasis on having dishes "your way" or in the style of some friendly figure, a la Mom's apple pie or Grandma's mashed potatoes, says Dan Jurafsky, a Stanford professor of linguistics and computer science who along with colleagues analyzed thousands of menus for his recently released book, The Language of Food: A Linguist Reads the Menu.
High-end restaurants are more likely to tout the way of the chef, as in "chef's choice."
The cheaper the restaurant, the more likely you are to encounter meaningless but reassuring terms such as "fresh" and "fluffy." High-end restaurants favor $20 words (no big surprise there). But here's the interesting part: Jurafsky found that as the length of words in the dish descriptions increased, so did the prices.
For Toso, the executive chef at Sacramento's Biba, less is more. Toso works on his menu with restaurant owner Biba Caggiano, an award-winning cookbook author herself, and they keep things simple.
"Sometimes menus can be overwritten, and when you actually get it on the plate, it's something different," Toso says. His approach is to "make it sound edible with flavor components to complement each other. Use progressive words like 'roasted,' 'new potatoes,' little things that grab people's attention."
What's the Capital Region's style? A survey of several popular restaurants indicates that most are fairly straightforward, no gloriously high-flown claims like the "65-degree" egg offered at San Francisco's Acquerello restaurant.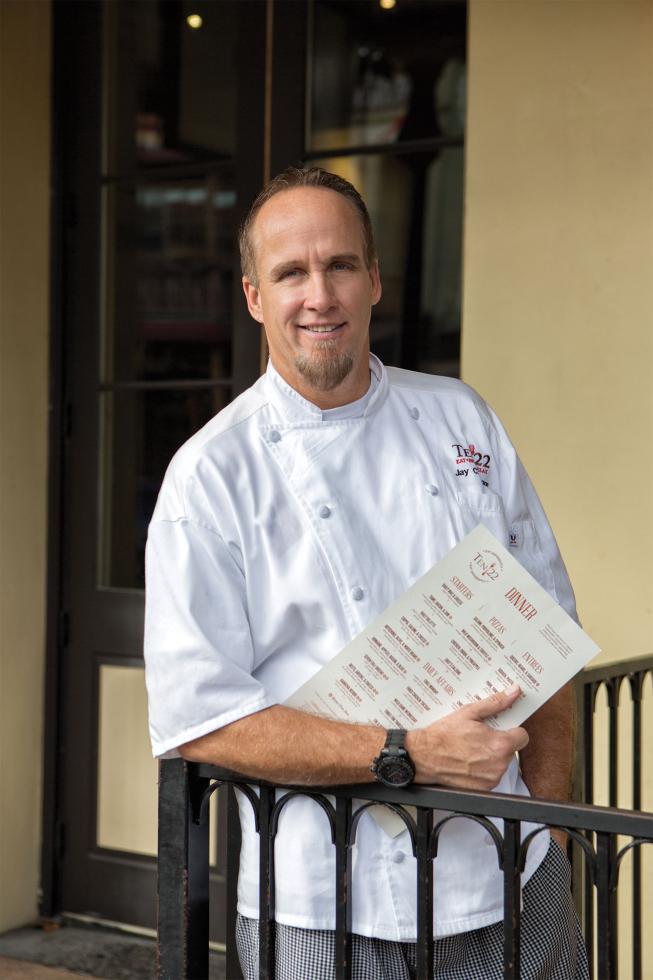 Some words do crop up frequently on Capital Region menus, especially "roasted," "slow roasted" and "fire-roasted," as well as "crisp," "smoked" and "caramelized" — all words that hit a hungry diner right in the taste receptors.
Another hallmark of the Sacramento area menu is sourcing. Farm-to-table is a big deal here, and chefs are proud to share credit with their suppliers. Biba lists local farmers and purveyors at the bottom of her menu. Hawk's in Granite Bay takes a similar approach, listing Azolla Farm beet salad (local) as well as Skuna Bay salmon (Canada). Stella, in Truckee, gets into the farming method, touting a house salad made with "hydroponic butter lettuce."
Knowing where your food comes from and how it's raised is "very important for the Sacramento market right now," Chokan-Quetzal says. "It's a great selling point because people have many choices these days. People also want to be comfortable with the food that they're consuming."
It's all useful information, says Gregg Rapp, a Palm Springs-based "menu engineer," who consults with restaurants around the world. "When a chef comes up with a menu, he or she is picking their best items. I want them to tell us why the item is on the menu. There are a hundred things that didn't make the menu. Why is this item different and better?"
These days, even McDonald's uses illustrative language to describe its sandwiches: "white meat grilled chicken breast fillet" and "hickory-smoked bacon" with a "bakery-style bun."
But does better menu wording equal better sales? The short answer is yes.
Research at Cornell University found that diners were willing to pay an average of 12 percent more for a menu item with a descriptive name. Cornell professor Brian Wansink, author of Slim by Design: Mindless Eating Solutions for Everyday Life, found that diners are more likely to order menu items with attention-grabbing elements, such as a bold font or highlighting, even though they're often the least healthy items on the menu. Meanwhile, items with amped-up names sell better. Succulent Italian swordfish just sounds tastier than seafood filet.
Cornell research also indicates diners will pay more if there's no dollar sign in front of the price. Somehow $25 seems more ominous than just a straight 25.
Put simply, says Rapp, dollar signs "remind people of money."
If you're going to price in cents, "95 cents is friendly and neighborly. It says, 'Come on in and sit down,'" Rapp says. But, "99 cents is kind of cheesy and says, 'We're trying to trick you.'" Adding .00 or leaving the price as an integer has attitude, "but research shows it also has a halo of higher-quality ingredients."
As menu trends trickle down, higher-end restaurants look to forge new paths, and many have forsaken long and heartfelt descriptions for telegraphic prose that merely list ingredients or the name of the dish. At the very top, menus are being done away with almost completely. Patrons at San Francisco's Saison restaurant, where the nightly tasting menu is $248 (not including wine), don't even know what they're getting.
So, what's next on the Sacramento dining scene? Jay Veregge, the executive chef at Old Sacramento's Ten22, advises patrons to look for new flavors on regional menus, such as Nepalese ingredients, African-style cuisine and Pakistani flavors, "which are absolutely fantastic." Predicting the future of food is hard to say, he notes, but "we do know we're in a growth process."