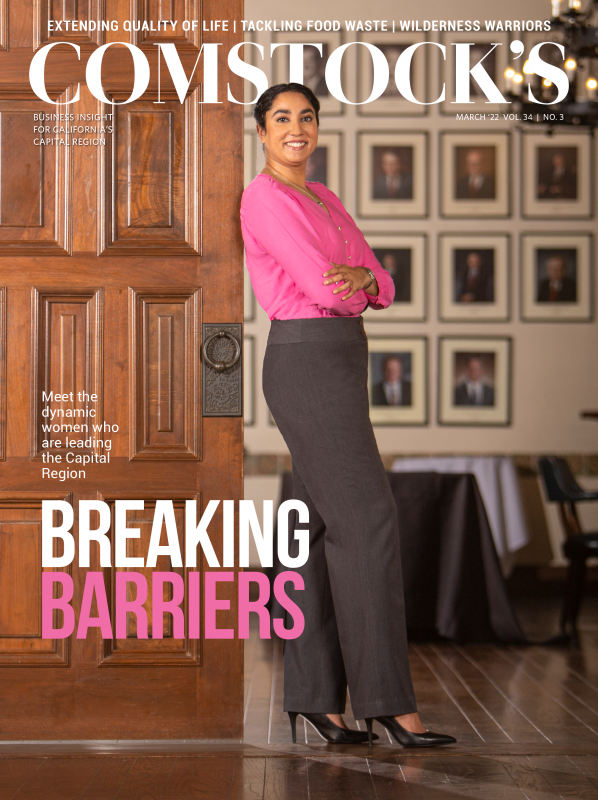 This story is part of our March 2022 Women in Leadership print issue. To subscribe, click here.
Estella Atekwana
Dean, UC Davis College of Letters and Science
Estella Atekwana, dean of the UC Davis College of Letters and Science, grew up in Cameroon in Central Africa, where the measure of success was limited to those deemed to have prestigious careers. "We equated success with the medical doctor down the street, or an engineer or a lawyer," she says.
In high school, Atekwana took a geology class that expanded her horizons and ignited her interest in studying the Earth. But the teacher discouraged her from staying in the class because she was a young woman. She viewed it as a challenge and remained, finishing at the top of the class.
When Atekwana announced she wanted to pursue geology as a career, her parents disapproved. They considered it a distraction. She enrolled in the premed program at Université de Yaoundé in Cameroon, the only comprehensive university in the country at the time in the early 1980s. However, the instruction was all in French, creating a language barrier for the English-speaking student. A family member in Washington, D.C. offered to help.
Atekwana applied to Howard University, where she majored in geology (and added premed to appease her parents). But her passion for the study of the Earth did not waver. She abandoned medicine and focused solely on earth sciences and geology, earning her bachelor's and master's degrees from the higher education institute. Her compromise to her parents was to get her Ph.D., which she earned in geophysics from Dalhousie University in Nova Scotia, Canada.
A number of faculty positions followed, taking the renowned geophysicist from her first post at Western Michigan University to Missouri University of Science and Technology and onto Indiana University-Purdue University Indianapolis and Oklahoma State University, where she held an endowed chair and was named a Regents Distinguished Professor and Eminent Faculty. After a four-year stint at the University of Delaware as dean of the College of Earth, Ocean and Environment, Atekwana was recruited to fill the role of dean of the College of Letters and Science at UC Davis in August 2021, the largest college on campus. She provides academic and administrative leadership for the College of Letters and Science, overseeing 37 departments and academic programs with more than 15,500 students and 900 faculty across the arts, humanities, social sciences, mathematical and physical sciences.
In addition to teaching and leadership roles, Atekwana has received over $11 million in funding for her nationally acclaimed research. She pioneered a new area of geophysics called biogeophysics, which seeks to understand how microorganisms interact and transform rocks and their properties, and how that affects geophysical signatures. She compares the study to medical imaging, but instead of imaging the body, the field uses tools and technology to image the earth. Her research also has implications for application in space, particularly Mars. The technology may be able to help detect if life exists on Mars.
As a first-generation college student and underrepresented minority, Atekwana is also proud of the work she has done to diversify the institutions of higher learning where she's worked. "When I left each of these places, diversity had changed," she says. "I felt like I made a significant impact in diversifying both faculty and students and creating an inclusive environment that nurtures and supports everybody to thrive."
"It's not just doing the job. I want to be where I can truly make a difference with student success, diversity, equity and inclusion. These are the things that resonate with me."

Estella Atekwana, dean, UC Davis College of Letters and Science
She plans to continue those efforts at UC Davis by closing opportunity gaps for underrepresented minorities and first-generation students through mentoring programs and student advising, focusing on outcomes and working with departments and faculty to recruit and retain a more diverse faculty. "It's not just doing the job. I want to be where I can truly make a difference with student success, diversity, equity and inclusion. These are the things that resonate with me," she says. "I see it as a privilege that I can use that authority or that microphone or that pulpit that I have to make a difference in the lives of people."
–
Get all the stories in our annual salute to women in leadership delivered to your inbox: Subscribe to the Comstock's newsletter today.