As part of our 2019 salute to women in leadership, we feature seven of the Capital Region's most relevant and successful women leaders — here's one of them.
Joelle Terry
Senior Vice President Of Communications, Sacramento Kings
Joelle Terry was among the crowd of 240,000 in Chicago as Barack Obama gave his presidential victory speech. "I will never forget standing in Grant Park in November 2008 and feeling this incredible sense of history being made," she says. Having worked on the former president's campaign, she says she felt proud of her role in creating that moment of change.
That same desire to make a difference also drove Terry to her current role as senior vice president of communications for the Sacramento Kings. "The Kings serve as a model for how NBA franchises and sports teams can serve their community for good," she says. She supervises 40 staff members across five departments that cover media and public relations, content, production and game entertainment.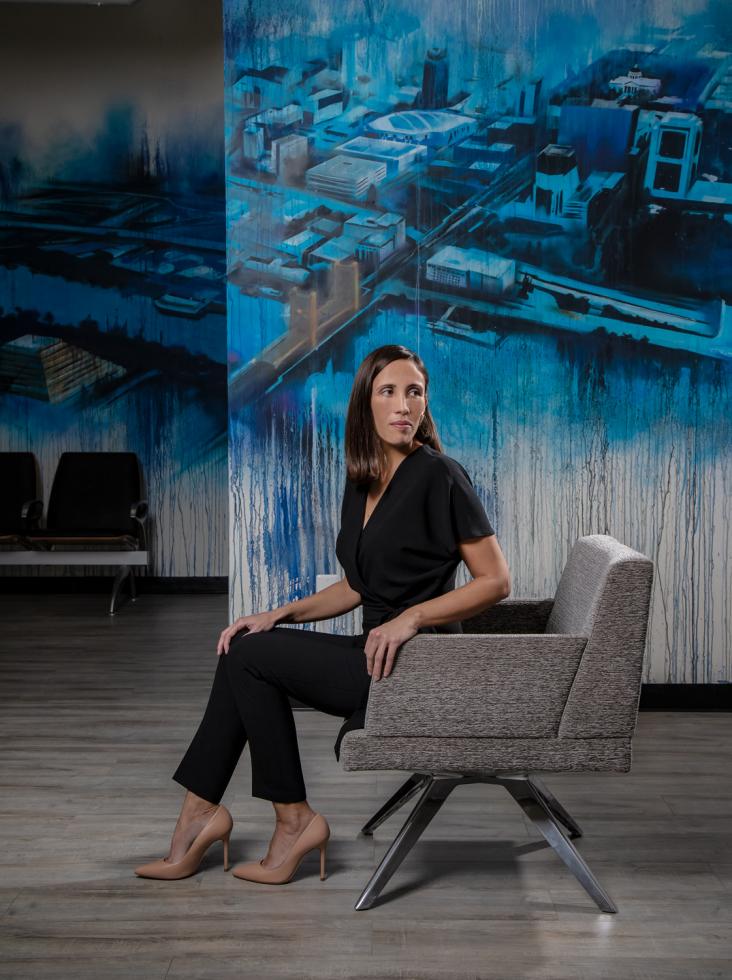 The Sacramento-native grew up as a Kings fan, but it wasn't in her game plan to one day work for the basketball team. Instead she pursued a career in politics, working on both John Kerry's 2004 presidential campaign and Obama's presidential campaign, along with other stints for a consulting firm and Comcast-NBCUniversal.
Terry joined the Kings in December 2015, as it was gearing up to open the Golden 1 Center downtown after a hard-fought battle to keep the team in Sacramento and fund the new arena. She was promoted to her current role in July 2017.
"My job on any given day is to spotlight stories [of the Kings organization] and share them," she says. But even the stories of a professional sports team can be complex. Terry points to the March 2018 death of Stephon Clark, an unarmed black man fatally shot by police officers in his grandmother's yard. The incident shook the city and subsequent community protests closed down the arena. With demonstrators and many fans outside, Kings owner and chairman Vivek Ranadivé responded with what Terry calls "a message of unity" from center court, in which he committed the Kings to working with the community on preventing future tragedies.
In the weeks and months following, the Kings announced a multiyear partnership with the Build.Black. Coalition; established an education fund for Clark's two children; participated in STEM workshops and writing forums for local youth; and hosted a co-ed basketball league for underserved youth. Terry was responsible for leading the organization's public response to the protests and for partnering with Build.Black to develop the community programs; her efforts helped garner the Kings the 2019 NBA Inclusion Innovation Award. "I am incredibly proud to be part of an organization that did not hesitate to do the right thing," Terry says.
Words of Wisdom:

Trust your gut; bring solutions, not problems; and you don't ask, you don't get.
Terry attributes her career success to her passion, attention to detail, a willingness to do what's needed to get the job done and a sense of urgency. She credits her mother for instilling in her a sense of strength and resiliency.
"There are challenges in any job every day," Terry says. "It's whether or not we see them as opportunities."
Read about the other six women featured in our Women In Leadership issue, here.