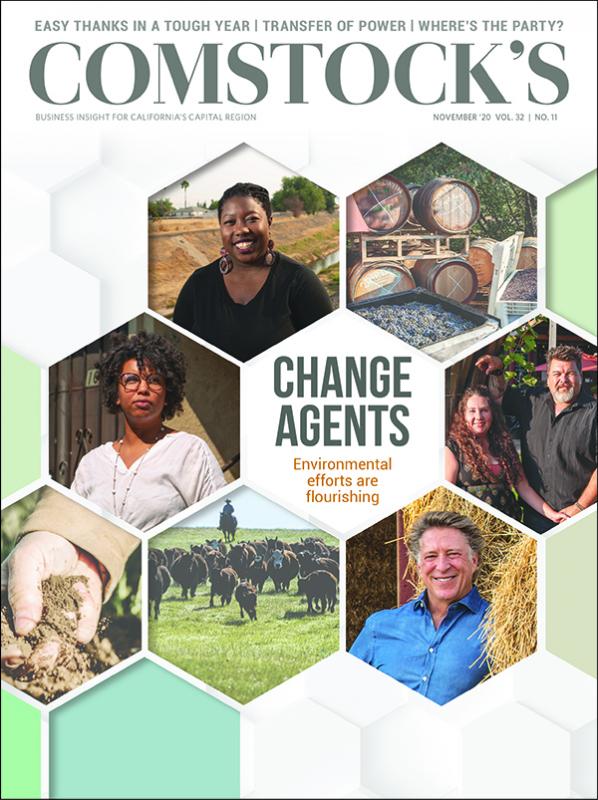 This story is part of our November 2020 issue. To subscribe, click here.
When I was a youngster, schools encouraged girls to take typing classes. It was the first step on what was then considered a career path to become a secretary. Our attitudes about the careers men and women can aspire to have changed dramatically since then. Technology has evolved even faster.
But through the evolution from typewriters to computers and artificial intelligence, there is a consistent, simple truth. Education — providing people the skills and intellectual capacity to succeed — is still the life support for economic growth.
In the Capital Region, the forthcoming Aggie Square and California Mobility Center projects reflect our region's priority in attracting technology and science-based jobs. Both are possible because of the science and engineering talent developed at UC Davis and Sacramento State.
We look forward to the scientists, engineers and researchers these projects will attract. But the region needs other types of jobs to make these projects successful and the rest of the economy work. The National Skills Coalition, made up of business and labor groups, studied workforce makeup and its effect on economic growth and estimates that from 2014 to 2024, up to 1 million middle-skill level jobs, which are defined in the report as "occupations that require more than a high school diploma, but not a four-year degree," will be created in California. That includes jobs like payroll specialists, billing clerks, telemedicine technicians and administrators.
A recent study from Sierra College, which has received awards from the Placer County Economic Development Board for the effectiveness of the school's workforce training programs, says that in this digital age, even entry-level jobs require computer literacy, the ability to analyze data and strong math skills. Changes in health care, for example, result in greater use of technicians as telemedicine grows to interact virtually with patients while the shift to remote operations in many industries calls for more skills in cloud computing and use of software.
To underscore the value of education to development, the Solano Economic Development Corporation charts high school graduation rates on its website. Robert Burris, president and CEO, believes those scores are one barometer prospective employers use to measure the quality of life they would be offering workers if the prospective employees need to relocate. Graduation rates also measure a community's ability to provide an educated and skilled workforce, Burris says, a priority in California, where high housing costs encourage new employers to hire locally rather than moving existing workers to a new city. "We want companies to see that we offer a full spectrum of quality education and that we are an area that produces talent," says Burris, who also is a member of Comstock's Editorial Advisory Board.
To grow economically, it's more critical than ever to provide our workforce with digital skills in an era where a smartphone can help farmers manage irrigation schedules and diners order a meal from a restaurant. Barry Broome, president and CEO of the Greater Sacramento Economic Council, says it's critical that the region keeps the future in mind. "We have to prepare the workforce for 2025 and 2030," he says.
Broome believes vocational training in basic digital skills can lift people in underserved communities out of poverty and give them a path to middle-income wages and is gearing up a pilot program toward that end. Armed with a $787,650 Coronavirus Aid, Relief, and Economic Security Act grant, and in cooperation with the training company General Assembly, the Greater Sacramento Urban League and the City of Sacramento, GSEC last month looked to enroll 40 people in a nine-week program to earn certificates in digital skills.
Broome says these skills are interchangeable among industries and can provide middle-class wages and a career path. "Right now, a third of the people in our region are struggling and living paycheck to paycheck," Broome says. "But economic growth requires a middle class and all people seeing themselves as partners in that growth."
GSEC expected 400 applicants for the 40 spots in the pilot program, which was limited to Sacramento residents. The response was a flood of 5,000 inquiries, 500 of whom were qualified applicants.
That response is an encouraging sign that there is an appetite for learning and that there is a need for more career opportunities in the region. When the slots are filled, there still will be thousands of others eager to gain new skills to advance their career. It's thousands of opportunities for the business community to step up to support the growth of Sacramento's economy.

Winnie Comstock-Carlson
President and Publisher
–
Stay up to date on the effects of the coronavirus on people and business in the Capital Region: Subscribe to the Comstock's newsletter today.
Comstock's president and publisher considers the difficulty of starting a new school year in the midst of the pandemic.
Students are weighing all the options, including attending community college, learning online or postponing college altogether.
A wide range of projects and initiatives on and off the Davis campus are set to be funded by the campaign, called Expect Greater: From UC Davis. For the World.