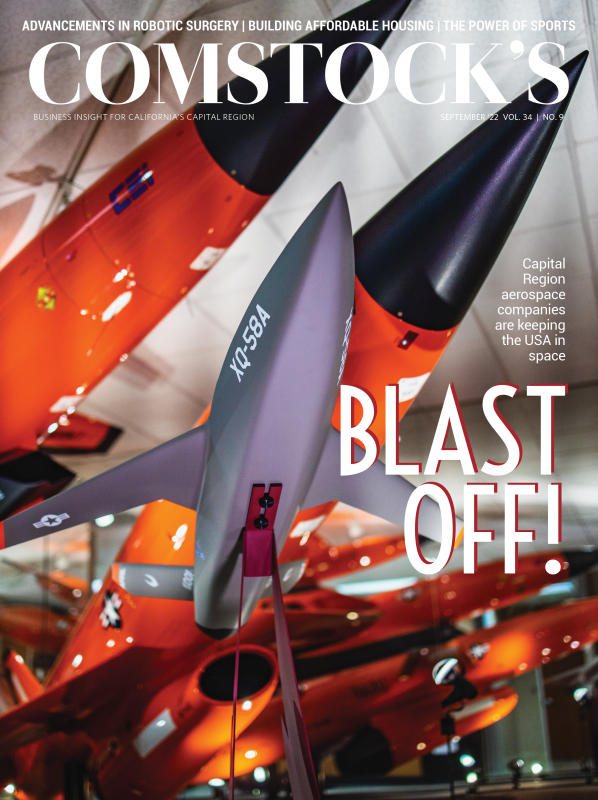 This story is part of our September 2022 print issue. To subscribe, click here.
One of my favorite summer weekend pastimes is to go hiking in the mountains. When it gets hot in the valley, I head for the cooler air and refreshing scenery of the mountains. Growing up in Nevada City, I was surrounded by forests, and I think that's why I've had a lifelong appreciation for trees.
On two recent weekends, some friends and I explored the higher elevations of the Sierra Nevada mountains. Getting to Wrights Lake and hiking to an elevation of about 8,200 feet took a seven-hour climb and a 2 1/2-hour descent. It was a very steep ascent. On our way to Woods and Fourth of July lakes, we climbed 4.3 miles straight up to a similar elevation, then hiked 4.3 miles downhill to return — a total of 8.6 miles.
Both of these hikes were a bit of work, but there was a great reward for our effort — gorgeous scenery, fresh air and muscle toning. August is one of the best times to enjoy wildflowers in the higher elevations. The colors were amazing and looked like a painted canvas.
But the vivid colors were a stark contrast to the bleak gray and blackness we found on what seemed about 20 miles of our drive to the trailhead, the aftermath of the massive Caldor Fire that devastated nearly 220,000 acres between Pollock Pines and Kirkwood last year, one of the largest megafires in the state's history that burned for three months. What seemed like millions of lifeless trees stood in the ash of seared brush. It looked like a war zone. We all gasped, almost in unison.
It was disheartening to see so much destruction. But it also made my friends and I wonder what was going to be done to bring back these forests. I thought about possible ways to turn this tragedy into something constructive. Are there ways to salvage the timber, perhaps to make up for the astronomical lumber price increase that home builders are facing these days? It appeared only the outer area of the trees was charred — perhaps the wood inside was still usable. Could salvaged trees be turned into an environmental asset — perhaps as an alternative fuel to create electrical power? I don't have answers.
Massive wildfires, so-called megafires, were once thought to be rare. Now they seem to happen so regularly that a new name pops up on the fire list every week. On the day I wrote this column, the McKinney Fire was still burning near Yreka after destroying 60,000 acres over three weeks.
Last year, there were 8,835 wildfires in California that consumed more than 2.5 million acres of valuable timberland, California Department of Forestry and Fire Protection statistics show. Eight of the state's largest wildfires have occurred in the last five years, some of which have also cost human lives.
But fire isn't the only culprit here. Gross mismanagement and drought have created overgrown forests of insect-damaged trees choking in underbrush. Global Forest Watch estimates that California has lost 147 million trees to drought and fire since 2010.
I'm told that options for creating something useful from all this destruction are limited and dwindling when we need them the most. Salvage operations often come out second best in a race against time, money — and worms.
Some harvested wood is turned into usable two-by-fours, but many burned trees are left behind without roads to reach them. Plus, the logging industry has been shrinking for decades. One Nevada City company where my brother worked for over 40 years is down to 15 trucks instead of 80. And less than half of those are being used for timber.
Over many years, nature can restore burned out forests, but in the short term, trees decompose and become infested with worms and insects. After about two years, the largest trees lose half their value and are not worth harvesting. A small amount of harvested trees are used in biomass facilities to generate electricity. But that industry peaked in the early 1990s, when there were 66 facilities statewide. Now there are fewer than two dozen, hampered by the cost of transporting wood waste and some shuttered by air quality regulations.
Even with these setbacks, there may be reasons to be optimistic about restoring our lost forests. The Lewis A. Moran Reforestation Center at UC Davis has been growing seedlings for over 100 years, specializing in species important to the Sierra. Last year, they produced 225,000 seedlings but have plans to expand their facilities to produce more than 1 million seedlings a year. Also, the recently adopted state budget includes $1.2 billion over the next two years to increase controlled burning to better manage timber lands and reduce fire danger. It will, of course, take years of this to reverse the management practices that have turned fires into uncontrollable infernos.
August will always be for me one of the best times to enjoy the colorful splendor of the Sierra. With a little rain from nature and time, I'm hoping that, in a decade or two, the drive to the trailheads will be just as inspiring and enjoyable as the hike through the high country.

Winnie Comstock-Carlson
President and Publisher
–
Stay up to date on business in the Capital Region: Subscribe to the Comstock's newsletter today.