The past couple years have been brutal on workers: furloughs, salary freezes, layoffs and budget cuts. It's enough to give the most loyal employee a case of the business blahs and a sense of restlessness as the recession lifts.
But as with every crisis, there is a silver lining. As bad as the economy has been for business, the slump has spurred managers and owners to find creative — and inexpensive — ways to retain good employees and keep them whistling while they work.
From compliments to field trips, and from philanthropy to extra training, the economy has demanded that employers build a culture of recognition, respect and camaraderie for loyal workers.
"Time and time again, some companies are creating loyalty and commitment among workers," says Jessica Bagger, assistant professor of management at the College of Business Administration at Sacramento State. "There are a couple of common threads. The bottom line is, these companies truly value and care about their employees."
Many employers in the Capital Region are using tried-and-true incentives, such as maintaining health benefit levels or averting layoffs. Others are thinking outside the box by offering flexible work schedules, wellness classes, career path training, community service projects and just plain fun to make their companies more attractive in a post-recession environment.
Simply recognizing employees' efforts is the first step to keep good workers, Bagger says. "Top managers need to truly recognize employees' efforts," she says. "If you don't come out and say it, you are missing that opportunity, especially in times when you're not able to give large salaries or bonuses. And it's free."
Bagger advises management to coach workers on what the business is doing well and what the company can do better. Ask what employees need, listen carefully and give honest answers, she says.

"Almost every company fails on the communication aspect," Bagger says. "You have to wipe out the adversarial relationship. Explain if you can address a situation, and if you can't, be specific about why you can't address it."
When it comes to decisions, ask for employees' input, Bagger says.
"That makes them feel a part of the organization, which builds loyalty," she says.
Businesses and labor experts in the Capital Region overwhelmingly say keeping workers in the loop is key to keeping them in the workplace.
Leslie Botos, vice president of public affairs for BloodSource in Sacramento, says the blood bank industry has undergone dramatic change because the recession and health care reform has led to uncertainty and competition.
BloodSource has been able to stave off layoffs but has been forced to cut costs, increase efficiency, freeze salaries for the past two years and lower employer contributions to pension plans. Fewer people seek elective surgery during rough economic conditions, which disrupts traditional blood use patterns, she says.
"We're operating in challenging times," Botos says. "Blood banks are competing for hospital business, whereas they used to be friends. There's been a change in the culture of the industry. We're working with supply chain managers to get the absolute lowest cost possible, while quality is still regulated and doing business in California is incredibly difficult. These are all tough things for employees."
BloodSource combats low morale by uploading to the company intranet a video newsletter containing a message from the chief executive, industry issues, challenges and strategies for meeting them, updates from their blood and marrow match labs around the world and advances in blood and plasma bank technology.
"We want our employees to know what we're doing that's cutting edge, where we are pioneering," Botos says. "We tell those stories, and we find video is the best format for telling it, especially for younger people."
Regina Kyaw, human resources generalist for Benefit & Risk Management Services Inc. in Rancho Cordova, says communication with employees is vital. The company, a third-party administrator for insurance plans, has 135 employees.
"There are little things you can do that don't cost a lot of money but show you appreciate how hard people are working."

Debbie Augustine-Nelson, owner, Augustine & Associates
"Knowledge is power," Kyaw says. "Keeping our employees informed keeps them engaged with our overall strategy and the role of our business, clients and potential clients."
Debbie Augustine-Nelson, owner of Augustine & Associates, a full-service marketing, advertising and public relations company, says her business has had to diversify to stay afloat in the economy. The company previously did work for developers, which took a hit during the recession.
"We definitely had to reinvent ourselves," Augustine-Nelson says, who has been able to avert significant layoffs. "There were times we were on life support. It hasn't always been a very fun ride."
She says employees had to learn different markets and diversify clientele to utility companies, resorts and even a recycled-auto parts operation. The company also added social media to the menu of services offered to clients, which means employees had to learn new skills and marketing tools.
She agreed that an open door policy and communication boost employee morale during times of uncertainty.
"We constantly have to keep lines of communication open, where things are at and movements we're making into other markets," Augustine-Nelson says. "We're focusing on current possibilities. I believe out of challenge comes opportunity. We're trying not to look back, but look forward."
Keeping employees in the know prevents them from feeling bitter or targeted, Augustine-Nelson says.
"A lot of people are still happy to be on board," she says of employees. "They get it. No one is immune to the environment."
Kyaw says her company also rewards employees by aggressively promoting from within the organization and supporting workers to get training and education so they can climb the corporate ladder.
BloodSource offers a yearlong leadership program for employees aiming for the managerial level. Twelve employees are selected for the program, called Launch.
"It's a great motivational tool, directed at nonmanagerial staff demonstrating enthusiasm and a good work ethic," Botos says. The nonprofit is now taking applications for the first class of another new program, Compass, targeting managers who want to gain upper-level experience.
Bagger says a wellness component of human resources can help retain employees and keep them happy during a troubled economy and beyond.
"It's stressful in the workplace during tough times," she says. "There can be an increase in workload as employees work harder for the same pay or less, and it's an emotional time. People can be worried about job security, their 401(k); they may have family members who have lost their jobs."
To counter salary freezes and budget cuts, BloodSource increased its contributions to health care coverage for employees.
"We believe that healthy employees who come to work and have less anxiety will be worth the extra cost," she says. "We don't want them worrying whether they can go to the doctor or not."
Botos says BloodSource holds smoking cessation and weight loss classes on campus.
Bagger suggests giving employees a couple hours off on an afternoon as a paid "mental health day," to take care of errands or do something for themselves.
"They can recharge and come back more motivated," she says.
Also, more flexible schedules or allowing employees to work from home part of the workweek can make up for a lack of salaries and bonuses, Bagger says.
"Top managers need to truly recognize employees' efforts."

Jessica Bagger, assistant professor of management, College of Business Administration, Sacramento State
For the second consecutive year, Augustine-Nelson closed the office from Christmas to New Year's, giving her 35 employees a paid week off during a slow time.
"We have to give back in different ways," she says. "We do what we can, and the employees understand that."
Days off and flexible scheduling mean more than just giving employees compensation for extra work. It can build trust in the workplace, Bagger says.
"Some employers are keen on monitoring every moment of an employee's time," Bagger says. "Employees taking minibreaks, checking news updates online or personal mail, that can actually make them more productive.
"It comes back to trust," she says. "Many employers don't trust their employees to do the work without them watching. It starts to become a self-â?¨fulfilling prophecy. The worker can feel like, 'If my manager doesn't trust me or is micromanaging me, why do the work?'"
To create and cement bonds in the workplace, consider a community service project and plan charitable projects outside the office.
Kyaw says employees pack lunches at a local food bank and conduct drives for school supplies, coats and canned food.
"It makes work more fun if you're doing a charitable program that makes you feel good," Kyaw says.
BloodSource also conducts local coat drives for the needy, and it takes its community service a few steps further by giving grants and emergency relief aid for global clean-blood supply programs and building projects in developing countries.
"We heard from our employees that they enjoy global activities, and they feel a sense of pride in where they spend a majority of their life," Botos says. "We just started providing nets to prevent malaria in Africa and supporting building a well in Sudan. We keep them informed about the projects through photos and updates."
The projects also make good business sense because the blood bank may find new markets in these third-world countries, Botos says.
Augustine-Nelson arranged for employees to make dinner at a local shelter. The employees also answer children's letters to Santa Claus, giving disadvantaged youth presents at Christmas, in place of giving clients holiday gifts. They send copies of the letters to the clients.
"Instead of giving, say, a bottle of wine to a client, we explain we're giving their present to a child who really needs it," Augustine-Nelson says. "We get great responses from clients, and our employees feel good about it."
Augustine-Nelson says adding fun at work and away from the office goes a long way to retaining good employees and making work during stressful times more bearable.
"There are little things you can do that don't cost a lot of money but show you appreciate how hard people are working," she says. "It also shows that we're all in this together, that no one is an island in this economy."
Augustine-Nelson invites employees to a barbecue with family, sometimes at her home. She occasionally has a movie day, taking her employees to a show, or she schedules a massage day, paying for a massage therapist to come to the office to give quick neck massages. She also arranges a crazy hat day, allowing employees to wear hats to work and compete for prizes.
"This creates camaraderie and lightheartedness," she says. "Everyone enjoys being silly every once in a while, and it helps us keep perspective. During this economy, there are personal challenges. We understand it may be hard to do your best work, so we try to create an environment that is supportive."
Bagger's final bit of advice to companies? Don't fake it.
"Employees are not stupid," she says. "They know when it's genuine, and they know when it's just a show. If you're doing these things just to get more out of them, they'll know it."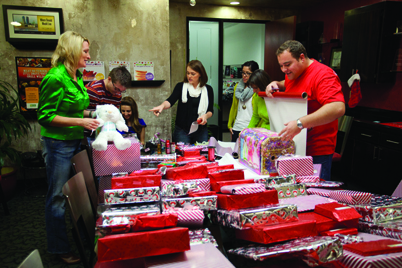 Employees at Augustine & Associates answer children's letters to Santa Claus, giving disadvantaged youth gifts at Christmas instead of giving holiday gifts to clients.
Have you ever arrived at work and realized you don't remember driving there? It's kind of a weird feeling, but your consciousness was somewhere else while your subconscious did all the work of traveling, turning, merging and parking. You can do this because your commute is so ingrained that it doesn't involve any real decision-making.
I'm an accountant for a small start up in Sacramento — not an HR manager. But, as often happens, HR issues tend to fall on someone, and that someone is me. The current team has been here since the beginning; we started the place. But now we need to hire someone. A stranger. How do I start?