The Zeldner family legacy is rooted in yellow star thistle. The noxious weed, an invasive species native to the Mediterranean region of southern Europe and northern Africa, covers an estimated 14 million acres in California. It grows densely and depletes soil moisture. It can cause a fatal nervous disorder in horses who graze on it. The spines that extend from the flower head, giving the plant its name, are the bane of hikers and grazing animals alike. For honeybees, however, the yellow star thistle is an excellent food source during dry summer months.
"People hate the plant but love the honey," says family matriarch Amina Harris, who oversees the UC Davis Honey and Pollination Center. "And for the bees, sometimes it's the only summer forage."
Her late husband, Ishai Zeldner, used 180 pounds of yellow star thistle honey he procured from commercial beekeepers in Orland in Glenn County in 1979 to launch what would grow into his specialty food business. He loved yellow star thistle honey so much that, until that point, he'd been procuring the honey, processing it and giving it away.
That's a far cry from what Z Speciality Food, and its Moonshine Trading Company label, has grown into four decades later. The varietal honeys — the company now offers more than 30, in addition to fruit spreads, nut butters and other items — have found a new and growing market under the guidance of his son, Josh Zeldner. The company, celebrating its 40th anniversary, broke ground in August on a new Woodland facility that will not only double its warehouse size, but position the tiny under-the-radar family business as a community gathering space at the intersection of farm to fork, gourmet food and pollinator support.
Going Gourmet
Ishai was raised in Brooklyn, where his parents ran a grocery store specializing in wild game. He spent his 20s living on a kibbutz in Israel, where he learned the art of beekeeping. After a brief stint running the family business until his father's death, Ishai drove west to Davis in the late 1970s to continue studying the business of bees at UC Davis.
Amina, whom he had known since grade school and married in 1982, joined him a few years later, not long after he launched Moonshine Trading Company, which then sold 6-8 honey varieties and an almond butter. She took on the branding, design and packaging of the product and helped shift the company's focus from natural food stores to a more informed and niche clientele within the gourmet food industry. Ishai handled everything else, from the processing and production to invoicing and bookkeeping.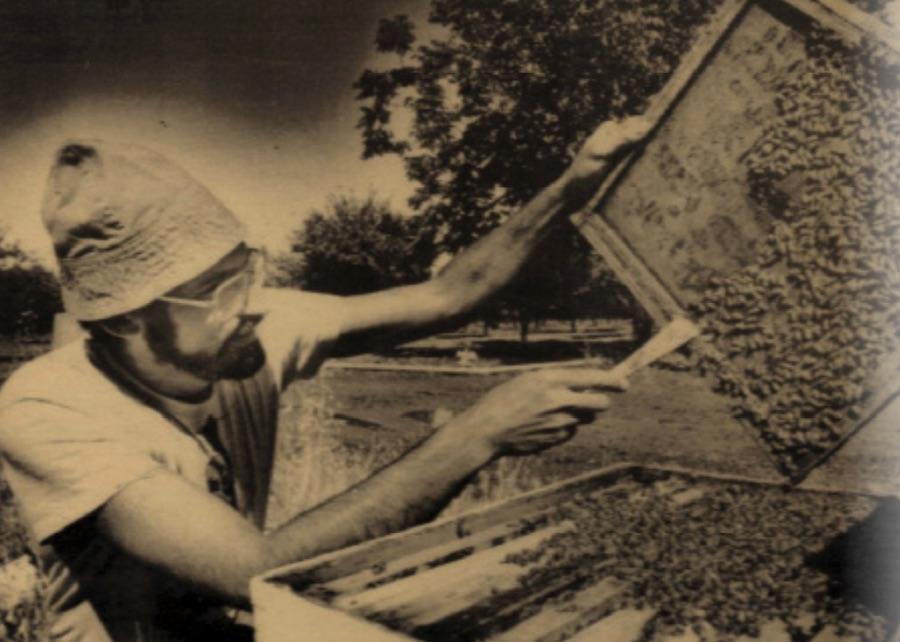 Back then, most honey on the market was wildflower, meaning the bees fed on whatever happened to be available, with the occasional orange blossom or clover varietal. Moonshine Trading Company offered, in addition to yellow star thistle, flavors like eucalyptus and sunflower. Amina describes her husband as a visionary in the world of honey who foresaw a market for an array of unique and dynamic flavors, akin to the wine or cheese industries, where subtleties and quality were not just appreciated but expected.
The couple worked out of their home before renting 1,500 square feet of space in Winters. They built brand awareness by attending trade shows. Amina recalls how shocked she and her husband were at their first, in Atlanta, to see a flood of people lining up at their booth just 15 minutes in. "No one had thought of varietal honey," she shrugs.
They were featured in the gourmet food section of department stores and a large portion of the business came from holiday gift baskets. Together the duo built a profitable, if not time-intensive and solidly fourth-quarter, little business. Ishai focused on finding the top honey varietals the United States had to offer, processing and packaging them, and selling them under the Moonshine Trading Company label while Amina, who worked full-time as a teacher, oversaw design and branding.
"Josh has been selling honey since he was 4," Amina laughs, settling into a chair in her modest office within the Robert Mondavi Institute for Wine and Food Science in July. The shelves are cluttered with honey jars, and plastic sample cups are scattered across a desk. A stack of cardboard tasting dials she's developed for honey sits beside them.
As a child, Josh, 33, recalls his father up at 5 a.m. for sales calls to the East Coast, and awaking to see employees arriving for work — the company's office was in the bedroom between his and his sister Shoshona's.
By 1998, the company had grown to 12 varieties of honey, as well as a selection of fruit spreads, nut butters and chocolate nut spreads. It had also started packing and processing products for other food producers. That year, Ishai moved the company from Winters into a 4,000-square-foot space in Woodland. In 2001, they acquired Island of the Moon Apiaries of Esparto, which is farm-to-fork friendly with its focus on wildflower honey from California producers, while Moonshine Trading is focused on the best varietals of honey from throughout the country. In 2006, the family created Z Specialty Food as an umbrella company to oversee their two brands as well as their custom packing business.
They stressed quality, taking care to heat the large vats of honey slowly at lower temperatures to better preserve its natural enzymes, and using a specific filtration size that keeps dirt out but allows pollen granules through. That sort of attention to detail stands out in an industry that ranks third in rates of food fraud, after milk and olive oil, according to U.S. Pharmacopeia's Food Fraud Database. In 2018, The Economist reported that while honey consumption had doubled since the 1990s, production had dropped 35 percent — enticing corrupt producers to dilute their product with other sugars like corn syrup.
"The value of getting honey from them is that it's a trusted source," says Patrick Mulvaney, co-owner and head chef of Mulvaney's B&L in Sacramento. "You know that they are giving you what they said they are producing."
By 2009, Ishai and Amina were thinking about retirement. With little interest from either of their children in taking over the business, they decided to have it evaluated in preparation for selling. As is often the tale in these sorts of situations, the news they received was heartbreaking: The company was worth $200,000-$300,000, little more than the inventory in stock and certainly not enough to retire on.
"I was just like, no," Josh says, who was at the time finishing his bachelor's degree at the University of Colorado Boulder. "Our parents put 30-plus years into this thing, and I saw how much they really poured their lives into it when I was growing up — even before I was growing up. It was that moment when I was like, 'OK, I'm going to move back to Davis, I'm going to learn the business and help it grow and see what happens.'"
Warming to Change
Josh returned to California in 2010. The business had managed to weather the Great Recession of 2008, thanks in part to the family convincing Ishai to hire someone to help manage the warehouse and production, and the market had softened as colony collapse and the plight of honeybees became mainstream news.
Josh started at the bottom, labeling jars, working in the warehouse, learning about all of the details Ishai had overseen the last 30 years.
"I think the biggest (obstacle to profitability) was just my dad's unwillingness to let go," Josh says. "He really did have that sole-proprietor attitude like, 'Nobody can do it like me,' and that really crippled the business for a long time."
Josh's plan for growth was two-pronged, with the first pointed inward. The company needed more employees, and it needed to offer better perks to retain them. He worked to get the company's minimum wage up to $15 an hour and sought to offer staff not just a better benefits package, but also more autonomy.
Josh hired Amanda Powell six years ago. She started out labeling jars and learning how to process honey. Powell speaks fondly of Ishai's micromanaging ways, tearing up a bit at the mention of his name, while acknowledging that Josh is "more mellow." While Z Specialty isn't her first gig in food manufacturing, having worked in coffee and rice warehouses previously, she came in with no industry knowledge. Now six years in and in her late 20s, she is the warehouse's production manager and is looking forward to taking on staff and a more supervisory role as the company grows.
"A lot of people my age are still bouncing from job to job, wondering, 'What am I going to do with my life?'" Powell says. "I'm like, 'Well, I already kind of know what I'm doing with my life.' And that's nice to know at such a young age."
Hiring more help and assigning tasks once handled by his father has freed Josh to think more about business development and creative ways to grow the brand. It was his idea to start hosting open houses in the Woodland warehouse, which launched the year of his return. The first year, he estimates about 200 people showed up over two days to sample the products. Since then, he's added live music and raffle prizes, and the events have grown fourfold.
"The value of getting honey from (Z Specialty Food) is that it's a trusted source. You know that they are giving you what they said they are producing." Patrick Mulvaney, co-owner and head chef, Mulvaney's B&L
Business was doing well, with annual revenue growing from $400,000 in 2010 to more than $2 million. The bulk of the business is now restaurant distribution. Mulvaney's B&L is just one on a list that includes Piatti and Bella Bru Cafe, as well as big hitters like the Golden 1 Center and the Sacramento Convention Center. The products are also available in all Raley's, Bel Air and Nugget stores, Whole Foods in Northern California and other independent grocers across the country.
By 2016, Josh was running the business and hoping to channel the energy of the popular open houses toward expansion. Z Specialty was outgrowing its Woodland footprint, and Josh envisioned relocating the warehouse somewhere that would better facilitate tastings, events and community interaction. It was time to make a big move. He started looking for land.
Lasting Legacy
Josh was at the base of the Sawtooth mountains during a road trip to Idaho with his wife for the total solar eclipse in August 2017 when he got the call. Ishai had been diagnosed with a glioblastoma brain tumor. He would need a biopsy immediately, and it wasn't certain he'd survive even that. "There is a part of me that processed his entire passing in that day," Josh says.
Ishai survived the biopsy, but his tumor was inoperable. He died at home on June 17, 2018, at 71 — one month after plans to expand the business he started with 180 pounds of yellow star thistle honey, solidified with the purchase of a parcel of land off Interstate 5 in Woodland.
The property, just under 3 acres, will allow the company to double its warehouse space to 20,000 square feet and bring its cold storage in-house. The old-guard fans and heaters at its current warming room will be replaced with heated floor tiles that warm honey from below — meaning faster heating at lower temperatures for an even higher-quality product. It will include a tasting room, event space, fruit orchard and pollinator garden — a memorial to Ishai.
Josh hopes to host film screenings and live shows and work with organizations like Yolo Farm to Fork and Davis Farm to School to educate youth and the public on healthy ecosystems for pollinators. Ultimately, he hopes to build a second building from which he can rent space to a meadery and restaurant. "We really want to be a destination spot," he says, "and showcasing the big picture is really going to be impactful."
Though Ishai wasn't able to be as big a part of the expansion as he would have liked, he informed the process as much as he could. Josh says his father's typically rough exterior softened in the months before he died.
"To see him transition physically, mentally and spiritually, in those last couple of months and be there with him was really life-changing," Josh says. "I want to bring that type of pure love to my everyday and not wait until my last few months. I want to really create positive connections, and one way I can do that is through my business."
Amina describes herself as the intermediary between two visionaries, her son and her husband, filling in holes and doing her best to keep the peace whenever the men in her life butted heads. As his health declined, she says, Ishai found himself able to fully embrace their son's leadership role and entrust that the business was in safe hands.
"Every day I realize that we've got this business that Ishai really had a vision for, but he didn't have the full picture," she says. "Josh is completing the picture."
She scans the shelves of honey, in search of a particular jar of orange blossom. She notes that this is supposed to be a good year for the yellow star thistle variety. "We haven't had one for many years."
—
Get this and other stories delivered to your inbox weekly: Sign up for our free email newsletters by clicking or tapping here.