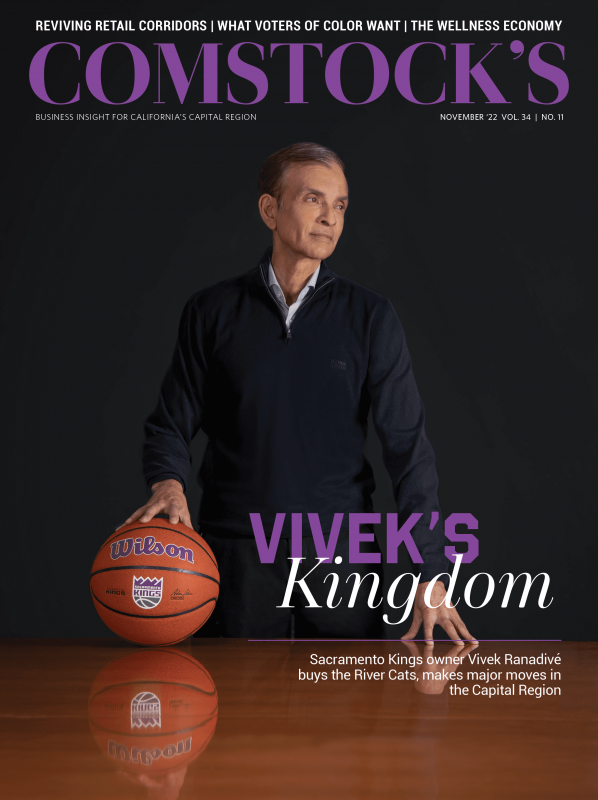 This story is part of our November 2022 print issue. To subscribe, click here.
On a recent midweek morning, a multicultural cast of two dozen men and women, dressed in crisp blue T-shirts, took up signs protesting proposed cuts to telephone and internet subsidies that many poor people rely on.
"CPUC does not care about me," said several of the signs.
The California Public Utilities Commission protest, led by activist Rashid Sidqe, asked the commission to reject a proposal to reduce the maximum subsidy users could utilize, eliminating the ability to collect both federal and state benefits. The modest protest drew a small squadron of CHP officers on bicycles who kept watch from across the street. It ended peacefully, with breakfast burritos. Shortly afterward, the proposal was removed from the agenda without comment from the commission.
Sidqe's action was a success, but with it coming days before the midterm election it speaks to where Sidqe wasn't: the campaign trail. He said it was important to give a voice to most vulnerable Californians. "We all got them registered," he said of the protestors. "We may have one or two that have protested against it because they feel unrepresented in the election."
Another regular election advocate said after campaigning against the failed recall attempt of Gov. Gavin Newsom followed by a busy primary, he was taking this ballot cycle off to spend some time with his family.
It's impossible to wrap the mood among voters of color into one convenient paragraph. Experts express concern about apathy among Black and Latino voters, while experts in Asian-American voting say recent events have helped coalesce their political power.
In California, Democratic Party registration outnumbers GOP registered voters by nearly 2-to-1, according to the latest voter registration figures. While party registration among white likely voters is more evenly divided, with 40 percent registered as Democrats, 34 percent as Republicans and 21 percent as "no party preference" voters, the latest Public Policy Institute of California survey found voters of color more strongly favored Democrats.
Among likely voters, nearly three out of four African Americans (73 percent) and a majority of Latinos (58 percent) and Asian Americans (54 percent) are registered as Democrats, according to the survey. Far fewer are registered as Republicans (5 percent African Americans, 16 percent Latinos, 19 percent Asian Americans).
Rodney Davis, 62, one of the morning protestors, says as an African American who has experienced racism in America, he has no challenge getting excited about this election, in which he'll be a poll worker. But he isn't sure other voters of color are equally motivated. "I think there is apathy, disappointment, especially when it comes to people of color or minority people, because we aren't really seeing significant changes that will affect us in a positive way," Davis says.
"For this election, voters of color are expected to make up more of the electorate than ever before; however, Latinx and Hispanic voters are turning out in lower numbers. Voters of color are not as enthusiastic about this election cycle."

Rebekkah Mulholland, assistant professor of history, Sac State
Rebekkah Mulholland, assistant professor of history at Sacramento State, says she's concerned about disenfranchisement and apathy among voters of color. "For this election, voters of color are expected to make up more of the electorate than ever before; however, Latinx and Hispanic voters are turning out in lower numbers," she says. "Voters of color are not as enthusiastic about this election cycle."
Marcus Gomez, political action committee chair of the Sacramento Hispanic Chamber of Commerce, is even more blunt in his assessment of Latino interest in this election. "Latino voters are feeling disenfranchised from the current political climate," he says. He says Latino voters are a plurality in California but "priorities are set without consulting or taking Latinos into account."
He says they need to rise above the apathy and remain politically active.
National signs of softness
A September poll conducted by the New York Times found "signs of weakness" for the Democratic Party among Latino voters. While 56 percent of Latino voters would favor a Democratic candidate in congressional races, economic issues were the top concern among voters and they are evenly split on which party they agreed with on the economy.
California and Arizona seem to be the exception to a national trend that saw a modest uptick in blue-collar workers who favor the Republican Party, says Mike Madrid, a Sacramento-based political analyst and co-founder of The Lincoln Project, the coalition of Republican voters who didn't support Donald Trump. "These are working-class blue-collar workers that had to work through the pandemic," says Madrid. "They were out there exposed anyway. So they are saying, let's open up the economy."
While harsh anti-immigrant rhetoric from Republicans slows the process, the natural tendency is for immigrants to become more conservative over time, Madrid says.
In contrast to the New York Times poll, a recent Public Policy Institute poll found no signs of weakness in Latino support for Democrats. Among Latino voters, 74 percent say that they support or lean Democratic in their local House race, according to a September PPIC survey. That is up from 56 percent saying this in March.
To really understand voters of color, it's important to look at smaller subsets of voters, not just Black, white, Latino and Asian American, says Mulholland. "Mexican voters are going to have a different mindset than Puerto Rican. … We need better terms. Today it's a lot more complicated." She says she frequently talks to young voters of color on the college campus, who often feel like their voices are not being heard. Voters of color have a keen eye on whether President Biden fulfills his promise to provide student loan relief, she adds.
Growing Asian American power base
Asian Americans have been viewed as the least political among voters of color, but new polling reveals their growing strength, says Roshni Nedungadi, the chief research officer and founding partner of HIT Strategies, a polling research firm that focuses on underrepresented voters. She said their growing population and increasing participation in the electoral process is giving them more power than ever.
"Asian American population in the US has grown 35 percent in the last ten years. And the growth doesn't look like it's stopping any time soon," Nedungadi said during a recent interview on Sacramento-based political strategist Bill Wong's podcast "The Ronin Project." "These are reliably Democratic voters. Two out of 3 Asian American voters voted for Democrats in 2020," she said.
"Once you don't have the power structure and control the culture, it's different."

Mike Madrid, Republican political analyst
Wong said while Asian Americans have a coherent business identity, the recent wave of hate against Asian and Pacific Island people has them struggling to find a coherent political identity.
But Nedungadi disagreed, saying AAPI hate has Asian American people more united than ever.
"We are seeing Asian American voters beginning to develop this better sense of political identity and unity," she said. "It came out of a lot of the anti-AAPI sentiment due to COVID-19 and Donald Trump."
According to her data, this growing political identity can be felt at the ballot box. Thirty-nine percent more Asian Americans voted in 2020 than in 2016, she said — the largest increase in any demographic in the United States.
The race factor
Overall, the business of understanding how race affects voting behavior has become harder, Madrid says. In some parts of the country, Hispanic or Latino voters are the majority; they make up over 40 percent of the population in California. "We don't really use the term 'minority voters' anymore," he says.
Madrid has made a career of tracking the growing influence of Hispanic voters. But while his academic writings examined what Latino voters bring to the table, he says he failed to contemplate how white voters would react to their shrinking political power.
It should be pointed out the state's likely voters are disproportionately white: According to U.S. Census estimates, whites make up 41 percent of the state's adult population, but PPIC surveys find that they comprise 55 percent of the state's likely voters. Madrid says he hopes white America will finally come to understand the plight of Black Americans as they become the minority and that this understanding will help everyone realize power must be shared.
"Once you become a minority, it's different," Madrid said. "Once you don't have the power structure and control the culture, it's different."
–
Stay up to date on business in the Capital Region: Subscribe to the Comstock's newsletter today.