About 4,700 wineries exist in California, which generate $58 billion in economic impact and account for 325,000 jobs. Wine grapes are grown in 49 of 58 of the state's counties, producing a total of 4 million tons, according to the Wine Institute, an advocacy association based in Sacramento.
Wine is big business in California, but what often gets mentioned only as a footnote in the conversation is that the majority of our wineries are family-owned.
In the wine industry, families must often handle the unique dynamics of their arrangement while running several operations at once — growing grapes, producing wine, and marketing and selling the final product. It's not always easy. But these four wine-industry families wouldn't have it any other way.
Holly's Hill Vineyards
Placerville, El Dorado County
In 1995, Holly and Tom Cooper had the opportunity to purchase a ranch owned by Tom's parents near Placerville on a hillside about 2,700 feet in elevation. Holly, in real estate at the time, saw the land's potential while Tom, an attorney, took more convincing. "I said, 'OK, we'll do it if I can have my vineyard,'" he says.
By 1998, the couple had planted their first syrah vines with plans to sell the grapes to other winemakers and produce a limited amount of wine offsite. But in 1999, the family bought an adjacent property to plant more varied vines, and create a production facility that would allow them to produce wine onsite. They also opened a public tasting room and outdoor seating area. They now own 40 total acres with 25 acres in vines.
Aside from direct sales, Holly's Hill does a limited distribution to Corti Brothers in Sacramento, Nugget Market in El Dorado Hills and The Wine Smith on Main Street in Placerville, as well as some Placerville restaurants.
As the Coopers' business grew, their daughter, Carrie Bendick, earned a degree in romance linguistics at the University of Washington, and after college became enthralled with winemaking. She worked for a few winemakers in El Dorado County, and at one met her now-husband, Josh, who had minored in viticulture at UC Davis. He and Carrie, now 42 years old, both work as winemakers at Holly's Hill.
The family jokes about not truly having titles within the business. "I think that the way that we work best is that we're not stuck in one role," Carry says. "We help out wherever we're needed." Being a smaller, family-owned winery has given them flexibility to adapt, Carrie says, noting how she is able to be present in both her professional life and personal one (as a parent), without worrying too much about what the boss may say.
Carrie and Josh now essentially run the business, as her parents, in their 70s, theoretically get closer to retirement. "Carrie keeps reminding us that we're retired," says Tom, and the older generation is trying to let go and move away from the day-to-day management tasks. As the Bendicks take on more responsibility, they're already thinking about their three young girls and the future of Holly's Hill.
"Maybe one of them will be interested, or all of them, and then we'll have to re-evaluate at that point and see how that would work," Carrie says. "We want it to keep going if we can. I'd love to pass this onto the girls, but it's not something we're going to push if they're not into it."
Delicato Family Vineyards
Manteca, San Joaquin County
Many of the region's family-owned wineries and vineyards are relatively small, but Delicato Family Vineyards includes 4,200 acres of vineyards in Manteca, Lodi, Monterey and Napa, and encompasses multiple brands.
The first Delicato vineyard was planted in Manteca in 1924 by Gaspare Indelicato, an Italian immigrant who grew up among the vineyards of Sicily, where his family had grown wine grapes for several generations. Together with his sons and, eventually, his grandchildren, Indelicato grew the company to become a well-known source for wine grapes in the early days. The company has since grown its fame as a wine producer.
While Vincent Indelicato, 84 years old and a member of the family's second generation, is chairman of the board, the company is primarily owned and operated by the third generation. For Chris Indelicato, president and CEO, and his brother Jay Indelicato, COO, Delicato has been part of their lives since childhood.
"When we were little, my dad and two uncles would have us go out into the fields on weekends or during school breaks and hoe or sucker the vines. I quickly gained an appreciation for how hard the work is in the vineyards," says Chris, age 51. As he and Jay got older, their parents encouraged them to attend college and experience other career paths.
"Frankly, I didn't think I would go back to the family business after college, and even when I did a few years after college, I didn't think I would spend more than a few years at the company," says Jay, who is 57. "That was over 30 years ago and I'm still here."
Other family members hold positions in marketing, sales, communications, customer service, logistics and winemaking. When it comes to succession planning, the company has hired consultants and independent (non-familial) directors to assist with the process.
"There's a comfort of going to work every day and seeing people there that have known you your whole life."Jay Indelicato, COO, Delicato Family Vineyards
"Our family began succession planning back in the 1980s when the winery first began to grow," Chris says. "We were all given a lot of training and education on how to run a family business and share responsibilities." Today, non-family members also serve on their leadership team and staff.
For family members, understanding the line between ownership and employment is important, Jay says. "It's really beneficial to the company to keep them separate," he says. "Sometimes when we have a foot in both sides of the organization, the responsibilities begin to blur and we have to remind ourselves of what hat we're currently wearing."
The business has outgrown its current Manteca winery and distribution facility and will construct an upgraded 788,000-square-foot facility — with an office, packaging hall and distribution center — which is expected to break ground next year.
"There's a comfort of going to work every day and seeing people there that have known you your whole life," Jay says. "The support you get from the family throughout the normal cycles of life allow you to take more risks and be more successful."
Vino Noceto
Plymouth, Amador County
The Gullett family has been an integral part of the Shenandoah Valley grape-growing and winemaking community for three decades. Owner Jim Gullett and his wife, Suzy, originally purchased 21 acres in Plymouth with retirement in mind in 1984, but changed plans when they realized how ripe the area was for wine grape production. So in 1987 they acquired an adjacent 18.5-acre property and planted additional vineyards to launch Vino Noceto — a winery now known for its sangiovese. They produce their own wines onsite and have a tasting room open to the public.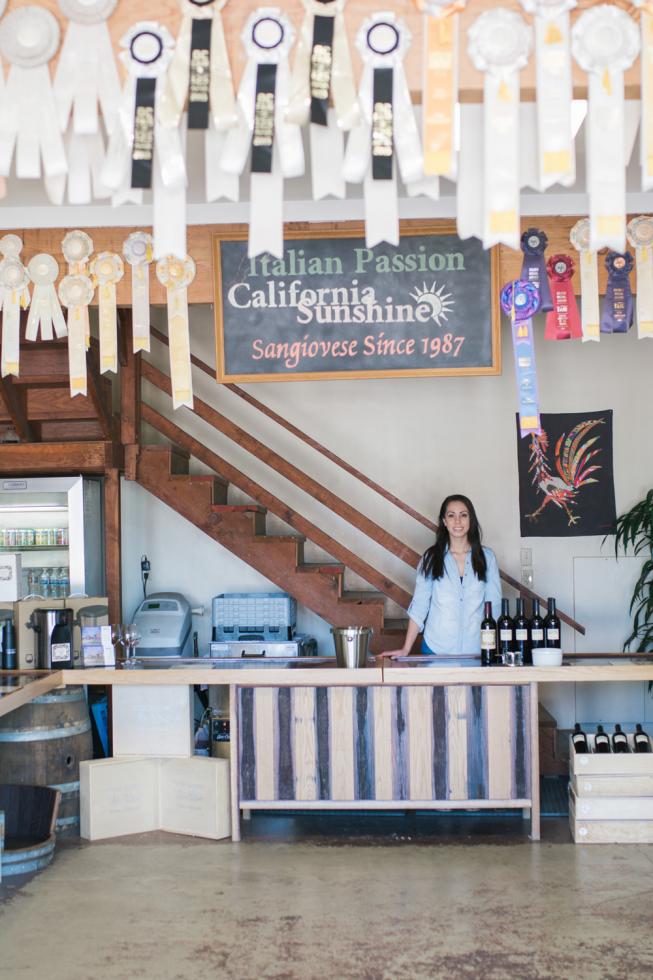 "They spent those three years between buying the property and the first planting doing things like talking to Darrell Corti [of Corti Brothers] about what kind of varietal to plant and finding the right clone of sangiovese," says daughter Lindy Gullett, 30, the winery's director of sales and marketing. "They put in a huge amount of time and effort to make sure they set up the right foundation."
Meanwhile, their three children grew up, attended college and got jobs elsewhere. About a decade ago, Jim, now 69, started succession planning. "The biggest problem, in my opinion, is getting people to have similar objectives," he says, adding that at the time he even considered selling his business.
Back then, Lindy had no desire to work for Vino Noceto, but understood the value of proactive planning. "It was kind of like forcing us to have these conversations before people were sensitive about it," she says. "None of us [children] were involved, so having a conversation about succession planning didn't feel personal. It was all hypothetical."
But reality set in as Lindy finished her Ph.D. in social psychology at New York University. Suzy and Jim had hired an employee to groom for the critical position of general manager, but Lindy noticed troubling issues early on. "I could see that the winery was heading to a place of being sold if I didn't come back," she says.
"There's a level of trust. I'm still their daughter at the end of the day and that's allowed me to really push things. It's allowed me to take risks in a way that I think are really hard in a traditional workplace."Lindy Gullett, director of sales and marketing, Vino Noceto
In 2015, Lindy returned home to work at Vino Noceto to handle marketing and sales, which have since seen a 40 percent increase. Suzy, who is 67 years old, still oversees wholesale orders. Until recently, the couple's son Bobby helped out in the tasting room and elsewhere.
As responsibilities shift to Lindy and other non-family employees, the family believes one element will carry them through the transition. "There's a level of trust," Lindy says. "I'm still their daughter at the end of the day and that's allowed me to really push things. It's allowed me to take risks in a way that I think are really hard in a traditional workplace."
Wilson Family Vineyards
Clarksburg, Yolo County
Wilson Family Vineyards may be known for its grapes, but the family prides itself on being a longstanding farming family in the Sacramento-San Joaquin Delta. According to Dave Wilson, the second generation to run the wine business, his father bought their first property in Clarksburg in the early 1920s and, though the crops changed over time, the family's commitment to agriculture never wavered. Now they farm about 1,000 acres of wine grapes.
"The biggest enjoyment I got out of this whole farming deal was making the ranches I farmed better than they were before," says Dave, age 91.
After the first grape harvest in 1973, the family weathered decades of highs and lows, says Ken Wilson, president and part of the third generation. The family adapted partly by creating an event venue on the property in the 1990s to attract consumers and secure another revenue stream. In the early 2000s, the family decided to primarily grow wine grapes and diversified varietals in an effort to sell to more wineries.
The third generation are in their 60s and consists of Ken, his brother Mark who is chairman of the board, and their sister Sandra Ogilvie who manages the event venue. They now own Wilson Family Vineyards and, as they plan to retire in the coming years, are looking to the fourth generation to assume responsibility. "Over the last few years, I've thought about how lucky I am to be working with my family," Ken says. "Having a deep knowledge of the people you're working with is a huge benefit."
The fourth generation — Sandra's children David Ogilvie, who manages vineyard operations, his brother Philip, who serves as chief financial officer, and their sister Robin, who helps out with the venue — all returned to the family business after going away to college and exploring other career paths.
When you grow up working on a farm, it's in your blood," David says. "When my wife and I had our first daughter, it really hit me how much I enjoyed growing up in Clarksburg and growing up on the farm."
The younger generation, however, has found a way to also explore their own interests. Together, David and Philip — both 37 years old — along with a family friend, started their own wine label, Muddy Boot Wine. "We work really well together because he is the business guy and I am the production guy," David says of his brother. "We bounce ideas off each other really well and he's definitely more of the entrepreneur type and I'm the one who is holding back the reins — the more practical one. But without him pulling me, I wouldn't be challenged as much."