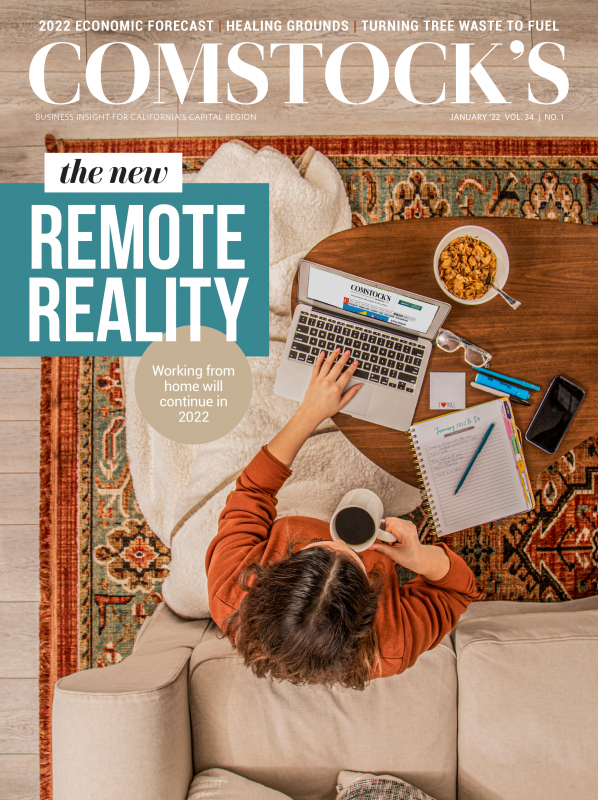 This story is part of our January 2022 print issue. To subscribe, click here.
Health care architecture has advanced from timeworn, stark and sterile buildings to intentional holistic facilities that deliver a positive patient experience and healing environment. Barren corridors have been replaced with soothing colors and patterns, and patient-friendly wayfinding — guiding visitors and patients from one space to another. Nature-inspired artwork, light-filled rooms and healing gardens are welcome additions that invoke a sense of calm. Here we feature several Capital Region health care spaces with creative approaches to healing design.
Project: Sutter Roseville Medical Center Emergency Department Expansion
Architect: HGA
Location: Roseville
Year completed: 2020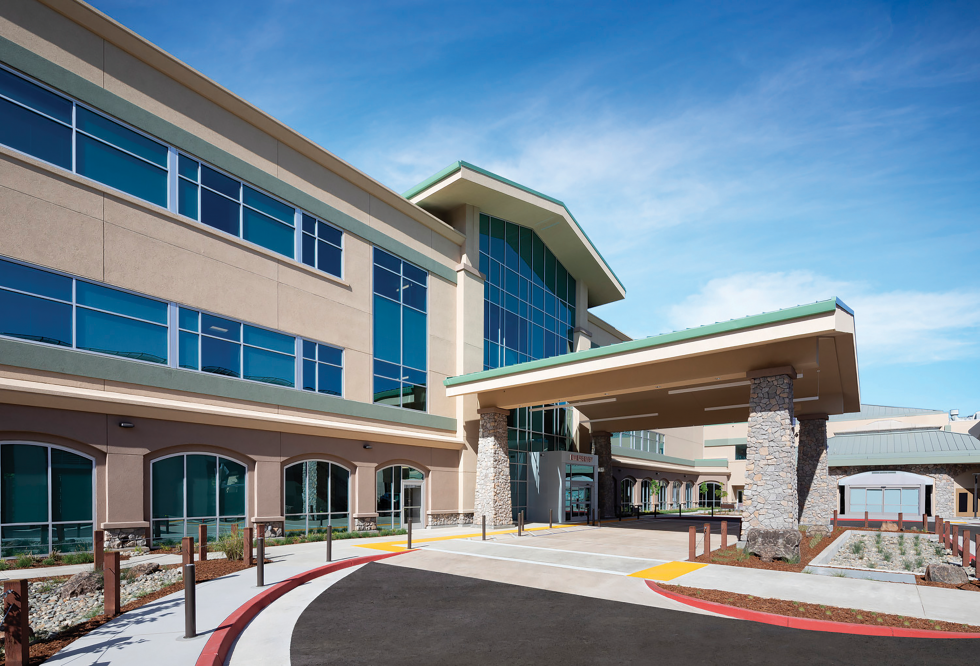 To keep pace with Roseville's growing population, Sutter Roseville Medical Center embarked on an expansion of its emergency department. The 100,000-square-foot expansion occurred in a tight area sandwiched between a parking structure, the hospital and a medical office building. The existing facilities also had a strong design component with defined lines, arcs and colors that was challenging to match. The goal was to seamlessly integrate the expansion with the current structures. "We did our best to blend in the project as if it had been there from the beginning," says Greg Osecheck, health care principal for HGA.
But the real change came on the inside. With the interior design, the goal was to create a modernized space that promotes healing. "We wanted the design to fit, but it needed a fresher, more modern color palette. I called it a more modernized approach to the familiar," says Tracy Randall, HGA senior interior designer. The team engaged with hospital leadership and staff, patients, and community members to work out the design guidelines. Based on the feedback, the designers incorporated natural light through expansive glass, and selected nature-inspired finishes and graphics. Patient-friendly wayfinding elements were also installed on every floor, including special floor patterns, colors and elevator lobby graphics. "Wayfinding is very important in a health care facility," Randall says. "People are experiencing an emergency and they're stressed. They need calmness to be able to guide themselves around and find their way."
HGA also worked with an art consultant and hospital art committee to commission local artwork to decorate the new space. More than 25 regional artists are represented. Custom-designed acrylic panels with soothing graphics offer a calming entry to the triage rooms. A permanent local artists gallery with wood block prints, paper quilling, mixed media paintings, photography and other artworks link the transition corridor between the expansion and existing hospital. A hand-painted mural of the Capital Region's native oak trees by Sacramento artist Maren Conrad also fills the space.
A big win for the project team was delivering the expansion ahead of schedule. With the coronavirus rapidly spreading in the U.S., the contractor was able to add more staff and secure the necessary OSHPD (Office of Statewide Health Planning and Development) approvals to accelerate the timeline by a full month, completing the project in April 2020, and providing the emergency room department with additional, critical care space.
Project: Sutter SeniorCare PACE Facility
Architect: Dreyfuss + Blackford
Location: Sacramento
Year completed: 2018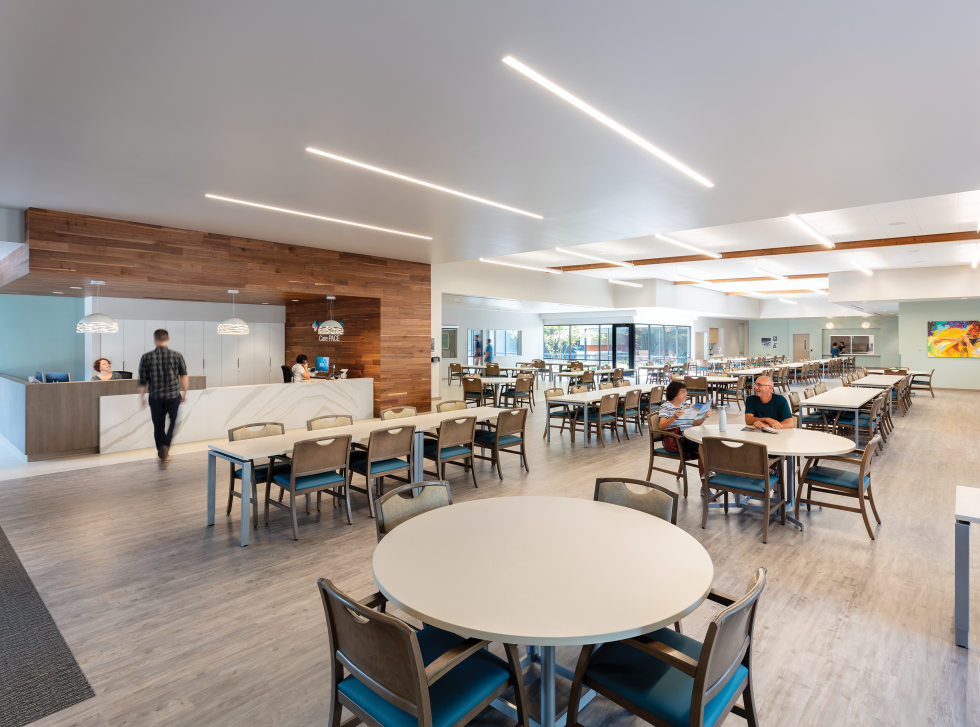 Located near the convergence of the American and Sacramento rivers, the new Sutter SeniorCare PACE facility in Sacramento is an adaptive reuse of a former California Highway Patrol office. The original PACE (Program for All-Inclusive Care for the Elderly) facilities were housed in two old, dilapidated buildings; the architect's challenge was to combine the in-house and home care services in one new location.
"We wanted this to feel like an extension of the participants' homes, so we brought a lot of warmth and a feeling of hospitality to the space."

Stephanie Swain, director of interior design, Dreyfuss + Blackford
The facility comprises three separate buildings that are interconnected by a light-filled outdoor courtyard. A number of the participants at PACE have dementia, Alzheimer's disease and sensory issues, so the design reflects these specific needs, including the addition of a sensory deprivation space for a peaceful, quiet experience. A full clinic provides primary care and dental services, and a large, open great room serves as the main space for services and activities during the day. "We wanted this to feel like an extension of the participants' homes, so we brought a lot of warmth and a feeling of hospitality to the space," explains Stephanie Swain, director of interior design for Sacramento-based architect firm Dreyfuss + Blackford.
Smaller rooms for arts, crafts and reading branch off the great room. Easy access to the outdoor courtyard with plantings, games and a myriad of seating extends the usable space. To provide meals on-site and for home delivery, the facility has a full-service warming kitchen. Other amenities include shower facilities, a salon and a complete physical therapy suite. On average, 150 participants utilize the site each day.
A separate space was designed for the administrative offices, with input from facility staff on the aesthetic design and material selection for beauty and longevity. Private access to the outdoor courtyard for staff was important and made possible with a sliding ipe-wood (a Brazilian hardwood) gate, which can open up for larger events.
To promote a positive patient experience, participants helped select the artwork that occupies the space, including pieces they found memorable, such as an old Singer sewing machine. A vibrant and colorful image of a musician playing the cello, created by a local artist, hangs in the day room.
Project: Alex G. Spanos Heart & Vascular Center at Dignity Health's Mercy General Hospital
Architect: HDR
Landscape Architect: The HLA Group
Location: Sacramento
Year completed: 2014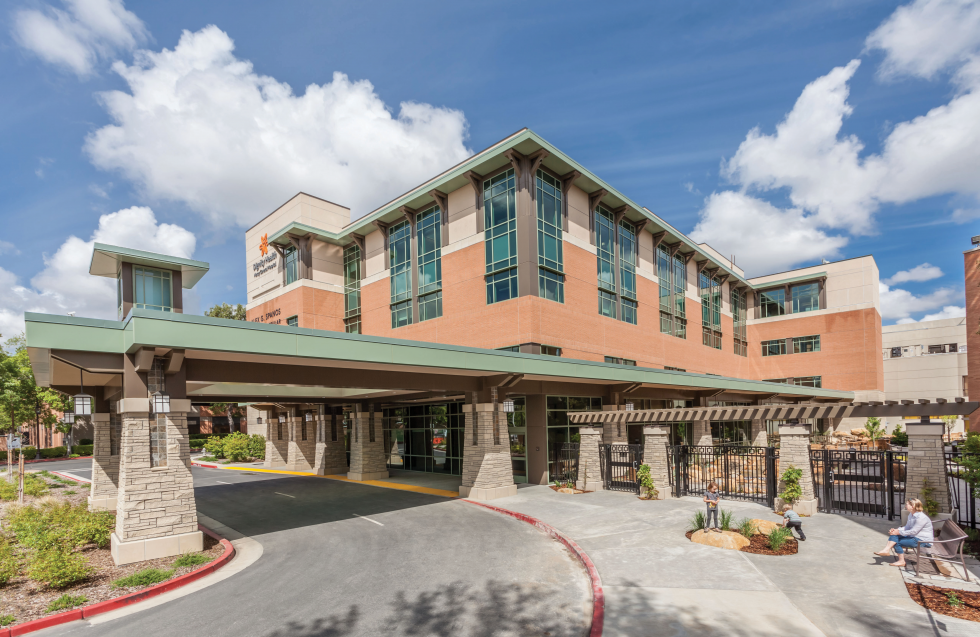 Located in a historic district of East Sacramento, Dignity Health's Mercy General Hospital has served the local community for nearly 100 years. The new Alex G. Spanos Heart & Vascular Center addition needed to blend in with the existing hospital as well as the surrounding community. The architects embarked on a number of field trips to find design inspiration. "We took lots of drives around the neighborhoods and took lots of photographs, mostly of details on the homes, and it was obvious to us that a masonry and glass kind of box wasn't going to work there," says Tom Onnen, health care principal for HDR. The team also visited a well-known example of the Craftsman style, The Gamble House in Pasadena, and Disney's Grand Californian Hotel & Spa, a commercial application of the Arts and Crafts design style.
The first step was to design a front entryway that people could easily find. A porte cochere supported by stone columns clad in tapered stone and large storefront windows help emulate the craftsman feel and provide a grand, welcoming entry. Interiors were designed with warm woods and earth tones, especially in the lobby. A new light-filled chapel was designed to replace the existing dark and windowless space. For patient convenience, the cardiac services, which were spread over a myriad of buildings, were consolidated. A one-stop intake center was located on the main floor with convenient access to other services such as the catheterization labs, surgery centers and cardiac intensive care unit. "We were again trying to make things easy for the patients and their families," Onnen says, "including designing an expansive lobby with plenty of space for families to wait."
The new heart center building was designed as a separate facility and needed to be spaced away from the existing building, which gave the architects the ability to add a multi-amenity healing garden directly off the main lobby with the extra open land. The Sacramento landscape architecture firm The HLA Group was tapped to design the outdoor space. "The goal was to create a contemplative oasis for patients and staff and visitors," says HLA Principal Landscape Architect, Greg Hauser. The landscape team used various textures and colors in the plantings and designed a terraced water feature with rock outcroppings, reflecting pond and wood decks made from organic materials. An assortment of seating, viewing and reflection areas create calm and relaxing spaces. The landscape design helped to seamlessly integrate the hospital and the heart center into the surrounding neighborhood.
Project: Kaiser Permanente's Elk Grove Mental Health and Wellness
Architect: Lionakis
Year Completed: 2017
Location: Elk Grove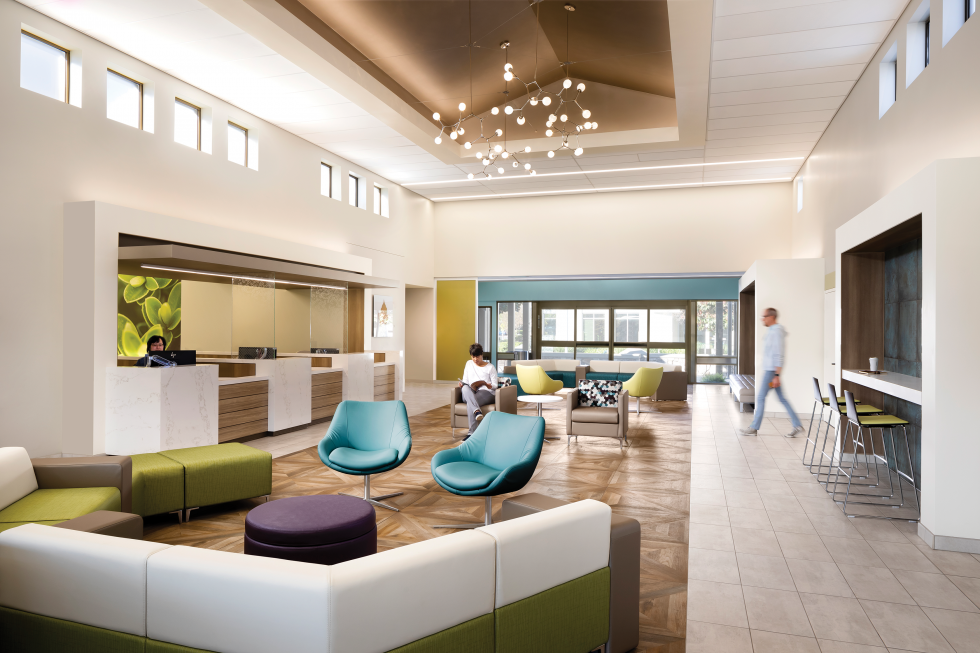 In its former life, the Elk Grove Mental Health and Wellness facility was an aging call center and medical office building in dire need of an upgrade. The architecture team worked with the landlord to give the exterior a modern refresh with new paint, a restriped parking lot and updated landscaping. But the biggest transformation occurred inside: The 1990s-style interior was dated and showing signs of wear, prompting a complete gut job and renovation of the 16,000-square-foot space to create a modern environment for patients and staff.
The member-focused redesign called for a large, open area that would serve as a welcoming lobby, whether guests entered the facility from the front entrance off the street or the back entrance from the parking lot. "We wanted to create the same experience, no matter which entrance guests came into," explains Lionakis Senior Designer Jamie Jones. The original space had a high ceiling, but during the demo, the architects found more room in the ceiling area to make it even higher, which opened up the volume. Large 10-foot and clerestory windows bring in lots of natural light to the lobby, as well as the providers' offices, which is critical for behavioral health.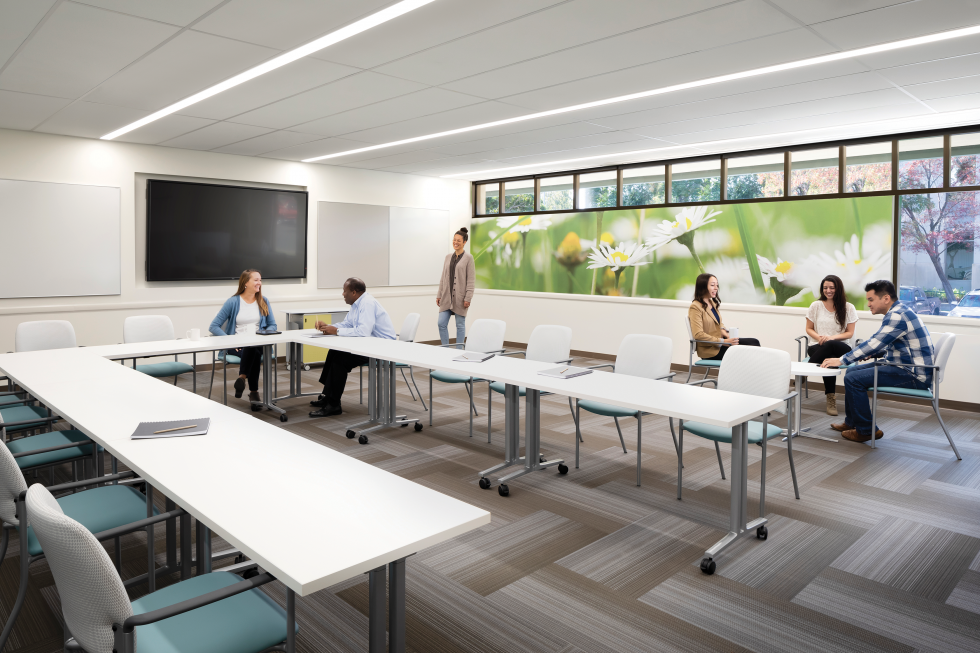 "We didn't want the space to have a clinical feel," says Lionakis Senior Associate Jill Torre. "We wanted it to have more of a hospitality feel that was welcoming." To achieve that, the finishes were inspired by Old Town Elk Grove and combined a warm rustic look with modern touches, making the space more hotel lobby than clinical waiting room. A convenient technology sidebar and varied mix of colorful seating also helped create a comfortable atmosphere. "It's not your typical gang seating, like at an airport," says Lionakis Associate Janice Yee-Oyoung. "You've got big pieces, little pieces, singular pieces for more of a lounge feel."
Clear signage provides a good sense of wayfinding for members, staff and guests as they meander through the waiting area, group therapy rooms and offices. The team engaged with key stakeholders throughout the process and also worked with a local art consultant to select art pieces for the space. Each artwork was selected to create a harmonious and tranquil environment that promotes recovery and rehabilitation.
Project: Dignity Health Folsom Ranch Medical Center
Architect – TBD
Year of expected completion for the first medical office building: late 2023
Location: Folsom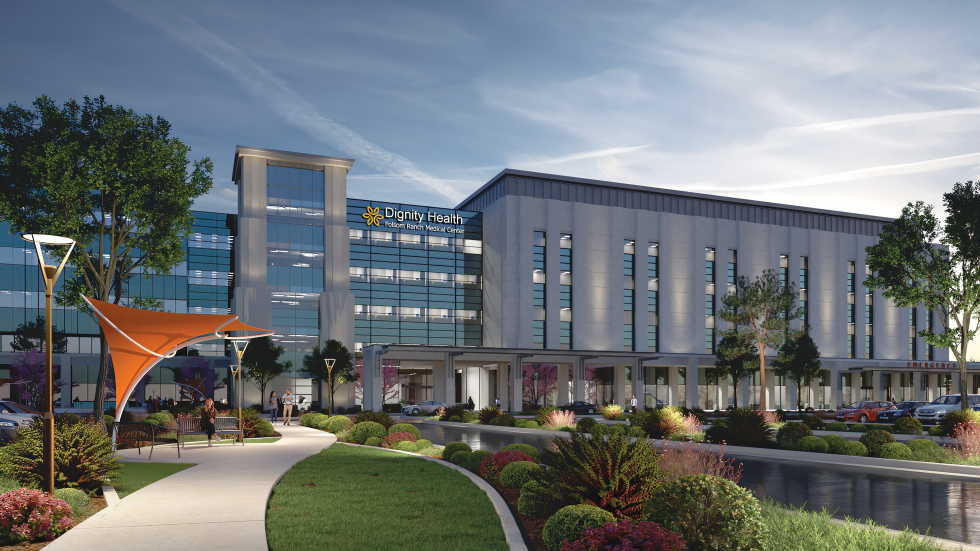 To accommodate the rapidly expanding community of Folsom, Dignity Health announced plans to build a 30-acre medical center campus in Folsom Ranch, a 3,520-acre master-planned community currently under development. The site is slated to include two medical office buildings and a three-phase hospital project that will grow alongside the community. "That's the way to do it so we can make sure our capacity increases incrementally as the community does," says Dr. Brian Evans, president and CEO of Mercy Hospital of Folsom and Mercy General Hospital. The first structure on the books is a three-story, 65,000-square-foot medical office building that will house physician offices, specialty services, an ambulatory surgery center and a variety of other services, which could potentially include walk-in services or urgent care. Construction is set to begin in 2022 and be completed by late 2023.
Following that, development of the first phase of the hospital is set to begin but will take several years to complete. As a result, the city's current acute care hospital, Mercy Hospital of Folsom, which now operates at near capacity, will need to remain open. "We are going to need Mercy Hospital of Folsom to be operational for the foreseeable future," Evans says. "We still need the capacity there until we have phase two of the hospital done, and that could be quite a way in the future. It could be up to 15 years from now."
To determine the types of health care services needed for a specific population, Dignity Health is conducting community needs assessments. Based on the findings and the demographics of the community, it will plan for services that accommodate the greatest needs.
Dignity Health has not yet selected an architect for the project but is in the vetting process. "We definitely need to make sure we have somebody who has a strong vision and understands the healing environment we are trying to create," Evans says. "When we look at both the MOB (medical office building) site, as well as the hospital site, we obviously need a functional design, but we also know that when people come to us for health care services, they are looking for healing. The environment they walk into, drive into and interface with is really important to their overall sense of well-being and the healing process. So that is exactly what we are looking to create in Folsom Ranch."
Project: UC Davis Children's Surgery Center
Architect: HGA
Year completed: 2019
Location: Sacramento
Designing a health care space for pediatric patients requires a different approach; their needs are more family centric and different from adults in scale, programming and support services. Architecture firm HGA took that to heart when creating the new space for the UC Davis Children's Surgery Center in Sacramento. Before starting, the architects met with a child life specialist from UC Davis, whose role is to help pediatric patients and their families cope with the stress and uncertainty of illness and injury. "They know their patient types very well, so we worked with them early on in the process," says HGA Health Care Principal Greg Osecheck. "They spoke to the needs of pediatric patients and what the space should look and feel like."
A unique pediatric necessity was the ability to quickly change the temperature in an operating room to meet the needs of the tiniest patients. "Using computational fluid dynamic modeling, we were able to design a system to ensure we could make that happen for the client in all of the ORs," Osecheck says.
HGA also added a unique programmable technology on both floors they dubbed "the river," which is tucked up in the ceiling as recessed cove lighting that can be programmed to a variety of colors. When pediatric patients are wheeled down the hallway from the pre-operation space to the operating room, they can have their favorite color displayed. "The technology is intended to help calm nerves and even provide some control over what's going on," Osecheck says.
In addition to designing a new waiting room and pre-op and post-op recovery bays, the project called for new department offices, as well as some faculty spaces to meet the needs of the teaching hospital. All the operating rooms are integrated with live video feeds that can be watched from the adjacent collaboration room by students in training.
HGA used soft curves and shapes like they would in an adult environment, but also incorporated brighter colors and different patterns and playfulness. For example, the waiting room has whimsical cutouts that children can climb into when they are visiting the center. Low, rounded seating with fun patterns is right-sized for young patients. The design is centered around providing positive distractions for pediatric patients, and easing any nervousness or anxiety they or their families may have.
–
Stay up to date on business in the Capital Region: Subscribe to the Comstock's newsletter today.