Something smells good coming from the Loaves & Fishes kitchen on an October morning. Tantalizing aromas fill the air, as meat sauce and chili bubble in six industrial-size aluminum pots on the gas range.
The kitchen and the cramped dining room are the domain of chef Edwin Burton, who is in nonstop motion. Volunteers and staff in white aprons crowd the kitchen. At nearby tables, others cut celery, carrots and potatoes. Burton circles from station to station, giving directions and offering encouragement.
"I have many conversations with the volunteers and staff, and we're all here for the same purpose — to help our fellow human beings." Edwin Burton, chef, Loaves & Fishes
In a few hours, volunteers will serve huge portions of pasta smothered in meat sauce, as well as ham, salad and fruit.
On a day-to-day basis, Burton's lunch program is the centerpiece of L&F's many moving parts. As the Sacramento region's biggest provider of homeless survival services since 1983, L&F extends a menu of programs — including an urgent-care center, library, mental health facility and employment guidance. More intangibly, it's a destination for human kindness, a scarcity on the streets.
At 7 a.m., when the gate opens to Friendship Park in Sacramento, hundreds of homeless residents line up for meal tickets. The park, a few steps from Burton's kitchen, offers coffee and doughnuts at a kiosk, hot showers, lockers and laundry service. Many of the unsheltered gather wrapped in sleeping bags or blankets, pushing their belongings in shopping carts or baby strollers along North C Street.
"I have many conversations with the volunteers and staff, and we're all here for the same purpose — to help our fellow human beings," says Burton, 56, pausing on his rounds.
Burton also interacts with the "guests," as those on the L&F campus refer to the homeless people they serve; it's a show of respect. "I know what they're talking about, because I've been homeless, too," he says. "Down here, you're still a human being, no matter what."
Among Sacramento's culinary community, where "celebrity" chefs compete for the city's first Michelin star and affluent foodies never miss a restaurant opening, Burton is an unsung hero.
He and his team prep, cook and serve 500-600 lunches daily, served from 11:30 a.m. to around 1 p.m., except on Thanksgiving Day (the Salvation Army and area churches handle that), though Burton's team does lay out a holiday-themed spread the day before. They served nearly 900 people at L&F's pre-Thanksgiving meal in 2017.
Typically, up to 50 people are needed to prep, serve and clean up after lunch. The army of volunteers from 35 area churches and other organizations that regularly rotate through the kitchen is essential, some bringing their own recipes and ingredients.
Mark Hawkins, who has worked at Friendship Park's information center for years, was once a guest himself.
"When you're living homeless, you make sure you get down to Loaves & Fishes every day, because at least you'll be able to eat," Hawkins says. "When you don't have a door to close behind you at night, it's the only thing that's steady and secure."
Burton runs his kitchen without the benefit of traditional purveyors, though there is a budget for bulk staples. Mostly he's confined to using what's on hand in the L&F warehouse, comestibles donated by the Sacramento Food Bank & Family Services, the Department of Agriculture Commodity Supplemental Food Program, Freeport Bakery, the Golden 1 Center via its Second That Program, area farms, a few caterers and the public.
"Ed touches more lives on a daily basis than anyone else here," says Noel Kammermann, L&F's new executive director. He runs L&F with a staff of 80 and a $6 million budget, relying mostly on private donations and grants. "We don't take any government money," he says.
Kammermann, 38, arrived in Sacramento July 1 from Stamford, Conn., and moved into his cluttered office two weeks later. He left his job as the chief program officer of Inspirica, an organization specializing in "moving people from homeless to home."
"I want to end homelessness in Sacramento," he says, undaunted by the results of a recent survey that puts the number of homeless in Sacramento County at an estimated 3,665, a 30 percent increase over 2015 and a record high. Because many homeless people regularly wander from city to city, skewing any census that's taken at any given time, Kammermann estimates the figure is closer to 5,000.
"Ed doesn't like the spotlight, but makes an incredible impact every single day," Kammermann says.
Burton's immediate boss, dining room director Tasha Murdock, came to L&F from Volunteers of America 12 years ago.
"Some people eat out of garbage cans and find leftovers in bags on the ground," she says. "I want to feed them something nutritious and filling."
Burton and Murdock plan the menus weeks in advance and seem to have an ideal relationship. "I do the office work upstairs, Ed does the cooking downstairs. We complement each other," Murdock says.
Over three visits to Burton's kitchen, the comments from staff and volunteers begin to echo each other.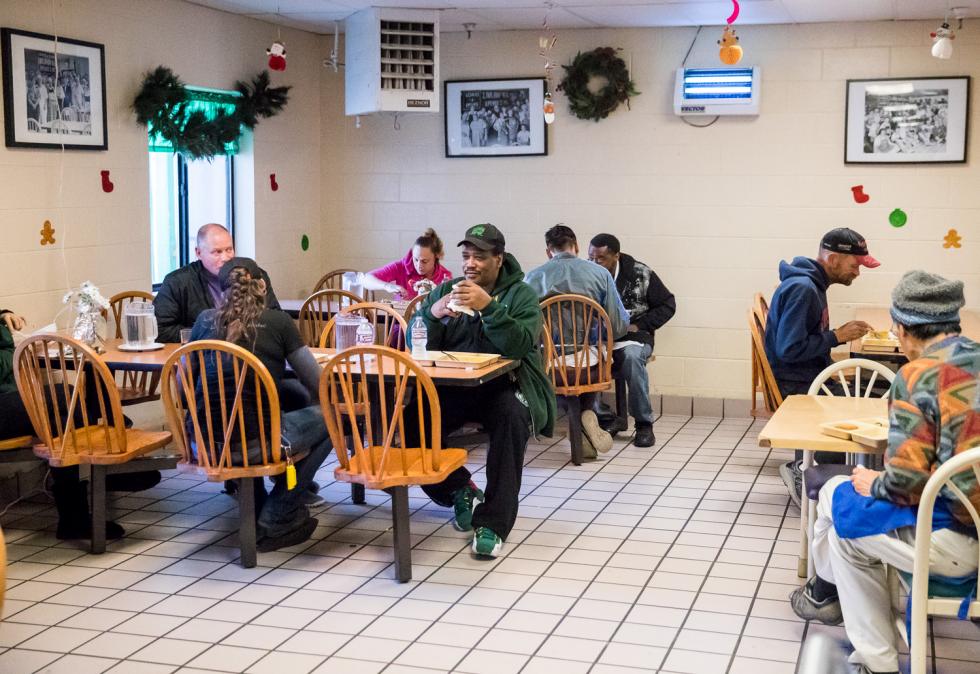 "I wouldn't be here if it wasn't for Ed," one volunteer remarks. Another says, "He puts love into his food, that's his gift."
Working in the kitchen one November morning were longtime friends and fellow St. Robert Catholic Church parishioners Richard DeCuir and Ray Turner. DeCuir, a former Sacramento County Sheriff's deputy, has volunteered since L&F opened. Turner, a retired banker, has shown up regularly for 18 years.
"Ed's easy to get along with," DeCuir says. "I've never seen him get angry."
"Ed is never overdemanding," Turner says. "The way he interacts with people is amazing."
When Burton is asked to explain the repeated accolades, he responds with his typical modesty: "I guess because I treat everybody the way I want to be treated," he says. "With respect."
ΔΔΔ
Burton grew up in Detroit as one of 10 children. As a child, he was sent by his mother to the Salvation Army to check on her two alcoholic brothers "to make sure they were OK," Burton recalls. "Later, one of them froze to death outside. My second oldest brother also died from being an alcoholic."
He began his cooking career more than 30 years ago, after following his sister and other family members who migrated to the Bay Area from Detroit.
Though he had no cooking experience, he landed a job at a TGI Fridays (his "school," Burton says), followed by gigs at Red Lobster, Holiday Inn, Bennigan's, Red Robin and the La Salle Café in Old Sacramento. He worked as a prep cook and line cook. "I learned quite a bit, but it was hard work at a fast pace," he says.
Burton's last restaurant job was at the long-closed Bleachers Sports Cafe on Exposition Boulevard. That's when his life derailed.
"I had an altercation with a guy I worked with and left Bleachers," he says, his voice barely a whisper. "Then my wife and I separated. I moved out, lost my way and ended up on the streets. I pushed a cart and camped in the woods. I was broken and just trying to get away. I didn't tell my brothers and sisters because I didn't want to burden them."
He was homeless for "four or five months," he says, but within a month of leaving Bleachers, he became a volunteer at L&F, eating from the same meal program he would one day oversee. Soon, a friend helped him get a job in the kitchen, washing dishes and mopping floors, then assisting with lunch. That was 17 years ago.
"One weekend I asked a supervisor, 'Do you mind if I cook something?' and she said OK," Burton recalls. "I made Alfredo primavera. She took it home to her mom, who happened to be the dining room director, who later said to me, 'That was good. Can you cook anything else?' I said, 'Yeah.'"
Burton's restaurant experience impressed his L&F bosses. For instance, "We were doing everything in this small kitchen, one thing at a time. I suggested we could have so much more room if we moved some of the prep work into the dining room.
"Then I reevaluated everything I learned in restaurants, about cooking for one person at a time, and learned to cook on a big scale. Eventually, I became the executive chef."
Burton's job is a labor of love, "a blessing that has given me a better perspective. I've learned patience, for one thing. Working in restaurants, you're just a number. Here, there is compassion," he says.
Burton has seen changes at L&F over the years. The organization has been able to expand its survival services and add staff, due to increased funding through private donations and grants.
With assistance from the Mercy Foundation, in January 2007, Friendship Park 2.0 replaced the 24-year-old original, expanding it to twice the size, moving from a nearby cul-de-sac to the center of campus, and adding gazebos, bike racks and a service center.
Big changes have occurred in Burton's personal life, as well. After being engaged for "almost two years," he and his fiancée, Mary Osborne, will say their vows in April. Last June, they bought a house in Sacramento near Del Paso Heights.
"We met here when Mary was a guest, then a volunteer," Burton says. Osborne now works with the Winter Sanctuary program, a seasonal overnight shelter.
"We've been together for 11 years," Burton says. "I'm a very happy man."
Burton's story is one of success, but Sacramento's homeless population continues to struggle. He sees it every day. "We have some guests who want help and some who don't," he says. "Some want their own rules."
One major step toward addressing ongoing homelessness occurred on Nov. 8, when — after years of contention — Sacramento County and the City of Sacramento jointly agreed to invest $44 million in a homeless prevention program that, in part, will help fund emergency room care, with emphasis on substance abuse and mental health issues.
Also, the annual Winter Sanctuary opened Nov. 20, co-sponsored by the Sacramento County-funded First Step Communities and area congregations. It provides overnight shelter and meals for 100 people on a first-come basis, through April 2.
ΔΔΔ
Lunch is an hour away, so Burton takes a short walk to the Memorial Wall in Friendship Park. Constructed in 1990, the stone wall is conjoined to a waterfall and pond. Etched into the wall are the names of guests who have died over the years, a tribute to those who may be otherwise forgotten.
"They were regulars," Burton says, looking at the wall. "We find out they die when the police let us know."
L&F requires guests to register for the lunch program as a way of collecting identification and health history, and to track population. By the very nature of transiency, though, homeless people come and go. Many may be known by their stories, but because of addiction, mental illness and failing health, they are often largely unknowable as the people they once were.
Burton heads back to the kitchen to attend to last details before lunch.
"We all need a chance," he says, nodding at the greetings from guests along the way. "Some days you might not have this or that, but with God's blessing, you may get it next week. I just keep going."