While some companies in the Capital Region anxiously wait for the economy to return to normal, others have set out to create a new normal. They have found new ways to market themselves or have moved into new products and services.
"We haven't felt the recovery yet, so we decided to engineer our own," says Rick Wylie, president of Beutler Corp. His company, which relies mainly on installing heating and air-conditioning systems into new homes, has branched out into solar panels, plumbing and electrical work.
Nor-Cal Beverage Co. Inc., a soft-drink bottler that has been around since the 1930s, got out of that business to become a contract packer and distributor for other beverage companies.
BMD Inc. in Galt — the initials stand for Business Materials Distributors — took a crash course in marketing to create eye-catching displays and electronic kiosks in stores that sell its products.
But this isn't a feel-good story in the tradition of Judy Garland and Mickey Rooney putting on a show in an old barn and ending up on Broadway. At best, these executives sidestepped the big hole created by the collapsing economy. More often, they are climbing out.
Beutler, for instance, diversified to keep from disappearing entirely. The company peaked in 2005 with about 2,100 employees in six locations and sales of about $192 million. Then the bottom fell out of housing construction. A quarter of its business disappeared in 2006, to $144 million. The business lost a quarter of that in 2007.
The new ventures are an attempt to get a larger piece of a shrunken market for new housing and to move aggressively into the renovation of older home-energy systems.
"And even with all those additions, our volume dropped to $44.5 million in 2009," Wylie says. "This year, that's almost exactly the budget. It will be the first year it hasn't been a precipitous fall."
He now has only 350 workers on the payroll, less than 20 percent of the company's peak employment.
What allowed Beutler to hang on was a change in approach. If they couldn't get more houses to work on, they'd get more work in each house. In 2008, Beutler bought an electrical contracting firm and a plumbing firm. In 2009 it became a dealer in solar products.
With Beutler handling all the installation and service for all the working systems in a home, the builder has fewer companies to manage.
It's paying off. Beutler got a contract to provide an array of solar panels for a large apartment complex in Citrus Heights.
At the same time, the company changed its attitude toward renovations. Instead of merely taking orders that happen to come in, Beutler is actively selling the idea of upgrading the energy efficiency in older homes.
And he's marketing a water-cooled attachment to boost the efficiency of large commercial air conditioners and refrigeration units.
"We haven't felt the recovery yet, so we decided to engineer â?¨our own."

Rick Wylie, president, Beutler Corp.
"The market is unstable. Nobody can accurately predict what will happen next. So you have to put a lot of fishhooks out there," Wylie says. If one of the areas takes off, Beutler may have to focus the business's attention and let some of the other efforts slide.
"But if they all do only so-so, the combined results can help us," Wylie says. "That's really the bottom line. You've got to be extremely flexible. Don't grasp anything extremely tightly. Be ready to let that go and grab another one."
Nor-Cal Beverage got a head start on the recession. Back in 1999 the company bought a plant in Anaheim that packages beverages for other companies.
"That plant was really our avenue of understanding co-packing in a much larger fashion," says Shannon Deary-Bell, Nor-Cal's executive vice president. "We saw that we were good at it. We saw that we could turn a plant around and run it very well."
At the same time, the Deary family saw that soft-drink bottling was getting harder as Nor-Cal was caught between Coke and Pepsi competition. Concentrates for drinks kept increasing in price, labor costs kept going up, but prices weren't keeping pace and stores were asking for more and more service.
"At the end of the day you worked your ass off, sold a lot of cases, and there was nothing left in the cookie jar," says Don Deary, Nor-Cal's president. "As a family, it was a very difficult thing to do. We got out of the soft drink jungle. It was probably the smartest move this company made."
Nor-Cal sold its soft-drink line in 2007, and put the $52 million into a brand-new co-packing plant in West Sacramento. It has more than four times the capacity of the old bottling plant.
"We designed the plant not to make little tiny runs. The key is to make long, sustained runs," Deary says. "Your efficiencies go up, and your waste goes down."
And Nor-Cal no longer has to keep a fleet of its own trucks on the road to deliver its products. That alone was a big financial savings, he says.
As Nor-Cal was getting ready to shed one business, it was laying the groundwork for a replacement. In 2006, the family made a cold call to the makers of Arizona Ice Tea about co-packing work. That contract was signed one month after the family sold its soft-drink line.
Deary-Bell chalked up some of the success to good timing and a little luck. At the time Nor-Cal got out of the soft-drink business, Pepsi, Coca-Cola and Cadbury-Schweppes, which produced Dr. Pepper, were in a bidding war.
"I don't believe we'd be able to get today what we got then," she says. "There are good business decisions, sure, but there is some luck along the way too."
The Reid family didn't set out to get into a new line of business. Reid & Associates was doing fine as the sales representatives of ThunderBay, a door manufacturer with a factory in Mexico.
"We had loaned money to the company, and it was secured by the assets of that company," Griff Reid says. The company couldn't pay back the loan, and the Reid family took over the business in 2004, eventually moving production to China. Reid became vice president of U.S. and China operations of the newly renamed Composite Technology International.
"At the end of the day you worked your ass off, sold a lot of cases, and there was nothing left in the cookie jar."

Don Deary, president, Nor-Cal Beverage Co. Inc.
As Reid & Associates, the company had sold to several retail-building centers, such as Lowe's and American Building Supply. That already had been about 60 percent of the business. With the shift in the economy, the share grew to about 90 percent.
CTI has since added several new product lines. It sells doors, moldings, frames and jambs, and has a patent pending on a coating it calls CarbonCoat.
"The key thing for us is that we have been able to diversify," Reid says. Several products were developed specifically for large customers.
"During the recession, we saw the signs," Reid says. "We stopped selling to these smaller customers who would sell to the builders who would hang doors. We concentrated on our large customers, who are large billion-dollar companies."
By asking what kinds of products the big companies wanted, CTI had a readymade customer base for its additional lines.
"The nice thing about developing products specifically for your customers: It makes them reliant on you," Reid says. "They can't just bid it out as easily. We haven't really lost a customer in the last three years."
BMD Inc. didn't need to change its product line. Instead it changed its marketing. The company sells the building materials implied by its name: windows, fencing, insulation, fasteners and the like.
The innovation started when the company brought in Jason Gallivan as the director of marketing in 2008. He had seen a common phenomenon at the big-box home improvement stores. Customers would wander the aisles, unsure where to find specific products.
"How do we get people to buy products when there are less and less hourly employees around to help you because of the economy?" he says. His solution was to rank products by how fast the inventory turned over, and figuring out the best placement in a store. The fastest-moving items should be easy to find with no help, he says.
"That was the genesis of what led us to our retail solutions, finding out how to take top-moving products and finding how to put them into an area of the store that drove sales at a faster turn rate," he says.
The result was a combination of high-tech and low-tech marketing inside the store. The high-tech approach includes a kiosk with an interactive touch screen. Customers can search for fasteners, for instance, by name or by the type of projects that use them, such as decking. The kiosk tells where to find the nail or screw within a rank of nearby bins.
BMD has 32 kiosks in stores now and 125 more lined up for installation. The bins are color-coded by job type, with large signs that are easy to spot at a distance.
The gravity-fed dispenser makes sure there's always a box at the front, and it's easy for the store staff to tell when it's time to reload. The shelf design also allows BMD to stack more boxes in a given space. BMD gets product on the shelves and faster turnover of the product, Gallivan says.
Point-of-purchase incentives like free sets of plans online from DIY Network help draw customers back into the stores.
"I don't know what our company will look like five years from now, but sometimes it's just going with your gut."

Jason Weckworth, owner, Weckworth Electric
BMD's big problem now is keeping up with demand, Gallivan says.
Sometimes it's the customer more than the owner who drives a company in a new direction.
Jason Weckworth had a seven-person startup in El Dorado Hills in 2004 called Weckworth Electric. He had a social acquaintance with executives at RagingWire Enterprise Solutions, and hoped that would pave the way for getting some electrical work. He didn't expect what they asked: Would he oversee the entire construction of a new data center?
"That next year we went from seven to 70 employees," Weckworth says. He got a general contractors license, opened a metal fabrication division, bought an excavation company and eventually did about $90 million worth of work for RagingWire.
Then, in 2009, his big customer told Weckworth that it had overbuilt, and probably wouldn't need anything from him for about a year.
When he got over the shock, Weckworth explained that he probably wouldn't still be in business a year later unless RagingWire could find something else for him to do.
Weckworth Electric went from 90 employees to 30 in 2009, but RagingWire did come up with enough work to keep the company going.
This year, RagingWire again asked Weckworth to oversee all aspects of building a new data center. Weckworth hesitated, thinking it might be wiser to stick with just the electrical portion rather than get back on the roller coaster.
Yatish Mishra, RagingWire's president, bought Weckworth lunch and told him about RagingWire's biggest and most demanding client.
"He told me 'Our processes are better because of them. I can't imagine not working with them. You see where I am going with this?'" Weckworth recalls.
He signed a contract for $150 million spread over four years.
"How can I say no to a client like that?" he asks. "We put everything else aside for the trust of the relationship. When you do that, I think good things happen.
"I don't know what our company will look like five years from now," he says, "but sometimes it's just going with your gut."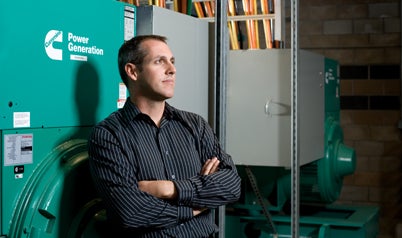 Jason Weckworth, owner, Weckworth Electric
New Year's is the quintessential time for small businesses to make (and keep) resolutions for growth. But achieving your company's 2014 goals hinges on knowing some important numbers, and many businesses never go beyond their income to identify and track essential metrics. Here are the 14 most important performance measures to track this year.
Like many independent business owners, Christine Trice has a product she believes in and plenty of potential customers. Trice, the owner of Sacramento-based Brown Bag Botanicals, also has a limited marketing budget to reach those customers.