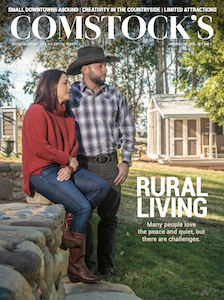 This story is part of our Rural Living issue. To see more featured Comstock's stories, click or tap here.
For anyone in the Sacramento area looking to get away for a day or weekend, the Capital Region has plenty of hidden gems — the many downtowns in rural enclaves that are easy to drive to and explore by foot. These places offer a variety of dining, shopping and overnight options by design. Where small cities in the region have flourished, it's often because business and city leaders have made a concerted effort to revitalize and promote their historic centers.
Here are four downtowns worth exploring within roughly an hour's drive from Sacramento.
GRASS VALLEY
An early model for small-town renewal
Things weren't looking good for Grass Valley in the early 1980s. A shopping center opened near Highway 49, a couple miles away from the historic downtown, luring JCPenney from it. Back in the historic downtown, the remaining merchants were concerned.
"The merchants that were there realized that they needed to do something to keep the downtown strong," Grass Valley Mayor Lisa Swarthout says. "As time goes, when shopping centers come in, oftentimes it will devastate the downtown."
In 1979, the retail merchants formed the Grass Valley Downtown Association, and seven years later the association adopted the National Main Street Center program of the National Trust for Historic Preservation. "Historic districts all across America and the world use this system to revitalize our downtowns, and it generally works," says Marni Marshall, the association's executive director.
Today, Grass Valley's downtown is a bustling economic hub in Nevada County, featuring wine-tasting rooms, Grass Valley Brewing Co., eateries and 200-plus shops, according to Marshall, and — unusual for many small towns these days — a movie theater with three screens. All in all, it makes for a downtown with a varied identity. "It's a cross section of a lot of different types of businesses," Swarthout says. "We're not defined as an entertainment district. We're not defined as a retail district. … It's more diverse than what you see in a lot of downtowns."
For Tammy Veralrud, this means regular trips to Fable Coffee, walking distance from her home. Fable Coffee, a third-wave coffee shop that opened in 2012, reflects the influx of upscale options downtown. "There's been a lot of change in the last five years or so, mostly for the better, I think," says Veralrud, who has lived in town for about 20 years. "For the downtown, it's impacted the (affordability of) housing a lot. But for the downtown area, it's great."
Swarthout, who closed her Mill Street Clothing Co. in July 2019 after 30 years in downtown, has seen change too. "I would say probably the greater part of our business in downtown Grass Valley was the locals," Swarthout says. "Tourism has become a little bit bigger in the last few years with more restaurants and the Grass Valley brewery opened."
Some business owners, such as Kathy Payne of Hair Shaft, worry about the lack of parking in downtown and other changes she sees. "I like my old town the way it was," Payne says. "But you have to allow change. I'm just selfish about this town because I love it."
SUTTER CREEK
A small town that stayed
Amador County has a couple dozen ghost towns, including Hardenburg and Yeomet, a testament to the county's rich mining history. Even some of the county's communities that have stuck around are a shell of what they were. Shan Trail, a volunteer at the Sutter Creek Visitors Center, points to Enterprise, a now-unincorporated community that at its height during the gold rush had about 60,000 residents.
"These gold-rush towns literally sprung up and were deserted literally overnight," Trail says. "I think it says something about the spirit of Sutter Creek that we never (abandoned the town)."
The downtown of Sutter Creek still retains much of its historic character, including Hotel Sutter, which dates to 1858, and Knight Foundry, which has been walking distance from Main Street since 1873. The foundry, which used to make cast iron, operated through the late 1990s and is run today as a nonprofit museum by residents of the town.
"We've really brought it to a new place in the last year or so, so that our tours are more dynamic and, I think, more interesting," says Robin Peters, who is on the Sutter Creek City Council and served as mayor in 2019. "We're actually melting metal and doing molding."
In general, a downtown's history helps draw tourists. "We have a lot of history here," says councilwoman Josie Cadieux-Faillers, who served as vice mayor in 2019. "People come here for the history, there's no doubt. There's a lot of people that are traveling on Highway 49 and wanting to see the gold-rush area. And (then) we get people who come over from Reno or up from Sacramento who just want to spend the day shopping."
Of course, downtown Sutter Creek has changed considerably since the 19th century. "Today, these are different kinds of shops, galleries, tasting rooms," Trail says. "Back at the height of the gold rush, it would have been bar, bar, hotel, bordello, bordello, hotel, bar, bar, bar, hotel, bordello, bordello, bordello. So back in the day, it really was the wild, wild West."
Today, Main Street features a close-knit community of shops.
"We don't have a lot of turnover like a lot of other small towns do," says Cadieux-Faillers, who also operates a Main Street women's clothing store, Tomorrow's Heirlooms. "We very seldom have a 'for rent' sign on any of our stores."
Sutter Creek mostly centers around its walkable Main Street, though adjoining Hanford Street features the Hanford House Inn, a boutique hotel with a restaurant, Element, that receives praise on Yelp for its caramelized bacon.
Peters says the city eyes making long-term improvements to the Hanford Street corridor, such as adding sidewalks. For now, Sutter Creek residents such as Corinne Brown are happy with what's here. "It's like everybody is just friendly," Brown says. "And even if you don't know each other, you do know each other."
AUBURN
Old Town — and a downtown
Though most small downtowns in the Capital Region share a common characteristic — the historic old town and downtown are one in the same — Auburn is unique in that it has both.
Drivers exiting Highway 49 into this Placer County city are met with signs that point in one direction to Old Town, which dates to 1850, and downtown, which has more of an early 20th-century feel, according to Keith Nesbitt, executive director for the Auburn Chamber of Commerce and a former city councilman.

Old Town Auburn looks like something out of the Old West and draws tourists because of that — there are antique shops, gift stores and several restaurants, including Auburn Alehouse. There's also The Pour Choice, a third-wave coffee shop and craft tap room that opened in 2017 in the abandoned Auburn Drug Co. that operated for more than a century.

Downtown Auburn has taken more work to cultivate. "When I moved here 29 years ago, downtown was pretty sleepy during the day," Nesbitt says. "You never worried about where to park."

Nesbitt credits projects that have boosted downtown, such as the construction of a central square with redevelopment funds roughly a decade ago. "We were kind of going through a metamorphosis anyway, but that one really kick-started it," Nesbitt says. "That was kind of the (embryonic) stages of the acceleration."

Today, a mix of businesses dot downtown's High Street and Lincoln Way, including Depoe Bay Coffee Roasters, Ninja Sushi and the Auburn Placer Performing Arts Center, which is housed in the old State Theatre that opened in 1930.

"Auburn is completely historic," says Madison Black, an employee at Winston Smith Books. Black, who's lived in downtown Auburn for two years, also likes that she can walk to work and to coffee shops. There's plenty to do downtown too. "We're always having events going on," she says. "And it has a small-town feel, but you still have a lot of commodities. I don't feel like we go without anything here in Auburn."

Work remains to grow downtown Auburn, Nesbitt says. "We want to nourish this area," he says. "It's not a super sales-tax producer. We understand that we have to bring in the right kind of other types of businesses in our other areas to support these. That's kind of what the main push is now — can we bring some higher tech companies that support these service industries?"

He's hopeful, though. "More and more people are learning how special Auburn is," Nesbitt says. "So I think the investment will continue."

GALT

Hopes continue for downtown

The downtowns of Grass Valley, Sutter Creek and Auburn can feel like finished products, beckoning day-trippers and weekend travelers with their mix of shops, high-end restaurants and hotels. Galt, near the southern border of Sacramento County, appears more of a work in progress, as it transforms its historic downtown into another destination for the region.

"I think it's been a little bit of a struggle," says Amie Mendes, economic development manager for the City of Galt. "We've met with the Old Town merchants a couple of times, and the thing that always comes up is (Galt's) identity. What do we want to be when we grow up?"

Galt, which celebrated its sesquicentennial in September 2019, boasts an extensive history. Old-timers at the Old Town Barber Shop note that in 1919 future President Dwight D. Eisenhower rode in a motorcade through Galt with the opening of the Lincoln Highway, according to The Galt Herald. The city also has been a railroad hub and dairy producer, though former downtown buildings like a rail depot and condensed-milk factory are long gone.

Now, city officials like Mendes and Community Development Director Chris Erias are kicking around new ideas. "The long-term vision was really for Old Town to provide a sense of place in the community," Erias says. "So the idea is to make it a destination-oriented place for the city."

There are some destinations already in town, though. The downtown overall has a cute, walkable feel to it. Those who make the 25-minute trek down Highway 99 from Sacramento will find places like the Velvet Grill & Creamery, a vintage-style diner featuring ice cream and milkshakes. A couple blocks away is The Coffee Shop Bakery. A little farther down, Brewsters Bar & Grill operates in a building that dates to 1882 and is listed in both the state and national historic registers, according to a 2012 city report.

Some of Galt's successes are due to the efforts of local leaders to make an investment in the city. Velvet Grill & Creamery sits on the ground floor of Galt Place, an 80-unit senior housing project completed in the early part of the decade with redevelopment dollars. The city's vice mayor, Shawn Farmer, owns The Coffee Shop Bakery.

Lorena Hernandez, a shift leader at the creamery, says she's seen a lot of change in downtown Galt in the nearly eight years the diner has operated. "A lot of new businesses have opened, and it kind of makes everything readjust," Hernandez says.

Mendes, Erias and other city officials are working to bring more residential projects to downtown Galt — and more pedestrian traffic to businesses. They have other ideas too, such as opening tours of Spaans Cookie Company, a family-owned business since 1896. The nationwide distributor's baking operations make Old Town smell like cookies.

But they want to preserve what seems to have worked for Galt and other small downtowns around the Capital Region. Erias says it's important for Galt that as it grows, "we maintain that sense of place and also that small-town charm. I think that bolstering and redeveloping Old Town is really a part of that."

—

Get this and other stories delivered to your inbox weekly: Sign up for our free email newsletters by tapping here.
Since the Industrial Revolution, the myth of the American Dream has centered around cities. As the story goes, the most promising rural youth leave their hinterland homes to seek their fortunes in the metropolis, perhaps never to return.
Part of this month's Rural Living series
Overtourism at some of the Capital Region's most popular seasonal destinations is not unfamiliar. But is there such a thing as too much of a good thing when it comes to tourism?
Part of this month's Rural Living series.
For many, an understanding of rural living is less about population numbers and topography and more about a sense of being.
Part of this month's Rural Living series.