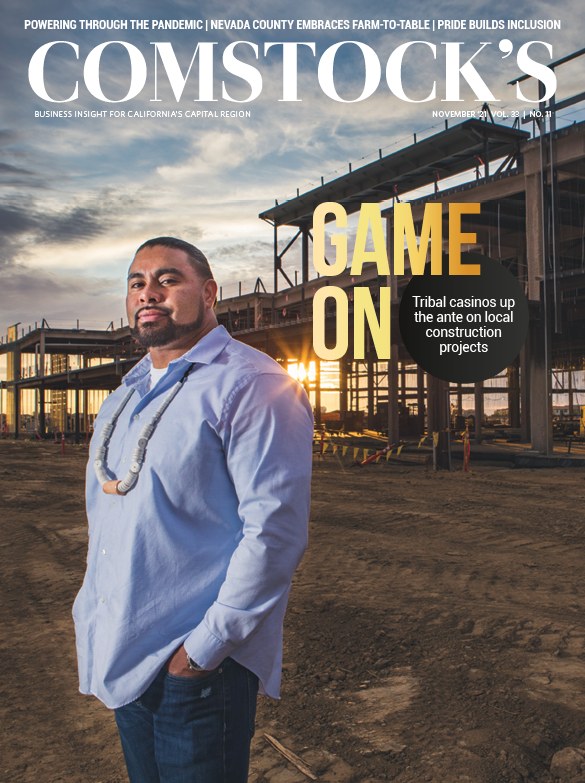 This story is part of our November 2021 issue. To subscribe, click here.
Tribal gaming can be major business in the United States. Gaming revenues for the 2020 fiscal year hit $27.8 billion, according to figures released in August 2020 by the National Indian Gaming Commission. While this amount represented a 19.5 percent decrease from the previous year — which saw $34.6 billion in gross revenues and the ninth consecutive year of a new record — tribes still averaged roughly $53 million in revenue per gaming operation even during a time wracked by the coronavirus pandemic and shutdowns.
Amid the ongoing pandemic, several tribes in the Capital Region are either building new casinos or undertaking significant expansions of existing operations. Wilton Rancheria recently held a groundbreaking ceremony for its $500 million Sky River Casino in Elk Grove, which is being built by AECOM Tishman and Yates Construction and is slated to open in the second half of 2022. United Auburn Indian Community had a similar ceremony for The Venue, a 4,500-seat, $100 million indoor entertainment facility at Thunder Valley Casino Resort in Lincoln. The facility is being designed by OTJ Architects and built by McCarthy Building Companies to be completed by early 2023.
Meanwhile, Enterprise Rancheria, which opened its $470 million Hard Rock Hotel & Casino Sacramento at Fire Mountain in Wheatland in late 2019, is already working with architect Friedmutter Design Group, theater and interior designer Sceno Plus, and contractor Moorefield Construction on an approximately $75 million expansion. This includes a 2,500-seat Hard Rock Live music venue that could open by next May.
Red Hawk Casino, operated by the Shingle Springs Band of Miwok Indians, broke ground in June on a 150-room hotel near Placerville. Design work is being done by Williams + Paddon, with Level 10 Construction and Avanti Builders handling construction. Red Hawk Chief Financial Officer Terry Contreras wouldn't disclose budget figures for the expansion, which also includes a bowling alley and go-kart track, but confirmed it's being paid for from cash reserves. He says Red Hawk anticipates the hotel opening in the fourth quarter of 2022, shortly before the bowling alley and go-kart track.
Another local project, a $180 million hotel and resort expansion at Yocha Dehe Wintun Nation's Cache Creek Casino Resort in Brooks was finalized earlier this year, with work done by HBG Design and Beaubois.
"I think the pandemic certainly delayed or paused construction and expansion plans throughout the country," says Dustin Thomas, chief of staff for the National Indian Gaming Commission in Washington, D.C. "But then in many cases, tribes kept moving forward with their expansion projects and are preparing for hopefully a day not too far into the future where things can get back to somewhat of a normal life, pre-pandemic."
All of the tribes in the Capital Region with gaming projects being built or undergoing major expansions are banking on it.
'Nothing But a Challenge'
To be Native American is to know generations of struggle and exploitation. Figures from the National Congress of American Indians noted poverty rates in recent years of 26.8 percent, compared to 11.4 percent for the U.S. general population, according to census figures, and life expectancy shorter by more than five years on average.
California has over 100 federally recognized tribes, though many tribal members are spread out and not based in one place, says Enterprise Rancheria Chair Glenda Nelson. Governmental appropriations in the early 1900s allowed rancherias for the Native Americans living sparsely throughout the state, but even those weren't secure. One of the two 40-acre parcels that Enterprise Rancheria originally had, for instance, is now fully covered by Lake Oroville.
Tribes often had to fight for land and federal re-recognition since the abrogation of the rancheria system in the 1950s and '60s. Both land and recognition are necessary for tribes to game, which is allowed federally under the Indian Gaming Regulatory Act of 1988 and in California through the 2000 voter initiative Proposition 1A, but it can take decades for individual tribes to win the right to do so.
Still, even as sovereign governments are fiercely protective of handling their own affairs, each tribe faced a new and unique challenge with COVID-19. Take Enterprise Rancheria's Hard Rock Sacramento, which shut its doors at 5 p.m. on March 20, 2020. The decision to close was easy, with the frightening and uncertain early days of the pandemic. The harder decision at the casino was how to actually secure the building.
Hard Rock Sacramento had to install locks on its doors, since casinos don't typically close. Two days before Hard Rock Sacramento shut its doors, Thunder Valley did likewise, with UAIC Tribal Chair Gene Whitehouse telling the Sacramento Bee, "This was not an easy decision, but it is absolutely the right decision at the right time." Red Hawk and Cache Creek casinos also shut their doors in mid-March 2020, according to statements from each tribe.
For the next two months, all four casinos and others throughout the country stayed closed, with Hard Rock Sacramento reopening on May 21, 2020 and Thunder Valley, Cache Creek and Red Hawk reopening on June 8, 2020. Red Hawk had to briefly close again in August of this year due to the Caldor Fire, according to a statement from the casino. In September, Cache Creek postponed grand opening plans for its completed resort expansion "out of an abundance of caution," according to a statement from the casino, temporarily halting concerts by acts including the Beach Boys and Boyz II Men.
Times haven't been easy for Hard Rock Sacramento since its reopening, despite the casino installing plexiglass and a $500,000 air filtration system as safety measures. "The pandemic's been nothing but a challenge, every single day, and we're looking forward to coming out of it in the near future," says Mark Birtha, president of Hard Rock Hotel & Casino Sacramento.
The pandemic also forced UAIC to temporarily pause plans to build The Venue, which will supplant its outdoor music stage, before the tribe finally broke ground in March. "We are on track to finish it by the end of 2023," says Doug Elmets, the tribe's spokesman.
"The pandemic's been nothing but a challenge, every single day, and we're looking forward to coming out of it in the near future."

Mark Birtha, president, Hard Rock Hotel & Casino Sacramento
Meanwhile, Wilton Rancheria and its casino operator, Las Vegas-based Boyd Gaming Corporation, paused plans for a second phase that could include a hotel and entertainment venue. The two groups are still hopeful, with Boyd Gaming Senior Vice President of Operations Chris Gibase, who is heading up the Sky River project, saying, "This is just the beginning of a regional resort."
Tribal gaming operations closed at a precarious time, with the U.S. Small Business Administration initially opting not to make them eligible for the Paycheck Protection Program. The SBA reversed course within weeks, though tribal gaming operations in California have been slow to take advantage of this option. Few tribal gaming operations in the state have had to do permanent layoffs either.
"We all struggled when COVID first hit, but I think, if you've done the studies, every casino seems to have done well during this timeframe," says Contreras of Red Hawk Casino. "People took a lot of their vacation money and spent it locally, and I think that's what the casinos are basically seeing right now. Probably can't last forever, but we'll enjoy it while we can."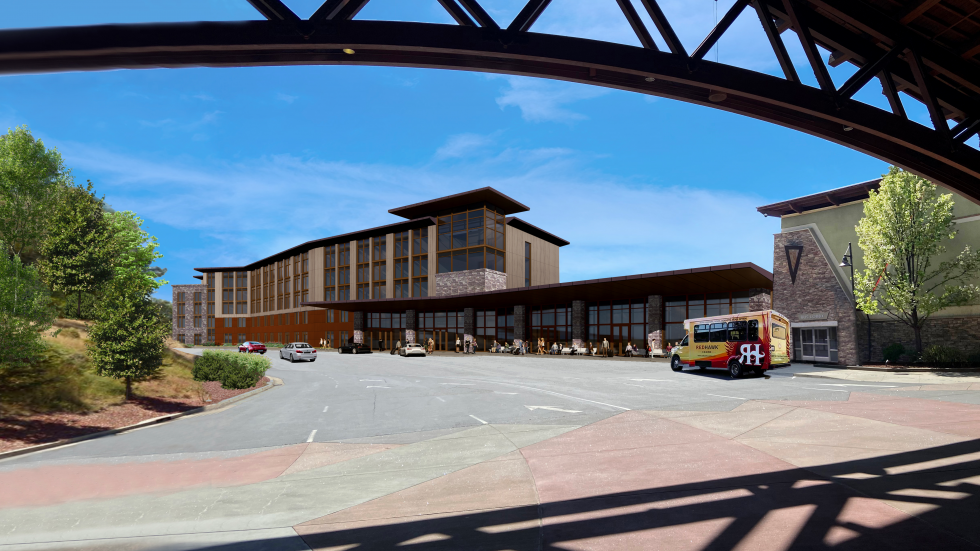 Counting on Potential
The first phase of Sky River Casino is still on budget and on schedule, with Wilton Rancheria Tribal Chair Jesus Tarango eagerly watching the progress on his drives to work. "I still get excited every day," he says.
The casino is being built at the site of Elk Grove's notorious ghost mall, an ambitious project thwarted by the Great Recession that has sat dormant since. "Seeing this eyesore of a ghost mall that has been in our city for years, it's just great to see something positive that's going to be invested in the City of Elk Grove," Mayor Bobbie Singh-Allen says.
Sacramento County Supervisor Don Nottoli says he heard figures at Sky River's groundbreaking that it could provide close to 2,000 jobs at full buildout. "It'll bring jobs, no doubt about that," Nottoli says. The tribe also has made $180 million in commitments to the City of Elk Grove and Sacramento County to provide various municipal services at the casino, agreements that are common in tribal gaming projects, as they sit on sovereign land.
Casino jobs can go a long way in areas like Marysville, which has long faced economic challenges. In less than two years, Enterprise Rancheria's Hard Rock Sacramento has already established itself as one of the largest employers in its area, people close to the operation say. Brynda Stranix, president and chief operating officer of the Yuba-Sutter Economic Development Corporation, says the first phase of the project created 1,300 jobs for the property, with a large majority being local hires. A roughly equal number of construction jobs were created, according to a spokesperson for the operation. "The tribe did exactly what they promised the community, which has made it even more valuable to the region," Stranix says.
"People took a lot of their vacation money and spent it locally, and I think that's what the casinos are basically seeing right now. Probably can't last forever, but we'll enjoy it while we can."

Terry Contreras, Chief financial officer, Red Hawk Casino
Nelson, of Enterprise Rancheria, says the tribe is also providing modest payouts for registered members of their tribe, while it repays its debts to build the projects. The majority of gaming tribes don't offer payouts, though UAIC has, according to past news coverage, and Tarango says Wilton Rancheria hopes to.
Red Hawk's fortunes have improved since its early struggles, with Contreras saying, "Business in general has increased each year. After our initial, let's say three years, we've done very well." And this phase of expansion perhaps isn't Red Hawk's last. The casino has had a small barn concert venue that can accommodate around 100 visitors. Red Hawk CEO Bryan deLugo says there have been internal discussions about building a larger concert venue. "Our plan is to do that as well, but that probably will be like phase four or five," deLugo says.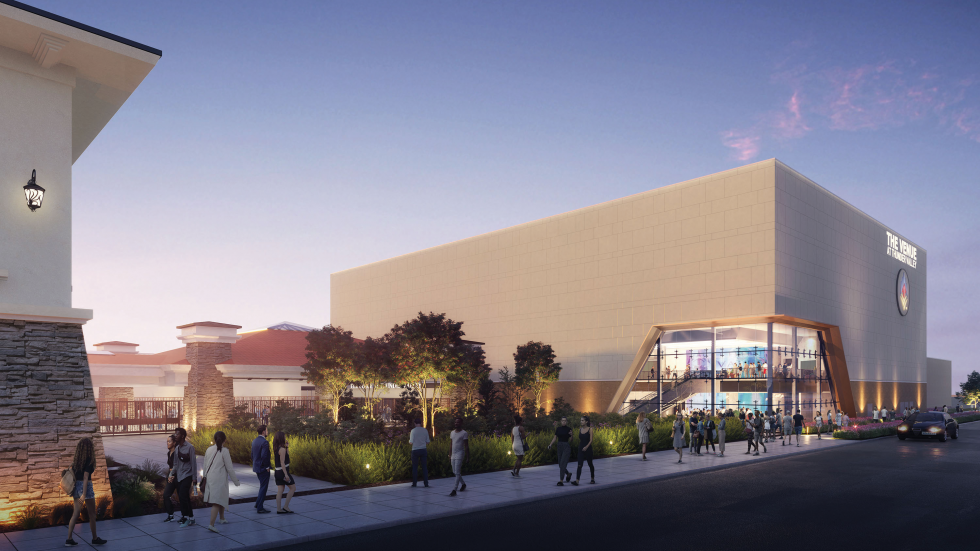 Placer County Supervisor Robert Weygandt, whose district includes Thunder Valley, is hopeful about what The Venue will be able to do. The outdoor stage, which has attracted acts like Pitbull, has been popular. "It has been, I think, quite successful for them," Weygandt says. "But this venue will be weather-proof … and I think it will be a very nice venue. I'm very confident of that."
Nelson is optimistic, too, about what Hard Rock Live can provide, even near the 18,500-person-capacity Toyota Amphitheatre in Wheatland. She speaks of the tribe being able to put on events like boxing, cage fighting and concerts by big-name musical acts. It goes with what tribal gaming venues must look to offer these days, according to Boyd Gaming's Gibase: "What you're selling is an entertainment experience."
–
Stay up to date on business in the Capital Region: Subscribe to the Comstock's newsletter today.