Jonathan Palmer, chief technology officer at Autometrix, has recently filled a software developer position after searching for over a year. "I'm thrilled when I finally find an engineer or developer that has the right qualifications and experience," Palmer says.
Tired eyes? You can listen to the audio version of this article here:
The company, based in Grass Valley, employs software, mechanical and electrical engineers to manufacture automated cutting equipment for textile markets — and develops the computer software needed to control the equipment. But despite a robust job market, Palmer says they've seen jobs go unfilled for years in the past. Historically, the local talent pool hasn't had enough skilled workers to fill technical positions and often talented youth leave the area for higher education.
But in 2016, business and government leaders in Nevada County had an "ah-ha" moment: A report, commissioned by the Nevada County Economic Resource Council in coalition with the Northern Rural Training and Employment Council, showed stakeholders that the county's local workforce needed easy access to tech-based skills.
The report, known as the Digital Technology Workforce Needs and Gaps Assessment, showed that many employers were in a similar position as Palmer. Interviews with 50 companies (25 from Nevada County and 25 from the greater Capital Region) found software development and network management employees in high demand, while 50 percent of senior technology staff at larger organizations were on track to retire within five to 10 years.
These findings prompted residents who work in the technology industry to create the Connected Communities Academy. A motivated task force of CEOs, engineering directors, human resource professionals and solopreneurs worked together to bring the idea of a one-stop technology skills training center to life.
The academy, based in Nevada City, offers classes ranging from $60 to $300 that teach everything from basic training for entry-level digital skills to more specific topics such as virtual reality content development, coding language, digital arts, WordPress and user experience design.
Autometrix filled the software development position recently by promoting from within. Chris Campbell, an employee from their purchasing and inventory department, transitioned into a software role after taking a coding class at the academy.
"I now develop systems to analyze large amounts of data," Campbell says. "Through my coursework I learned both a direct coding language and more broadly programing concepts applicable to other coding languages. I really appreciated the formal experience my instructor had in the field."
Opportunities Ahead
The student body at the Connected Communities Academy varies in makeup: Some are high school students preparing for their first post-graduation job, while others are older, more experienced workers who want to switch careers or need more hands-on experience to advance in their current roles. The course instructors, called mentors, are professionals working in tech with extensive backgrounds in computer science. Shawna Hein, a Grass Valley native, teaches a user experience class at the academy.
Hein spent several years in the Bay Area running a design consultancy and working with clients such as Google, Apple and the United Nations. She says the mentors want to help propel others into the high-growth, high-wage tech industry.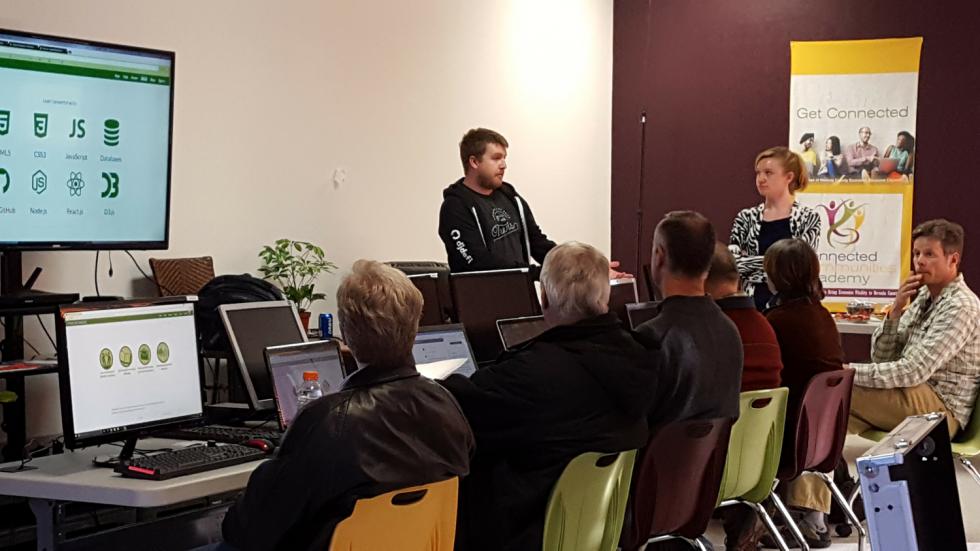 "There is a perception that getting a job in technology is extremely difficult," Hein says. "I choose to mentor at the academy because I want people to know that tech careers are accessible and can support a wonderful lifestyle in Nevada County."
Hein has a computer science degree and says working in tech does not necessarily require a technical background or experience as a computer programmer. "Regardless of whether you code, design, run research studies, write website copy or practice law, great jobs are out there with tech companies," she says.
The NCERC is also enthusiastic about developing a highly skilled workforce that may inevitably find jobs based outside of the region that allow them to work remotely. Many careers in the technology field allow the flexibility to work from home. According to the Intuit 2020 Report, conducted in partnership between the business software company and Emergent Research, experts predict that by 2020, more than 40 percent of the U.S. workforce will be freelance.
"The overarching goal is to have a high-wage tax base with families that shop, live and buy homes in Nevada County," says Jon Gregory, executive director of the NCERC. "In both employment scenarios, local or remote, the county benefits from the increased incomes."
The region has key lifestyle advantages when compared to the Bay Area, a location flush with freelancers. Nevada County offers a reasonable cost of living, abundant outdoor activities and a thriving arts scene. The community could attract, or with the help of the academy, cultivate freelance workers to live within the county and work remotely for companies around the world.
Tiny but Mighty
The nonprofit academy is managed by the NCERC which, by 2020, hopes to draw national recognition for the county as one of the most economically-competitive rural areas in the U.S.
This may sound lofty, but the NCERC has a solid platform to build on: Its programs encourage existing business growth and promote activities to attract entrepreneurs, startups and established businesses to the area.
"In order to reach our 2020 goal, we are building a workforce that meets the needs of our employers," Gregory says. "Be it with someone who specializes in virtual reality or nuanced information systems, we can fill those positions in Nevada County."
The organization is strategic in its efforts to recruit both employees and companies to the region. Many larger economic development teams target international companies with thousands of employees. The NCERC focuses on building relationships with smaller tech employers that have the potential to thrive in Nevada County.
They specifically target businesses working to develop products and services related to augmented and virtual reality. The organization has a task force, called the talent connection, that meets monthly to drive initiatives to recruit, develop and retain talent for local companies.
"Our smaller size is actually a key benefit because it allows us to be nimble without getting stuck in the bureaucracy larger regions encounter," Gregory says. "When the talent connection task force comes up with an idea, like starting the academy, it can be implemented quickly."
Another selling point the NCERC highlights is the region's rare combination of assets, including a cluster of tech business, a slow pace of life and reasonably priced homes when compared to larger metropolitan areas.
Regions like Silicon Valley, Seattle, San Francisco and Austin are well-branded as hubs for tech jobs while Nevada County has often flown under the radar. But it has an impressive lineup of technology offerings, especially considering its smaller size and population relative to major tech hubs, Gregory says.
There is a legacy of video broadcast innovation in Nevada County. AJA Video Systems, Ensemble Designs, Grass Valley (a manufacturer of broadcasting equipment) and Telestream are major players in the video industry based in the region. In addition, there are businesses specializing in software, electronics, telecommunications and medical technology operating in the area.
For brands that require employees to have technical skills, the academy is a boon. With companies like High Sierra Electronics, Clear Capital, Gyro-Stabilized Systems and Linear Technology — all technology companies based in Nevada County — job seekers have a robust market ready to hire those with strong tech abilities.
Traitware is a cyber-security software company based in Nevada City. CEO Bert Spencer sends employees to take classes at the academy to improve their capabilities as software developers.
The courses helped his employee Carson Hawley advance from a home-schooled high school graduate to a fully qualified Android developer.
"Attending classes at the academy gave me the strong, core knowledge I needed to pursue my goals," says Hawley, now a junior software developer. "I reference the courses I took on cyber-security and UX [user experience] design in my daily programming."
Those learning basic digital skills for the first time aren't the only ones that benefit from the academy's training programs. As an engineer for more than 30 years, Alan Moore grew up and worked in Silicon Valley for most of his life before relocating to Nevada City. A software developer, he's since founded his own foundation, Co-op Source.
Moore enrolled in the virtual reality game development class offered at the academy because he wanted more experience working with a particular program called Unity, a game development engine also used to build virtual or augmented reality applications.
"I'm convinced that virtual and augmented reality will change our relationship with computing, and getting in on the ground floor with this somewhat new technology is very exciting," he says.
After the class, Moore started an augmented and virtual reality development meetup group. The academy allows the group to use its lab and equipment.
Collaboration is Key
In addition to providing education, part of the academy's mission is to create tech opportunities via collaboration with other local programs. They partner with the Placer School for Adults, Nevada Union Adult School and Sierra College to host specific classes, as well as receive funding from organizations including NoRTEC, Connecting Point and the Nevada County Information and General Services Agency.
The academy benefits from subsidized rental space provided by the Green Screen Institute facility and the lab is accessible to students and alumni like Moore, who want to work on project development. The academy has also expanded to offer on-site courses in the offices of employers across the county. Another partner, the Nevada County Tech Connection, is a new community initiative solely focused on raising awareness of all regional technology initiatives. The efforts of the Tech Connection reflect the big picture goals of the academy.
One program offered through the Tech Connection is a local directory of tech businesses, freelance talent and educational training providers. They also aggregate tech events, meetups, jobs and internships and post them to the Tech Connection website. The goal is to highlight these activities for potential employees or companies researching the region online.
"We're trying to boost the public perception of the area so people are aware of the opportunity that already exists here," says Palmer, who in addition to employing a graduate of the academy at Autometrix is active with the Tech Connection. "If people understand that there are a variety of possible employment opportunities in the area, they may be more willing to relocate here."