Well after midnight, Jordan Ferrell returns to his Fresno hotel room and lowers his exhausted body onto the bed. After umpiring nine games in 12 days, he's spent. To unwind, he flips on the TV, scans the movie selection and retrieves his phone to check texts. Working the plate at tonight's game was an exercise in patience. The home crowd vocalized their displeasure at any call they deemed unfavorable. The normal 3-hour affair stretched to more than four hours when the tied contest moved to extra innings — 12 in all — before the deadlock was broken.
At least tonight's accommodations are nice. Since becoming a AAA umpire in 2013, Ferrell has enjoyed a considerable upgrade in lodging compared to the sparse motel rooms he used to share with other crew members in rookie ball. He glances at the glow of the bedside clock and impassively realizes how late it is. Given the time difference between coasts, he's missed the window to call anyone back home. He's too tired anyway. After four hours of sleep, he will instinctively rise at 5:00 a.m. to hit the road for the next city and the next series of games. He will repeat this scenario 35 times before the season is over, mostly flying but sometimes driving. He hasn't seen his hometown in Tennessee for weeks and is unlikely to get back there before the season is over. He missed out on being the best man in his best friend's wedding, not to mention the dozens of other invitations he's had to decline due to work.
Still, there's hope it will be better soon. He's waiting for an invitation to the Arizona Fall League, and a few spots are rumored to be opening up in the major leagues, increasing his odds of moving up the ranks. With any luck, he'll get the call. That and a more substantial paycheck. Maybe enough to replace his decades-old 4Runner.
It's the same dream of the other 230 minor league professional umpires crisscrossing America each year on a physically exhausting, emotionally brutal journey they hope will lead to a coveted position as a Major League umpire.
On average, it takes a professional umpire close to a decade to work his way through minor league ball before getting a shot at the majors — twice the amount of time it normally takes a ballplayer to climb the same ranks. Of those who get into the profession, little more than 3 percent make it to the majors, which currently hosts just 76 umpires. But once there, the payoff can be big. Minor league umpires can earn less than $20,000 for the 6-month season; major league umpires can earn up to $400,000. Plus they get four weeks of vacation and generous benefits, $470 per diem to cover hotel and food costs and first-class seats on the flights to their next game sites.
A native of Mayfield, KY., Hal "Tripp" Gibson first picked up a baseball at age six. He was a natural switch hitter and excelled as a utility player. Plus he was fast. "I wasn't a superstar, but I used my speed to get that extra base or knock down an outfield fly ball," he says. Colleges began to show interest, but Gibson wasn't sold on playing at the next level. "Even though I loved the game, I didn't have a desire to play college ball," he says. "I wanted to get involved in other things, like student government and a fraternity." To make some extra cash before heading to Murray State, Gibson called local high school games. He continued to umpire as a college student, and in his sophomore year, a fraternity brother introduced him to a professional umpire from Kentucky.
"When we were talking, I thought to myself, 'I can do this. I know the game, and this is something I really want to do,'" he says. He finished his studies, and six months after securing his diploma, signed up for umpire school.
It's the first step for any prospective candidate, most of whom are in their early 20s when they enroll. The two accredited schools, both in Florida, are the Harry Wendelstedt School for Umpires and the Minor League Baseball Umpire Training Academy. From those feeders, the top 50 to 60 candidates advance to Minor League Baseball's Advanced Course, and about 40 earn spots to start their careers as professional umpires in rookie ball. According to Dusty Dellinger, director of umpire development for Minor League Baseball and a former pro umpire, the environment is extremely competitive, but not dirty.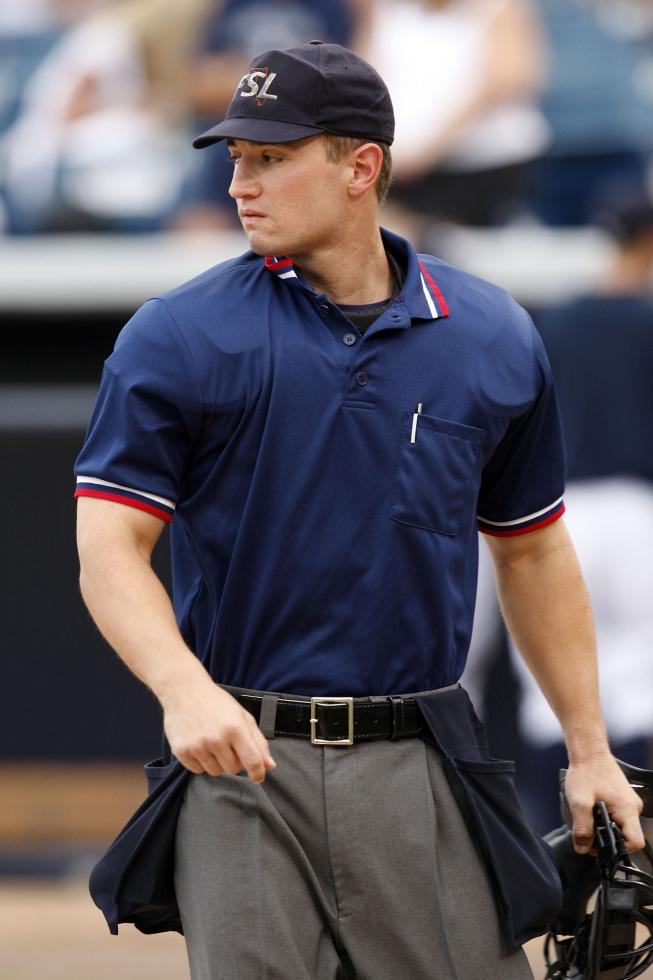 Ferrell describes the experience as psychological warfare. "Umpire school is extremely intense, especially psychologically. At no time are you applauded. You can always do something better."
In Ferrell's class, there were 120 registered hopefuls. Some were older and had no intention of getting a professional job, choosing instead to relish a hobby in sunny Florida. Others were there to enhance their collegiate or high school umpiring resume, but most were there to get hired. "I was there to get a job, plain and simple," Ferrell says. Armed with a degree in French and history, Ferrell wanted to give professional umpiring a try before implementing a fall-back plan in education or law.
The instructors gave very little away, keeping students in the dark about their chances. "They rarely, if ever, let it be known who they thought was doing well," Ferrell says. Even when a student performed a perfect mechanic on a play, no congratulations were offered. "Instead, they question you, critique you, try to make you second guess yourself and leave you with the task of filtering out what was true criticism and what was psychological background noise."
Once Ferrell made the decision to become a professional umpire, he was all in. During his last two years of college, he attended as many umpire camps as possible, looking to get a jump on the competition. He also connected with as many big league instructors as he could, hoping his networking would help him at camp. "When you get to umpire school, the instructors spend the first week breaking you of the bad habits you've learned along the way," Ferrell says. "I wanted to take care of that before I even showed up."
Dellinger identifies some common bad habits as improper plate stance and incorrect terminology. Another frequent mistake is carrying the face mask in the wrong hand. "When removing the mask, home plate umpires should take it off and carry it in their left hand so they can make the call with their right hand," he says. "Plus, we have to remind them not to hold their mask by the straps. It's not a purse."
Unlike most competitive environments, in umpire school, students are trying to blend in, not stand out. "The learning process at umpire school is fairly robotic," Ferrell says. "Everyone is instructed to use common mechanics to create consistency." Still, there are times when a student wants to be noticed. "You want to be seen in the gym before or after hours, paying attention in class and hustling on the field," Ferrell says. "You don't want to be seen lounging in the hotel lobby working on a case of beer. The instructors and students share the same hotel, so eyes are always on you."
On a typical day at camp, each candidate spends the morning in the classroom, covering book work, rules and mechanics and taking tests. After a short lunch break, students head to the ball fields to play simulated games and run drills. The evening hours are reserved for studying and working out at the gym. The schedule repeats six days in a row. Sunday is the only day off.
For some, umpire school is a party, but not for Ferrell. "I prepared for camp like I would for a job," he says. "I wasn't there to party or to socialize. I looked at the school like a 5-week interview." Normally, prospects are housed two to a room, but Ferrell sprung for private quarters to avoid distractions. For his single-minded focus, he earned the nickname "the hermit" while in camp. For his hard work, Ferrell was rewarded, graduating second in his class.
Like Ferrell and Gibson, Shaun Lampe learned about umpiring while in college. When looking for a part-time job as a student at Arizona State University, he saw an ad for a Little League umpire in the classifieds. He did some research on what it would take to work in the field professionally and decided to give it a go. "I have always been a big fan of the game and wanted to see if I could make a living working in it," he says. Lampe left ASU six credits shy of his degree and enrolled in umpire school.
In 2007, when he first attended, he missed the cut to move on to the advanced course. "Umpire school is only offered once a year, so if you don't make it through, you have to wait a long time to try again," Lampe says. "But it was important enough for me to give it another shot, and I'm glad I did." He came back in 2008 and graduated as a top prospect. For the past three seasons he has worked along with Ferrell and Gibson in the AAA division's Pacific Coast League, which includes the Sacramento River Cats, and last season umpired in the Arizona Fall League. He's hoping to get the nod for 2016 spring training and a number on the MLB call-up list.
During baseball season, the intense travel schedule, low pay and distance from home can wear on a person. "The hardest part of the journey is the doubt," Gibson says. "It's tough not to get angry. That destroys some people." The grueling schedule can also take a toll on families.
Lampe agrees it can be hard. "Not everyone can handle that kind of separation," he says. "But early on my girlfriend told me some time apart for us was OK with her because it kept our relationship exciting." The couple wed during Lampe's fourth season as a professional umpire. Last August, they welcomed their first child, and with some help from the PCL, Lampe was able to make it home for the birth. Lampe got the call announcing his wife's impending labor 45 minutes before game time. "The game I was working finished in less than two and a half hours, which is unheard of," he says. He was able to catch the next direct flight, but if the game had gone into extra innings, he would have arrived too late. "You give up a lot to be in this profession, but you know what you're getting into and hopefully you have someone who supports that dream."
Those who get into the profession, and the family and friends who support them, have to be patient with the process. To move up in the system, umpires are constantly being evaluated, starting in rookie ball all the way through AAA. "In an average season, umpires are evaluated in eight to 12 different games," says Dellinger. Evaluators look for confidence, a strong presence on the field, knowledge of the mechanics and hustle. Based on their marks, umpires move up the ranks or get on the call-up list, but it's a slow, arduous process.
But no one gets into umpiring to stay in the minor leagues. And like Supreme Court Justices who work hard to get to their post, few in the majors ever leave. Most stay for 20 to 30 years, and each year only one to two slots open. Some years, there are none. In all, there are more than 300 umpires in the system. But Ferrell has no regrets about his path. "It's my dream to make it to the major leagues, and I'm very close," he says. "Once you finally make it to AAA, you can see the light at the end of the tunnel."
It's a typical midweek game in Sacramento, the warm Delta breeze blows across the freshly chalked field as the sun sets over the buttes. Players are warming up and fans are settling into relish-covered hot dogs and liberally-salted peanuts. Ferrell meets with his 3-man crew before taking his assigned spot behind home plate. After a rare day off, which was spent traveling from Fresno to Sacramento, Ferrell and his crew are set to work a 4-game series at Raley Field. Before heading to the ballpark for the 7:05 p.m. start time, Ferrell hits the gym, grabs some lunch, books his crew's next travel itinerary and catches a nap.
Dinger, the River Cats mascot is pumping up the crowd. The visiting players are met with tepid applause before the crescendo of music builds in anticipation of the home team lineup. The River Cats are taking on a familiar foe, the El Paso Chihuahuas, who handily swept them in Texas just a week prior. Sacramento trails by two runs in the top of the second but pulls one back in the bottom of the fourth with a pair of doubles to right field. The score stands at 2-1 until the bottom of the sixth when first baseman Adam Duvall hits a 3-run shot over the outfield fence. The River Cats hang on to win the game 4-2, putting them in sole possession of first place in the PCL.
After the game, Ferrell heads to the locker room to pack up his gear, grab some dinner and retire to his hotel room. Another game in the books. And tomorrow, he will do it all over again.
Editor's note: This story was updated to correct the spelling of Adam Duvall's name.