For nearly 25 years, after buying the historic D.O. Mills Bank Building on the corner of 7th and J streets in 1992, the Cameron family used a portion of the building, called the Sacramento Grand Ballroom, as a space for proms and weddings, and another section for private offices. Then the Cameron family heard rumblings of a big development project planned a half-block away in downtown Sacramento.
"When they found out the Golden 1 Center was opening, the thought process came to be: How do we make the best use of this space?" says Juliet House, the general manager of the newly-branded The Bank. After traveling the country and the world, experiencing a Moroccan market and talking to all types of people, they realized the best use would be turning the building into a three-level, 30,000-square-foot culinary destination.
"We liked the idea of a gathering space that would showcase our region's chefs, as opposed to a large chain taking over the space," says Alison Cameron Ulshoffer, speaking on behalf of her family, which owns the building. When The Bank opens — with a tentative goal of before the end of 2017 — the concourse will include multiple kitchens (likely between six and 10) independently owned and operated, and a few different styles of bars.
The first tenant was announced in April — Mama Kim's, which serves American-Southern cuisine featuring local produce. Mama Kim's is already known for owner Kim Scott's restaurant on Del Paso Boulevard, catering service and food truck. Another well-known business to stake a claim at The Bank is Bella Bru, which will sell baked goods, including pastries, muffins, scones and other breakfast items, says David Maldonado, who handles the bakery's sales and marketing.
In business for 17 years, Bella Bru runs three cafes — in Natomas, Carmichael and El Dorado Hills — and a bakery on Del Paso Boulevard. The business also supplies breads to executive chefs at area hotels, restaurants and colleges. "We're extremely reputable because of our commitment to the quality of our products, and that's what sets us apart," Maldonado says. But a presence at The Bank will give the company even more welcomed exposure, he adds.
Preservation & Co., which already has a location in Midtown, has also signed on as a vendor, giving owner Jason Poole the opportunity to unveil a new menu and concept. He'll serve sandwiches, sliders and salads in one kitchen space. In a second kitchen space, production of Poole's popular handcrafted cocktail mixes, pickles, sauces, salts and Bloody Mary mix will be visible to patrons, who can watch as the food items and condiments are pickled and jarred.
The Bank offers a unique opportunity for vendors, says Michael Ault, executive director of the Downtown Sacramento Partnership: For some retailers, the facility will act as an incubator, being their first brick-and-mortar location, where they can try out their concepts before possibly moving into a larger space someday.
"We're a small, craft, local business and we really liked the idea they were looking for those kinds of businesses," says Andrea Seppinni, who owns Conscious Creamery in Sacramento with her husband, Kevin. Launched one year ago, their business is a dairy-free gelato production kitchen that sells at pop-up and special events, and through catering and wholesale.
Conscious Creamery will be one provider within the venue's speciality coffee, pastry and dessert kitchen. Seppinni says the new arrangement removes the risk involved with having a stand-alone physical space, and The Bank provides all the staffing. "Sacramento is a larger town," she says, "but it's a small food community and it's really great to see all the vendors like us — who bootstrapped themselves — have a space like this."
Other cuisine options will include pizza, hamburgers, southern comfort dishes, deli food, pastries and other breakfast items, desserts and more.
"We want the first thing people to think is, 'Wow, this is really incredible,'" House says. "We also want to guide them through the adventure that awaits."
Do you like beer? What type of food are you craving? Do you want the excitement of watching the Big Game with fellow fans? Do you want a quiet setting where you can people-watch and drink a craft cocktail? "We want there to be so many choices, people don't know where to start," she says.
The planners behind The Bank see their venue as a part of downtown's revival, and Ault agrees that the project will activate other businesses. "You've had owners interested in doing something, but the economics needed to make sense," Ault says. "You don't want to put something in unless you know it's going to be successful."
Now with the 700 block of K Street developing, the 250-room Kimpton Sawyer Hotel scheduled to open soon and the Golden 1 Center holding 200 events a year, more business owners may be motivated to move nearby. Not so long ago, downtown was a place where people came to work 9-5, Monday through Friday, Ault says. "This gives them a reason to stay downtown, or come back or extend their time in downtown."
. . .
The Main Floor
Upon entering The Bank's front doors, a visitor will walk onto the main level where kitchen and food vendors line the perimeter. General Manager Juliet House's team is making a concerted effort to curate the right mix of tenants to avoid competition and offer options to satisfy a range of palettes.
A customer hankering for a donut can stop by the venue's speciality coffee, pastry and dessert kitchen, and buy one from Sweet Dozen. In 2008, John and Carol Khampha founded their family-owned and operated shop on Madison Avenue. The parents are still involved with the baking, while their son, Jeremy, now manages the shop and their daughter, Nuny Cabanting, and her husband operate a mobile food cart at the Midtown Farmers Market, and at weddings and other events.
House had reached out to the family to gauge their interest in joining The Bank, and gave them a tour. "We wanted to expand, but not too quickly where we lose the original quality or standards," Cabanting says. The family put serious thought into the proposal, considered the hype happening around the Golden 1 Center and realized "it was a no brainer," she says.
. . .
The Mezzanine
Alison Cameron Ulshoffer, whose family owns the building, has a grand vision for The Bank: "Your experience will be casual dining in an incredibly beautiful space and phenomenal fare. We want you to know that you get to drive your experience depending on what you're in the mood for." Customers can grab and go if they're in a rush, or settle in at a table in the dining area for a relaxing evening instead.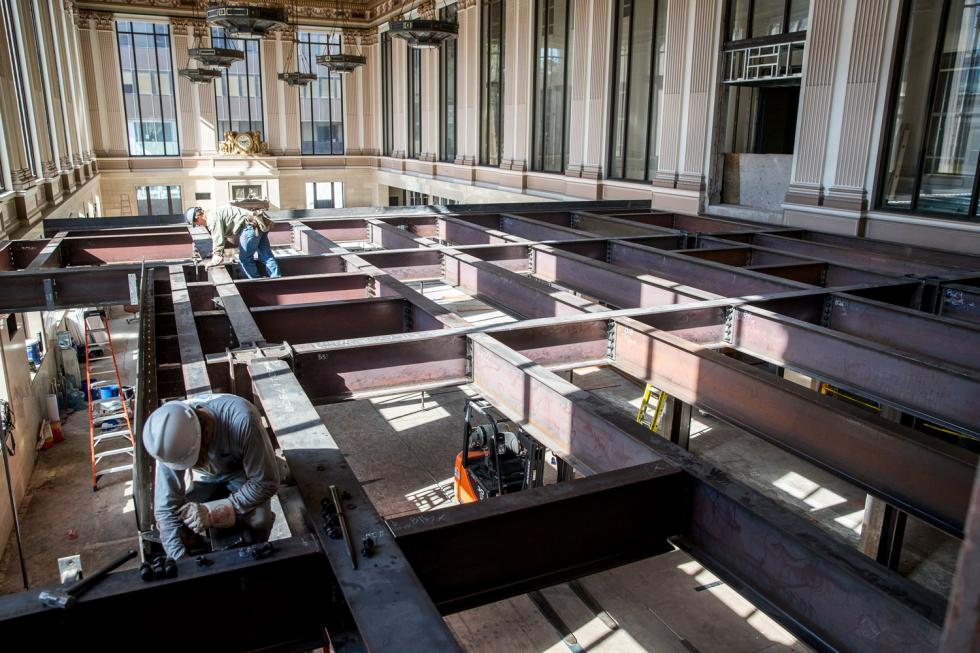 Seating will be available on all three floors — the basement, main level and mezzanine — where guests can choose to dine. "Once orders are placed at the kitchens, they can take a seat wherever they like and we will bring the food to them or they can choose to wait for it, and then grab a seat," says General Manager Juliet House.
Customers on the main floor will be able to look above to the glass-bottom, newly-constructed mezzanine level, which reflects the biggest structural change to the building. The mezzanine is intended to provide an upscale setting and will serve curated whiskeys, wines, champagne and cocktails.
. . .
The Basement
D.O. Mills left New York for California to join the Gold Rush with his brothers. He soon made $40,000, which he invested in founding his own bank, Gold Bank of D. O. Mills & Co. The prominent banker died in 1910, and in 1912 the D.O. Mills Bank Building was erected in his honor. The building was expanded in the late 1920s, and is now the second-oldest bank west of the Mississippi River.
Among the building's architectural gems are the basement vaults, which in The Bank will act as the hub of social activity with more than 70 beers on tap, couches, televisions and a lounge-style vibe. In the rear of one vault is a space for private events. Old hand cranks in the wall show how, if someone got stuck, he could turn the lever to open up an air supply. Today's construction crews had to cut through a 2-inch steel and cement wall to create another opening for emergency exits to appease the fire marshal. "It was the loudest sound ever," says General Manager Juliet House.
. . .
The Rooftop
In 1992, the Cameron family added a private rooftop garden overlooking downtown. This space remains deeply personal to them — decorated with rose bushes from a trip to Vietnam, a plant a grandmother brought over from Scotland and tiles imported from Italy. (No red wine allowed out here.)
"It's really their own backyard," says The Bank's General Manager Juliet House. The question she gets asked the most about The Bank is when the rooftop will open to the general public. The answer is never, although the space can be rented — at a pretty penny — for high-profile client parties or charity events.
Those who do visit the rooftop space will be privy to a view of downtown that includes the historic 7-story building at 700 J Street, which is around the corner from the Golden 1 Center, and the 28-story Renaissance Tower on K Street, which was completed in 1989 and at the time was the tallest building in Sacramento; it now ranks in fifth-place.