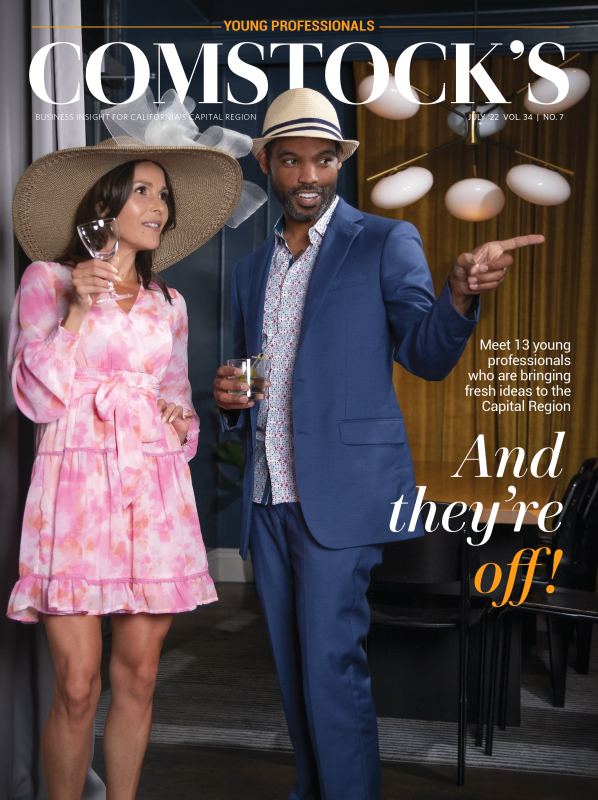 This story is part of our July 2022 Young Professionals print issue. To subscribe, click here.
One of the more pronounced themes of the COVID-19 pandemic has been the change in the workforce, with more than 47 million people quitting their jobs as part of the Great Resignation in 2021, according to the United States Bureau of Labor Statistics. For more than two decades before this, however, a subtler shift in the labor force has been brewing: Workers are getting older.
BLS stats show that since 2000, the percentage of the civilian workforce aged 16-24 has fallen by about 10 percent. Meanwhile, the percentage aged 55 or older has risen by 87 percent. Where there were around 18.6 million workers 55 and up in 2000, there were a startling 42.5 million as of 2020.
Younger workers can bring much to the table. While there can be a range of challenges with managing younger professionals, who sometimes have greater expectations for what a position can entail, a job often isn't just a job for someone early in their career, but rather a chance to make a difference in the world — to be beacons and forces for good, even change within their companies.
Law firms: Making good as a young attorney
Aysha Majeed recently finished up at UC Davis School of Law and was working on a fellowship when she saw a job listing on the California Society for HealthCare Attorneys website. "I thought, 'Oh man, that's a perfect match for my interests,'" Majeed says.
The 32-year-old grew up outside of Oslo, Norway, came to the U.S. in 2011 to study genetics and microbiology at Iowa State University, and worked in medical documentation for a large hospital system prior to law school. But she was eager to go deeper into the health care field.
"It's an area of law that has all its own rules," Majeed says.
In a sense, she's lucky. Majeed knew people in law school who applied to more than 100 firms. She estimates she applied to fewer than 20 before landing her dream job. "Nobody prepares you for just how brutal it is," Majeed says of the application mill for aspiring attorneys.
Majeed's job, which started in April at Sacramento law firm Weintraub Tobin, is to assist two senior health care attorneys, one who handles transactions and another who focuses on administrative and compliance-related work.
"She came in with a lot of intellectual curiosity and enthusiasm, which that by itself will take you pretty far," says Jeanne Vance, one of Majeed's supervising attorneys. The senior attorneys are also mentors Majeed can turn to as she navigates what can be a very tough job.
Vance, who passed her first bar exam in Hawaii in 1994 and received her license in California two years later, says challenges for young attorneys include not just learning the nuances of law, but how to work with clients. Young attorneys tend to do the latter less, though Vance says they can bring other assets to the table: research, and drafting and writing up contracts once firms have hashed out parameters.
"The first couple years of practicing law, no matter where you are, are pretty demoralizing because you're just learning so many things," Vance says.
Josiah Prendergast, a 37-year-old Weintraub Tobin associate who says he primarily handles business litigation, partnership disputes and breach of contract cases, definitely knows the legal profession's monster days. They're the ones where a judge might ask at 4:55 p.m. for an evidentiary brief to be submitted the following morning.
"The longest months are very, very long," says Prendergast, who's been at Weintraub Tobin five and a half years and is hoping to become a shareholder, the firm's version of partner, within two years.
Majeed admits she works substantially more than 40 hours a week, though for her the sacrifices are worth it. "I do have some late nights and early mornings here and that's working out fine for this time of my life," says Majeed, whose husband, 31-year-old Alexander Jurenka, is also an attorney. "But we'll see if I have to be a bit more organized in the future."
There's one element of her job she particularly loves. "Really big deals are sexy," Majeed says. "They're fun, they're high energy, the client's energy is contagious. You want to get the deal done so that your client will get the deal done."
Nonprofits: A shot of energy for Safetyville
All of the young professionals interviewed for this story have been involved with Metro EDGE, the Sacramento Metro Chamber's 40-and-under program that helps to prepare young business leaders. One of them is Jenny Mensch, who didn't have a job lined up when she was preparing to move to Sacramento from the Lansing, Michigan area in early 2020 to be with her partner who'd secured a postdoctoral research position at UC Davis. But the 33-year-old, who'd been program manager for a nonprofit nature center in Lansing, had an idea of what she wanted for her next career job.
"I am definitely looking for where I can make an impact and what can I do that's meaningful work. So it's really important to me to be at a company whose mission I really believe in."

Jenny Mensch, Community Programs Manager, Safety Center
"I am definitely looking for where I can make an impact and what can I do that's meaningful work," Mensch says. "So it's really important to me to be at a company whose mission I really believe in."
It led her to a place former schoolchildren in the Sacramento area might know well: Safetyville USA, land of miniature buildings situated on Bradshaw Road near Highway 50 where kids learn safety lessons about such things as how to look both ways before crossing the street.
The miniature city is operated by the nonprofit Safety Center, which has been educating children about safety skills since 1934. When Mensch applied for a job with the nonprofit, Safety Center had been looking for ways to update.
"We realized that some of the things that we have are not as interactive as a lot of the childrens' experience sites are now," says Gail Kelly, senior vice president of programs at Safety Center. "We're really looking at how can we create each one of our displays as more of an experience rather than just a tour."
"I really was excited about Safetyville as a venue, and this concept of being able to create education opportunities for the community is really what I'm about," Mensch says. This conviction helped her stand out in the interview process.
"I really thought that Jenny was very well prepared for her interview," says Kelly, who was part of Mensch's hiring process. "She knew a lot about our organization. She asked a lot of great questions in regards to where we were going with Safetyville."
Since Mensch began working for Safety Center in November 2020 as a community programs manager, things have gone well with her and Kelly, who takes more of a mentorship approach to management. "I have a lot of autonomy and flexibility as far as what I'm doing and how I'm doing it," Mensch says. "But she's always there to provide backup, support, feedback and then also ensuring I know a lot of the history."
It's part of a deliberate approach by Kelly, a 15-year veteran of Safety Center, who notes that young workers have many great ideas, though it's also key to be balanced in managing them. "You don't want to be someone who's giving them too much information that's going to make them feel like they can't be creative," Kelly says. "And yet you want to give them enough information that they can really utilize that to think outside the box."
It's definitely been a time for thinking outside the box at Safetyville, which only recently resumed in-person visits. But Mensch is happy. "There's just a lot of opportunity and variation in my day to day, which I really appreciate," she says.
Financial institutions: Making podcasting cents
Alex Becerra, a relationship manager at SAFE Credit Union, had just returned from baby bonding time last year following the birth of his second son when he approached Rebecca Delmundo, assistant vice president of community relations. Delmundo had planted a seed with Becerra before he took leave: Get a podcast going at SAFE.
Becerra, 29, has been at SAFE since 2014. He first worked as a teller for 18 months at a branch in Rocklin before joining the community relations department. Delmundo, 42, joined SAFE in December 2020 after 10 years at Golden 1 Credit Union, where she helped start the Financial Wellness podcast. Soon after she arrived at SAFE, she mentioned to Becerra she would like to do the same at her new workplace.
While he was out on leave, he thought about the podcast and when he returned, he told Delmundo he had recording experience and wanted to be involved. Her reply, as Becerra recalls: "Oh, you want to do the podcast? I'm glad you volunteered. Let's go ahead and get that started."
Becerra soon enlisted a co-host; Brit Kelleher, a 28-year-old community impact specialist for SAFE. "She sees potential in somebody and she's like, 'I think you can get this done, go for it,'" Kelleher says of discussions with Delmundo.
The result of Becerra, Kelleher and Delmundo's brainstorming is the Perfect Cents Podcast, launched on International Credit Union Day in October 2021. Now in its second season, the podcast has about 550 downloads a month with listeners in 40 U.S. states and 13 countries.
Episode topics have included SMUD's zero carbon initiatives and a talk by Aly Angeletti, director of nursing at Mercy Hospital of Folsom, about financial wellness as a component of greater wellness. They are also currently in the middle of a 52-week savings challenge on the podcast, encouraging listeners to start by saving $1 and then saving an additional dollar each week, for an annual total of $1,378.
Delmundo says she loves interacting with Becerra and Kelleher, as well as leading workers of all ages.
"Regardless of age or where they're at, it's all valuable," Delmundo says. "You just have to learn to cultivate it and embrace it and redirect and get people working in spaces that they thrive in, but also putting them in positions of learning, so that can help them throughout their career."
"Having leadership that sees your value and sees and believes in what you believe in, even just believes in you enough to give you a chance and take a bet on you, I think is really important to me as a young professional."

Brit Kelleher, 28, community impact specialist, SAFE Credit Union
For Kelleher, she appreciates Delmundo's faith in her abilities. "Having leadership that sees your value and sees and believes in what you believe in, even just believes in you enough to give you a chance and take a bet on you, I think is really important to me as a young professional."
–
Stay up to date on business in the Capital Region: Subscribe to the Comstock's newsletter today.