On a sunny August afternoon at Selland's in East Sacramento, I had the pleasure of sharing some French press coffee with Kevin Rahm. You probably know him as Lee McDermott from Desperate Housewives, Ted Chaough on Mad Men or maybe even as your neighbor.
When Rahm is not in Los Angeles filming the television show Lethal Weapon, you can find him residing in our City of Trees (or now, America's Farm-to-Fork capital) with his wife, Amy Lonkar, their preschooler Hunter, their yellow lab Gracie and mutt Gabby. I sat down with him to discuss his journey to fame, hear what he loves about our city and his advice to newbies starting careers of their own.
How did you first get to L.A. and what was it like?
I started working in the acting industry in Utah and made the decision to move to L.A. in 1996. For a good six months, I was couch surfing. I quit my waiting tables job in December of 1999 when they wouldn't let me have the holidays off to go home — and I had booked a big role that would start in January. I was terrified for three weeks. I knew I would get that great paycheck at the end of the project, but I didn't have money coming in. It's never easy. You get jobs and a little more stability, but it's never easy.
What brought you to Sacramento and what do you like about it?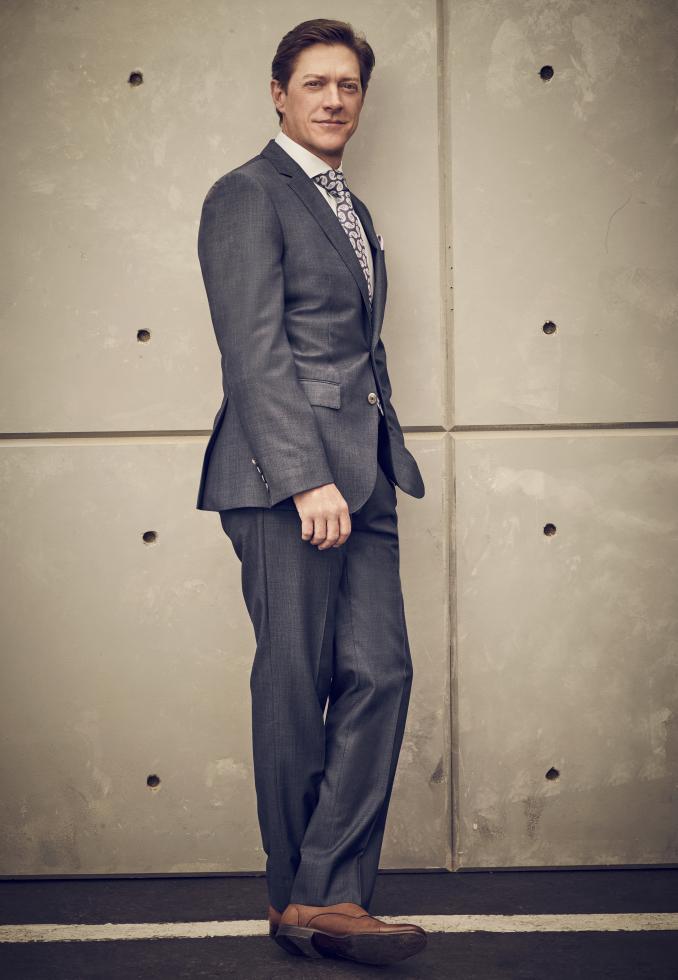 My wife is a pediatric cardiothoracic surgeon. At the time that she was interviewing for jobs, there were only two positions in the nation, and one of them was in Sacramento. Now that I'm on Lethal Weapon, I travel back and forth. We don't have family here and I miss the support system I built in L.A. That being said, I love getting off the plane and not being in L.A. There are fewer people; it's calmer, it's quiet. It has a small-town vibe, which reminds us of our hometown. We've started to build a local circle of friends and they have nothing to do with the industry. They work for someone at the Capitol, they do consulting, they work in education, in medicine. It's more interesting.
What advice would you give someone who wants to become an actor?
You only get better by doing. Take an improv class, make a film. Just start, even if the film is terrible. There is value in failure. The idea of not being able to be wrong, being afraid of being wrong … I've gone through phases of it. I would get stuck trying to figure out the one best way to do something. After being able to work with people like Jon Hamm, Jeffrey Tambor, and Lizzie [Elisabeth] Moss, I've learned that there are many ways to do it. There's only what's happening right now. My favorite part of acting at the moment is the rehearsal process, being able to try something and saying, 'Well, that wasn't it! So now we can try this version.'
I admire your confidence and courage.
I mean, I have empathy for kids now. None of my failures are recorded. But not everything has to be put online — it doesn't have to be seen to be of value. But if someone were to say to me 'I'm scared,' what's the worst-case scenario? As long as you're able to handle those consequences, then do it. I've learned that with acting, at the end of the day, everyone gets to go home. With my wife's line of work, that's not always the case. Oftentimes the stakes of something are made to be life and death, but oftentimes they're really not.
What if someone wants a particular career [like acting] but doesn't live in the city where it's all happening?
Go to school, go to college and study something else and your passion. Go study English and theater. Go study engineering and theater. The more you know — the more rounded you are — the more you have to offer. If you don't want to go to school, go have life experiences. Go to Europe. You need all that to draw from to be a good actor. You also don't have to move to L.A. to do something. For example, Atlanta is going off right now! There are seven movies being shot outside of Atlanta. Go get a job as a PA or see what backstage help B Street Theatre needs, to learn what happens and what's going to be required of you.
I feel like you've already made it big, but what are your goals for the future?
I still don't feel like I've made it. William Shatner Tweeted me the other day, so I guess that's cool [laughs]. But to me, any job could be the last job. My goal is longevity. I want to be able to take a trip once a year and to put my daughter through college. As I get older, I can be a little more selective — I've been lucky that way. If another Mad Men came around, I'd jump on that opportunity. For now, I am just enjoying, having fun and focusing on working on good things with good people.