Julie Clements' route to Sacramento includes a dog sled.
Now, she says she is "living my dream," being a full-time ceramic fine artist in Sacramento, with a body of work that includes detailed sculptures of exotic and domestic wildlife — lemurs, marmosets, guenons, black bears, deer — that she creates in her home studio. But before she got here, Clements, originally from Atlanta, Georgia, had a 15-year career as a veterinarian technician. And it started with that dog-sled gig.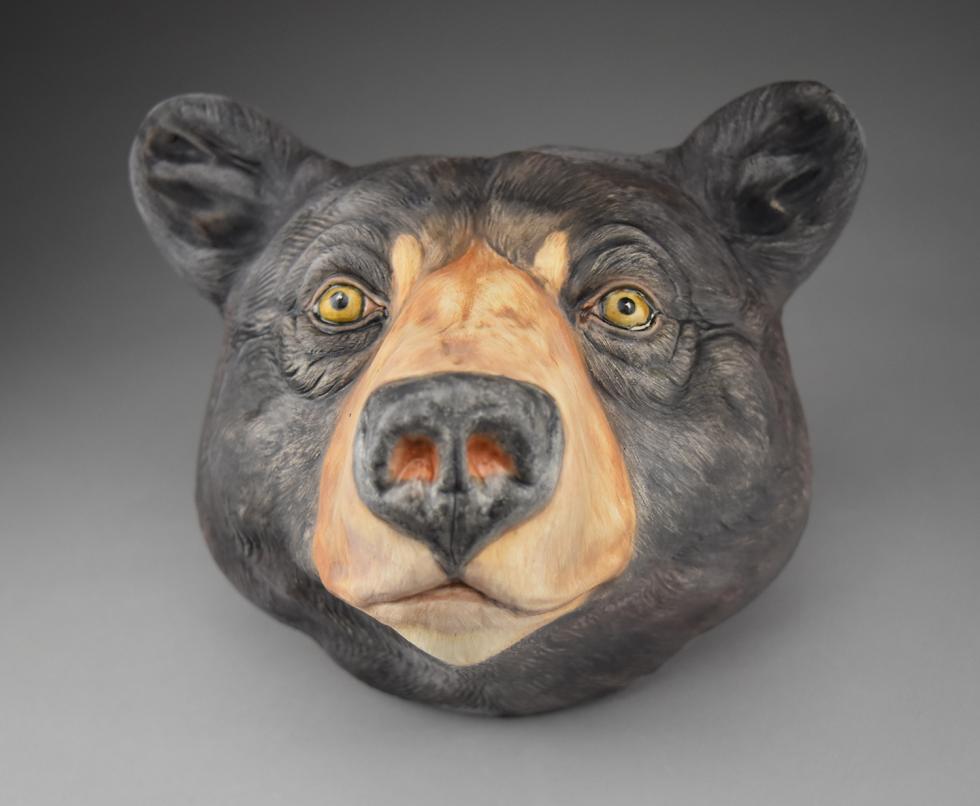 After earning a degree in anthropology and ecology at Emory University, Clements says she spent about a year at Callanwolde Fine Arts Center in Atlanta studying ceramics, but it wasn't a good fit. So around 2001, she decided to do something radically different and moved to Alaska. "I was a dog handler up on a glacier," she says.
The dog-handler job was a summer gig for a dog-sled tour company, and through it she began assisting the dogs' veterinarian and, after the tour season concluded, continued to assist him for a few years. "He had a bush service," she says. "He would fly out on planes, (and) he had his own sled dogs" that he would mush to villages and other remote areas to offer veterinarian services.
Clements says she then worked at a clinic in Fairbanks, then moved to California with her partner (whom she met in 2003 in Alaska) so he could go to law school. She worked for the Monterey Bay Aquarium, then the San Francisco Zoo. Her last move was three years ago, to Sacramento, so she could switch her career path into being a professional artist. Three years in, she says she is still finding her footing.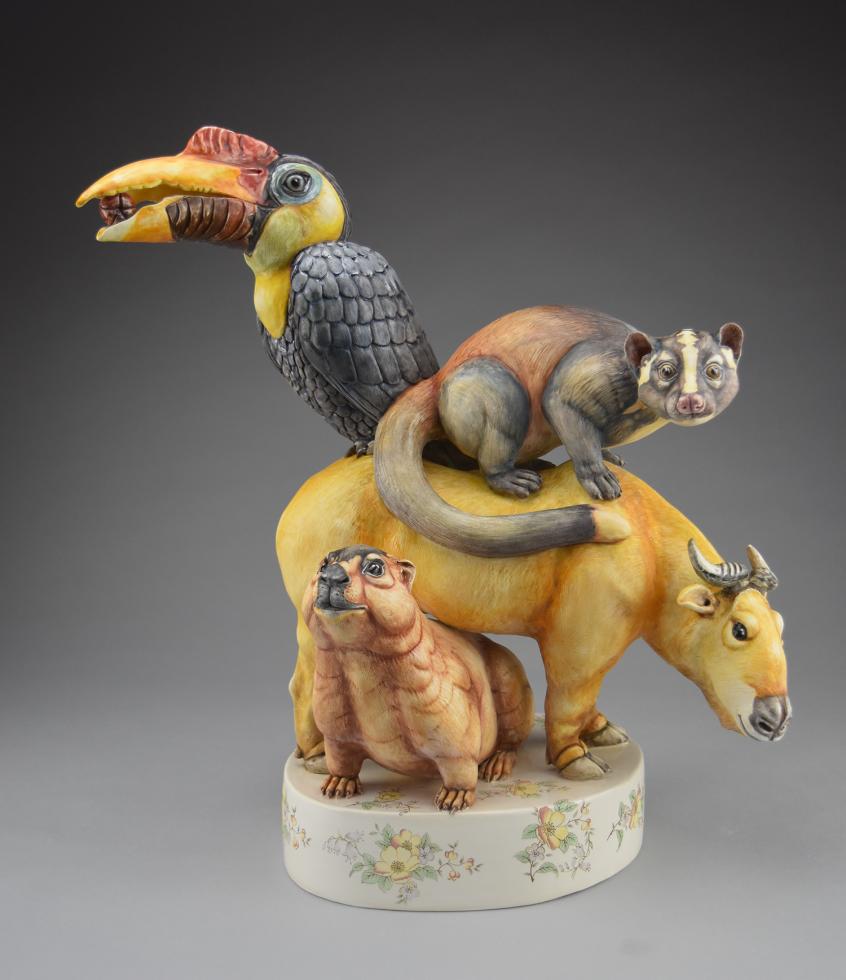 "I like doing shows, but they take a lot of planning," she says. "I do not have a five-year plan, but I do have a three-year plan." She explains that 50 percent of her sales are through galleries (she's participating in about 10 group shows this year, though she has just one piece in each, and she expects to also have one or two solo shows), 25 percent are commissions and 25 percent are direct sales, like Sac Open Studios. This year was her first time participating in the annual event, organized by Verge Center for the Arts, where Sacramento-area artists open their studios to the public over two weekends in September.
She and several other artists displayed their work at Donald Satterlee's Curtis Park photography studio in September. Clements hung an array of her detailed ceramic primate masks and woodland-creature masks — raccoons, rabbits — as well as butterfly and pangolin ornaments.
"I do love primates," Clements admits, and it's evident in the number of different types that are her subjects. Her 15 years of working with wildlife informs her work and also mirrors her fascination with animals. "As a vet tech, you get to get really close to animals and understand what they look like, which is a perfect reference if you want to make art about animals."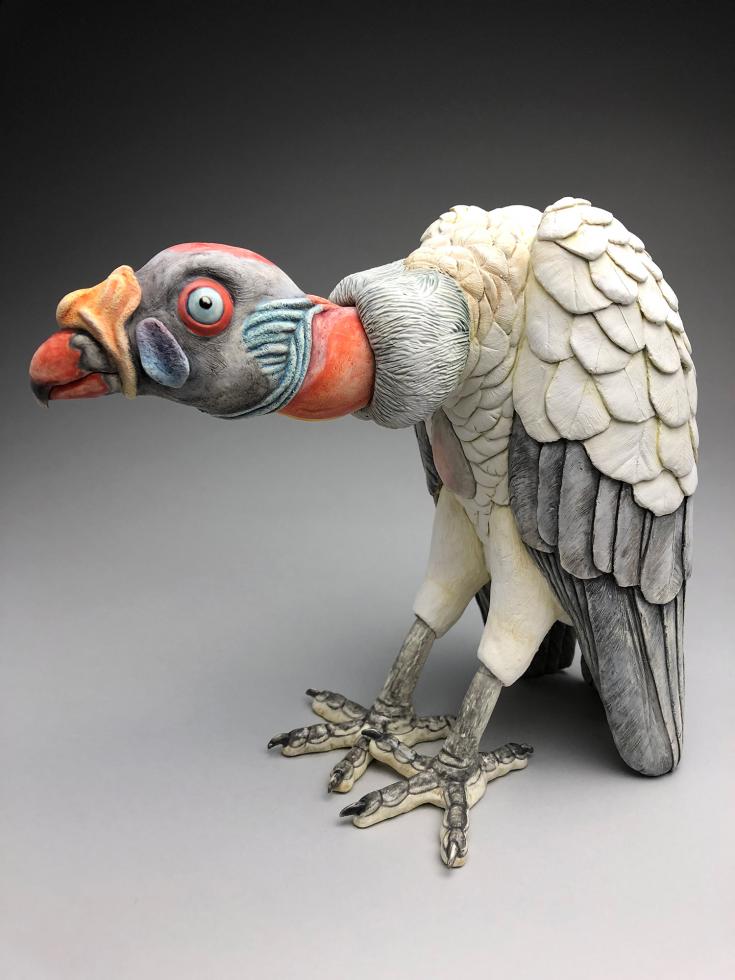 But Eileen Hendren, assistant director of Pence Gallery in Davis, suggested to Clements that not everybody will connect with a crowned sifaka or other species from faraway continents. "She taught me the importance of how to maintain your practice of bread-and-butter art," Clements says. Hendren — whom Clements calls a mentor as well as a fellow animal lover and ceramic artist — suggested she create works with familiar wildlife, like squirrels and mice, and in smaller, more accessible sizes for collectors who like her work but may not be able to purchase a $1,600 sculpture (her work ranges $50-$2,200).
But Clements says she can make only so many smaller pieces. "I have a hard limit which I can only make X amount," she says. "And especially with ceramics, there's this stigma of being a gift shop artist vs. fine artist. It comes with a lot of baggage. And the value is different."
Clements says she navigates this by affiliating herself and her work with galleries that "focus on ceramics so we can uplift the medium together" and takes into account "different markets have different values" and changes in the economy when pricing and selling her work.
"It's super challenging being an artist in 2019 and trying to make a living," she says. "I'm adapting. I can see my business growing every year. It's a slow process, but I keep moving forward." One of her biggest challenges is one common to many other visual artists: marketing. "I'm shy. I don't like promoting myself. … But I'm pushing through. Social media has been great for that, and it's also great that people are becoming more open about it being hard for them. I'm still faking it (laughs)."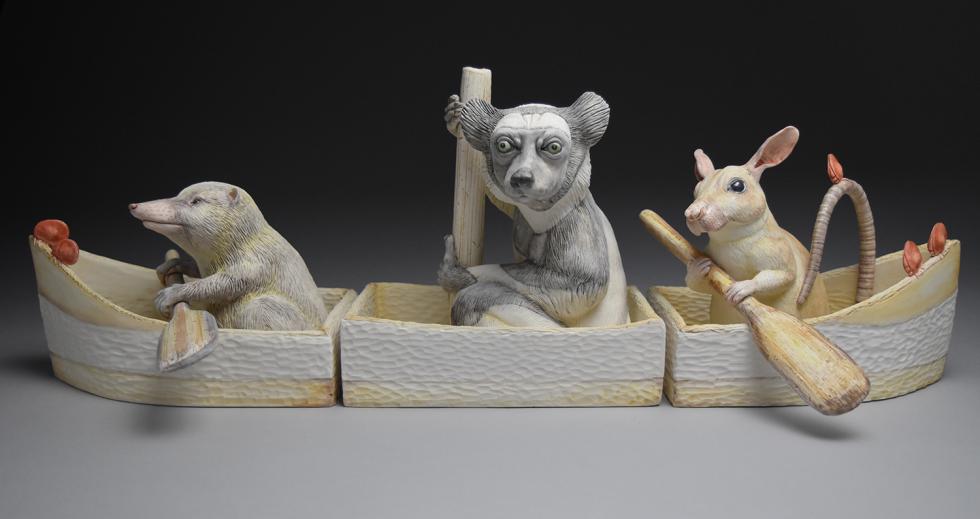 Why did you choose Sacramento as the place to begin your career as an artist?
It was a joint decision with my partner, Nathan. It's a big enough city where Nathan could get a job and yet affordable enough that I could devote my time to art. We are close enough to the (Bay Area) that we can still go down for (Oakland) A's baseball games. Being closer to the (Sierra Nevada) also has allowed us to get out in the woods more than we used to.
How could the city better support the arts?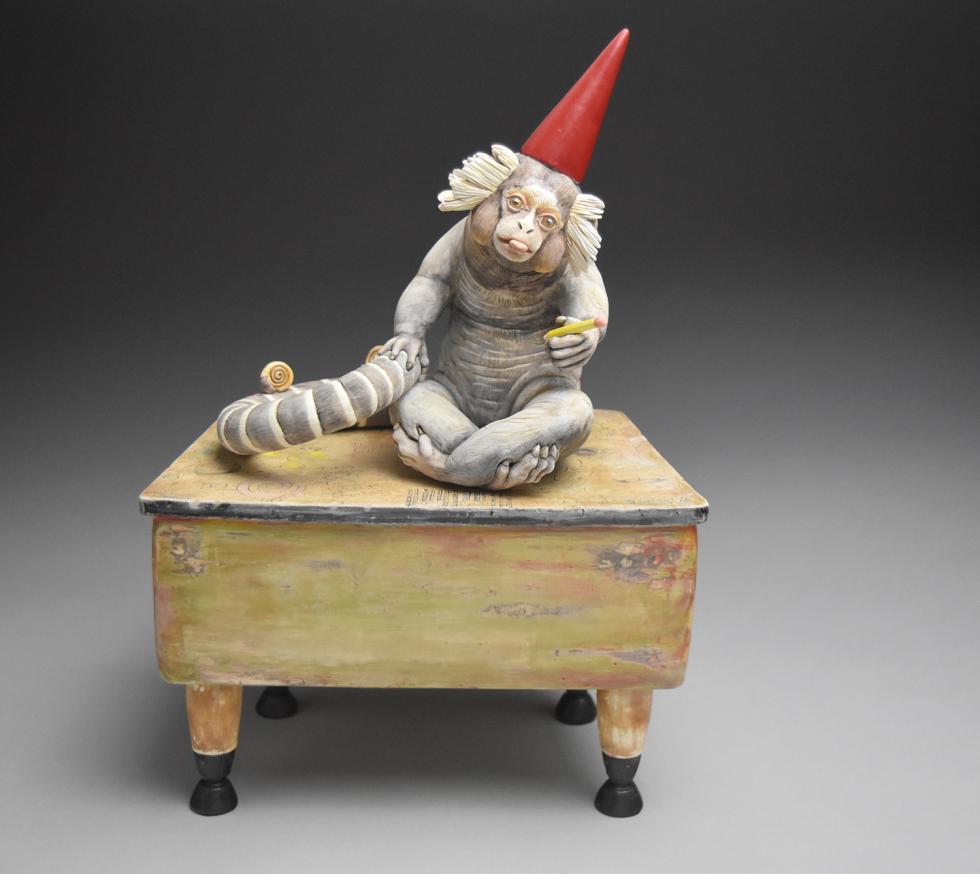 With the crisis of homelessness and affordable housing, it's hard to say that the city should prioritize art making. On the other hand, a city without art is a city without a soul. As a ceramic sculptor, I would love to see a community art center in Sacramento supported with a city/private donor base. The old Panama Pottery factory would be a great place to have classes, residencies and internships, and a gallery. They have amazing old beehive kilns. Of course, moving forward, ceramic arts needs to look toward making this ancient art more environmentally sustainable. I began my art career with a yearlong internship at a community-based art center. It's a great place to get support and direction.
What is the most valuable advice you have received from other professional artists?
Make art that you love. Stay true to your art, or you will lose your inspiration. Learn how to separate yourself (your ego) from your art so that you can be self-critical. My favorite studio-artist-guidance advice was from a longtime friend who said, "Don't wear your pajamas. Get up and get dressed." It is so true. She also said, "Treat it like a job. Friday at 5 p.m., call it quits." That one I have not mastered …
People are quick to tell you what they think about (your work). You make yourself open to criticism, but I'm getting a thick skin. I'm able to detach from my work. I'm getting better at constructive criticism. … Tony (Natsoulas) said your self-worth can't be attached to what you sell.
How has the art community helped support you?
Ceramic artists in Davis, Sacramento and the Bay Area region have been very supportive. I have been able to network with artists to share different opportunities. Being a professional artist is a bit of a unicorn sort of experience. Every artist seems to make up a career as (they) go. Just being able to see and hear how other artists are surviving is helpful.
The charming effect of the forest finds its way into her ceramic sculpture, along with her greatest inspirations, her two children, ages 11 and 7, and her formative years being surrounded by the urban environment in Southern California.
When Alejandra Calderon narrowly escaped failing her ceramics class as a fine arts major at Sacramento State, she never imagined that seven years later she would co-own a ceramics business. At the time, she found the discipline to be frustratingly difficult compared to her primary passion, painting.
Comstock's sat down with Tony Natsoulas to talk about creating and collecting in the Capital Region.