Tourism might be the last thing on our minds in 2020. But as California slowly starts to open up again from the shelter-in-place orders due to the COVID-19 pandemic, getting out of Dodge for a day or two into the beauty of the Sierra foothills Gold Country — for business as well as pleasure — can provide a much-needed breath of fresh air.
"People need (the outdoors) right now," says Daniella Faieta, director of the Coloma Resort in El Dorado County. "Visitors can be safe within their own site in the open air — which will hopefully help mitigate reckless recreation in other locations — so people can get out and enjoy nature safely."
El Dorado County represents the largest percentage of travel spending in the Sierra foothills region — 61 percent in 2017, according to Jody Franklin, executive director of tourism for the El Dorado County Visitors Authority. And travel spending in El Dorado has been steadily increasing each year, thanks to its diversity of accommodations, outdoor activities, food service, art and entertainment.
"El Dorado County brings you the core of the outdoor lifestyle without the cost," says John Krueger, founder and CEO of National Real Estate Market Advisors, which works with the County of El Dorado. "You have all the form and substance in one place without the expense of Napa or Lake Tahoe's north basin and options for people with different tastes — skiing, wineries, hiking, rafting and agritourism, like Apple Hill. The diversification of the El Dorado County economy makes it a phenomenal hidden gem, both in environment and in business — you have small mom-and-pop (businesses), giant corporations, aerospace, you name it."
The Sierra foothills includes eight California counties, but it's Gold Country — with places like Sutter's Mill in Coloma, where gold was discovered in 1848 — and the nearly 50 wineries that call El Dorado County home that tourists tend to think of most.
"There's a diversity that we offer in El Dorado County that you don't get in other regions," says Kara Sather, executive director of the El Dorado Winery Association. "Pre-Prohibition, El Dorado was one of the top three thriving wine regions in California. It's taken us a while to get back to that acreage, but now we have more than 70 commercially grown varietals. You can experience the entire world of wine here."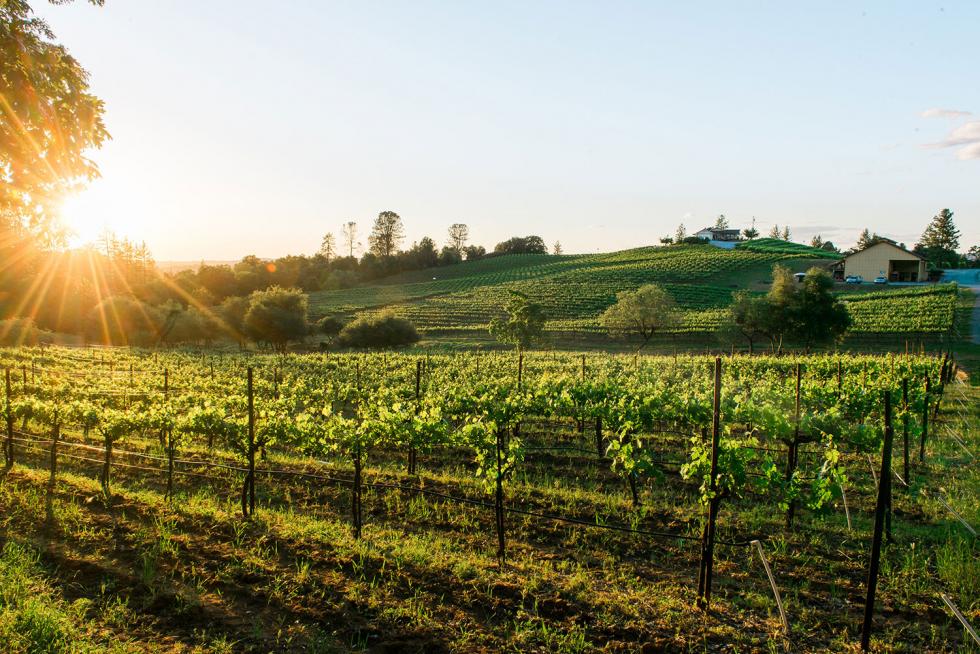 In years past, the El Dorado Winery Association has put on the annual Passport Event every spring where attendees can visit more than 25 wineries for tastings, food pairings, live music, art demonstrations, tours and talks. The association is also in the process of launching the El Dorado Wine Movement, a monthly subscription service that includes seminars and rotating deals at member wineries.
"Wine tasting is just an enjoyable experience," Sather says. "It allows you to relax a little bit and learn about your palate and our region."
For those who are more get-up-and-go, the region is also home to myriad year-round outdoor activities. The El Dorado County Farm Trails allows visitors to visit local farms, ranches and orchards to see where the county's bounty is grown and participate in educational and artistic events. The American River offers fishing, tubing, kayaking and white-water rafting at places like Mother Lode River Center in Lotus and Coloma Resort in Coloma, where visitors can also pan for gold at the place where the gold rush started.
"Coloma is the backbone — and backdrop — of our history," says Franklin. "It's a great place to learn about gold rush history and also be adventurous. The river is dam-controlled, so it's great for people who don't consider themselves outdoors people — unlike other rivers where you need more experience (to raft safely), the American River is pretty tame, so you can feel empowered whether you're 7 or 70."
Coloma Resort also has hiking trails and recreational summertime activities like live music, nature scavenger hunts, gold panning classes and outdoor educational programs run by the same instructors who lead the site's Coloma Outdoor Discovery School field trip program during the school year. The resort also has accommodations, including RV and tent camping and cabins.
If you happen to catch gold fever, you can visit Coloma's original gold discovery site and several historic buildings at the Marshall Gold Discovery State Historic Park. Twenty minutes down the road in Placerville, 62-acre Gold Bug Park allows visitors to step back in time at two real gold mines (Gold Bug Mine and Priest Mine), hike beautiful trails and visit a working blacksmith shop.
For companies looking to reward employees without having to strike actual gold — or to just provide a picturesque site for a retreat or strategy session at the gateway to the Sierra foothills — Rancho Murieta is close by. About 35 miles southeast of the Sacramento International Airport, The Murieta Inn & Spa provides luxe accommodations as well as an on-site spa, meeting rooms and nearby activities like golf, horseback riding, ballooning and flight lessons.
"For people tired of the cost of Napa, we're able to provide a major-city experience at a really great value," says London Hine Kristovich, director of sales and marketing at Murieta Inn & Spa. "Rancho Murieta, El Dorado County and the Sierra foothills at large feel like hidden gems — but we're letting you in on the secret. We're a breath of fresh air."