Tracy Carlton took an unconventional path to her art career, launching a business as a creative expression coach and teacher last year following a 21-year career at First 5 Amador, the Amador County branch of the statewide nonprofit commission dedicated to improving early childhood development. While there, Carlton served as the coordinator for the Child Abuse Prevention Council and facilitated trainings and outreach around childhood abuse, trauma and resilience.
Longing for a more creative lifestyle after her son graduated from high school, the single mom and self-made artist decided to change career paths. Carlton, who goes by "Indi," traded in her 9-to-5 job for one filled with unknown possibilities.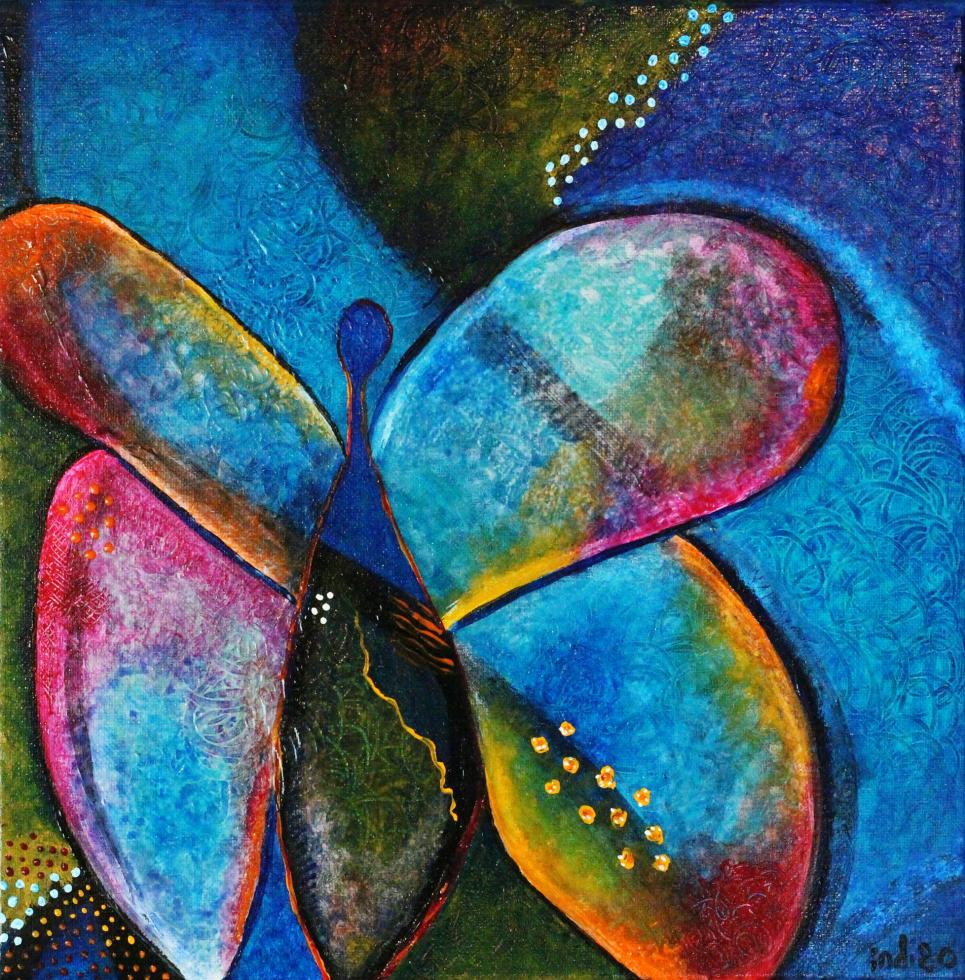 While she found nonprofit work fulfilling, "This whole creative side of me was not being expressed," Carlton says. "I knew I had it in me to be that free spirit that I am completely."
Free-spirited is one way to describe Carlton's art. Large swaths of color are layered into freeform shapes and figures in her abstract acrylic paintings, and upcycled materials make up her whimsical mixed-media works of themed fairy houses and altered books.
Carlton's art and career trajectory has evolved as a result of her past work and travels.
"I have a serious case of wanderlust," says Carlton, who was born and raised in Los Angeles and did back-to-back stints teaching English in Japan and the Czech Republic in the 1990s. From there, Carlton studied anthropology at the progressive California Institute of Integral Studies in San Francisco, which combined East-West psychology, philosophy and spirituality with cultural studies. The program looked at the study of human culture through an activist lens, says Carlton.
"It deconstructed the whole anthropology field. It's based on colonialism. And so as an anthropologist, their way of seeing it was, you're an activist, you're working for somebody. You don't study people. People are not objects to be studied," she explains.
Carlton became entrenched in environmental activism through her studies and volunteered at an "intentional community" with a 2-acre farm in Sonoma County before working in administration for an activist organization called the International Rivers Network, which fights dam projects and defends the rights of river-dependent communities all over the world.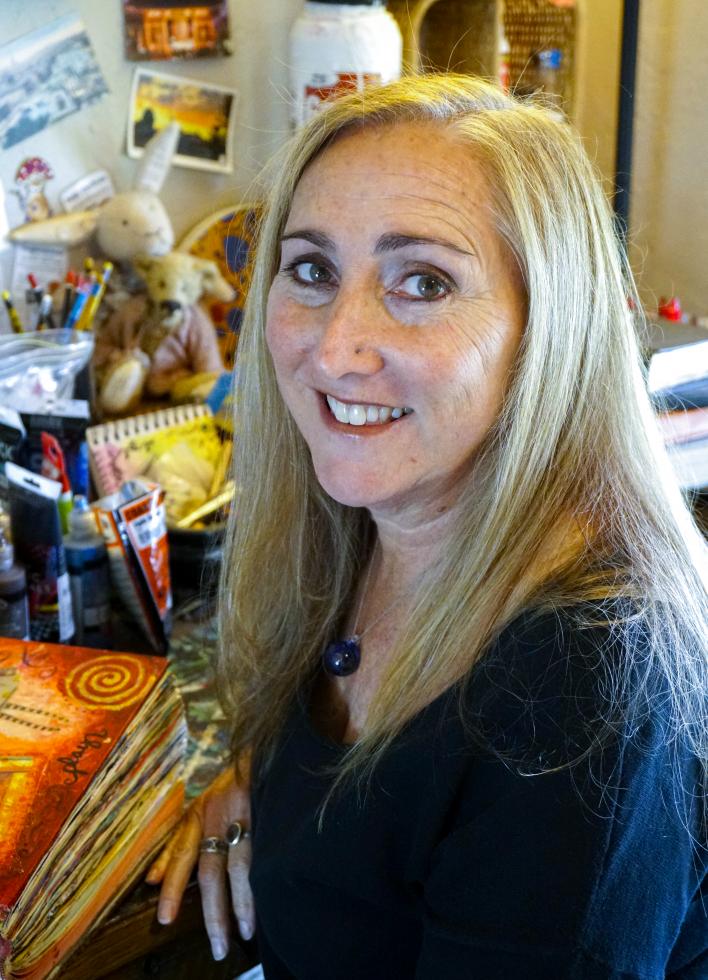 A six-month internship studying agriculture on an organic farm brought Carlton to Amador County in 1999. Carlton spent another six months at a farm in Fiddletown while she completed her thesis, and eventually relocated to Sutter Creek.
While she didn't always feel comfortable identifying as an "artist," over the years Carlton found ways to use her innate creativity. After launching a nonprofit focused on ecoliteracy and sustainable gardening for local teens, Carlton took up belly dancing and opened a Jackson-based studio where she taught classes. She started art journaling after coming across a blog about it online. This led Carlton to take several art workshops, including one on intuitive painting.
Carlton's style began to emerge: an expressive, highly textured and vivid portrayal of her inner world. At a watercolor class, a teacher told her, "Watercolor's not your medium. Your color is too bold."
Now, Carlton uses her bold creativity, understanding of human emotion, and years of teaching and public speaking experience to help others find meaningful creative expression, too.
"Everybody's an artist. Everybody's creative. And art can be — creativity comes out in so many ways. It's not just visual arts or writing or poetry or dance. It is cooking. It is how you raise your child. It's like, everything's creative," says Carlton.
What gives you the confidence to teach people about creativity?
I'm comfortable teaching. I got up in front of people teaching English for five years. That came naturally, which is surprising, as an introvert. And I'm a reluctant leader. I always have been.
That's funny, you seem like an extrovert to me.
Most people say that, but deep down, it's taken me a long time. … If I walk into a room of nobody I know it's exhausting to me, it's terrifying. Unless I'm in the teacher mode, then I'm okay. It's really fascinating.
What made you finally decide, "I'm done with this. I'm going to try something different?"
It was terrifying for me to leave that job because I have to figure it out, the finances, on my own now and make it work, and for how many years I had a steady income. … But my son graduated from high school, and I think the pandemic for sure shifted everything. It was just a new lens of seeing how the world was, and life, and so (I) came out of that going, I can't just keep on waiting and waiting and putting it off, it's got to happen sooner or later. So I did something that I never thought I would do, but I always wanted to do, and I hired a life coach. She was essential at holding me accountable for making the choices I wanted to make and giving me encouragement and helping me come up with (a plan).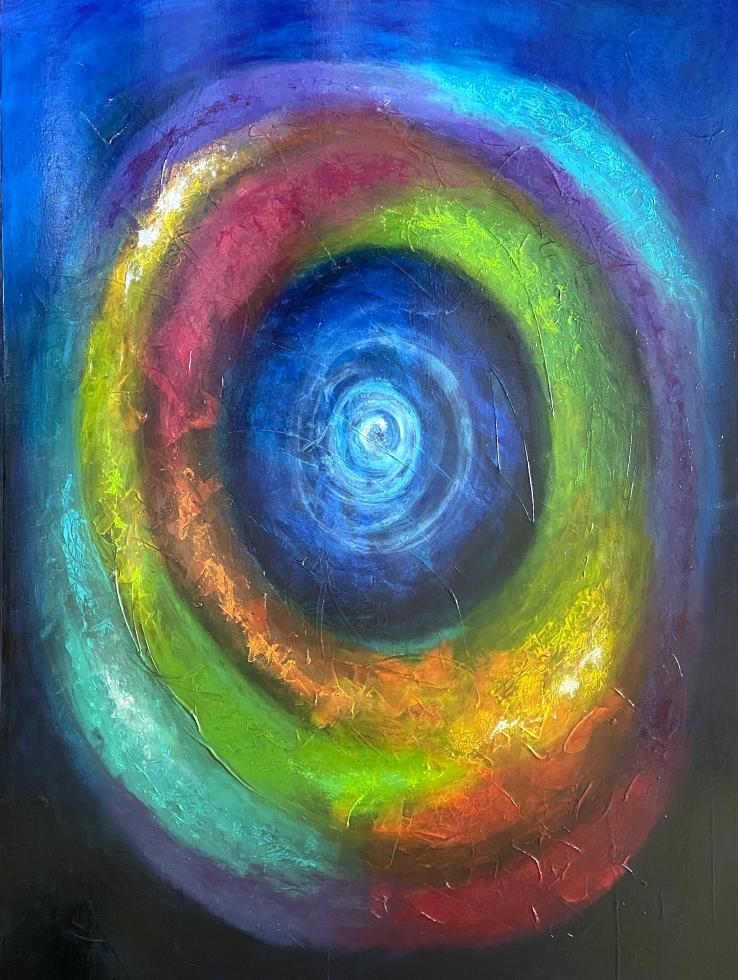 She's a visionary coach, not just a life coach, and she really helped me bring my vision to a more tangible vision, if that makes sense. So, from just an idea and dreams to "Let's make that happen." So all of that combined made me finally take that step and jump off the cliff.
I've been a risk taker, right? Left the country, started nonprofits. I mean, I do all these amazing things. My life is — I don't know where that courage comes from, to be honest — but so this feels like a natural progression of me taking a risk and believing in myself and knowing that, trusting that inner voice. There's definitely that inner voice saying, "You've got to do this for yourself. This is your path. This is that reluctant leader, that creative artist. Those need to come together." And all the things that I've been doing have led me to this. It's totally about all my teaching skills and being up in front of people and wanting a better world. And the creativity.
So tell me a little bit about what that plan is.
It's through workshops. I want to make art and sell art, also doing one-on-one coaching, because I feel like that's something that is a natural progression of helping others find their creative voice. And for me, it's really important not just about creativity for our own personal sake, but sharing our gifts back with the world and making an impact on the world, and it's trying to encourage others to use their creativity to change things up. So, coaching, workshops and making my own art, those are kind of the foundation pieces, I think.
Why is it important to you to help others find their creativity?
It is from my own personal experience of how much more fulfilled I feel. All those years of not believing I was an artist, didn't have that creative outlet or creative source in me. I'm so much happier.
I just feel like for other people — because some people say, "I don't have a creative bone in my body"; I'm like, you absolutely do. So that piece of our society I want to see transformed. There are so many amazing things that we can create as humans, that humans create and to think that you don't get to have that in your life, that's heartbreaking. So I want that for other people, too.
Absolutely.
It would just be such a better world if we all were able to have that kind of sense of expression and creative voice.
Why is teaching others important to you?
That goes back to that reluctant leader thing. I could be sitting in my studio making art all day and be totally happy, but I keep finding myself throughout my life in these leadership teaching-type roles reluctantly. It's a theme that is something I've finally learned to embrace.
I could give you a dozen examples over the last 25, 30, 40 years of being put into positions that I was uncomfortable being in charge, but there I was. So being in front of a classroom, whether it was teaching English as a foreign language or belly dance, it just felt right. Even in my job doing mandated reporter trainings, there again, I was up in front of people doing a presentation and a training. Something about it feels like to me, that's what my soul has been telling me to do.
It feels like it's a big thing that sometimes I'm not prepared for, but I'm doing it anyway. As terrifying as it's been, it's also fun.
What are the themes or the topics that your work is around right now?
Part of what I do in my workshops is to talk about learning styles. We all have preferences for how we learn: visual, auditory, kinesthetic, verbal. So helping us understand how we learn best, and then how does that translate into how we then creatively express ourselves. It's making that connection of self-awareness of, "Who are you? What are your talents and gifts? How do you learn best? How do you translate that into a creative expression?" So that's kind of the foundation of my workshop.
It feels like all the different jobs that I have weave together. And so it's about building resilience, which is about self care and the trauma-informed world, being aware of our impact on others and how to help other people learn to express themselves in whatever setting they're in.
Can you give me an example of one of the exercises?
Yeah. So for example, in what I did just this week, I have everybody – and I got this from years back, from the book "The Artist's Way"– so it's a writing exercise, but you have a conversation with yourself through writing. So I ask very specific questions. Some people journal, but some people have not ever been exposed to journaling, let alone art journaling, so it's a way to help somebody just spend five or 10 minutes reflecting on, the question I had them reflect on was, where do they want to make an impact in the world through their creativity? Is it personally within their family or is it in the work world? Or do they want actually to make an impact on a global level? They have the dream to make change (in) the institutions that we've got, or are they more of a free spirit and want to be on their own? So, just to reflect on that, where would you like to make an impact in the world? Where do you want to make a change?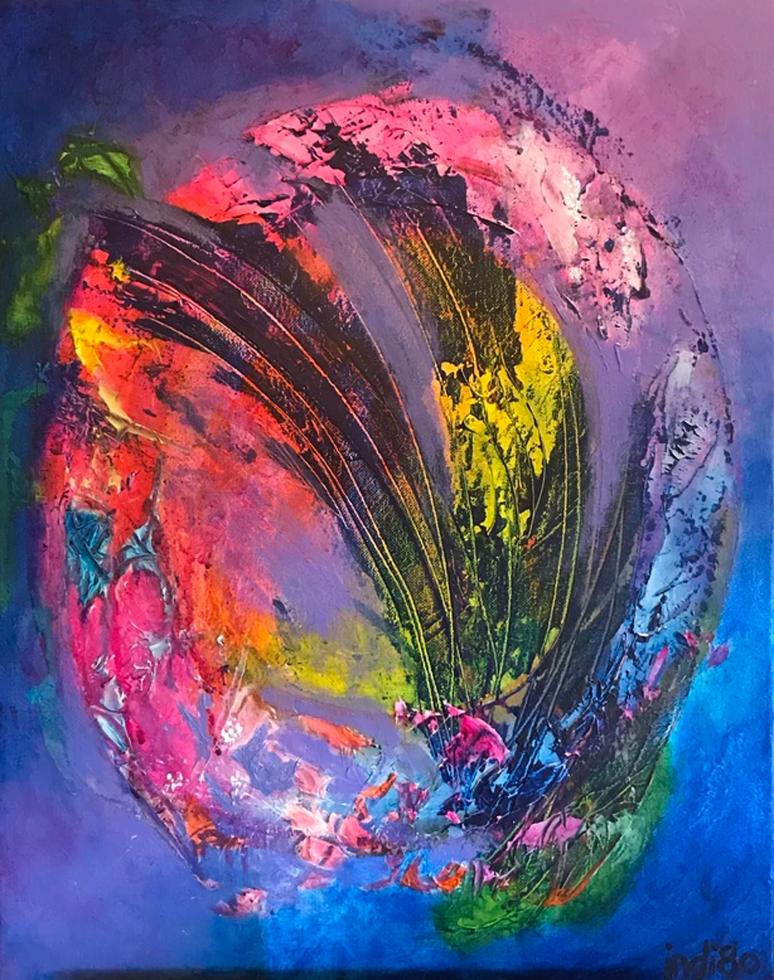 Then I say, I want you to have a conversation with your inner deeper self, higher self, your soul, whatever you want to call it, and have a conversation with yourself. Just write for five minutes without stopping and reflect on that.
Another activity I do is I have (participants) do pair work, just a conversation, no writing, just listening to each other as an introduction and talking about themselves, and then with a creative question also embedded in that. Then I do one activity around, I do a visualization and have them, if they feel comfortable, close their eyes and do some breathing and then ask a question and see what comes to them in that quiet kind of more meditative space. So it's like an embodiment kind of exercise. So they're feeling their body in their body, and that makes a lot of people uncomfortable. That's a hard one to do, but for some people that kinesthetic way of it totally speaks to them.
And then the last exercise I did was about making a map, and so it's a visual. You have a piece of paper and you map out these different parts of yourself. And for some that visual, putting it all down, that's like, "Oh, now I can see it all." So it's helping people actually experience the different learning styles to see which one resonates with them best.
What does creativity mean to you?
Creativity to me is expressing our purpose and our souls. It's expressing who we are deep down. It's our soul's expression. It's why we're here. I'm a very spiritual person, and so I feel like we are here for a reason and a purpose, and our creativity is a way to tap into who we really are and why we're here on this planet. … To me, creativity is expressing our soul's desire.
What's the art scene like in Amador?
There's a lot of artists up here. It's amazing, but I don't think my art has always fit into that scene though. When I was working at Gallery 10 as part of the cooperative and had my art there … people would come into the gallery and look at art, they would not even register my art. They would walk straight to the poppies and the scenes and the things that would go well over their couch. … I just feel like my art's not going to go over your match of furniture or your walls. It's not going to reflect this area.
Do you think that's changing or will change?
I hope so. I know that there's people that completely appreciate it and are so creative up here. … There are so many artists tucked into these hills, really good artists, and not just dabbling hobby artists, but professional artists who retire up here and show their art elsewhere.
Edited for length and clarity.
–
Stay up to date on art and culture in the Capital Region: Follow @comstocksmag on Instagram!