As county and state orders compelled most people to remain at home, the Sacramento art world took a huge hit. However, creativity has continued to flourish in quarantine.
In her 36 years in the Sacramento art scene, D. Oldham Neath never had to call an artist to cancel their show.
Also known as The Art Lady, Neath owns Archival Gallery and Framing in East Sacramento and cofounded Second Saturday nearly three decades ago. Once it became clear that public gatherings conflicted with the mandate for social distancing because of the coronavirus pandemic this spring, Second Saturday got canceled for the first time.
"Through people passing away and horrible rainstorms and all kinds of things, the show has still gone on," Neath says. "We canceled our first Second Saturday (in March), and that was a big turning point. This whole thing's been kind of odd, but it's forcing us to think in new directions."
As county and state orders compelled most people to remain at home, the Sacramento art world took a huge hit. Art galleries and supply stores closed their doors, while classes and events got postponed or canceled. However, creativity has continued to flourish in quarantine, with artists and gallery owners finding new ways to engage the public.
It didn't take long for the shutdown to affect local artist and art instructor Jennifer Laurel Keller. She got put on temporary unpaid leave from University Art on J Street, where she has worked in framing and art supplies since 2009. In recent years, Keller started using her experience as a classroom coordinator at University Art to create and sell online art classes. Out of work for the first time in more than a decade, Keller's classes suddenly became a necessary way to make money while helping her community deal with life in isolation.
"People are at home, they want to make art projects, and I can connect with them in that way," says Keller, who formerly owned CoolCat Gallery in Midtown Sacramento. "That's been a little bit of a silver lining."
Keller's online offerings include color theory and working through creative blocks and cost $35-$99. An acrylic specialist who mainly paints landscapes, animals and botanicals, Keller also sells a Beach Day in Acrylics class that walks students through the steps of painting a seascape. It takes her up to three months to create the videos for a single class. She is working on a floral class next, and she hopes to partner with other local artists for referrals. "I think it's going to be an avenue for all this online commerce that's developing, especially now, where we can collaborate together within the creative community and support each other," she says.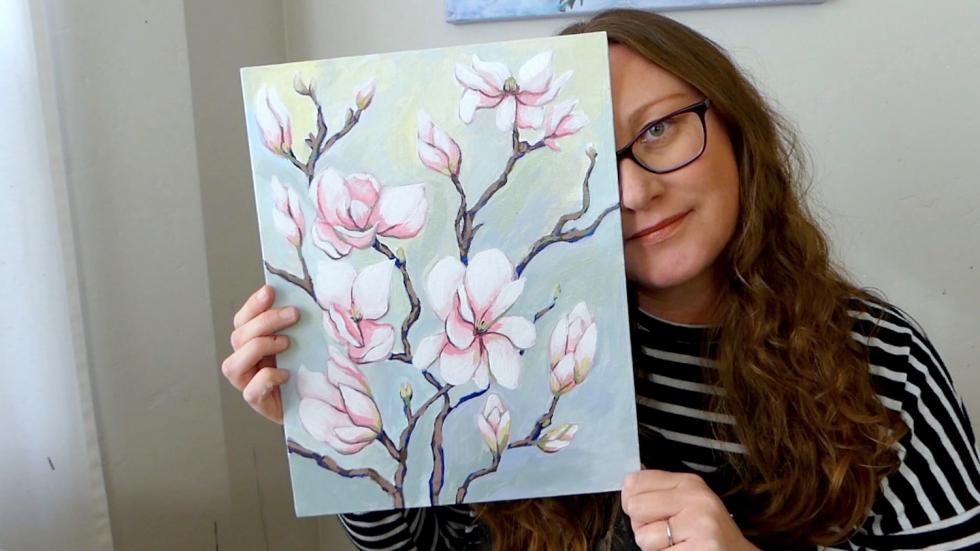 After a slow start to her online classes, Keller noticed an uptick in students, with more beginners turning to art during the coronavirus crisis. "Everyone at first had to batten down the hatches at home. Now we're adjusting, and I think art can be a great way to relax and get inspired and still feel like you're accomplishing something while at the same time learning a new skill," Keller says. "It can be a really good activity for your mental state."
While Keller promotes the therapeutic benefits of creating art, Neath believes in the therapeutic value of owning and appreciating art. "There's a certain little spark of joy that you get when you buy an original piece of artwork," she says. "It's like having a really rare jewel. There's not another one like it, and it's something that speaks to you."
To help stoke that spark while also supporting local artists and galleries during the COVID-19 quarantine, Neath created UnOpen Studios. On March 25, UnOpen Studios put out a Call for Artists in the Greater Sacramento area to submit videos that show them in their studio space or working on a project.
Besides offering an outlet to quarantined creatives, it also allows the public to explore the artistic process. The most-viewed submission so far is from painter and sculptor Pat Mahony, who walks viewers through her studio. "People enjoy seeing where artists work and their process," Neath says. "It's kind of an honor when an artist invites you into their studio."
UnOpen Studios is not the only way that Neath stays busy during the shutdown. She also hosted a video tour of the Archival Gallery's Michael Himovitz retrospective. Meanwhile, Neath points to local artist Shaun Burner, who has been livestreaming creating paintings on Facebook Live, asking the community for donations and giving away the paintings to donors, as an example of local artists finding creative solutions to practice their craft and make income in quarantine.
"There are still ways to support the arts," Neath says. "It's a great time to start collecting, because you have all the time in the world to research what you like and who you like."
–
Stay up to date on the effects of the coronavirus on people and business in the Capital Region: Subscribe to the Comstock's newsletter today.