It's a few days before Christmas at the Sacramento region's newest gaming resort, but inside, it feels like its own world.
The resort is Sky River Casino, which opened Aug. 16 just off Grant Line Road near Elk Grove. The smell of cigarette smoke in the air is just one reminder that this is sovereign tribal land for Wilton Rancheria — and therefore not subject to California state laws that ban smoking inside enclosed businesses. The casino could fit a small town, with a maximum occupancy of 11,000 people.
"It looks absolutely beautiful, it's stunning," Elk Grove Bobbie Singh-Allen says by phone. "As soon as you walk in, you literally feel transported somewhere else. It's like, 'I'm not in Elk Grove anymore.'"
After several years of work by Wilton Rancheria, the tribe's casino operator Boyd Gaming, and local leaders, Sky River is finally up and running. And everyone associated with the project seems pleased with how the resort is going so far.
It was a long road to this point for Wilton Rancheria Chair Jesus Tarango, whose tribe worked on the project for several years. "I think it's more than what we thought it would be," Tarango says, as he stands near the entrance inside Sky River. "You know, seeing the renderings back in 2016, 2017 and then to be here now, the renderings that I have in my house are the same as what you see here."
Walking around Sky River's 103,000-square-foot gaming floor, Sky River Casino President and Chief Operating Officer Chris Gibase of Las Vegas-based Boyd Gaming points out different features that make the design unique.
The chandeliers have acorns and oak trees, while large cracks built into the ceiling evoke rivers. All are meant as a tribute to the Miwok and Nisenan tribes that Wilton Rancheria members trace their ancestry to. There are also boulders within the casino that come from historic tribal land. There are plenty of customers sitting at machines and gaming tables on a recent Wednesday afternoon and while Gibase can't give exact figures, business seems to be going well.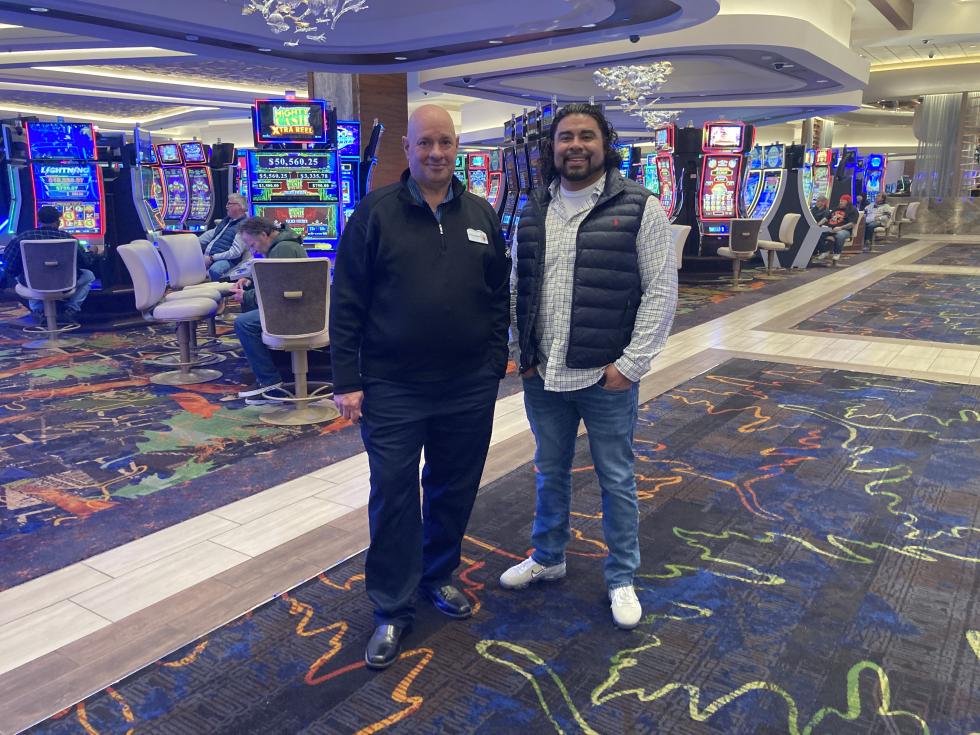 "I've never been in the red since the first 15 minutes," Gibase says. "This property is busy. And we give a great product for a fair price."
There are currently 2,064 gaming machines and 80 gaming tables operating within the casino according to Gibase, with Wilton Rancheria's gaming compact with the state allowing it to operate as many as 2,500 gaming devices and two facilities.
A food market within the resort features 17 bars and restaurants. The resort also hosts live music on Wednesdays. "The sweet spot here is country and classic rock," Gibase says. "That's what people seem to gravitate to the most."
Economically, the adjacent city of Elk Grove has much wrapped up in what happens with the resort, which was built on the site of the city's ill-fated "ghost mall." The never-completed Lent Ranch Mall was demolished in 2019 before Sky River broke ground in 2021. The resort operates near a still-growing part of Elk Grove, and it's not the only major amenity that could be in the area within a few years. Singh-Allen notes while on the tour of Sky River that the Sacramento Zoo could relocate to within a mile of here.
Gibase told Comstock's in an interview in late September that the tribe puts out approximately $20 million between the city, county and state in payments for various services and infrastructure. "This serves as an economic engine not only for the tribe but for the general community," Gibase said at the time.
Elk Grove Economic Development Director Darrell Doan says his job revolves around attracting employers to Elk Grove to create economic activity and community wealth and that "from that standpoint, the Sky River Casino is a major win for the community. They employ just shy of 2,000 people. Approximately 40 percent of those are Elk Grove residents. So it's a huge regional employer."
The resort is on sovereign land, so it contracts with Elk Grove Police Department to provide officers for extra security. Sgt. Jason Jimenez, a department spokesman, says that while there have been arrests associated with the casino, including for public drunkenness, Sky River hasn't posed any significant safety risks.
Some traffic-related problems arose with Sky River's opening, and Jimenez says Elk Grove PD had staff on-site monitoring the situation. "That was quickly remedied and that traffic issue was resolved and we've not had any issues since," Jimenez says.
Gibase says that the initial crowds and traffic were the biggest issue Sky River has had, though the resort has since opened more parking.
In time, there could be more offerings at the resort, with a second phase currently in planning with city staff and Wilton Rancheria and Boyd Gaming having 100 acres between them. In September, Gibase told Comstock's that "what I would expect to see here is a major hotel, entertainment complex. Pools, spas, pretty much everything you see if you went to … the strip in Las Vegas. I would expect that to be here in the next couple of years."
That also might be the point where Wilton Rancheria members will have started to see some money from Sky River.
"The tribe really won't see any benefits probably for another year," Tarango says. "But it's good that we have this here. And I think it's good for our community as well."
–
Get all our web exclusives in your mailbox every week: Sign up for the Comstock's newsletter today!