Mayra Vega arrives at downtown Woodland coffee shop Morgan's Mill on foot — on a 100-degree day. Walking is a small-town luxury for the mayor of Woodland, who says she loves the Yolo County city for being "walkable, ridable, skateboardable and skootable."
The city's quaint qualities are part of what drew Vega to Woodland from Napa. In 2018 she relocated with her husband and two children after seeing how family-friendly the community was as well as its opportunities in health care, her chosen field for the past 11 years.
Vega's health care background is just one of the experiences that have shaped her perspective as mayor. Her family's experience picking grapes in Napa has helped her relate to Woodland's agricultural community, and her early-career work in client services for an international wine and spirits company granted her communications skills and the ability to navigate large organizations. Having studied economics at UC Davis, she's "really interested in building up a local economy of jobs" for Woodland's next generation of research and technology professionals.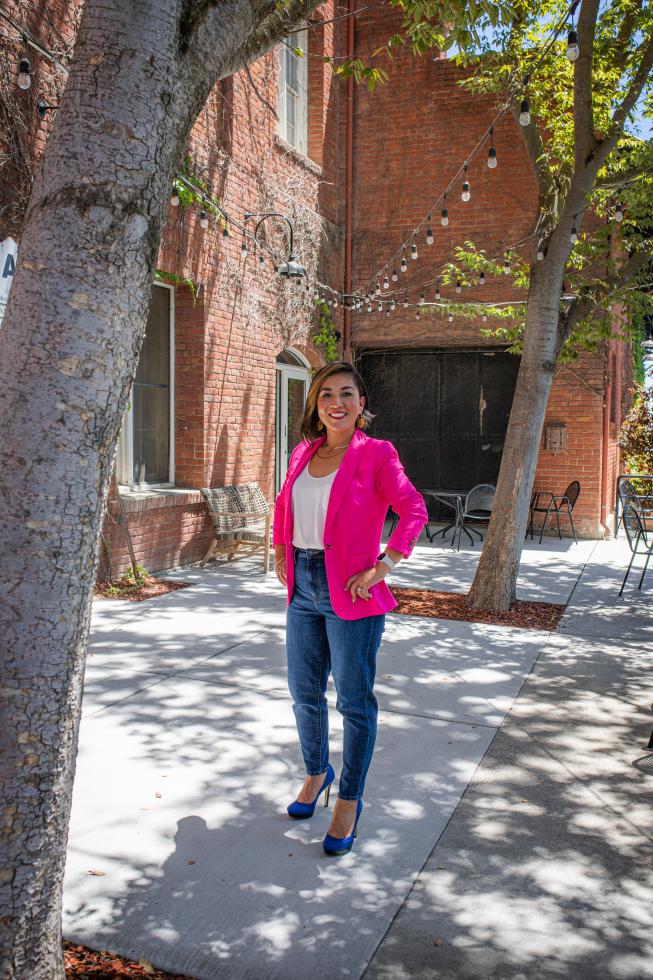 Vega has a demanding full-time job as deputy director of communications and planning for the Department of Health Care Access and Information, but during the pandemic she felt she had the bandwidth to run for mayorship. She was elected in December of 2020. "The first year was really hard," she admits, "because I had to learn all about the way local government functions. So I tapped into my robust network of mentors who I've met along the way."
Being first generation — Vega was born in Michoacan, Mexico — has presented challenges, but she's mostly found it to be an asset. Her brand of public service is approachability, and Woodlanders often strike up conversations with her at her daughter's swim lessons or at the grocery store. "I wouldn't be able to get their perspective if I wasn't a mom, in swim lessons in that space," she says. "The more diversity we have, the better we're able to meet people's needs, because they're comfortable approaching me."
Everything Vega does requires her to listen. Whether she's addressing patients' needs or brokering business conversations, she aims to serve her community.
How my experience in health care has informed my point of view as mayor: From a health care perspective, looking at all of the ways that people access or don't access health care has really given me an eye for looking at who's going to benefit when we're making a decision, or when we're considering a new project. What are the unintended consequences, right? Because sometimes, you know, the people that most need the resources are not the ones that are at City Hall. They're not the ones that are most vocal. They're people that are working to get by. So having that lens around leadership, we have to look at opportunities and the impacts for the entirety of the community, not just the folks that come in.
My vision for Woodland: My vision for Woodland is to develop more local jobs so that people have the opportunity to live and work here. I tell young folks, new grads that are at UC Davis that live here in Woodland and are leaving the community going to Sacramento or the Bay Area for jobs, that I really want to work on bringing some more of those modern, high-tech jobs.
We have some good momentum here. We've really tapped into the ag research fields. So we have a new lab — it's called The Lab@AgStart — and what we're doing is providing space for startups, international companies that do research on food. It's really fascinating. What's lacking now is once those companies develop enough, they need a place to set up their headquarters. So I'm very, very excited and have been for some time … to bring the office space that will be able to support these types of industries and research tech.
What makes Woodland great, and how we're celebrating its history and unique character: It's just amazing that you can walk 3 miles and really get anywhere within the city limits.
Something that's important is retaining the character of Woodland. We have a sense of pride about our legacy of being an ag community. We just celebrated our first ever farm worker and farmer festival just in June. It's always remembering that the agriculture economy is who we are, and retaining that character. That's important.
The personal experiences that have contributed to my perspective: Being the first of my family to graduate high school and do all of the things that I've been blessed to be able to do has given me this belief in myself that I can figure things out. There's no manual out there for a lot of things that I'm going to do. But because I have to throw myself into things, I've built that belief in myself that I can do it. I have enough confidence to give me the courage to do it.
Even just being at the table, which is something I've taken upon myself, if I want to have more representation of women or see more colleagues with (diverse) backgrounds, I have to take a step, sit at the table, and then bring some other folks in.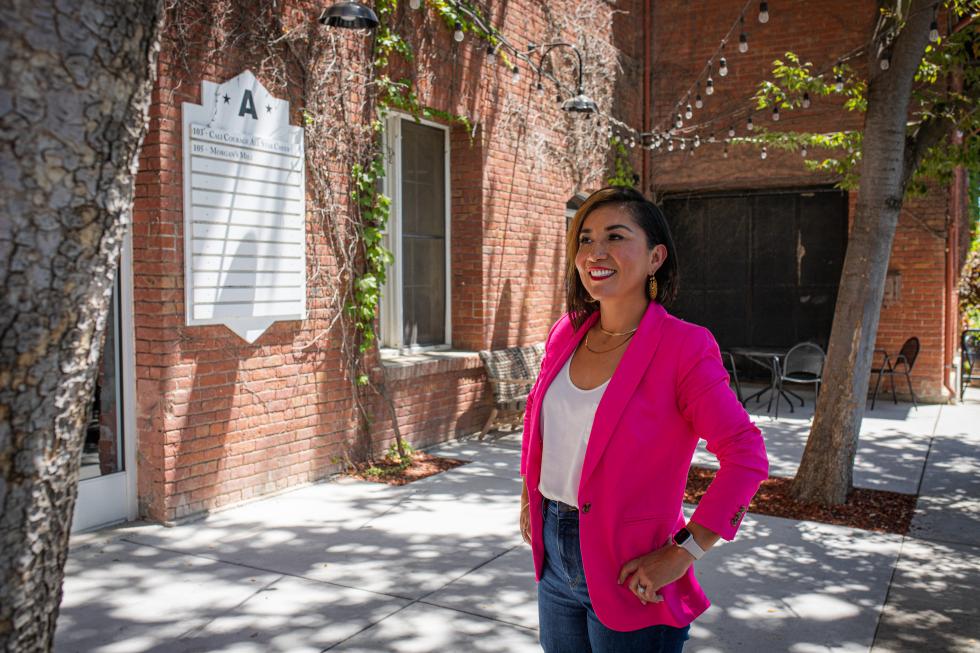 The challenge of standing ground on a decision despite a small vocal minority: Some of the challenges are where you have a group of individuals who are organized, they know how to organize themselves, they have the time, privilege and knowledge base to be able to know how to access city council members, how to access the staff and these meetings. And they use that to advance their agenda or support their initiatives.
But I have to keep in mind that I represent a broad base of the city, and a lot of those individuals have spoken to me directly. I run into them at the store, I go out and I seek their counsel, their opinion. They deserve to have their interests represented and not just decide based on the limited few that know how to go on the record and access these meetings. So it's a balance, right?
On the recent incident in which alleged Proud Boys members attacked a Woodland Pride event, shouting homophobic slurs: Pride Month is always something really exciting. It's something I look forward to that I've celebrated with my children. So I was at the event. I was going to give a proclamation, proclaiming June as Pride Month. Council had unanimously approved this, so I was going to go and deliver the news. But that day my rotary sister, who owns the restaurant, reached out about the threats and said, "Hey, we're canceling the event out of an abundance of caution for the performers." …
So I called our police chief, who's always been very responsive to our community needs, so he was aware of it. It was beautiful, a roomful of families were there and I had a few people come up and thanked me for being there. So we ended up having the show, although it was not what was originally planned.
Then what happened is, I was in the restaurant, and then I heard some commotion, and the feeling of pepper spray in the air. … I went out and checked with the deputy chief he said, these individuals had tried to come in, and somebody from inside sprayed to get them away.
Our police team did a really good job at deescalating. Throughout that day, I was in shock that somebody would go out of their way. … They want to intimidate us, to instill fear. And what I saw that evening at the restaurant and afterwards was that this community is not going to stand for intimidation. …
It was amazing to see all of the support that came in via email and phone calls saying, hey, this isn't okay, this is not who we are. We don't discriminate against anybody from the LGBTQ community. So I was very happy that our community came together and said, no, not in my town.
Edited for length and clarity.
–
Stay up to date on art and culture in the Capital Region: Subscribe to the Comstock's newsletter today.