Onit Coffee isn't your standard coffee shop. For starters, it's not a "shop" in the brick-and-mortar sense (yet). But what it lacks in four walls, it makes up for in good vibes. Visit their coffee truck in Elk Grove, and it's all friendly, everybody-knows-your-name vibes from the staff. On their Instagram, you'll be treated to a kaleidoscope of images of colorful drinks — red and orange sunset smoothies, green matcha boba, purple taro milk tea. Visit Onit Coffee's website and you'll notice a number of videos featuring entertainment events and community gatherings that the business has hosted outdoors since it opened in March of 2020. (Yes, that March of 2020).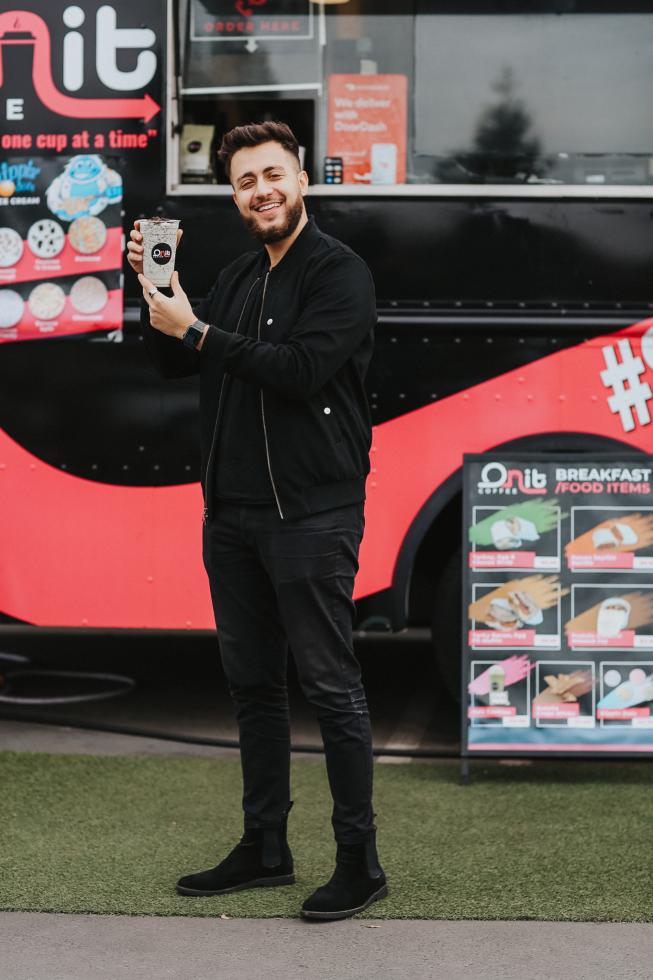 CEO and founder Shadi Khattab has intentionally infused each of these spaces — both physical and digital — with style, energy and opportunities for community engagement and inclusion. "What makes the city of Sacramento special is the mosaic of different ethnicities," he says. "With Onit, I'm big on creating a team that's very diverse. When you mix that together into a melting pot, you can come up with some really cool, innovative ideas."
While earning his bachelor's degree in entrepreneurial studies at Sacramento State in 2016-2018, Khattab's vision for Onit began to take shape as he noticed certain improvements he could make to a popular coffee chain. "I fell in love with the Dutch Bros business model," he says. "What I liked about it was the human-to-human interaction element. When you go to a (Dutch Bros) Coffee, they have that friendly demeanor." He says he found the warm, welcoming attitude refreshing in an age where "we're desensitized with phones and monitors." Aiming to retain the friendly atmosphere, but with higher-quality coffee and tea and vegan options, he set his mind to opening his own franchise one day.
After working with a consulting firm and researching the coffee industry and optimal locations, he was ready to put his idea on wheels. Though he had planned to park his first coffee truck at his alma mater, the pandemic's impact on college life forced him to steer in a different direction.
He decided instead to park at his family's business, Precision M.D. Cosmetic Surgery Center in Elk Grove, where he is chief operating officer. "We turned it into almost a (permanent) location where we would serve people from 7 a.m. to 10 p.m. every day, and we created a nice outdoor seating area," he says.
Despite challenges, Onit has grown considerably over the last year, expanding from six employees to 16. A Syrian American whose family immigrated to the U.S. in his youth, Khattab says he values the ability to create opportunities for other immigrants and minorities. This fall, Khattab will start construction on a dual-lane drive-thru at the intersection of Howe and Marconi avenues in Sacramento.
How my background fuels me to motivate others and give back: I am a Syrian American, I was born in Syria. I migrated to the United States with my family when I was around 5 years old to Chicago. I want to manifest my vision to build the next major coffee franchise one day in California and open up opportunities for other minorities, immigrants, and youth, and show them that if you work hard, you can achieve your goals and manifest your dreams.
The motto and vision behind the company is "impacting lives, one cup at a time." Essentially what I wanted to do as an immigrant myself and as somebody that believes in giving back — because my people are refugees and when we came to this country, our family didn't have much — I'm very big on giving back and sharing my blessings, and I really want to teach the youth that.
Offering special events and marketing to reach new customers during an uncertain time: The first two months were very, very difficult. I started thinking, how am I going to get Onit to take off? It was a lot of marketing and branding. I started doing unique events. I did an event for the kids and their parents with a youth pastor called Spidey Squad for the kids. I had about 500 people show up to that. We did Comedy Night where we put a stage next to the truck and Lance Woods performed and it was a very unique, free event.
And we did another one where it was a gaming tournament. We had a hundred gamers come and compete, and the winner won a PlayStation 5. So I started really thinking outside of the box, and with each event that we did, it brought in a whole different demographic. And slowly through word-of-mouth and through the various menu options we offered, (it started picking up).
A menu with Old Soul Coffee beans, and a new take on the health-conscious consumer: Our coffee's sourced from Old Soul. They're local in Sacramento and they've been around for a long time. I wanted to work with a local company in Sacramento and I wanted to bring gourmet-quality coffee to a drive-thru and to a mobile truck. So we formed a partnership with them and they made a custom blend for Onit. The partnership has been great.
I also wanted to target individuals that want to live a healthier lifestyle. Let's say you're going to work out at the gym, or you're on a diet and you want to get a protein shake at a drive-thru. I don't know too many options where you can go and get a quality protein shake at a drive-thru. That was kind of the vision behind it. And that's why we decided to go with fresh-squeezed lemonade, sugar-free options, alternative milks, matcha and green tea.
My secret to productivity: If I have an idea, I noticed that the rate of success is higher if I jump on it right away. So delaying and procrastinating, that's where ideas fail and dreams fail. Whenever I have tasks that I need to get done, I try my best to start working on them as soon as possible. Let's say it's a large-scale event, I'll try to plan it out and execute — get all the promotion, everything done — within about five to seven days. If it's a smaller task, do it the same day, you know?
My favorite books about leadership, human interaction, and the ego: One of my favorite books is called "Ego is the Enemy" by Ryan Holiday. And it just talks about how if you have a big ego and that sense of entitlement, it can really get in the way of your success.
The other one's called "The 5 Levels of Leadership" (by John C. Maxwell). And that one talks about how a real leader develops other leaders within his or her team to help develop other leaders. It talks about how, like, a successful company is built on leaders, within leaders. … And that's something that I want to create within Onit Coffee — individuals that I can train to become leaders to hopefully train other leaders within the company. That's how you're going to scale it and turn it into something big.
–
Stay up to date on business in the Capital Region: Subscribe to the Comstock's newsletter today.