Starting a family band is overrated and so 1970s. Starting a family winery, on the other hand, is so 2020. The family behind Tabeaux Cellars is not of your standard wine-country lineage. Rather, they are "just a family producing a decidedly small allocation of foothill glou glou," as its charming Instagram bio states.
Tabeaux was established in 2016 by Marcus and Laura Boggs with their daughters, Julianna and Lydia, in bucolic Amador County. Its organically grown and sustainably powered fruit farm is perched atop a hill near Lake Tabeaud, complete with goats and requisite farm pup.
Each family member has their own unique and critical role, and at the helm is Julianna Boggs, co-owner and "director of everything not making wine." Boggs is a nuclear mechanic who works in three-month spurts all over the country and occasionally internationally. That work schedule allows her to spend the rest of the year back home in Sacramento and Amador County, with space for creative gigs like arts and food journalism (for publications like Comstock's). In recent years, she's used the flexibility to invest the time to start the new company. Although she says she's able to do both now, the momentum and growing wine club memberships are promising to take more of her time and attention in the coming year.
The Boggs family might be relatively new to the wine scene, but with 20 years of experience working their fruit farm, they know the land intimately and what they don't know, they learn quickly to fulfill their passion for juicy, organic, chuggable wines.
How Tabeaux Cellars came to be: We are a very small family-run winery. We have a 40-acre organic fruit farm up in the Sierra Nevada foothills. We decided to start making wine in 2016 because our neighbor had a big vineyard with some extra fruit. We enjoyed that process so much that we just thought, let's start a winery.
How everyone's strengths determined their roles: I am a co-owner with my mom, dad and sister. I am also the director of everything that's not actually making the wine, kind of the workhorse. So any kind of sales or bottle procurement or label design, invoicing, that's all my wheelhouse now.
My father is the winemaker, and he also just keeps the whole physical operation running. He is a definite Renaissance man. He has a really impressive array of skills that (are) super important for running a winery, because everything is always broken, and you find you need to create a special tool, and you have to run a forklift.
My mom is sort of our office person, so she's in charge of all the compliance and taxes and legal paperwork. Mom is super organized. She has to do all the legal stuff, but she has the time and patience to deal with that.
And my sister is really our go-to cellar hand. She does all the lab chemistry to make sure things are going smoothly in the cellar through the year and helps out day to day with any sort of racking or movement of the wine that needs to happen. My sister is very meticulous, very demanding. She's like the whip. So she's been great for keeping our wine program really in line.
Our varietal and specialty: Since this is our first time making wine, we wanted to be really careful with the process. So we started making conventional wines, and just last year, we did our first natural fermentation and really loved the way it turned out. So we're hoping to add more of that just starting this summer. Organic, sustainable fruit is the backbone of what we do. And then Primitivo, because that's such an interesting and prevalent varietal right in our area. That's been primarily what we focused on along with Rhône varietals.
The terroir of the Sierra Nevada foothills: The ground up there, if you ever tried to stick a shovel in it, it's just rock. So it's really difficult to farm, but it's really great for grapes because they dig down super deep into the earth, and you end up with these really strong, concentrated, fruits. … That granite terroir is what makes the Sierra Nevadas unique.

Our biodynamic approach and our taste: Farming organically and using biodynamic practices is so important because we want the food we eat to be really clean, and the wine we drink should also live up to those standards. And it also just follows ethically for the land and for our business practices that we're being really careful with the Earth and very responsible with the way we're managing crops. So we want every bottle to really feel like a good and responsible purchase, that also just tastes, you know, joyful and delicious and bright.
Transitioning to the next phase: The winery is going to be taking more of my time and attention, I think, in the coming year. We started in 2016. So 2017 was our first varietal that we had to release. So really our sales have only had a couple years in the market, and we're just now starting to see a lot more movement. Before, I was trying to figure out just how to do everything, and now I have it figured out, and people are starting to come to us more.
So it's taken a lot of work off of my shoulders. But now there's also a lot of follow up that needs to happen with customers and shipping and making sure we have the product we're going to need in the coming years.
How the coronavirus pandemic has affected our wine club: We have a couple wholesale accounts, like, literally two. One of them is The Snug in Sacramento. But 99.9 percent of our sales are direct to consumer through our wine club primarily. So that's been really amazing in this current economic period, because our sales haven't suffered as restaurants and bars have had to reimagine what their offerings are.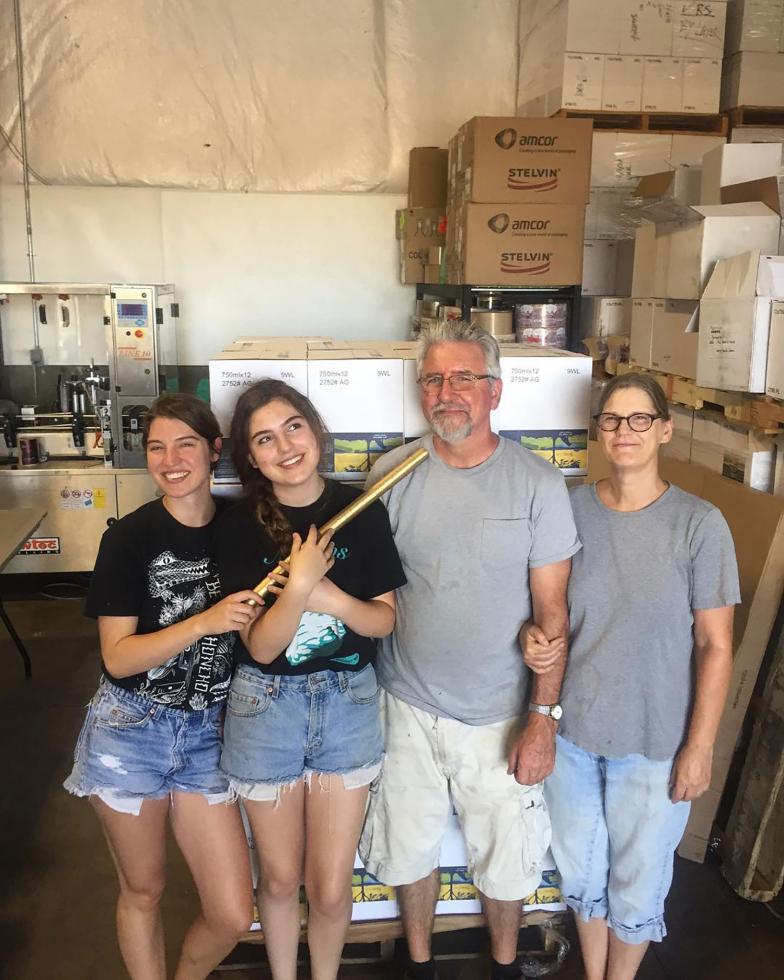 And actually wine sales have had a massive uptick. A lot of wineries have been experiencing that right now. People are staying at home, they're buying more wine since they're not going out for dinner. They're moving their income more around buying single bottles or cases. So we've just been really excited about people coming to us and new customers, and the repeat sales have been really important for us.
If we experienced this for the next six months, our sales would have gone up over 100 percent. So, yeah, it's really huge. A lot of that was heading in that direction before the pandemic. So it's sort of a combination of we just finally hit this certain market, and people started telling each other about it — a lot of our customers are direct referrals from other wine club members. So it was a little bit of finally getting in this flow, and then also, you know, pandemic stay-at-home quarantine drinking.
My advice for others who are passionate and want to start something but may not be so experienced: Inexperience starting is, like, the story of my life. But I think it's really important to make a manageable business plan and have action items attached to that so you can see where you're trying to get and steps you can actually take to get there. When we started the winery, I made this, like, five-year plan that was so theoretical. There was no way I could achieve those metrics from where I was starting. And I had to go back a couple years later and totally rewrite the plan to say, "OK, yeah, it'd be great if we had 2 million wine club members, but I have four, so how do I get even like 50 or 100?"
So taking really small steps to achieve manageable goals gives you that feeling of success instead of feeling overwhelmed. Also, just leaning on your friends and your community because everyone has experience doing something they didn't know how to do at the beginning. Being able to relate to people or talk about your stressors or hear their advice from whatever angle can really pull you out of that vortex and have you be like, "Oh yeah, I'm crazy. I don't need to plan for the whole 10 years. I just need to get through this week or make sure what I'm doing next month is going to work out," you know?
The most idyllic thing about owning a winery and the not-so-idyllic part: I tell people that I really love waking up to my work most days because there are so many different things to do that I never really know what I'm going to do. So we can be walking through a vineyard, and I'm learning about the soil quality and what that's going to mean for the harvest. I'm also trying to pour through a catalog to find new bottles for an upcoming release. So I'm doing all these really different things sometimes in a single day or every day.
On the flip side, trying to do all of those things in a single day can be so overwhelming. You look at your schedule and say, "We're supposed to be in the foothills walking down a vineyard at noon, and then I need to be tracking down a missing shipment for a customer in Texas who's hounding me. And we have to have the bottles already in two weeks and the labels won't be here for three weeks." … Even delegation can take a lot of time and energy. But you find a way.
What makes Amador County unique: Amador County is really wonderful because it's still very quiet and rural, so you have a lot of physical and mental space to explore different concepts. A lot of places in California, if you want to live in the country, it's like ultra-premium land prices, or it can be already really kind of gentrified by people in the Bay Area with second homes or something.
So you're not really getting opportunities to do the things that you would want because that land is already taken. But being in Amador County, you can still find some space and start a little farm or meet someone with some extra grapes and figure, yeah, I'll just start making wine.
My favorite offering: My favorite right now is a natural Carignane that we made last summer. It's not released yet, but I think we'll be putting it in kegs this summer for distribution around Sacramento. So it'll be on tap at some local bars and restaurants. It just turned out so juicy and delicious, that I can't wait to make another couple barrels' worth.
—
Get this and other stories delivered to your inbox weekly: Sign up for our free email newsletters by clicking here.
Editor's note: This story has been updated to clarify that Julianna Boggs is at the helm of the business.