The battered metal lockers inside the gargantuan walk-in freezer at Roseville Meat Company have been around for 72 years — since this popular butcher shop first opened up.
Rows of these meat lockers used to cover the entire length, width and height of the 2,000-square-foot space, back in an era when few people owned freezers, and the shop survived almost solely on processing farm animals and wild game, rather than retail sales. Today, only a single row remains, with the few remaining lockers usually rented by hunters for overflow freezer space.
When Joyce McKinley Henry's parents purchased the store in 1977, it still operated primarily as a custom meat processing shop. The changes at Roseville Meat Company over the decades reflect the changing character of the surrounding area.
"In those days, we didn't have Galleria Mall, Rocklin was still a white spot in the road and people had ranchettes out here, and many of them still raised their own animals," she says. "The year my parents bought this was the year of a drought, and so nobody had any animals, because there was no grass — that's when they started really building up the retail side of the store."
While retail has come to dominate the store's business model, which emphasizes pre-marinated cuts, exotic meats and holiday-related sales, Roseville Meat Company is also one of a dwindling number of local butcher shops that still provides custom processing for hunters. "Game season is big for us," says McKinley Henry, who runs the store with her husband, David Henry. "We're a mix of the old and the new."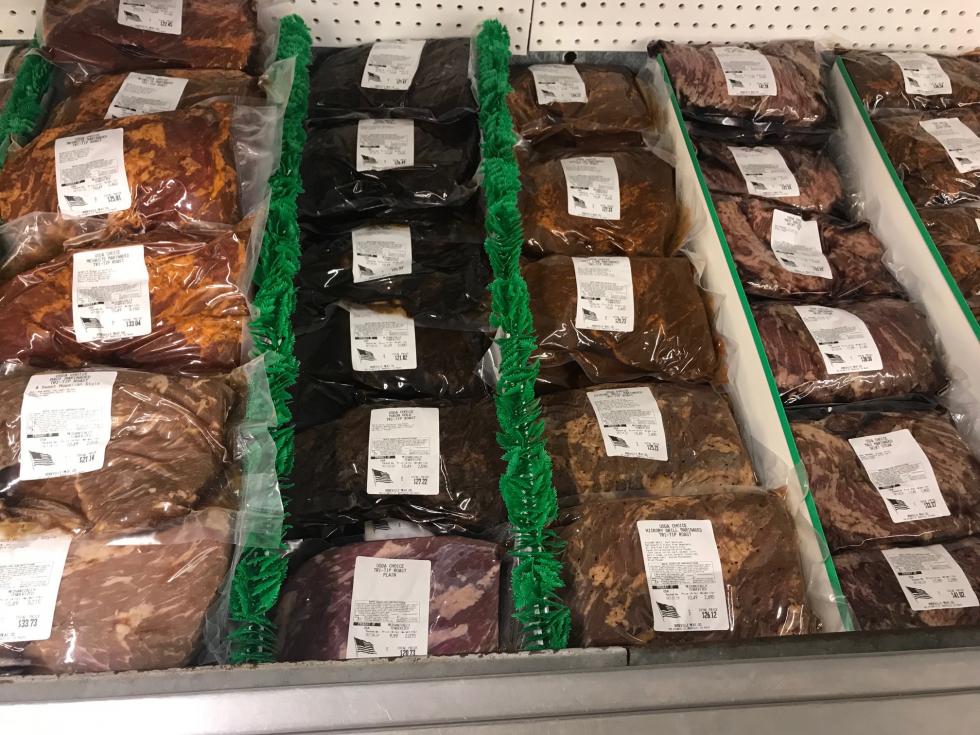 Processing wild game in the fall during hunting season helps Roseville Meat Company fill a seasonal lull between the 4-H and fair auctions at the end of the summer and the busy end-of-year holiday season. Hunting season runs roughly from mid-August to early November, although the dates vary by region, by weapon (archery season starts and ends earlier than the general season) and by animal.
Roseville Meat Company processed over 400 deer, elk, antelope, hogs and more wild animals brought by in local hunters in 2017, turning their kill into chops and roasts, and using the trim to make sausage, ground meat, jerky and salami (they also do custom smoking in an onsite smokehouse). The store has seen a rise in custom processing customers of late, largely because their closest competitor, the nearby Orangevale Meat Shoppe, went out of business in 2017. Other remaining custom butchers in the area include Dees Meats in Galt, Longhorn Meat Company in Auburn and Swingle Meat Company in Jackson.
Taylor's Market in Sacramento used to be part of that group, but the store stopped processing wild game about 15 years ago, choosing to focus on retail meat sales. "We don't have a lot of space for it, and we didn't get a lot of people asking for it, so it wasn't really worth our while anymore," says meat department manager Paul Carras, who has worked at Taylor's Market since 1996.
However, the store still offers an annual class for hunters as part of its Butchering 101 series, educating them about the proper handling of their game. "There's a lot of guys that will kill the animal, and after that have no idea whatsoever what to do in the field," Carras says. "The mistakes that happen cost these guys tons of meat every year."
The classes are taught by either Carras or Taylor's Market co-owner Danny Johnson, longtime coworkers who also hunt mule deer together throughout the western states. "When we're hunting, we're usually together butchering at the same time," Carras says. To keep their meat spotless and cool and prevent it from souring, Carras and Johnson debone the animals in the field, then leave the more complex butchery for the home kitchen. "We clean out all the muscles and bone, and then we fill these game bags that are designed for boneless deer meat, then put that in our backpack and hike it out."
Custom game processors like Roseville Meat Company also find the need to educate their customers from time to time, mostly about how much meat they can expect to get back. Depending on the placement of the bullet or arrow that brought the animal down, some of the meat might be damaged. "They don't always understand what their yield is going to be out of an animal," McKinley Henry says. "We've done cutting tests to show that as long as the animal is clean and not damaged, you should expect to see approximately this much in your shoulders, this much in your loins, this much in your trim."
McKinley Henry brags that her butchers can process any legally harvested animal that a licensed hunter brings into the store, but she draws the line at bears. "They're oily, they stink, and the oils and the smell would permeate our cutting tables and freezer," she says. "We don't need the business."