Danny Johnson knew it was over the second he saw that softball-shaped lump of hamburger. Under the hot lights of the stage, amid flashing cameras and raucous cheers from the Belfast crowd, one of Johnson's teammates at the 2018 World Butchers' Challenge forgot to press their ground beef into an actual patty before time expired. As the judges approached, that giant ball of meat seemed like the only thing standing between the American team and glory.
This was the first time a team of American meat-cutters competed in this global event, which started between two countries in 2011, and has since expanded to 12 countries and counting. The theme of the American team's display was "sustainability." The growing popularity of the self-proclaimed "Greatest Butchery Event on Earth" seems to mirror a rising international interest in locally, ethically and sustainably sourced food.
"We often say that chefs have become the rock stars of the culinary world, and we believe that butchers deserve to be right up there with them," says Ashley Hall, chief executive of the World Butchers' Challenge Council.
Johnson, who owns Taylor's Market in Sacramento's Land Park neighborhood, rejects the rock star label — he's just living the dream of a little boy from rural Placer County. In the 1960s, when the town of Newcastle was still a major fruit shipping center, the young Johnson would accompany his grandfather on packing runs from a nearby farm. Across the street from the packing house was a small neighborhood butcher shop and grocery store not unlike Taylor's, which opened in 1961.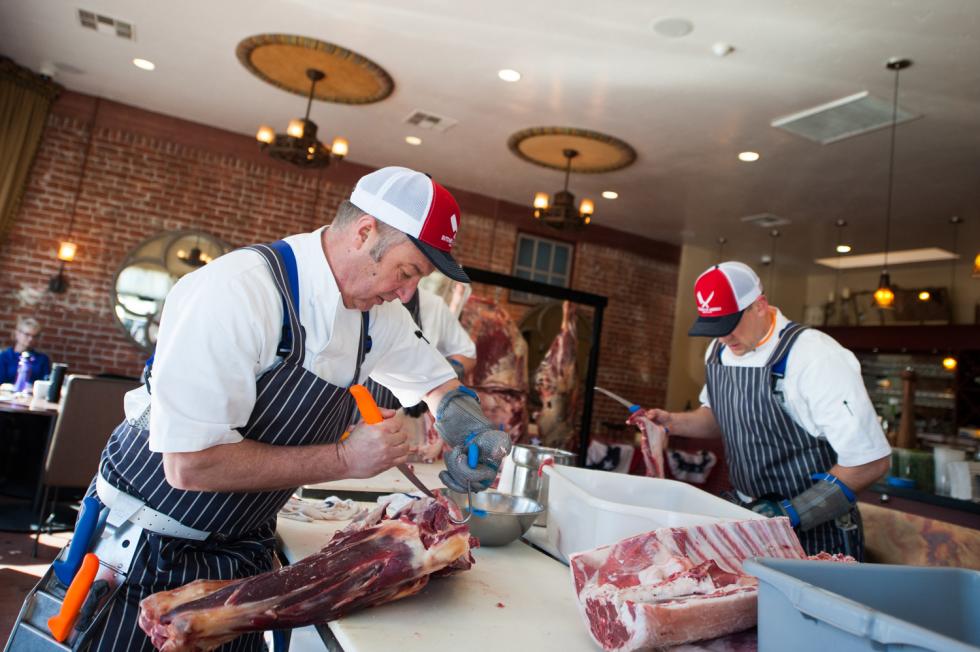 "The first time I went in there, I was just amazed at all the meat, seeing all these animals hanging," Johnson says. "I would raise all kinds of hell because I did not want to go back to the fruit shed, I wanted to stay in the butcher shop and watch."
Hooked at an early age, Johnson graduated from Oregon Meat Cutting school in 1982. He accepted a part-time job as a butcher at Taylor's in 1983 and never left, becoming a part owner in 1987, and a full owner in 2007 along with his wife, Kathy Johnson.
"There used to be places like this all across the United States, little corner grocery stores with a butcher in it," he says. "It's a dying breed, but it's also a thriving breed, if that makes sense."
In other words, Johnson has been old-school for so long that he's new-school again, as a new interest in local and sustainable food sources has pulled the specialty butcher shop out of a decades-long decline. A 2008 UC Davis study helped define the trend, finding that "consumer demand for niche meats is often motivated by the belief that natural and organic meats are fresher, have better nutritional value, taste and long-term health benefits than conventional meats, and that the animals are healthier and better treated than conventional livestock."
Sacramento's Farm-to-Fork logo shows a plant growing into the shape of a utensil, but the whole-animal butcher helps provide the protein side of the sustainable food equation.
Hoof to Snout
Unlike Johnson, Eric Veldman Miller never harbored any childhood dreams of becoming a butcher. As a chef at restaurants such as Mulvaney's B&L in Midtown Sacramento and an instructor at Le Cordon Bleu in Natomas, Miller was always searching for high-quality and locally sourced meats. A visit to a whole-animal butcher shop in Brooklyn provided the necessary inspiration, and in 2015 he opened V. Miller Meats, sourcing all of his meat from within 100 miles of the store.
"All our beef and lamb are grass-fed [their entire lives], all our pork is raised outside, all my lamb comes from Dixon, most of my pork comes from Chico," Miller says. "It's a very clean and traceable source, a very safe way to eat." Even the hot dogs at V. Miller Meats are locally sourced, since they are made from the unused beef trim. If you buy a steak and a hot dog at V. Miller, there's a good chance they come from the same animal, or at least from the same ranch.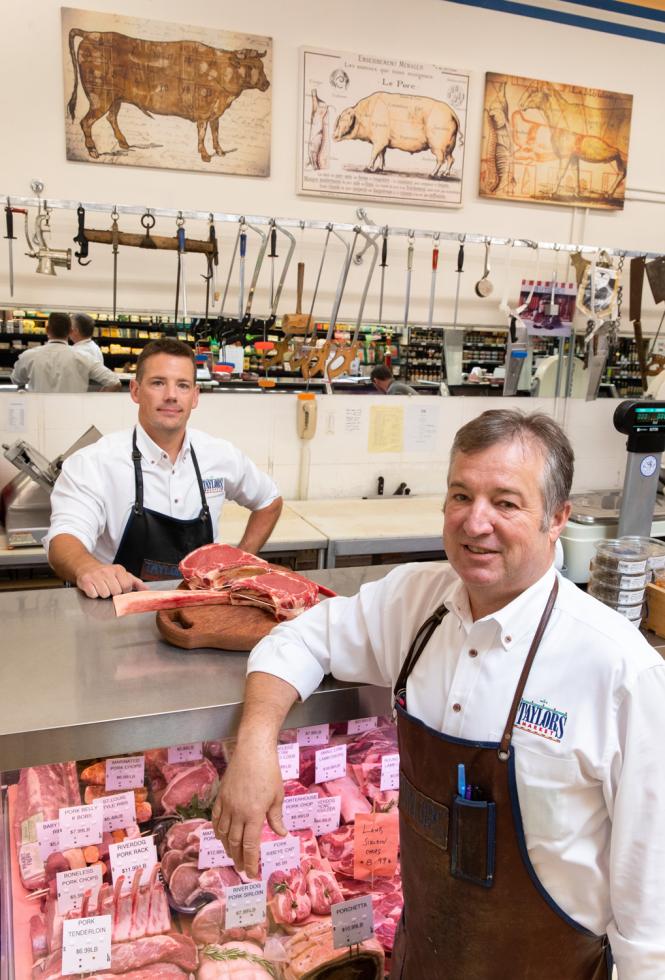 Those high standards come with a cost, as the prices at V. Miller Meats are significantly higher than at a local butcher store like Roseville Meat Company, which sells grain-fed beef raised on macro-farms in the Midwest. The meat departments at larger stores like Taylor's and Corti Brothers also practice whole-animal butchery and source much of their meat locally, but unlike the purists at V. Miller Meats, they also offer some pre-cut and boxed meats.
Miller's main concern moving forward is that there won't be enough slaughterhouses to meet the increasing demand for organic meat, a discrepancy that could affect his bottom line. However, Miller takes comfort in his customer's increasing awareness, not just about sustainability, but about advanced cooking techniques as well: "More and more we see at the end of a very busy weekend, rib-eyes and filets are still in supply, and the other cuts that take a little more technique to cook are gone."
Showcasing Technique
There was no scarcity of technique by the American team at the World Butchers' Challenge. When The Butchers Guild co-founder Tia Harrison tabbed Johnson to lead the team in Belfast, he helped hand-pick an all-star lineup that included Paul Carras, his longtime employee and apprentice.
"Danny was and is my teacher, so most everything that I know is because of Danny," says Carras, who started working in the Taylor's Market meat department when he was 15 years old. "I was trained by an old-school teacher, so some of my methods are old-school."
Those old-school methods, such as breaking down whole animals and making sausages, served Carras and Johnson well in competition. Over the course of three hours and 15 minutes, each six-person team of butchers must break down a side of beef, a whole lamb, a whole hog and five chickens, then arrange the cuts into a themed display that exhibits value-added creativity and consumer appeal.
Teams provide their own spices, seasonings, decorations and signage with cooking instructions, and they are judged by both veteran butchers and health inspectors. The Americans stuck to the theme of sustainability by using every part of the animals in their display, even though the WBC rules don't require teams to process the bones and fat. "We made pet food, we cut up bones, we had stock pots with bones in them," Johnson says. "Everything went on the table."
During his time in Belfast, Johnson also collaborated with Visit Sacramento on a successful bid to bring the 2020 World Butchers' Challenge to Sacramento, beating out Paris and Rio de Janeiro. Hall, chief executive of the competiton's council, says the level of collaboration that went into Sacramento's pitch was impressive. "The council felt that Sacramento was best positioned to help successfully grow the competition and take it to that next level … It does feel as though the whole community banded together to create the bid," Hall says. No official date has been set for WBC 2020 in Sacramento.
The Americans placed a respectable sixth out of 12 teams at WBC 2018, but both Carras and Johnson believe the team was only a couple mistakes away from the top three. Johnson plans to take one last shot at the World Butchers' Challenge title before moving into coaching and judging, while Carras is already "anxious" for a shot at redemption.