Need to fill a prescription? Pick up a medication for your pet? Get a professional review of a complicated list of meds? How about a facial? Tackling this list could take all morning and require several stops around town, but one specific stop could do it.
While the corner drug store may seem like a thing of the past, several independent pharmacies in Sacramento offer an increasing number of services distinguishing them as a single destination for a variety of health needs for both people and animals.
At Pucci's Pharmacy in Midtown, pharmacist and co-owner Clint Hopkins greets customers with a smile. Hopkins says he made a conscious decision to be an independent pharmacist so he could focus on taking care of patients.
"At an independent pharmacy, patients see the same two or three pharmacists," Hopkins says. "We genuinely know you and everything you are taking. It's a relationship you can't get at a mass merchant where you may never see the same pharmacist twice."
Nationwide, roughly 22,000 independent pharmacies exist, a number that has held steady for the past 17 years — with a slight dip in recent years from 25,000 — despite mounting pressure from chain drugstores and large retailers, which spread widely across the country between 1980 and 2000. Until the late 1970s, small, locally-owned pharmacies had been the norm, with about 40,000 across the nation, Norton says.
Today, independent pharmacies represent 36 percent of the retail pharmacy market, for a $79.8 billion marketplace. They dispense on average 191 prescriptions per day and employ about 250,000 people, according to the National Community Pharmacists Association. With about 30 independent pharmacies in the Sacramento area, including Parkside Pharmacy in South Land Park, Anderson Bros. on Fulton Avenue and Physicians Building Pharmacy on J Street, each fills a niche with pharmacists delivering personalized care that makes them the most accessible health care provider for many people.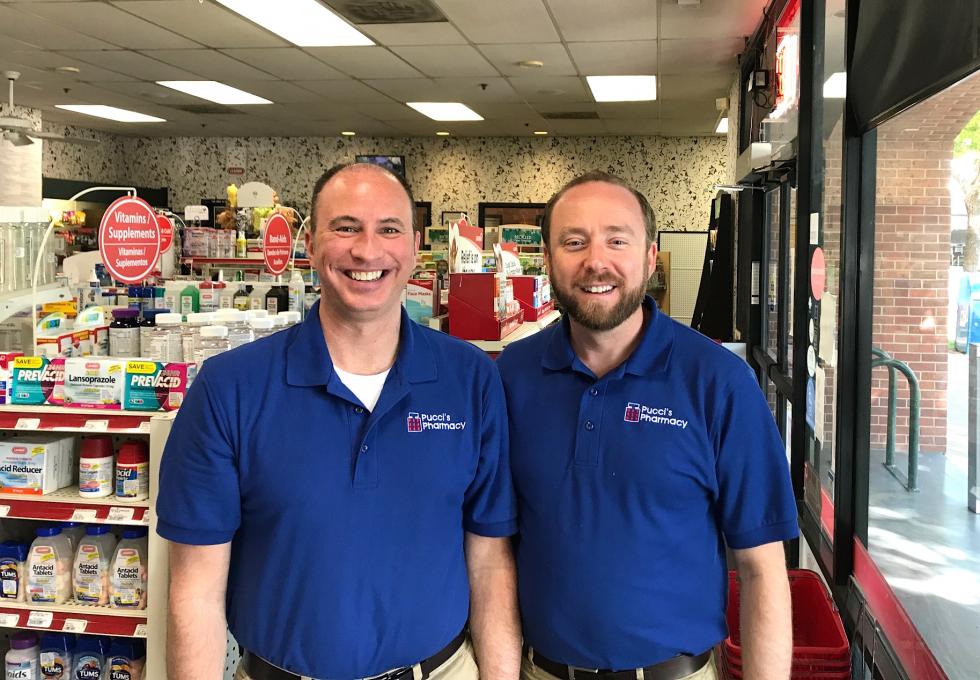 "Unlike other health care professionals, such as doctors, patients do not need to schedule an appointment to see their pharmacist, pick up a prescription or get other services such as flu shots," says John Norton, of the NCPA.
A Combination for Succes
Delivering meds, synchronizing refills, compounding, managing medications, filling pet prescriptions and even offering skincare services are ways these brick and mortar businesses thrive in a world of online retailers and chain stores. Each independent pharmacy has its own list of additional services, including safe disposal of outdated medications, assistance with durable medical equipment and on-the-spot flu and strep testing. For these independent pharmacists, a diversified revenue stream is essential.
"It's a combination of things that leads to success," Hopkins says. Pucci's services include compounding, or customizing medications to meet a patient's needs. For instance, if a child cannot swallow pills, the pharmacist will make a liquid solution. Hopkins says compounding is an important aspect for independent pharmacies: "We fill several every day, and it's a service that big chains typically don't provide because it's a highly regulated industry."
Pucci's also compounds medications for pets, which might include customizing a prescription into an edible treat that's easier to give an animal. "We let customers know we're pet friendly and they appreciate that they don't have to drive to another location to fill a vet prescription," Hopkins says.
At Parkside Pharmacy, pharmacist John Ortego compounds special medications for animals at the nearby Sacramento Zoo, while Michelle Cohan Ortego, a medical aesthetician, runs an in-house skin spa. Ortego says more than 60 percent of prescriptions compounded at the pharmacy are veterinary. Some of Parkside's more exotic prescriptions include custom-compounded medications for the zoo animals. "We've tailored antibiotics for orangutans and chimps and antifungals for birds," Ortego says.
Whether for humans or animals, Ortego says compounding can be very individualized and oriented to solve a particular problem. "It takes years and years of experience and special training to be a competent compounder. Doctors who write Rx's requiring compounding are often very specific about how they want something prepared, and they'll know quickly when they speak to you if you're someone they want to work with. We simply do what big corporate operations either cannot do at all or just don't do very well."
Taking Care of People
Also key to independent pharmacies are med synchronization, medication management services and delivery. Med sync programs help customers coordinate medication refills so all prescriptions can be picked up at the same time. Hopkins says Pucci's med sync service is the most appreciated by customers: "It's too hard for some patients to pick up medications all the time, especially those with chronic conditions."
For people taking several medications or those with conditions such as diabetes, asthma or high blood pressure, a program known as Medication Therapy Management offered by pharmacists helps manage medications and health conditions and monitor potential interactions between drugs.
For those who can't pick up medications, delivery is the answer. "It's another way we make sure people take the medications they need," Hopkins says. "We do two delivery runs a day, all over Sacramento, and our delivery guy has a relationship with patients. If they are not home, he makes sure meds are secure and not left in the sun."
For pharmacists like Hopkins, it comes down to taking care of people. "That's why I went to pharmacy school," he says.
Ortego says he hears back from people about how he helped them care for their baby, dad, grandma or hamster. "I guess that's what's most essential. We are helping people and their beloved."