When Sacramento City Unified School District opened meal-distribution locations — following the statewide shutdown in March — to provide children with free meals through the U.S. Department of Agriculture Summer Food Service Program, the demand was so great there were days when there simply wasn't enough food to feed everyone.
"We had to literally shut our gate on our families that were trying to come in to get food because we didn't have any more," says Ashley Powers Clark, student support center coordinator at Oak Ridge Elementary in the Oak Park neighborhood.
Within three months following the shutdown, SCUSD served a record 2 million meals. Meals served by the district throughout the entire summer of 2019 topped out just over 84,600.
With demand at an all-time high compounded by the closing of smaller food distribution centers in Oak Park that couldn't meet COVID-19 required regulations, Clark put out a moral call to action to 17 organizations to address how they were going to serve their families.
"I grew very concerned about what was going to happen to our families that were food insecure, that didn't have access to transportation, that were immunocompromised, that were single mothers and had other vulnerabilities," she says.
Then the community responded to the call. With the core partners Pro Youth and Families, Food Literacy Center, Dr. Ephraim Williams Family Life Center, and Root 64, Clark assembled the grassroots program Community Connections 95820 and serves as the organization's coordinator. The program serves 36 local families, totaling 185 people, of which nearly half are school-aged children.
The group established a grocery delivery hub at Dr. Ephraim Williams Family Life Center in Oak Park. Fresh produce from local farms and food donated by the Sacramento Food Bank & Family Services are delivered to the center where volunteers from the Food Literacy Center and the private sector, like Wood Rodgers, an engineering firm based in Sacramento, meet to pack groceries and deliver them to families each week.
"We're providing food directly to the doorstep of vulnerable families, which is giving them predictable and consistent access to food," says Clark, "which is really, really necessary when our families are under chronic stress and have been … for decades due to the poverty, the racism and the trauma that has impacted our community."
Building Collaboration
About half of the fresh produce comes from local farms, primarily Root 64, a 1-acre farm in Tallac Village in south Sacramento, run by owner-farmers Randy Stannard and his partner Sarah McCamman.
As Clark was responding to the skyrocketing demand for food, Stannard and McCamman were trying to figure out marketing outlets to sell and distribute their produce in the COVID-19 environment.
They pivoted from selling their produce at the Oak Park Farmers Market to a farm stand in front of their house and were still able to sell to some of their restaurant clients such as Binchoyaki, OneSpeed Pizza and Sac City Brews that offered takeout. Clark, a friend of Stannard's, suggested they collaborate.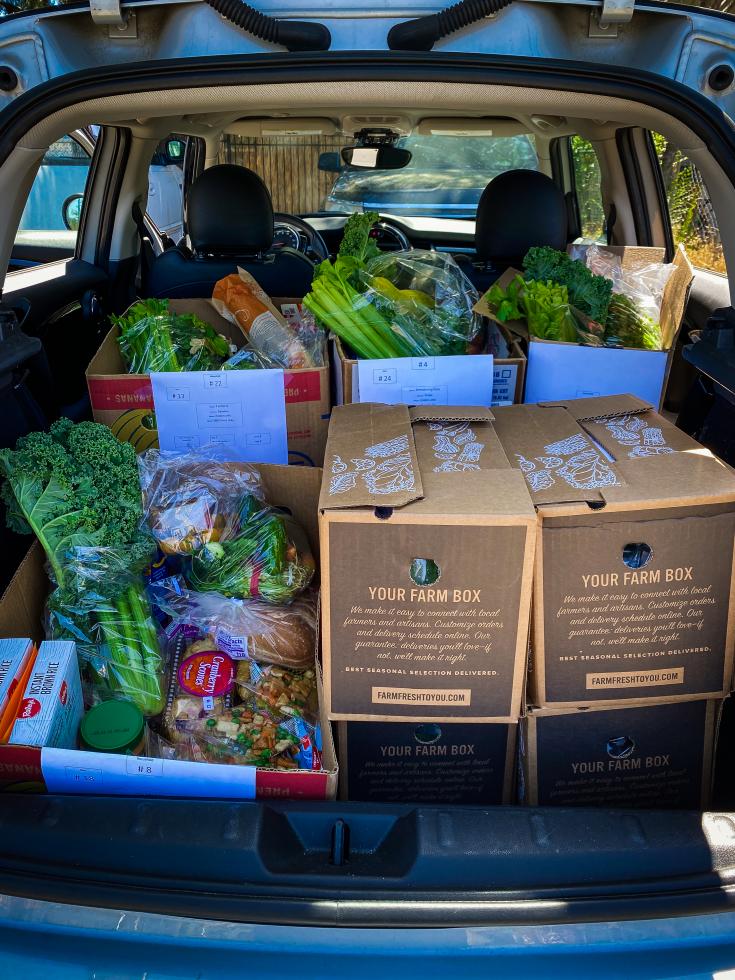 To raise funds, Stannard reached out to family and friends who donated nearly $10,000 to support the purchase of food from local farms to feed families through Community Connections 95820.
By September, Root 64 had sold about $6,800 worth of fresh produce to the organization, says Stannard. He's also procured other produce like tomatoes and watermelon from Fiery Ginger Farm and We Grow Urban Farm, both in West Sacramento.
"It really has made a huge difference for us because basically 100 percent of the food that we're growing is getting sold," he says. "So that feels really good, and we also feel great that a lot of our food is getting to the people that … otherwise wouldn't have access to it."
Stannard says those sales are a big part of his farm's financial viability this year. So much so that he's working to formalize this kind of community collaboration — raising funds to purchase high-quality produce from local farmers to feed those in need — as a model that can be easily replicated.
Accommodating Needs
Clark says core partners have raised nearly $10,000 in addition to Root 64 funds raised for the program. Alchemist Community Development Corporation, a nonprofit in Oak Park, serves as Community Connections' fiscal sponsor.
Families were selected for the program following a proactive universal screening of 150 families, initiated by Clark. Those in the program are or are at-risk of experiencing food insecurity, compounded by another barrier, such as lack of transportation.
"We did assessments of all of those families, and we asked not only about food (but) transportation, mental health, financial security, housing, so we got a big picture of what was going on with our families," says Clark.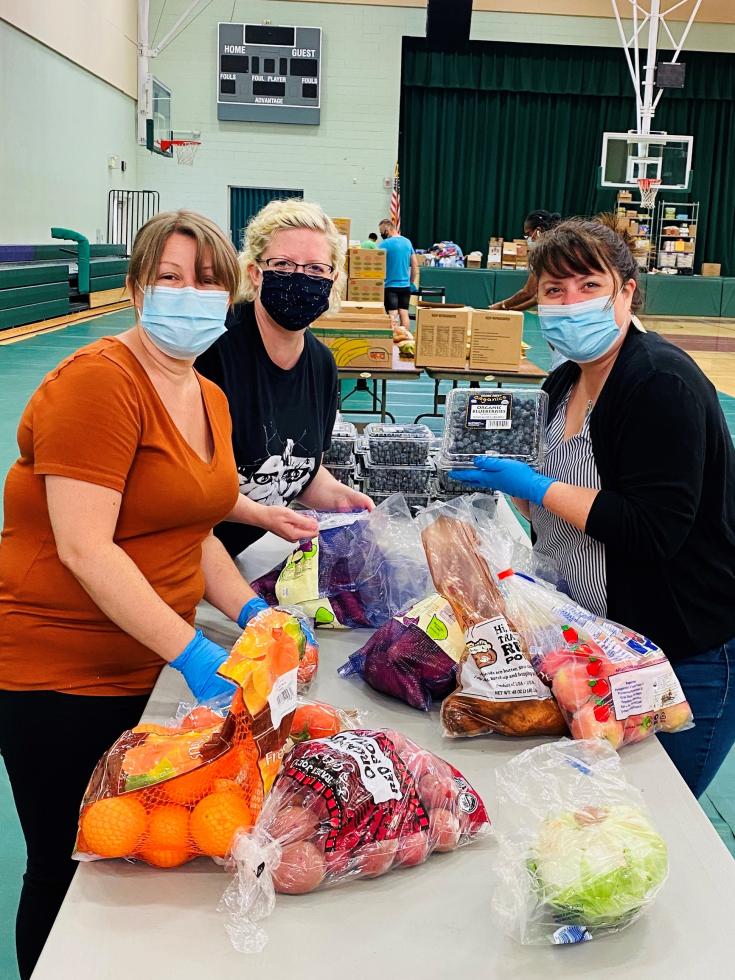 To evaluate the effectiveness of the program, Food Literacy Center and other core partners developed an evaluation tool that provides valuable feedback. "What we were trying to do is to survey them to find out first off, do they like the boxes, are they using the vegetables, what do they want to see more of, what do they want to see less of," says Clark.
Community Connections uses that feedback — as well as real-time feedback through texts with families — to accommodate individual needs and requests. "I think there's a bias against the low-income families where we think that poor people don't get to have preferences," says Clark, who emphasizes how important it is to make sure the food is what the family wants, that it's culturally appropriate, that the family knows how to cook with it and has the tools to do so.
That's where the Food Literacy Center comes in. The Sacramento nonprofit educates children at risk of diet-related disease in SCUSD on healthy eating and cooking skills through its 14-week, after-school food-literacy program. Many of the children served by Community Connections were already Food Literacy Center students.
Food Literacy Center brought several skills to the partnership, including food safety, food storage, food budgets and menu planning. "We can feed 100 kids a day for pennies on the dollar," says Amber Stott, founder and CEO of Food Literacy Center. That means Stott and her team know exactly how to stretch the program's funds and deliver healthy meals with ingredients and recipes many of the children served by Community Connections are already familiar with and know how to cook.
"This is really community taking care of community, neighbor taking care of neighbor," says Stannard. "That's what I'm excited about, is knowing that these people I might not know … (who) live in the same ZIP code … and are really high risk, … if our food can go to support them and we can be taken care of, it seems like a really great thing."
–
Stay up to date on the effects of the coronavirus on people and business in the Capital Region: Subscribe to the Comstock's newsletter today.